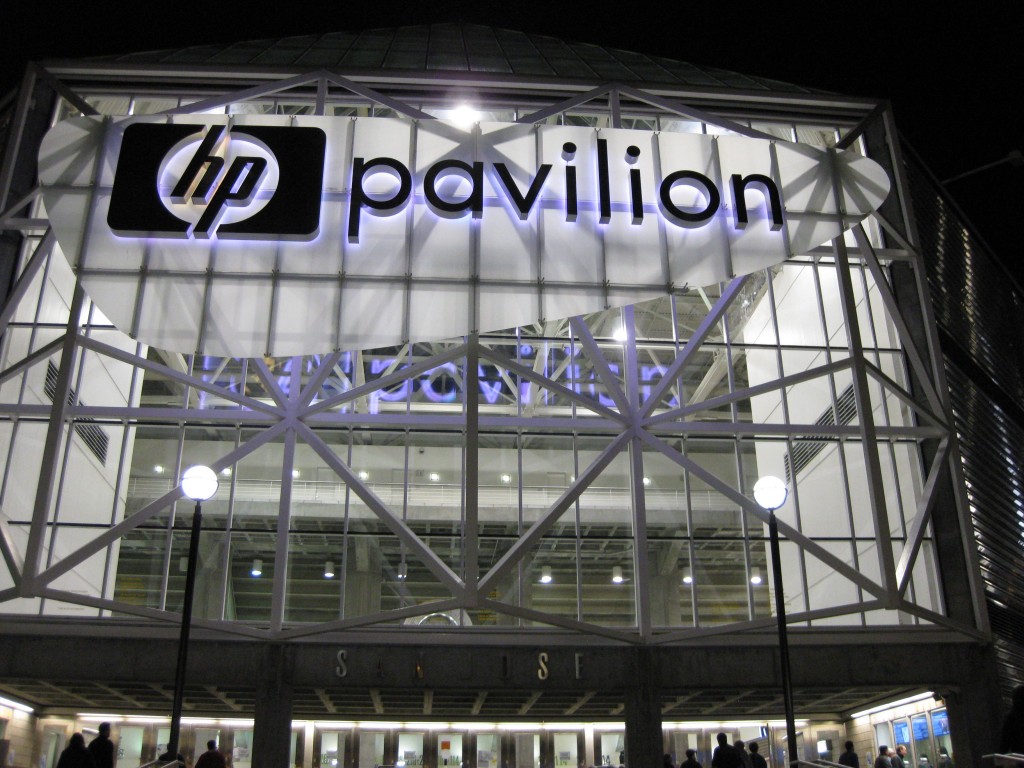 (Editor's note: This Itinerary is for the arena formerly known as HP Pavilion — thus the old references and pictures with old signage.)
One day, me and my pal J-Park were talking hockey. He's all about Team Teal, the San Jose Sharks. He sometimes rocks a somewhat old-school Patrick Marleau jersey from when he was still captain (yeah, I know, it was only a season ago, but still). My allegiances are with the Los Angeles Kings, from my schoolboy days growing up in Southern California when Wayne Gretzky came along and caused a whole bunch of people who had no business liking hockey to like hockey. I still have a silver-and-black Kings jersey of one of Gretzky's old teammates, Mike Donnelly, from those days hanging in my closet. Remember Mike Donnelly? Yeah, I didn't think so.
So we're talking, and then it hits us — the Sharks and Kings are in the same division! They play each other four times a year! Next thing you know, the two of us, along with Mrs. Fan, are making plans to drop in on HP Pavilion, where a bunch of crazies wearing teal gather for a pretty cool hockey experience.
The approach
The arena is just about directly underneath the flight path for planes approaching San Jose's airport, so the whole time before the game we were oohing and aahing as jets passed overhead (my sister, an aviation freak, would've loved the view). That's not to say the best way to get to the game is by plane, but it seems like the arena is dead center in terms of transportation options in San Jose — CalTrain, the Bay Area's version of commuter rail, and Amtrak have stops nearby. Which is good, because for the car-dependent, you're shelling out 20 bucks to park in the arena lot, which is what we did. And in California, whenever you plan to go somewhere where there'll be a lot of people by car, you pretty much have to accept the fact that you're going to empty your pockets to stash the darn thing for the evening. There are also the usual side lots that decrease in price the further you get from the arena — you have to drive around a bit to find the cheaper ones but they're not too hard to find.
We bought tickets about two weeks in advance from StubHub, which was about the only way we could get three seats together (as it turned out, the game was sold out). We chose it over Ticketmaster's Ticket Exchange, the "official" Sharks ticket resale site, simply because we could get three seats together that weren't behind one of the nets. We landed in Section 216, facing the zone which the visiting team attacks twice, but we wound up in the very last row, which just goes to show you that life's full of trade-offs.
Even after fees, we paid $40 per ticket, $11 above face value.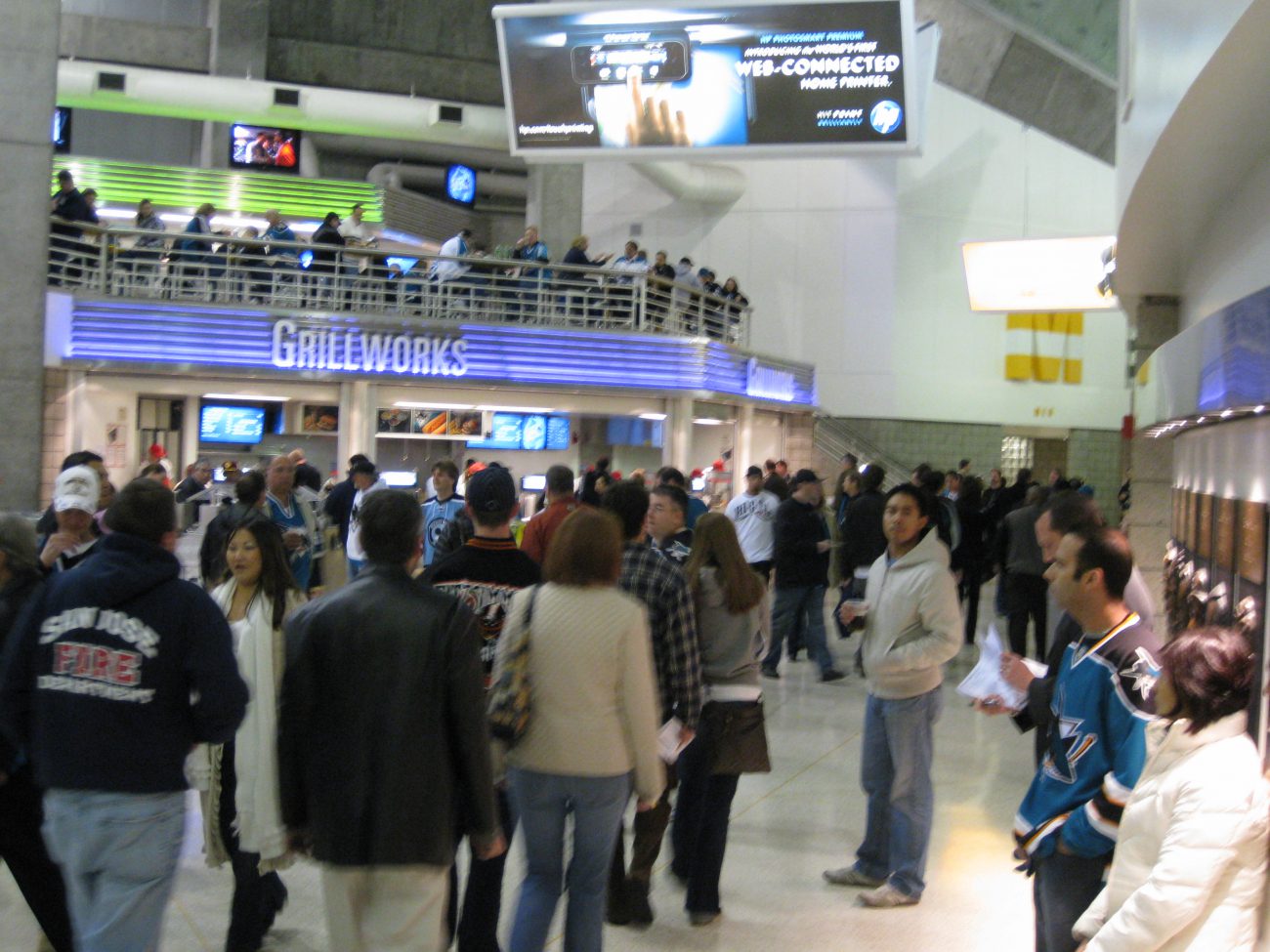 The build-up
Give downtown San Jose props for having stuff to do around the arena, a concept not every municipality gets. We arrived at the arena more than two hours before the game with the intention of finding a place to eat beforehand, and based on word-of-mouth we chose to go to Henry's Hi-Life, a BBQ joint about two blocks away. Besides, if it's good enough for this guy, it has to be good, right?
Never mind the fact that it's kind of a creepy two blocks (you walk past a few random houses and industrial buildings to get there) and the fact the place is smaller than my living room (my elbow kept bumping up against some blinds that were covering a window next to our table) — the ribs were darn tasty. J-Park indulged in some chicken (that's all it said on the menu: "Chicken") and afterward declared it his new favorite pre-Sharks game eatery — high praise coming from a longtime attender of Sharks games such as himself.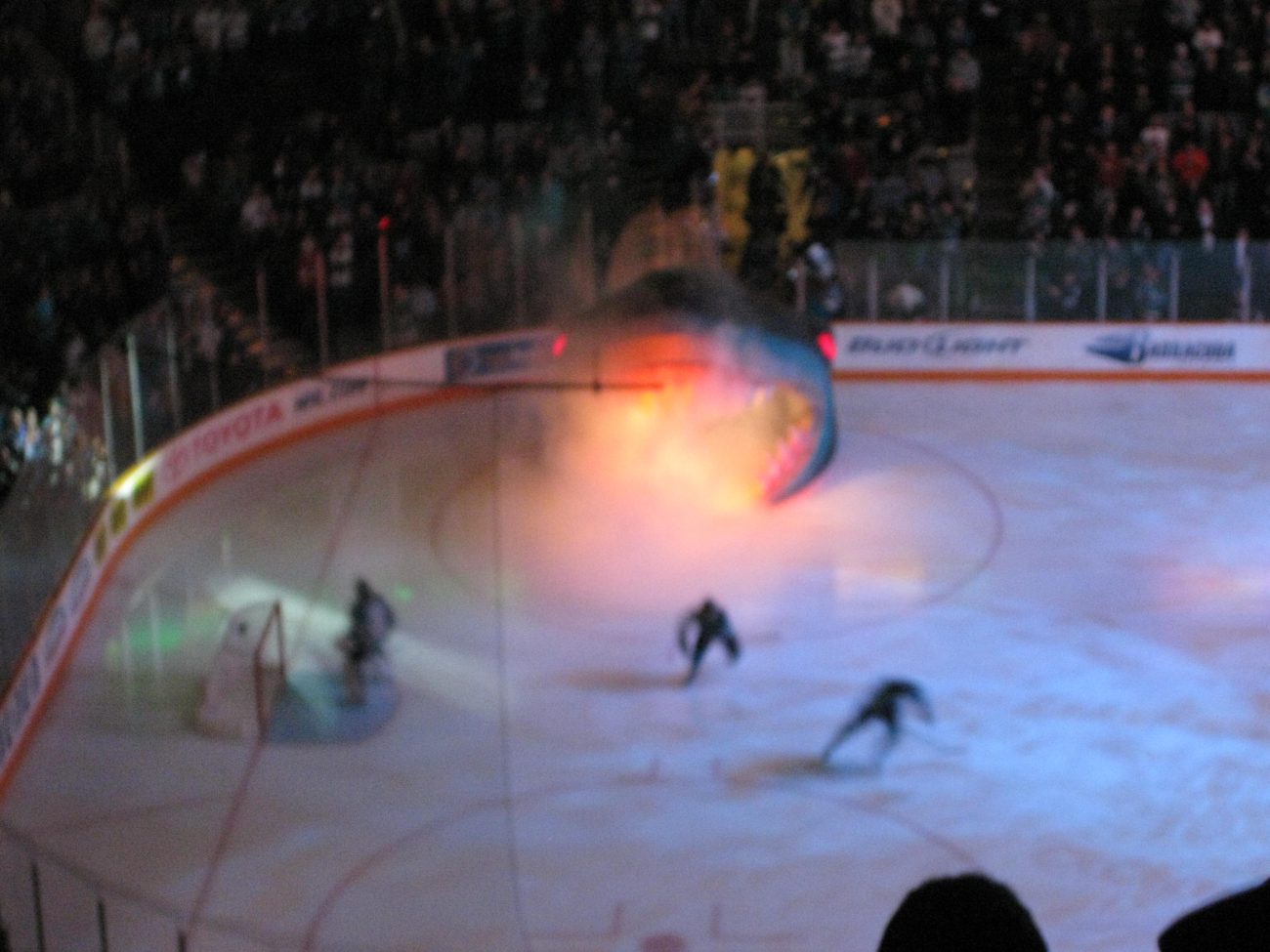 The ambiance
I'm usually suspicious of rectangular, square or otherwise four-sided arenas — it usually means they're old and dilapidated. HP Pavilion somewhat falls into that description (rectangular, not necessarily old), but it appears well-maintained and highly serviceable. The one complaint I have with it (and this is purely personal taste) is that there's only one main concourse with entrances to both the upper and lower seating levels. Many arenas around the country are built this way, but if you're going to pull it off successfully, the concourses should also be wide enough to accommodate everybody milling about, especially when everyone's leaving after the game. The two large atriums on either side of the arena are nice, but there were some spots where things got a little bit narrow.
Otherwise, we were all glad we ate before going in. The concession stands looked a bit bland, offering the usual stadium fare. There was a BBQ stand and a sushi joint (the latter looked extremely popular), but both required climbing up stairs to get to and aren't totally obvious to the fan who's just roaming around.
As previously mentioned, we were in the very top row of the arena, but the view was still good — not too far up or too far back. And we had a great view of what just might be the best entrance in hockey, when the Sharks come skating out of a shark's mouth billowing smoke.
The game went my way and not J-Park's… the Kings scored three first-period goals and walloped the Sharks 6-2. Mrs. Fan did the politically correct thing and donned a Kings jersey, but she had six — count 'em, six — opportunities to stand up and cheer the Kings and passed up each one. Major Kings-fan fail.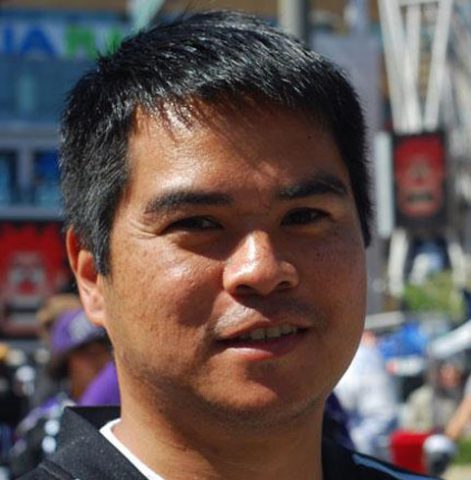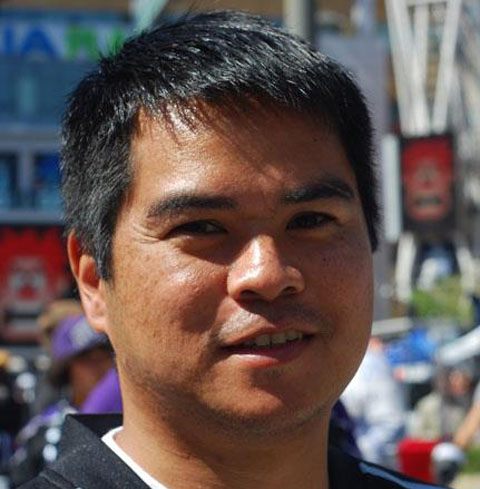 About Edward de la Fuente | Itinerant Fan
I live for sports, and I love to travel. My biggest thrill is combining the two. I've been blogging about sports travel for more than a decade, and traveling for sports for twice as long. To find out more, check out our About page.
Affiliate Disclosure
Please note that some of the links above are affiliate links, and at no additional cost to you, we earn a commission if you make a purchase. These recommendations are only for companies that we've used and have proven to enhance our sports travel experiences. To find out more about our affiliate partnerships, please read our Affiliate Disclaimer.