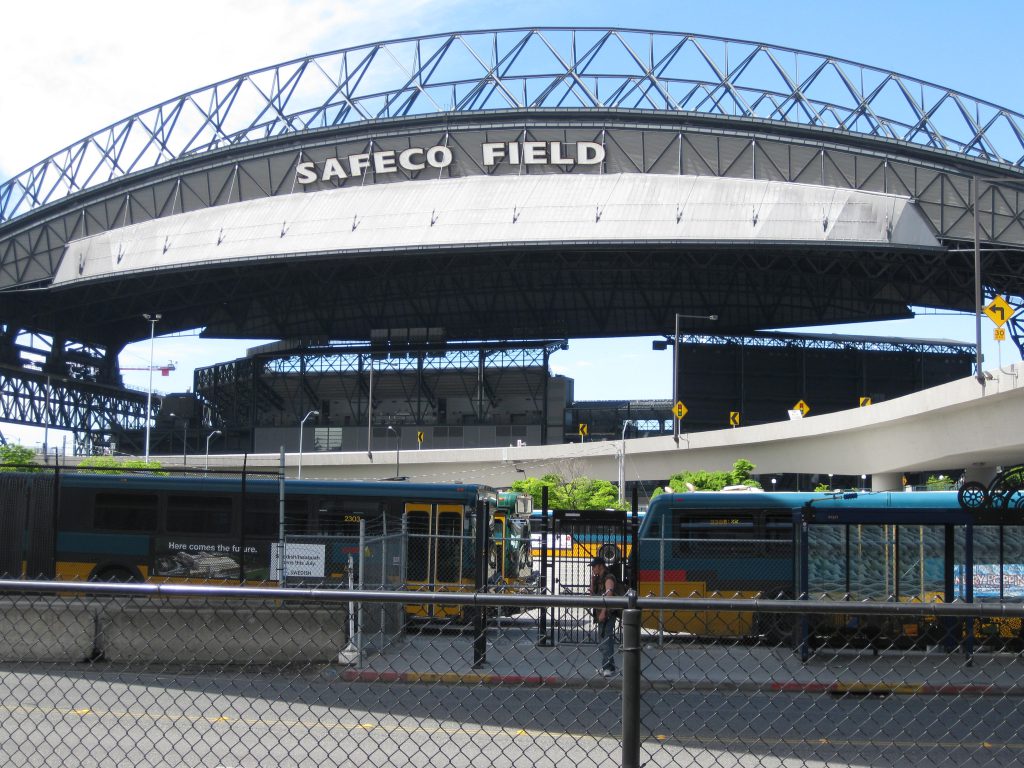 While every big city has a few unique traits of which it's unfailingly proud, Seattle seems to wear its uniqueness more on its sleeve than most other cities. That is to say, it's hard to visit Seattle and not get immersed in its little quirks.
Take the whole coffee thing, for example. I don't drink coffee, but after walking a few blocks downtown and seeing three coffee shops at every intersection and half the passersby carrying coffee cups, you start to feel guilty that you aren't drinking coffee. There are a few other things that are undeniably Seattle, such as overcast skies, men who dress like Paul Bunyan, flying fish and aggressive homeless people (seriously, though, I can assure you that love Seattle).
You can add stadium architecture to that list, too. You have a football stadium that looks something like a flying saucer — and I'm sure it looked more like it the weekend I visited because there was a U2 concert being held there. You have a basketball arena (since abandoned by the NBA) that looks a bit like the world's largest Pizza Hut.
And then there's Safeco Field, which I'm sure visitors who don't know anything about baseball mistake every day for a hangar for nearby Boeing. Mrs. Fan and I took in a Sunday matinee there, and we can attest that once you're inside, anyway, it feels like a ballpark through and through.
The approach
If you look on a map, it's easy to think that Safeco Field, and CenturyLink Field, for that matter, are downtown. Not quite — they're in an area of town called SoDo, or "South of Downtown" (a few years back, the Mariners had a marketing campaign based around the slogan "SoDo Mojo," and though I had no idea what it meant at the time, it was catchy enough that it still comes to mind whenever I think about the Mariners). There are a few restaurants and bars in the vicinity, particularly north of CenturyLink Field in the Pioneer Square area, but lodging is a little scarce.
We stayed downtown, a few blocks from Westlake Center, which is arguably the center of the city and the hub for Seattle's admittedly meager public transportation options. Most of the major hotels in downtown Seattle are within reach of this area, since it's near Pike Place Market, the waterfront and anywhere else tourists might think to go (but this area is surprisingly far from Seattle Center, where the Space Needle is). Luckily, Seattle does have light rail that extends from downtown all the way to Seattle-Tacoma Airport (hallelujah), and there is a Stadium stop that puts you steps from Safeco Field. We saw plenty of fans using light rail to get to the game, and after the game the station was crowded — but not uncomfortably packed.
Walking from downtown to Safeco Field is possible (yes, I have done it before) but it's a good distance — more than a mile — and if you attempt it, you will quickly discover that Seattle is hilly. Not San Francisco hilly, mind you, but hilly enough that you'd better be in pretty good shape or you'll be hating life rather quickly.
The build-up
As mentioned above, the Pioneer Square area directly north of the ballpark has restaurants and bars and such for you to partake in food and drink before entering, if you so desire. But the presence of light rail makes it possible for you to spend your pregame time and dollars somewhere else and then head right down to the game, which is a beautiful thing. And if you're downtown, the options are certainly better and more varied than if you were close to the ballpark.
One thing I found interesting was the number of street vendors you pass as you get close. I know, they're near a lot of stadiums, but in Seattle they seem to have developed something of a cottage industry. You have folks selling hot dogs, selling chips, selling water — and one water vendor had a sign suggesting you buy a bottle for $1, drink or pour out the contents before you get into the park, then once you're in, fill up the bottle at the water fountain (yes, all of this info was on a sign).
If you're coming from the light-rail station like we were, it's a two-block walk to the nearest gate. But the path we took also involved walking up some steps and along some sort of viaduct, then walking back down steps to get back to street level — all that so that pedestrians can cross over some railroad tracks that run alongside the ballpark. (Side note: Safeco's retractable roof, which just shifts to the side rather than nests in on itself like most other retractable stadium roofs, practically hangs over these tracks when it's not covering the field. So if a train passes during a game and it blows its horn, the noise tends to reverberate through the ballpark. When Safeco opened this was touted as one of its charms, though if you ask me, the word I'd use to describe it is "annoying.")
Anyway, if you're not averse to climbing steps, the view of downtown Seattle from atop the viaduct is actually quite stunning and worth the trip.
The ambiance
The first thing I noticed once I was inside the gates and on the main concourse was a directory of concession stands much like what you'd see in a mall. That's the first time I've ever seen something like that at a stadium, and it makes me wonder, why doesn't every stadium do this? Seriously. If you're willing to explore and walk all the concourses, that's one thing. But I'm sure a lot of fans walk in thinking they just want a hamburger, or a local beer, or garlic fries — something specific — and don't want to scour the whole stadium looking for that particular item. Solution? The food directory. Pretty ingenious, Safeco Field.
Mrs. Fan and I walked the concourse, which is wide and spacious and has a couple of hidden nooks that contain more concession stands and little exhibits, such as one along the third-base side that held the Mariners Hall of Fame and a cool mural of perhaps the franchise's most celebrated moment. The food selection is pretty varied and served up at a bunch of stands that have horrible puns for names (my favorite: Intentional Wok). There was a sushi stand in that out-of-the-way Hall of Fame section that served something called the Ichiroll, which is all well and good except that nowhere at the stand could I find a description of what's in the damn thing. So I passed.
We eventually settled on a seafood stand serviced by a local chain called Ivar's (they have a stand at the airport, too), where Mrs. Fan got clams and chips and I got an Ivar's dog — two pieces of fried cod (would've been better if it was halibut, but oh well) and cole slaw on an oversized hot dog bun. I highly recommend it.
Our seats, in the upper deck along the first-base line, were not bad except for the fact that it was Little League Day, so we were surrounded by a bunch of kids and their parents. The kids were having a great time, but the patronizing parents who spent the afternoon acting like they care about baseball when they obviously don't so that they can talk to their kids got to be too much after a bit. We spent about five innings listening to the mom behind us going "Oh, is it gonna be a home run?" on every popup behind the infield before we decided to explore the stadium more. Besides, Mrs. Fan wanted dessert.
We sought out refuge in left field — it's somewhat hard to find, but there's a staircase leading downward from the main concourse, and on first glance you'd think it only leads to a spot where you can view the bullpens from behind a chain-link fence. It turns out there's a whole party area down there complete with gourmet concessions, a pretty big bar and a patio with tables. Seemed like only the college kids knew about this, since 95 percent of the people down there were young, underdressed considering the overcast sky and holding beers.
The important thing to us, though, was that there was a stand serving crepes, and we spent the rest of the game sharing a banana-Nutella crepe (how romantic) and watching the Mariners from perhaps the most chill spot on the premises. That definitely beat hanging around Little League moms.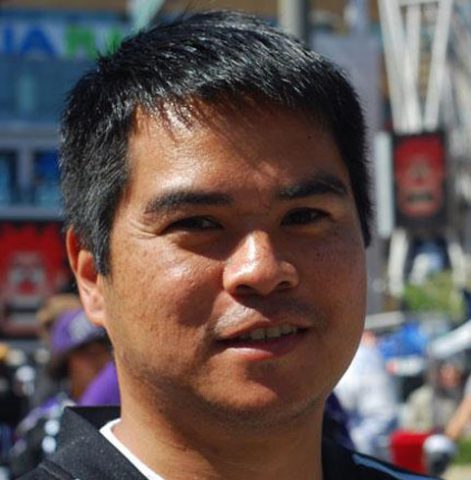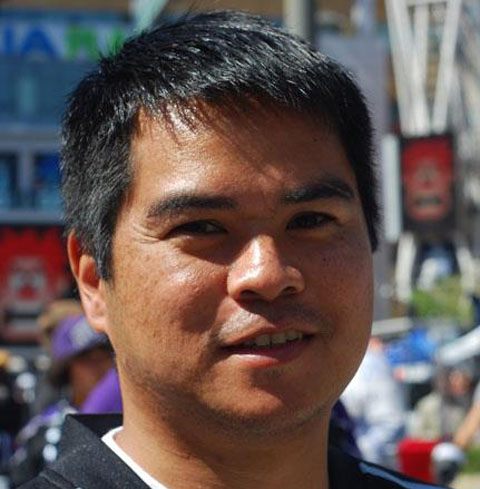 About Edward de la Fuente | Itinerant Fan
I live for sports, and I love to travel. My biggest thrill is combining the two. I've been blogging about sports travel for more than a decade, and traveling for sports for twice as long. To find out more, check out our About page.
Affiliate Disclosure
Please note that some of the links above are affiliate links, and at no additional cost to you, we earn a commission if you make a purchase. These recommendations are only for companies that we've used and have proven to enhance our sports travel experiences. To find out more about our affiliate partnerships, please read our Affiliate Disclaimer.