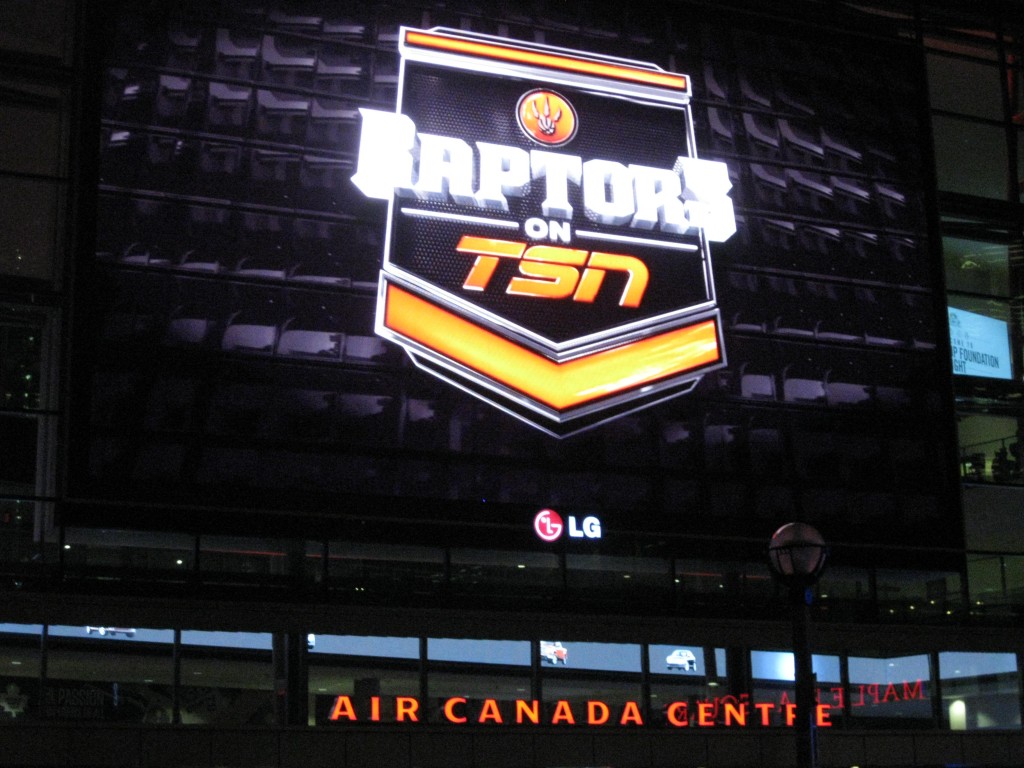 If you're an American sports fan and you find yourself in Canada, it's fairly likely you'll want to check out an NHL hockey game while you're there. If you're an American HOCKEY fan and you find yourself in Canada, it's a 100-percent certain mortal lock that you'll want to check out an NHL hockey game while you're there. And if you're like me and Mrs. Fan, you'll plan out a 4-5 day stretch in Canada with the expressed purpose of seeing an NHL game or three.
We planned out just such a trip for December, but alas, the NHL had other ideas, deciding they could use an extra month or four to sort out their affairs and leaving us high and dry in terms of watching hockey. (I know, we could've watched juniors or minors, but we didn't do that.) At least the NBA was still going strong, though, and that was how we managed to get into Toronto's Air Canada Centre and salvage a small part of our sports-themed week north of the border.
The approach
Toronto is a wonderful place to visit for many reasons, some of which being: its clean and vibrant downtown, its multicultural population, its quirky but efficient subway (love that three-tone door-closing chime), and its quirky (to an American) but tasty culinary options. Also helps, in my case, that I have a cousin who lives in downtown Toronto, within walking distance of all the action that a tourist might want to experience, and is willing to provide me with free lodging. So even if sports isn't on the docket for me, Toronto will always occupy a spot on my short list of places I will never hesitate to visit.
The walking-distance part of things came in handy, as we had a rental car for this trip but saw no need at all to use it for anything other than coming into town at the beginning of our stay and leaving when it was over. If you're not staying downtown, though, there's the aforementioned quirky subway, nicknamed "The Rocket" by the local transport company, which will get you into downtown from most other parts of town. If you're even farther out, seemingly all regional rail service leads to Union Station, which is so close to the Air Canada Centre that you can walk there without even stepping outside — just try to avoid passing through at quitting time on a weekday evening, 'cause the flocks of people in business attire flowing through there rivals New York's Penn Station in its impressiveness. 
The build-up
The Air Canada Centre sits pretty much smack dab in the middle of the downtown excitement, and thus there's any number of things with which you can occupy your time before the game. Take our day leading up to the game: We visited the old Maple Leaf Gardens, which is now a local college's rink as well as a grocery store, believe it or not; we saw the Hockey Hall of Fame, which stands out from most other sports halls of fame in North America in that it's located in the basement of a huge office tower rather than as the centerpiece of a quaint little town somewhere; we ate lunch at a bustling restaurant in the same building as the Hockey Hall; we went up the CN Tower and spent more than an hour snapping photos from the three observation decks; and we went ice skating at an outdoor rink along the lakefront. That's about as Canadian a day as it gets if you're non-Canadian.
There are all sorts of restaurants and bars between the ACC and the Rogers Centre, about half a mile — oh, sorry, not even a kilometer away, and with so many condo towers being built in that same area, it seems you wouldn't even need to be going to a game to enjoy yourself in the vicinity of the ACC. But if you are, rest assured you have many, many more options than just going into the game, buying concession-stand food and then sitting around waiting for the game to begin.
As it were, our skating excursion went a tad long and we found ourselves hustling a bit to get over to the arena before tipoff. When we got there we found the line to get in somewhat long but not unbearably so, as the Raptors crowd seemed like it was a late-arriving one.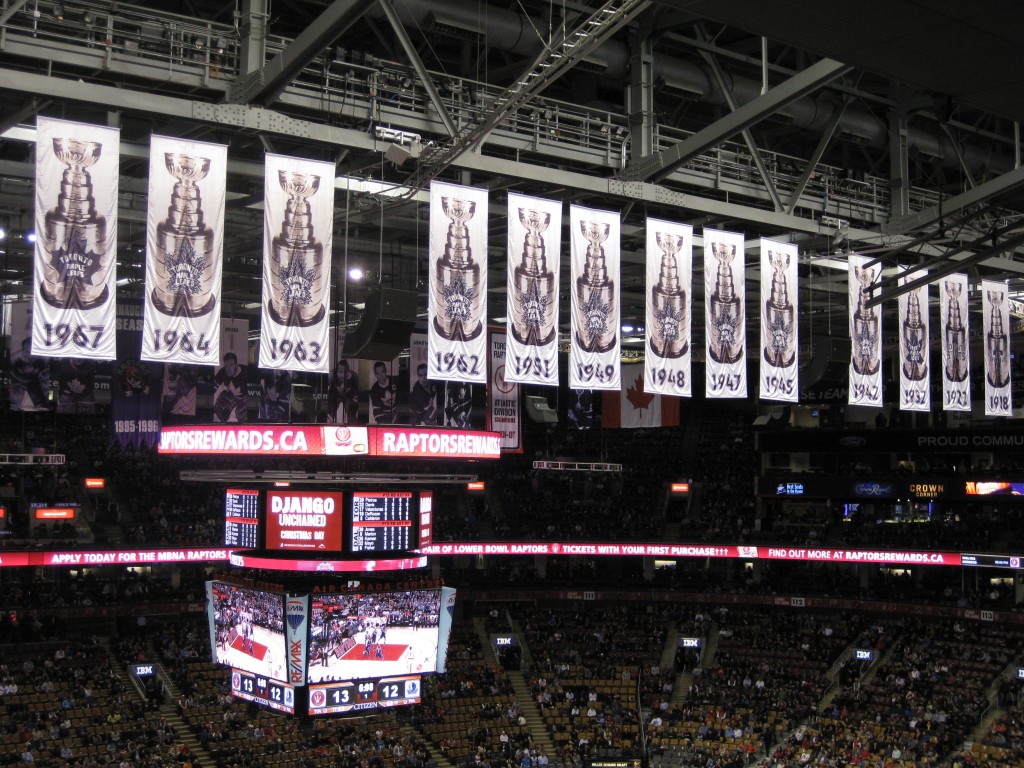 The ambiance
Yes, Canada is a foreign country to us Americans, but exotic it is not — at least if it's Toronto you're visiting. Take the concession stands at Air Canada Centre, where you'll find just about anything you would find at an American sports venue, just packaged differently. Among the things you can find: Pizza (from Pizza Pizza), sandwiches (from Mr. Sub), beer (made by Molson), and coffee (from Tim Hortons). About the most exotic thing you can find is the peameal bacon sandwich, considered a must-try dish of Toronto. I have not yet had the opportunity to try this sandwich, but from what I've been told, peameal bacon sounds like Canadian bacon on steroids.
You can even find loaded hot dogs, which are fast becoming the go-to item at a lot of venues I've visited. They were sold at a stand called Burkie's Dog House, named after Maple Leafs general manager Brian Burke. (When I saw this, I actually thought to myself, "What would happen to these stands when Brian Burke gets fired?" Barely a month later, Burke got fired and I found out.) A few of the hot dogs sold at this stand have a decidedly Canadian twist to them, such as the maple dog (a hot dog cooked in maple syrup) and the poutine dog (topped with gravy, cheese curds and "matchstick" potatoes). When we visited the stand at halftime, I bought a poutine dog, while Mrs. Fan stuck with the more conventional pizza dog, and I think the best way I can describe it is OHMYFREAKINGGOD! Whatever the stand is called now, do yourself a favor and go try a dog if you ever visit the ACC. Easily the highlight of the evening for us.
Our seats were in the upper deck — section 323, row 9 — but not too high up or at too awkward of an angle to see the game. As far as I was concerned, they were pretty good seats considering we had bought the tickets that afternoon. We arrived at those seats about three minutes into the game and found our row mostly empty, enough that we didn't bother asking the two teenagers who were sitting in our seats to move. The place started to fill up by the middle of the second quarter, though, so we finally did have to ask them to move, and the full row wound up feeling rather cramped — probably because all of us had huge coats in our laps.
The Raptors did a good job with in-arena entertainment and promotions, most notably with a halftime that featured kids from local YMCAs playing in a mini-game. I know for a fact that a guy who sat a row below us would agree — when we first arrived at our seats, he was sitting alone, drinking a beer and wearing an Andrea Bargnani jersey. A few minutes later, he spotted his buddies walking up the aisle and promptly stood up and started doing a dance. Turns out he had won the jersey before the game began, because a random fan came up to him and said, "You're James, right? I saw you on the scoreboard!" He was dancing to rub it in his friends' faces, and it pretty much worked — I overheard one of them saying to him, "I really hate you right now."
By the end of the night, maybe the Mavericks felt the same way, because they got thrashed by the Raptors and sent James and his friends home happy. Or maybe that was the Molson.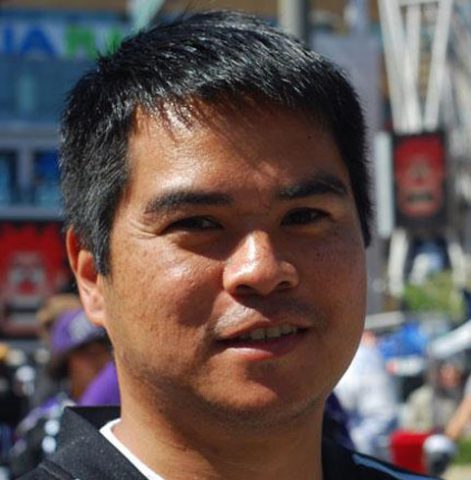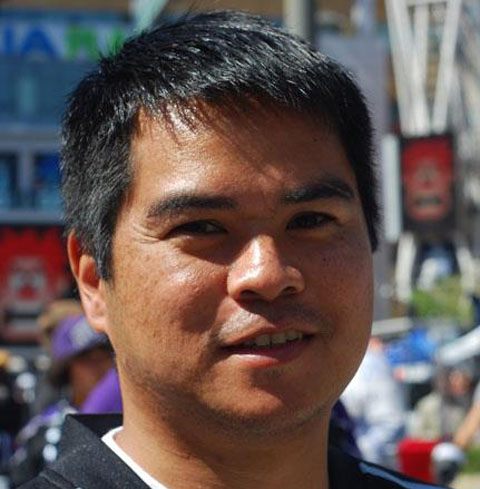 About Edward de la Fuente | Itinerant Fan
I live for sports, and I love to travel. My biggest thrill is combining the two. I've been blogging about sports travel for more than a decade, and traveling for sports for twice as long. To find out more, check out our About page.
Affiliate Disclosure
Please note that some of the links above are affiliate links, and at no additional cost to you, we earn a commission if you make a purchase. These recommendations are only for companies that we've used and have proven to enhance our sports travel experiences. To find out more about our affiliate partnerships, please read our Affiliate Disclaimer.