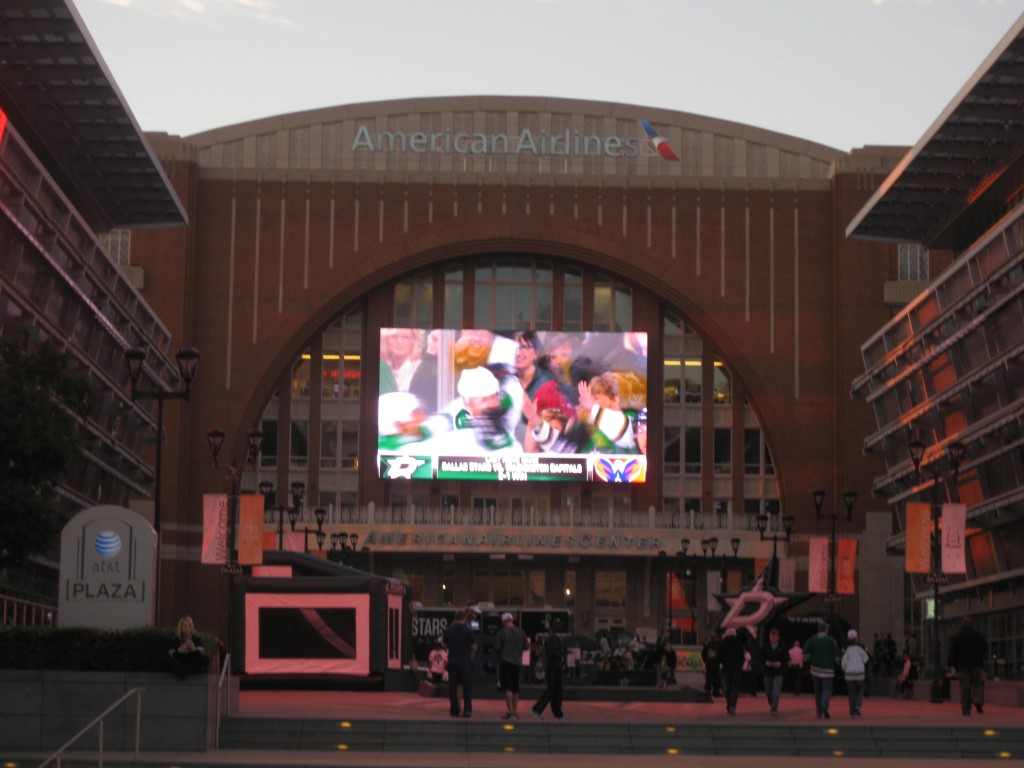 When you think about sports in Dallas, it's probably a good bet that hockey isn't the first thing that comes to mind. Well, at least unless you're a major puckhead, and since I like to fancy myself as such, I like to see them in all different kinds of environments. Dallas — and American Airlines Center, home of the Stars — isn't a "traditional" hockey market by any means, but sometimes it's also good to see what it's like in a place where you wouldn't expect hockey to thrive.
The game I chose, a Thursday-nighter in October against the San Jose Sharks, didn't fill the arena, but those who came were boisterous and knew their stuff. I'm sure the arena fills up a little bit more for Mavericks games, but it still was a nice opportunity to check out sports in a city that, frankly, I haven't spent much time in. Dallas is a pretty cool town, and its sports arena isn't too shabby, either.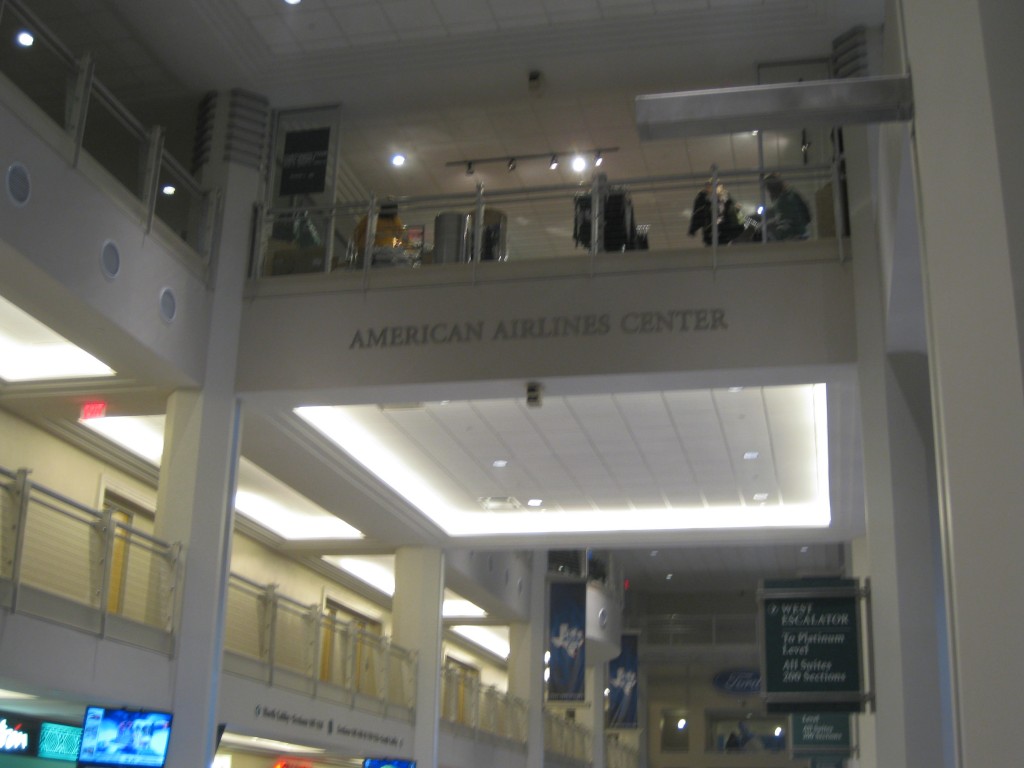 The approach
Most of us know about the city of Dallas, but Dallas proper is only part of a huge metro area known as the Metroplex (I know, sounds more like a shopping mall). Think of Dallas as the eastern anchor and Fort Worth as the western anchor, with a lot of people crammed into some very large suburbs in between. (There's a good reason why, other than that they had the land and resources, the city of Arlington is home to two of the region's sports venues — it's pretty much smack dab between Dallas and Fort Worth.)
Even with all that said, though, Dallas is still the focal point for most visitors, and thus it's not difficult to get to American Airlines Center. It's just north of downtown in what's called the Victory district, and it's an easy walk from the up-and-coming West End, full of bars, restaurants and hotels. The district itself is serviced by light rail, which stops at the Victory station right across the parking lot. Highly convenient.
For my one-night stop in Dallas, I committed myself to depending solely on public transportation — not an easy feat in car-loving Texas — and so light rail was my friend. The only challenge was getting to it from Love Field, where I flew in (I had to wait 20 minutes for a bus to get me to the train station), but from there I rode it to my hotel in the West End, and then I took the aforementioned easy walk about 3/4 of a mile north to the arena, spotting more and more Stars fans, and quite a few Sharks fans, as I drew closer.
If you're coming via car, there's plenty of parking — this is Texas, after all — surrounding the arena, even amid all the swanky condo buildings and restaurants in the area.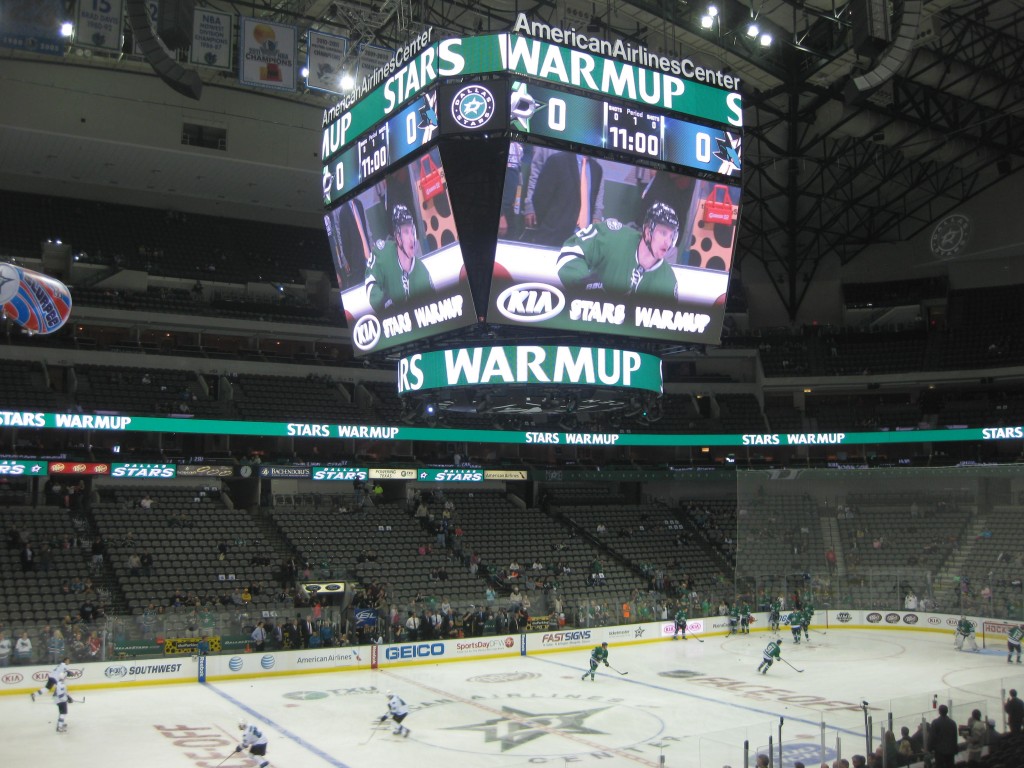 The build-up
Probably the most distinctive feature of American Airlines Center is the entryway on its south side (see photo at the top of this post). If you approach from the intersection of Houston and Olive streets, you're greeted by a large plaza (called AT&T Plaza — apparently AT&T is the national leader at sponsoring not only sports venues, but things around sports venues as well) that has digital message boards on each side, leading to the arena entrance, which itself has a videoboard above it. When all the screens are firing at full blast and there's a ton of activity in the plaza, I have to imagine it's a pretty good stimulator of your senses as a lead-up to when you're actually in the arena and your senses REALLY get stimulated.
Alas, this was a Stars game, and so there wasn't a whole lot of energy to the crowd entering the arena. This isn't a knock on Stars fans — let's face it, the NHL has teams in more than a few of those "non-traditional" hockey markets, and while every team has its share of fervent, knowledgeable and devoted fans, these markets just don't have quite enough of these type of fans to make the excitement over the team reverberate through the city. (Certainly the Stars' streak of futility — no playoffs since 2008 — factors into it as well.) And in Dallas, during football season, on a weeknight, even with the best team in the NHL at the time (one that hadn't even lost a game coming into the evening) in town, the Stars just weren't generating very much buzz.
Wasn't for lack of trying, though. The Stars had activities such as a spin-the-wheel table and not one, but two kids' street hockey games scattered throughout the plaza. They also had displays everywhere with their new logo, which they are REALLY proud of — even their intro video before the game was dedicated to explaining how they came up with the logo. At any rate, I saw quite a few people lingering in this area in the lead-up to the game — I'd love to see what it's like when there's more excitement for the event to come.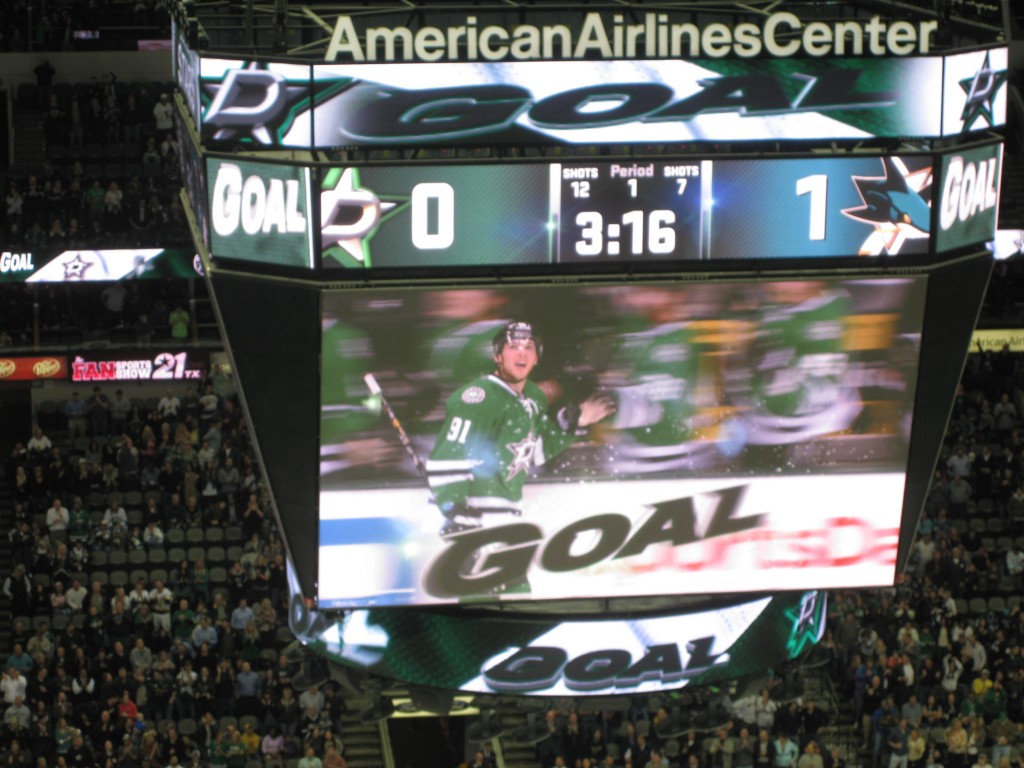 The ambiance
With marble floors (or at least it looks like marble), glass atria and fancy-looking signage, American Airlines Center feels a lot like a train depot — or, maybe more appropriately, an airport terminal, given the corporation that has its name attached to it and the fact it resembles an airline hangar from a distance. It seems a lot of these elements were meant to add a touch of class to the place, and indeed there is a feeling of opulence. Even a walk around the upper concourse feels that way — at every corner of the arena, you'll find a circular pit in your path, with a light fixture inside. I'm sure there's a more elegant way to describe it, but it's the kind of thing you'd expect to find if you were walking through a state capitol building, not a sports arena.
Anyway, the place feels big for an arena, especially for me since I was sitting in the upper deck. I was six rows up and my section had to have had at least 20 rows, but it looked like the roof was well above all of our heads, so "cavernous" might be apt to describe it. Also, each corner of the upper deck has an opening that exposes the concourse to the seating bowl, a nice architectural touch.
That's about where the uniqueness ends, though. The concessions options — at least for the commoners — are pretty standard. The most adventurous thing there that I saw was Taco Bueno, which I didn't know until later was a Texas-based fast-food chain. I was determined to get something Texas-y, and somehow I wound up settling on a BBQ brisket sandwich — or, as it was listed on the menu, "BBQ sandwich," as though it only has one definition. But maybe locals know only brisket goes into a "BBQ sandwich," I don't know. Well, I bought it, and I ate it, and it was OK. Nothing else to say about it, really.
I scored a pretty good seat in the upper deck, at center ice, six rows up (really, the first row above the entrance aisle, so there wasn't a row of seats directly in front of me. It pays sometimes to be a single, though when I got to my seat I discovered there was only one other seat beyond mine in the row, and it went unoccupied the rest of the game — which I guess gave me a pretty good alibi if I needed one, but even though the guy who sat next to me gave me a definite what's-up-loser-who's-sitting-by-himself look when he arrived, he never asked, so I didn't need it.
The sightline was pretty good, though I felt it was a tad high, with two levels of suites below the upper deck. Nothing to hamper visibility, though, so I had a pretty good view of a pretty good game. The Stars, despite giving up a goal NINE SECONDS into the game, hung in there and won in a shootout, handing the Sharks their first loss of the season. And their logo flashed over and over on the scoreboard, and the fans who showed went home happy. For me, though, the most rewarding moment came later, back at my hotel, when I rode up the elevator with a couple who had walked behind me for the last two blocks and deduced that I had gone to the game. "You were at the game?" the man asked me. "I had never watched hockey before. That was a GREAT experience." We talked about it as long as the elevator ride would allow us, and after I reached my floor, I thought, that was a cool thing to hear. It sure is nice to have hockey in Texas for people to experience.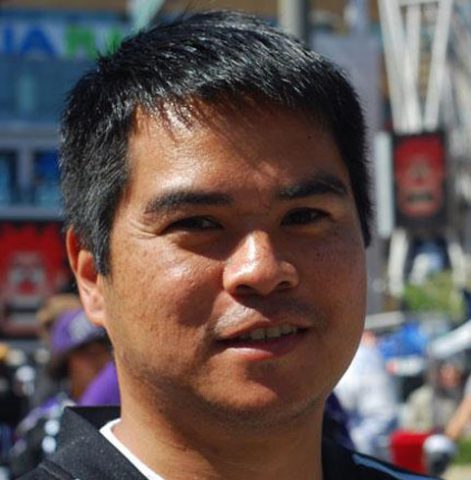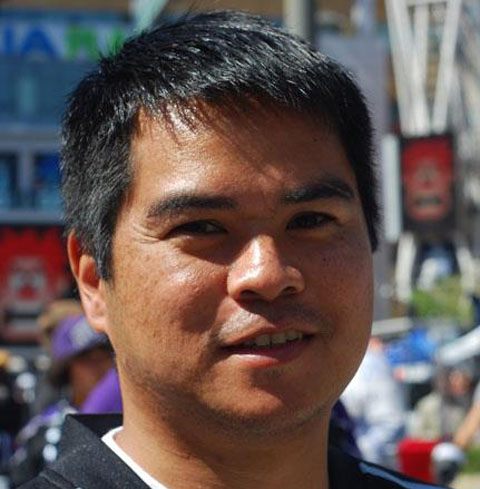 About Edward de la Fuente | Itinerant Fan
I live for sports, and I love to travel. My biggest thrill is combining the two. I've been blogging about sports travel for more than a decade, and traveling for sports for twice as long. To find out more, check out our About page.
Affiliate Disclosure
Please note that some of the links above are affiliate links, and at no additional cost to you, we earn a commission if you make a purchase. These recommendations are only for companies that we've used and have proven to enhance our sports travel experiences. To find out more about our affiliate partnerships, please read our Affiliate Disclaimer.