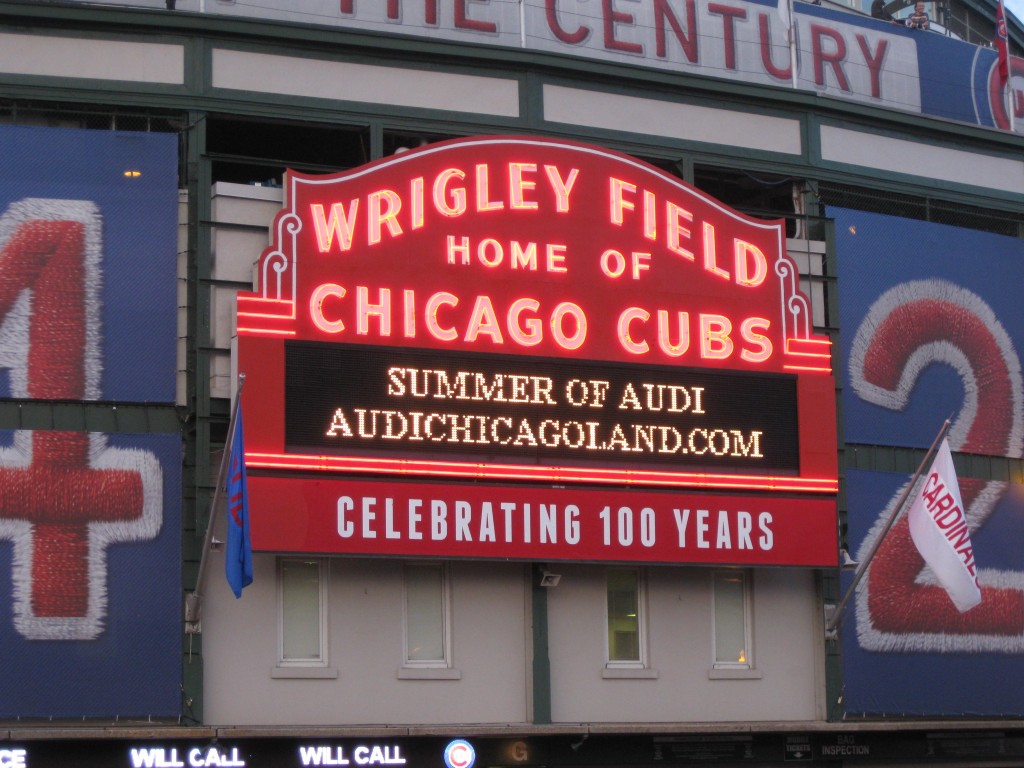 For our most up-to-date guide, check out our Wrigley Field itinerary.
At 100-plus years old, staid and stately Wrigley Field is going through a serious time of transition. Long-awaited plans are underway to install a state-of-the-art videoboard, new clubhouses, expanded bleachers and more to the grand old park on the corner of Clark and Addison.
If you're reading this, you don't need to be reminded of Wrigley's significance and why it's worth visiting — but you may not know of the change it's going through that may or may not make the fan experience there markedly different from what it was in the past. A lot of debate over the plans centers around whether the tradition established over a century of existence will somehow be wiped out by all these renovations, but somehow I think Wrigley will manage to endure.
A lot of this transition is taking place between the 2014 and 2015 seasons, with renovations having begun as soon as the regular season ended. My last visit happened to be for the final game of the 2014 season, but I could already catch a few glimpses of the transformation that was to come.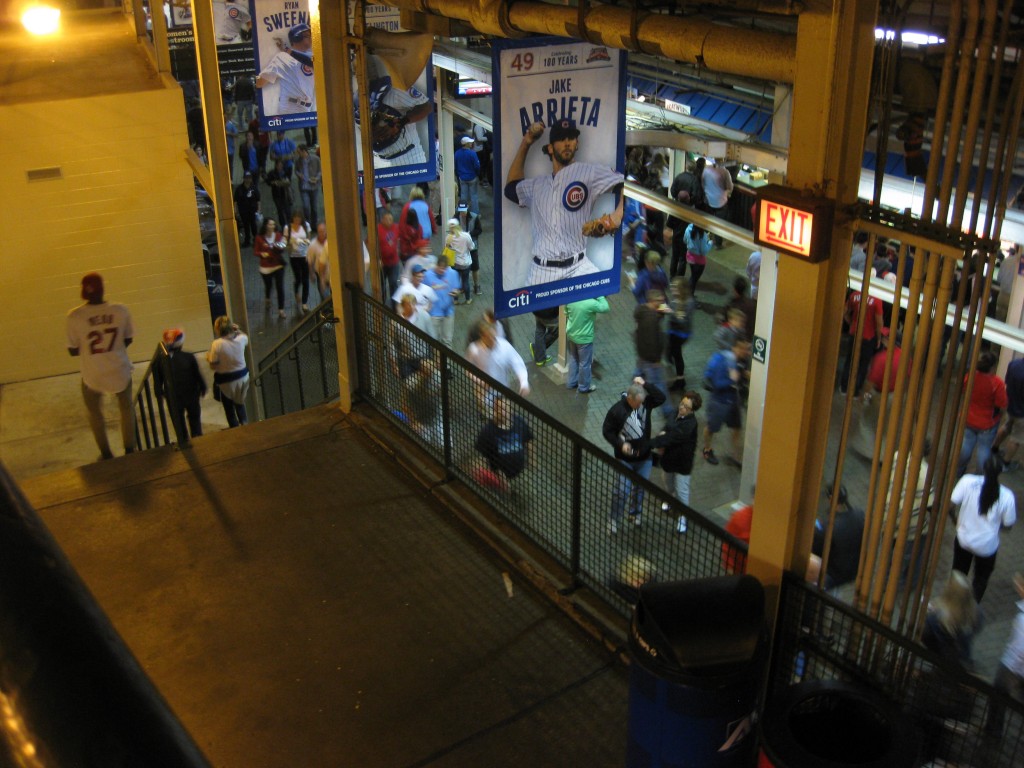 The approach
One thing that won't change anytime soon is that Wrigley isn't a difficult place to get to. Just a few miles north of the Loop, the ballpark is easily accessible by car or cab. An even better way to go if you don't have access to a car is the subway — the Addison stop on the Red line from downtown is just across the street from Wrigley, and if you're looking the right way at the right time, you can see into the ballpark through the gaps between the buildings in front of the station.
If you're driving, all I can say is good luck with parking. Because of the neighborhood it's in (vibrant, yes, but also full of residences and not-very-wide streets), the lots in the area tend to be cramped and expensive. Your best bet may be to purchase parking in advance. Meanwhile, Wrigley does offer another option you don't see at very many sports venues: a bike valet at which you can store your bicycle while you enjoy the game.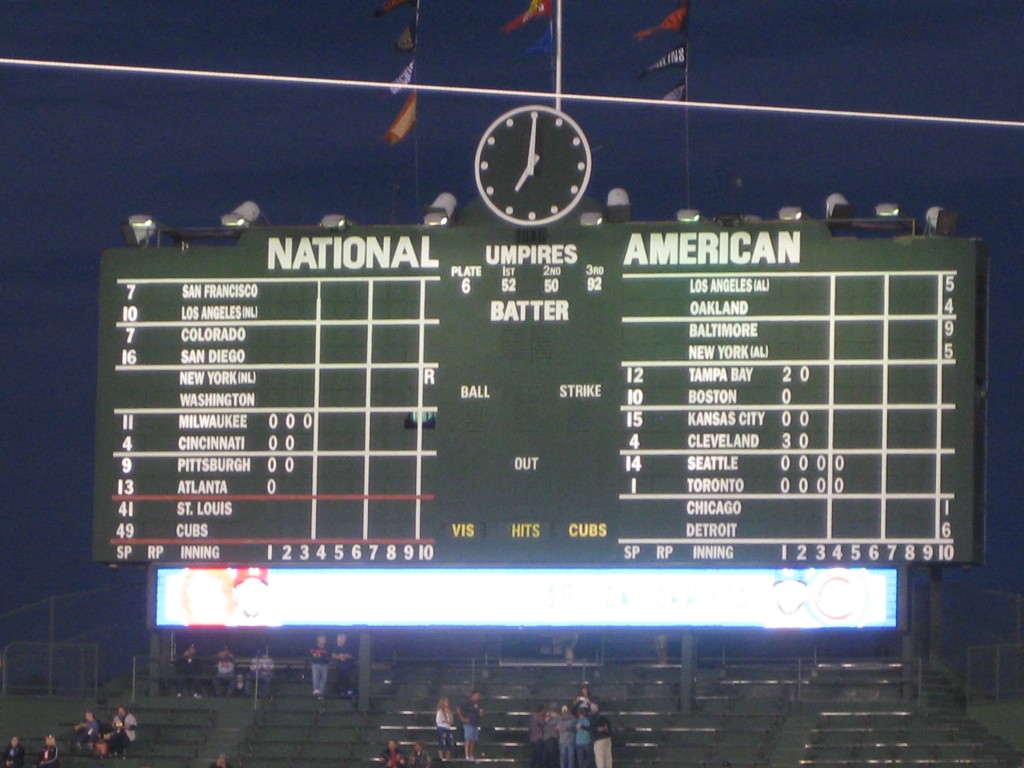 The build-up
I like to think that Wrigleyville, the area in which Wrigley Field is located, is what a neighborhood would like if the planners let a group of sports fans design it. The ballpark is the centerpiece, of course, but surrounding it are restaurants and bars that cater to the sports fan, and residences that don't mind showing off their we're-near-a-famous-stadium cred, foremost among them being those buildings along Sheffield and Waveland Avenues that have the rooftop bleachers on them.
But the best part about Wrigleyville was that its evolution into a sports mecca happened organically. So on a game night — or a game day, as is often the case — you get the bustle of cars trying to get to the game and buses and taxis going through their normal commuter duties; of sports fans decked out in T-shirts and shorts mingling with vendors hawking their wares mingling with people in business attire and hipsters (some going to the game, some not), and all of this comes together to create quite an atmosphere around the ballpark in the hours before first pitch.
So really, you could entertain yourself quite well before the game by just hanging out on the corner of Clark and Addison and people-watching. But if you'd rather be enjoying yourself with some food and drink, most of the best options around the ballpark are on the half-mile stretch of Clark just south of Addison, with bars, brewpubs and restaurants lining both sides of the street. If you've got the time, take a stroll down the sidewalk to see what each place has to offer. Or, if you'd rather not stray too far, Wrigley has its own bar, the Captain Morgan Club, in a conspicuous spot on Addison Street along the ballpark's first-base side.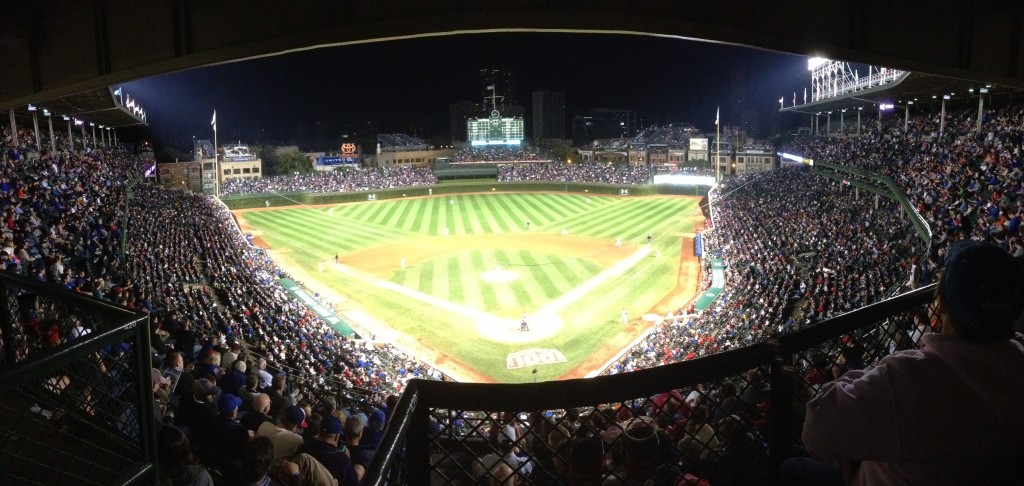 The ambiance
Well, even before you go inside you can see what Wrigley has to offer. Just a glimpse down Sheffield Avenue can indicate this, as you see folks already setting up in the hope of catching home run balls and fans with tickets not for the game, but for the rooftop bleachers across the street (Handy tip: If you want to experience rooftop viewing for yourself, just Google "Wrigley rooftop bleachers" or something similar — each building is its own enterprise and thus has a different website to check out).
But if you're going in, then you'll be greeted with a very interesting, and maybe a little disconcerting, mix of old and new. Among the brick walls, steel columns and concrete ramps you'd expect to find in a century-old facility are flat-screen monitors and glass double-doors leading to more exclusive ballpark additions. Still, the essence of the place remains — the place has a distinct odor of hot dogs and beer, and it's very likely you'll step on a few peanut shells as you walk across cracked concrete floors. All part of the charm of the place.
For something more adventurous to eat than hot dogs, you're best off scouring the main concourse for your grub. Chicago staples such as deep-dish pizza (from Giordano's), Chicago-style hot dogs and caramel corn (from Nuts on Clark) are all available, and you might be surprised to find out that there's a sit-down diner at the end of the main concourse in right field.
If your seat isn't within 15 rows of the field, you'll likely need to figure out a confusing network of steps and ramps to get to the level you'd like. (For what it's worth, there is an elevator behind the left-field bleachers, near Gate K, if you aren't able to navigate all the steps.) If you have to make this trip, though, you'll get a few little glimpses into what makes Wrigley tick. For example, you'll see the mini-scoreboards and monitors in place for fans who sit in the way back of the lower deck, where their sightlines of fly balls and the like can get cut off by the overhang of the upper deck. You'll discover things like bathrooms, concession stands and employee rooms tucked away within these mazes, and you might be surprised to find that the upper-deck concourse cuts through the seating area.
I had a ticket for the lower level, first-base side, under the upper deck but not so far underneath it that I couldn't see pop-ups. And it's once in your seat that you realize how special the Wrigley atmosphere really is, from the old-timey, hand-operated scoreboard in center field to the ivy-covered outfield walls. And despite the modernization that's taking place there — there are already electronic message boards above the outfield walls in left and right field, and the large videoboard is set to be erected above the left-center field stands — it's hard not to get wrapped up in all the tradition of the place and think that this is how baseball was meant to be watched.
The Cubs were able to raise the white "W" flag for the final home game of the season, beating the rival Cardinals. With that, change is in store for Wrigley. I can't wait to see what it'll look like.
Affiliate Disclosure
Please note that some of the links above are affiliate links, and at no additional cost to you, we earn a commission if you make a purchase. These recommendations are only for companies that we've used and have proven to enhance our sports travel experiences. To find out more about our affiliate partnerships, please read our Affiliate Disclaimer.