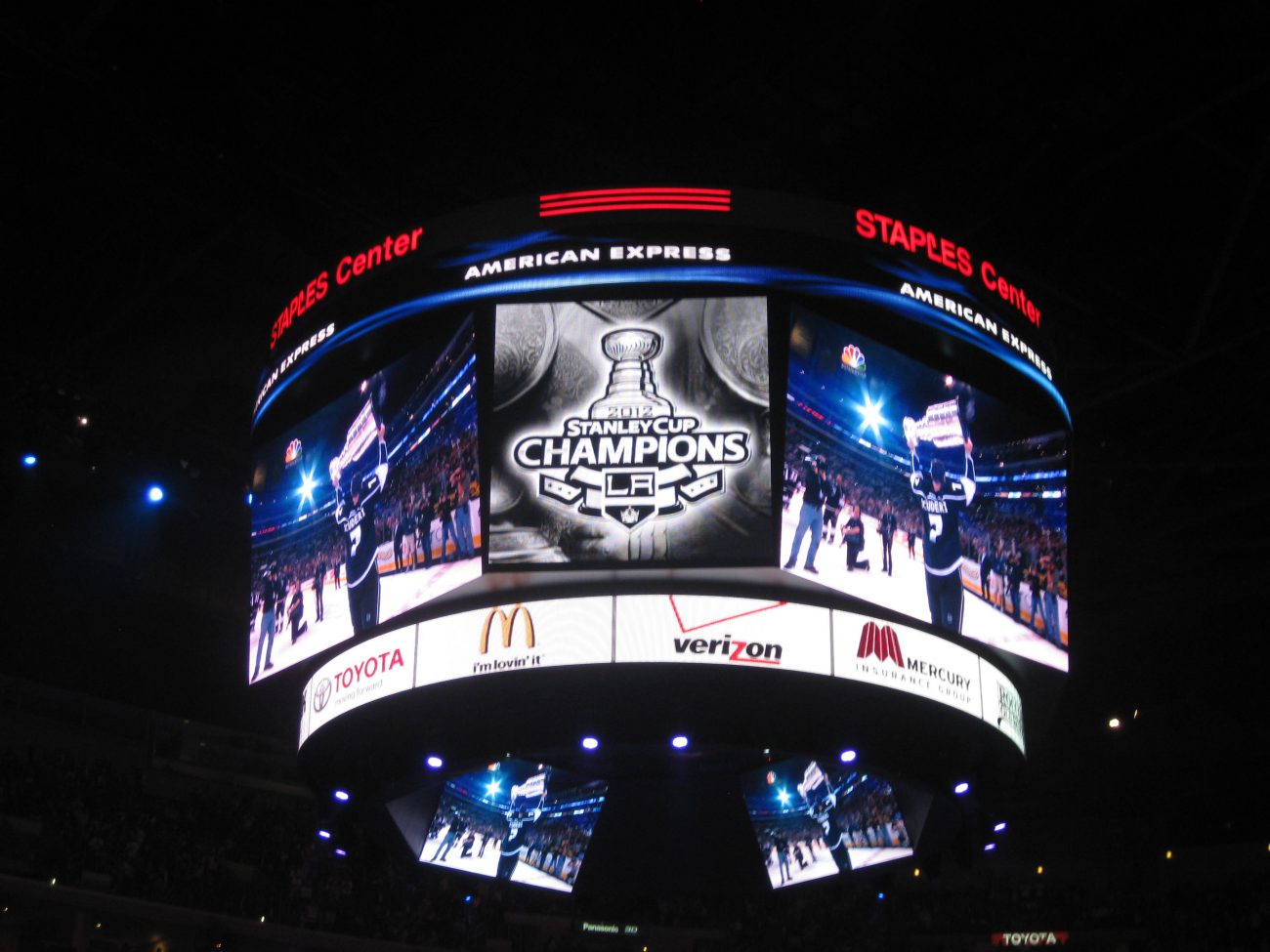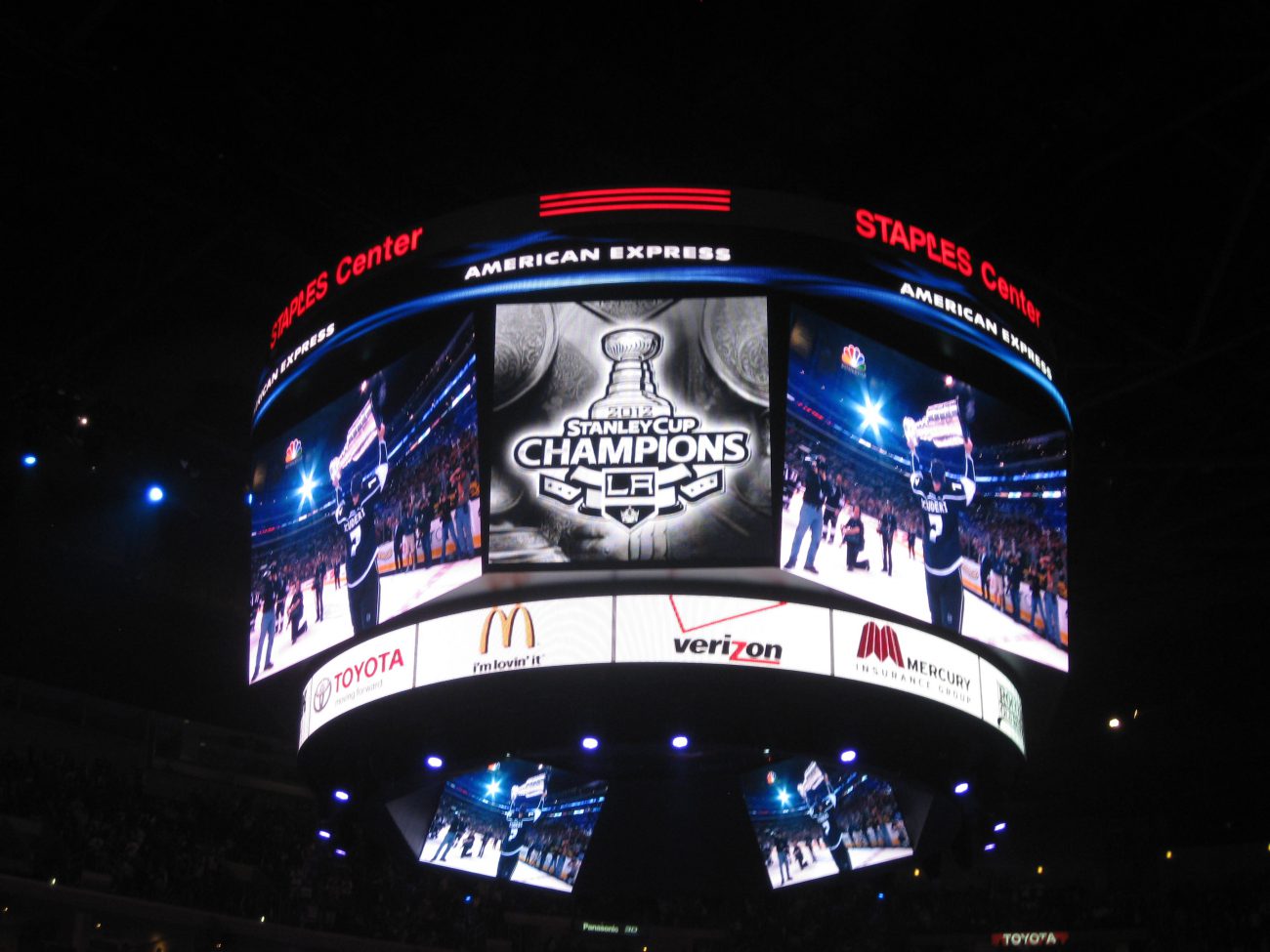 The spring has always been a time to chill for me, both in terms of sports travel and of life. Things slow down — fewer personal obligations, less work stress. Your plans become more leisurely in nature. You tend to worry about saving money for when you really need it, ie. the holidays. You don't think much about dropping everything to follow the playoff run of your favorite pro sports team, especially when it hasn't given you a reason to think that way since you started earning enough money to be able to drop everything and follow them if you so desired.
So when my favorite pro sports team, the Los Angeles Kings, began the Stanley Cup playoffs in April as the No. 8 seed in the Western Conference, the extent of my planning consisted of securing tickets to one home game in the opening series against Vancouver… and then adopting a wait-and-see attitude. It wasn't about not having faith — it was about being realistic. Needless to say, the Kings surprised the heck out of me. I won't rehash what happened here (besides, I already did that in another blog entry for Mrs. Fan's new internet venture, The Rebel State), but by the time the two-month run of (mostly) euphoria was finished, I had dropped a few grand on tickets, travel (and I went to exactly one road game, which I promise will be the subject of a future Itinerary) and various accoutrements.
Don't get me wrong, I'm not complaining. The last two months have provided me with some of the greatest highlights of my sports-fan life — the ability to see a Stanley Cup final game live; the chance to meet and befriend fellow Kings fans and to become more connected with what truly is a community of hockey followers; and, most spectacularly, the chance to see a championship parade up close (more on that later). I will say, though, that it's a different animal planning and budgeting for games that you aren't sure will be played and when, as opposed to taking a schedule that gets released months in advance and spending weeks meticulously mapping out every moment of your journey. I had already budgeted a significant amount of money for some ambitious fall sports trips, but by the time the Kings raised the Stanley Cup, a lot of that money had been repurposed and spent.
But you know what? C'est la vie. Of course I like traveling and seeing random games — enough that I maintain a blog about it. But I have to imagine most people like me would still prefer to see their teams when they travel, and it's probably a love of their teams that compels them to travel for sports in the first place. And when your team is one that has never won a title before and is suddenly on a march to a championship — especially one as unpredictable as the one the Kings just completed — well, that certainly justifies changing your plans. I still have things I'd like to accomplish this fall, but I'm pretty certain I won't be able to do everything I had hoped. This year especially, I'm OK with that.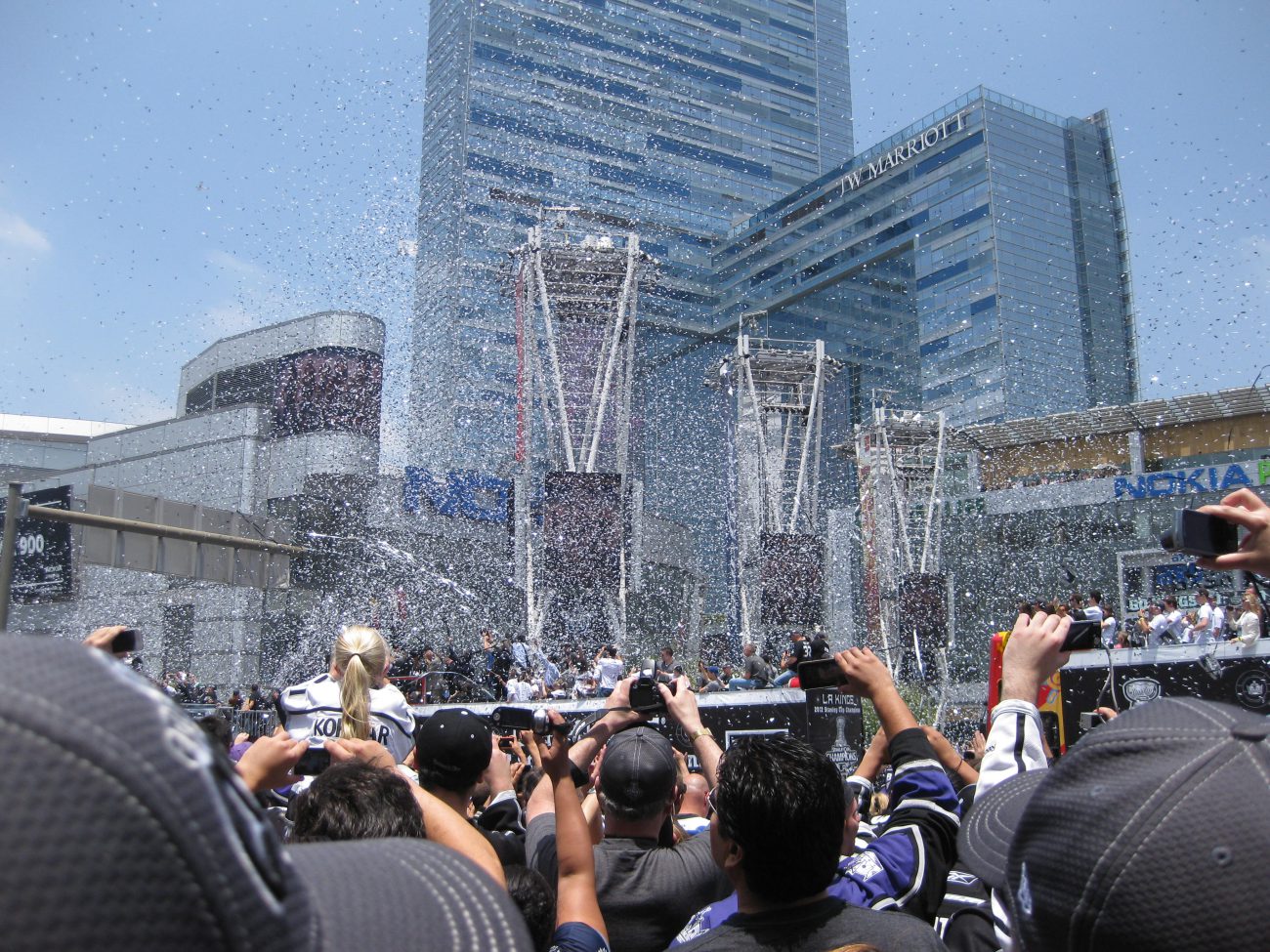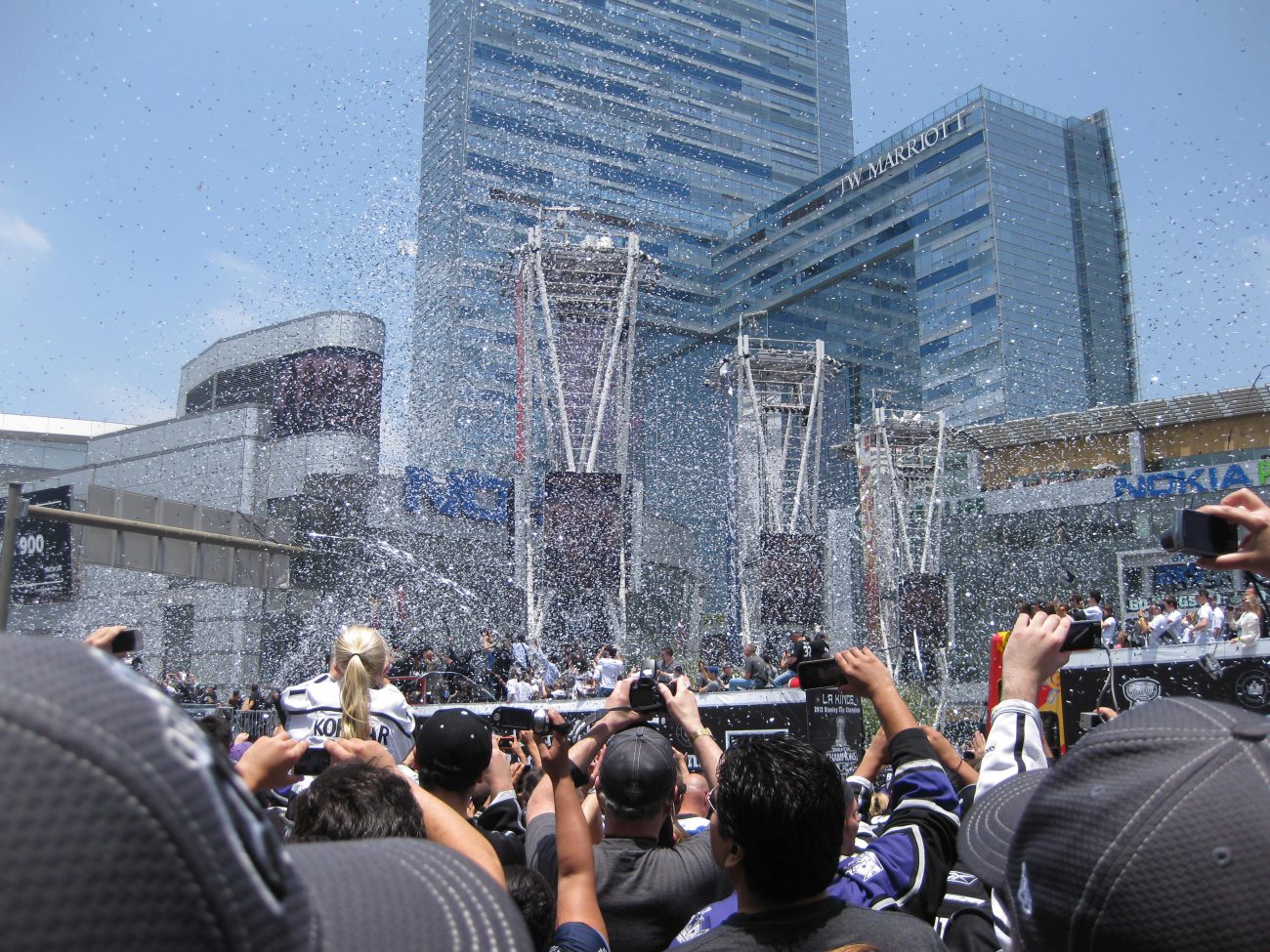 Oh, and about that parade — all I can say is "wow." They say that 250,000 people lined the streets of downtown L.A. to watch the Kings show off the Stanley Cup. Sure, that's not nearly as many as a hockey-mad city like Boston or Detroit would bring, but the energy these people brought to the streets was incredible — something I've never felt before in a sports context. Mrs. Fan and I walked most of the parade route before winding up in the plaza in front of Staples Center by the time the buses carrying the players and the Cup arrived, and there was a feeling of sheer elation on every block.
We were also lucky enough to score tickets into the rally inside Staples Center later that afternoon. They were free, but considering only 18,000 can fit inside the arena and 250,000 people were outside … (quick calculating) … that means barely 7 percent of the folks that showed up for the parade had access to the rally. The event lasted barely an hour, but what impressed me most was the sense of togetherness — the concession stands were selling food at half off, tears were shed when highlight videos were shown on the screen and players said their thanks, and fans hugged when the ceremony was over. Ever watch one of your closest friends get married? Yeah, that's seriously what it felt like — the pride and joy of watching someone you've been close to for so many years achieve something so memorable and life-changing.
The next step will be to watch the championship banner get raised in the home opener next season. Will I be there for that? You know it. Is there an opportunity cost to it? Of course. But I'm very happy to have to incur it.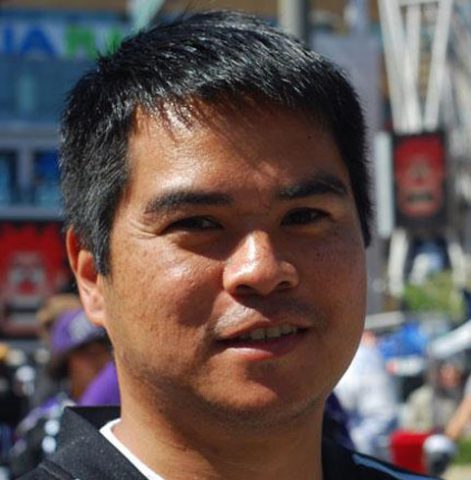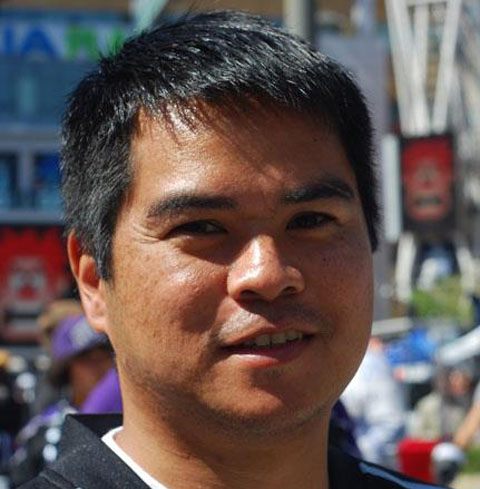 Edward de la Fuente | Itinerant Fan
I live for sports, and I love to travel. My biggest thrill is combining the two. I've been blogging about sports travel for more than a decade, and traveling for sports for twice as long.
About me | FAQ | Buy me a beer 🍺
Affiliate Disclosure
Please note that some of the links above are affiliate links, and at no additional cost to you, we earn a commission if you make a purchase. These recommendations are only for companies that we've used and have proven to enhance our sports travel experiences. To find out more about our affiliate partnerships, please read our Affiliate Disclaimer.