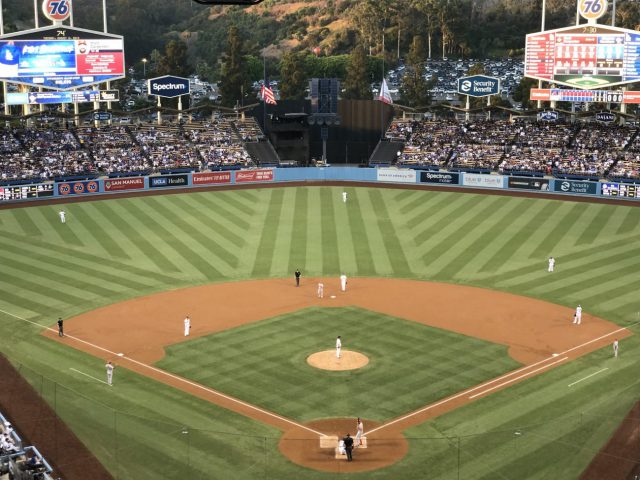 Most sports fans, whether they're avid travelers or not, have a stadium or two that is near and dear to their hearts — because it's where their favorite team plays, or because it's the one in which they watched many games while growing up. As a result, they know most of the venue's intricacies and quirks (like, for example, which bathrooms tend to have the shortest lines) and can recall all the changes that have been made to it over the years, for better or for worse.
For me, having grown up in Southern California, Dodger Stadium is one of those venues. I've seen countless events there (not just baseball, but a couple concerts and even a hockey game), and I've also seen many changes made to the stadium to modernize it and make it more fan-friendly.
Some dramatic changes are coming to the ballpark before the 2020 season, when it will host the MLB All-Star Game. In my view, most of these improvements are long overdue — it's about time something else was placed next to the stadium besides vast swaths of parking lots — but they're also part of a venue evolution seen at many, many stadiums around the country, particularly ones as old as Dodger Stadium is.
As both a sports fan and a stadium architecture enthusiast, I've found it fun and enthralling to witness all of the changes to Dodger Stadium over the years.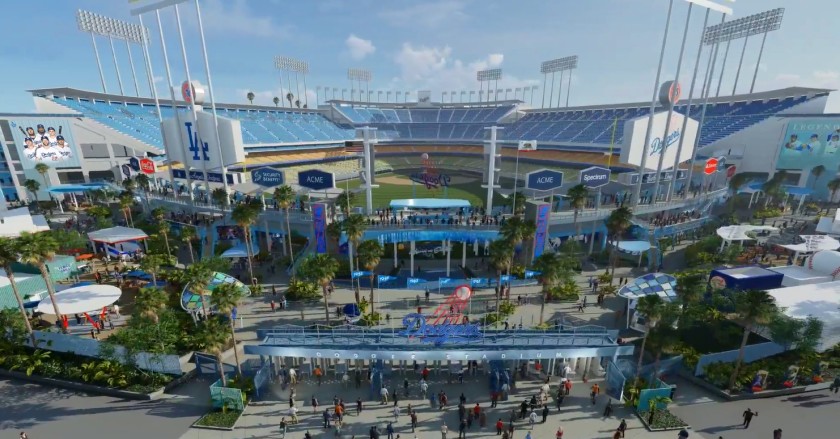 Image credit: Los Angeles Dodgers
The most dramatic — and in my opinion, much-needed — change coming in 2020 is the addition of a pedestrian bridge that will circle behind the pavilions, making it easier for patrons to make 360-degree walks around the stadium. 
I've always felt Dodger Stadium was a surprisingly difficult ballpark to explore. Its location, situated on a hillside, mean that entrance gates exist at each of the four seating levels; instead of entering the stadium at whichever gate is closest, fans are challenged to find their level before going inside. Once past the gates, fans aren't encouraged to switch between levels, and there's one set of escalators (behind home plate) and a couple of staircases with which to do so.
The addition of "bullpen overlooks," spots above each bullpen in the outfield corners where fans can buy drinks and watch the game from a standing-room vantage point, before the 2014 season went a long way toward encouraging exploration. Though each seating level has a concourse that overlooks the field, allowing fans to watch the game from a standing position if they so desired, there weren't many spots to grab a beer and enjoy the game from a different vantage point before the bullpen overlooks were constructed.
While the coming improvements to the outfield seating can best be described as a plaza, it's fairly clear that part of the aim is to emulate the outfield alley concept, similar to "Ashburn Alley" at Philadelphia's Citizens Bank Park or Eutaw Street at Baltimore's Oriole Park at Camden Yards. 
In the early 2000s, the Dodgers also set about adding premium seating areas to the field level. This took place over the course of a few seasons, and the end result necessitated moving the diamond to create enough space for the extended seating.
The seats behind home plate were added first, which for a while created a strange configuration (somewhat visible in this old photo) where the best seats were closer to home plate than the dugouts. I clearly remember attending a game during this period and musing to a friend, "It's kind of sad that the guy in the front row has a better view of the game than Jim Tracy (the Dodgers' manager at the time)."
Looking at the seating configuration now, it's hard to tell much has changed, and that there was an awkward period of transformation. Which is the way it should be, of course, but sometimes needed change requires a little bit of pain.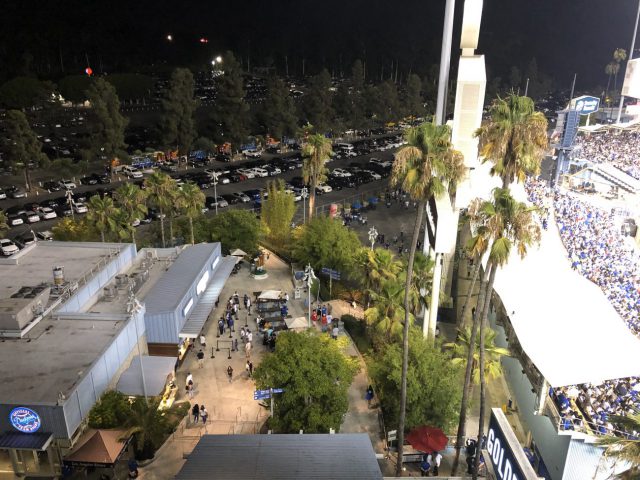 Updating older venues can be tricky business. At Wrigley Field, there was a longtime resistance to the most visible of modern amenities — the videoboard — before progress finally won out. Fenway Park underwent years of painstaking renovations, but few seemed to mind because a clear effort was made to retain the old-timey feel of watching a game there.
Dodger Stadium isn't nearly as old as either Wrigley or Fenway, and in general, retaining the ballpark's character and atmosphere won't be an issue in this latest round of renovations. The plans for the area behind the outfield pavilions are, more than anything, a creative re-imagining of some non-functional space — a lot like taking your unfinished basement and turning it into a game room or man cave.
The area slated to become, as Dodgers president Stan Kasten told the Los Angeles Times, a "front door" to the ballpark is currently a parking lot. The gap between the two outfield pavilion sections, in dead-center field, is most prominently occupied by a large bank of speakers. The most functional use for this area that I've seen came as a participant in the team's annual 5k, the route of which winds through the parking lot before passing between the pavilions and finishing on the field's warning track. So, simply making this area a place where fans can gather and hang out on any game day is a significant improvement in itself.
While I invoked Citizens Bank Park and Camden Yards above, perhaps the most apt comparison to Dodger Stadium's plans is the 2009 renovation of Kansas City's Kauffman Stadium, where a new outfield concourse was created and turned the ballpark's signature fountains from merely a visible feature to an interactive one.
Not long after, the Royals hosted the MLB All-Star Game, in 2012. Which just goes to show that if you're planning some shiny new features for your ballpark, you might as well get them ready for when the eyes of the baseball world are on you.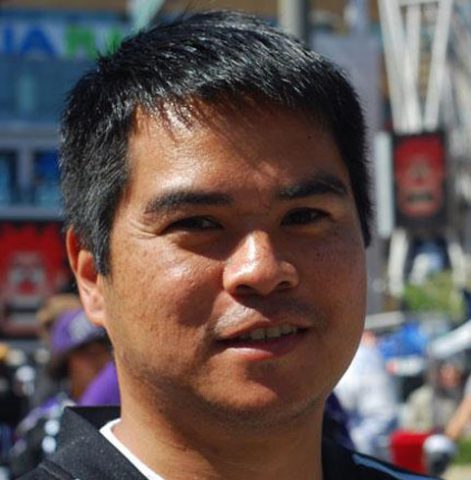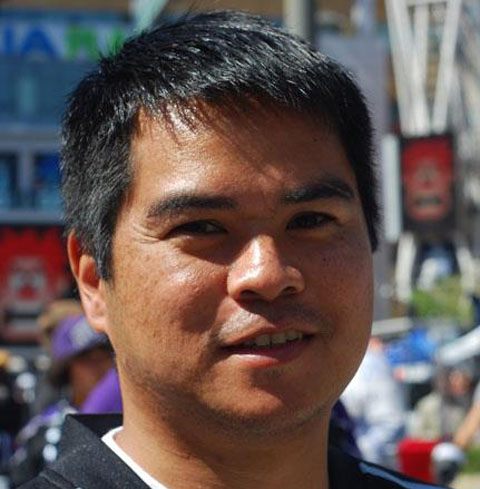 Edward de la Fuente | Itinerant Fan
I live for sports, and I love to travel. My biggest thrill is combining the two. I've been blogging about sports travel for more than a decade, and traveling for sports for twice as long.
About me | FAQ | Buy me a beer 🍺
Affiliate Disclosure
Please note that some of the links above are affiliate links, and at no additional cost to you, we earn a commission if you make a purchase. These recommendations are only for companies that we've used and have proven to enhance our sports travel experiences. To find out more about our affiliate partnerships, please read our Affiliate Disclaimer.