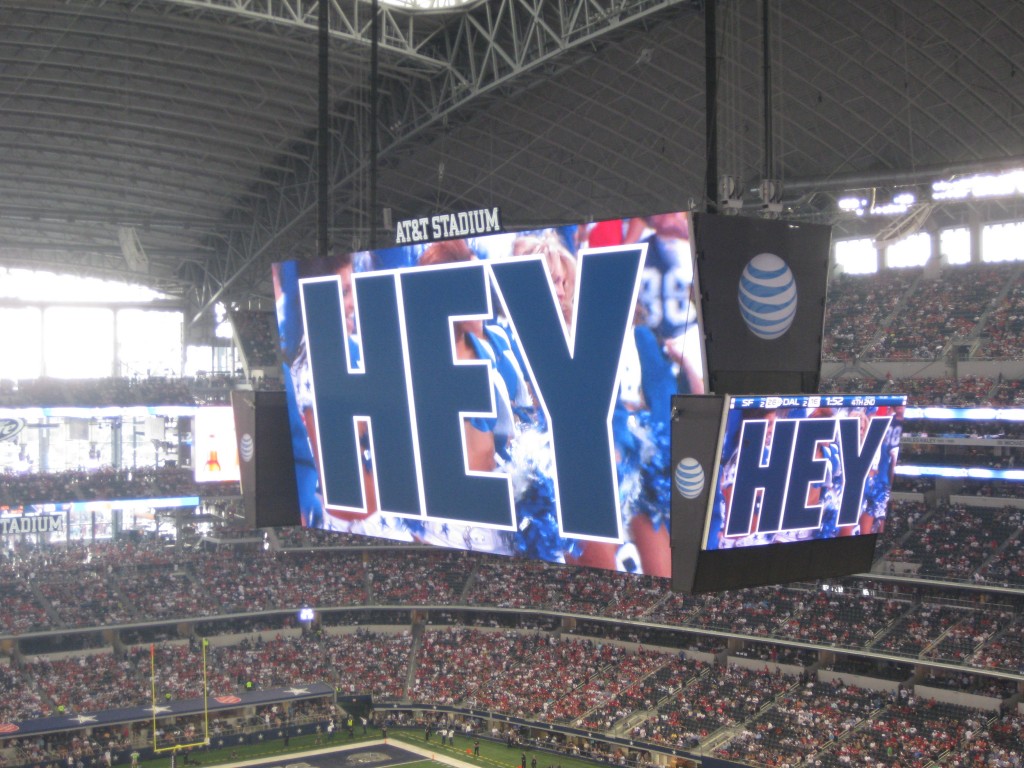 Our recent jaunt through some of the finer stadiums the NFL has to offer got me thinking. Many of the venues we've visited recently — definitely all of the newer ones — has had some form of fancy high-definition screen as part of its fan experience. They aren't all as massive and awe-inspiring as the one at AT&T Stadium (pictured above), but it's usually pretty difficult to sit in the stands at a stadium that's got one of these huge screens and not find yourself staring at it for minutes on end.
And that's OK, right? Just part of the modern stadium experience, no? Beats those days when we were all staring at dot races on dot-matrix screens between innings or quarters, for sure. But for the sake of argument, let's push it to the other extreme and ask: When do these fancy big-screen toys get too large and too elaborate, and when do they start actually detracting from the experience of watching a game in person?
Before I go any further, let me make clear that I'm not advocating that the good folks in Arlington take down their giant videoboard for the sake of the fans. Besides, for the people in the highest of nosebleed seats, the videoboard is quite likely their best view of the game. But part of me wonders whether these giant screens make us focus less on the action on the field — the very reason we paid money to be in the stadium in the first place — and more on the instant replays, the incessant ads and the high-tech gadgetry itself.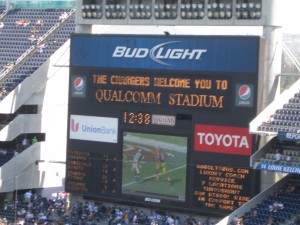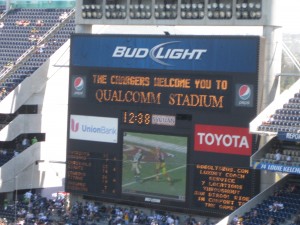 This point was underscored to me over the course of two recent venue visits. One was to Qualcomm Stadium, which has a screen that is downright tiny by today's standards — I stopped looking at it midgame because I could hardly tell what was being shown on it, a lesser indication of my deteriorating eyesight than my being spoiled by larger, nicer screens at other places. The other was to Wrigley Field, where they don't have a screen at all — but they're going to, after years and years of battles between the Cubs and detractors who claim, among other things, that adding such a modern amenity would cheapen the tradition established over the course of the ballpark's 100-plus-year existence. (Then again, Fenway Park has a pretty big screen and seems to be doing OK for itself.)
What I found in attending games at those two stadiums was that I focused more intently on other things — namely, the game itself. I didn't miss the info that gets displayed on those things all that much — sometimes, it's refreshing to have a little bit of naiveté about what you're watching — and I certainly didn't miss the ads or games or whatever else would normally show during breaks in the action.
One of the next games I attended after visiting those two venues was a USC football game at the Los Angeles Memorial Coliseum, a stadium that installed a giant widescreen only a couple years ago (before then, their screens were only as adequate, if not worse, than Qualcomm's). Where I sit, looking at the new screen requires turning your head almost 90 degrees to the right. Just for my own amusement, I spent a 10-to-15 minute period observing the fans in front of me, many of whom were obviously from out of town, rooting for the visiting team and, presumably, were attending a game at the Coliseum for the first time. Sure enough, at the end of at least 75 percent of the plays, the majority of them turned their heads almost 90 degrees to the right almost immediately.
So what have I proved? Nothing really, except we as sports fans like our large TVs and our instant replays. No big surprise. If anything, this is just a reminder that when you visit a stadium, there's a lot more to see than that huge screen hanging over the field, and it's perfectly OK to take in those other things, too.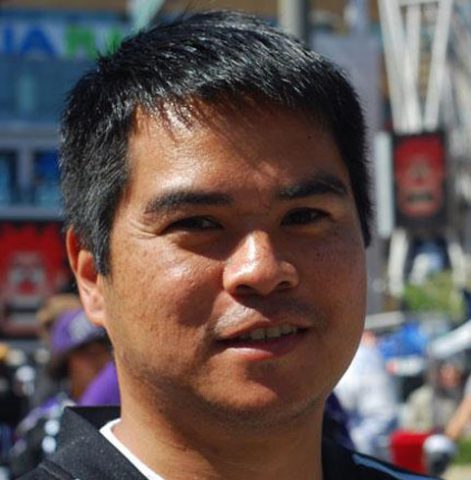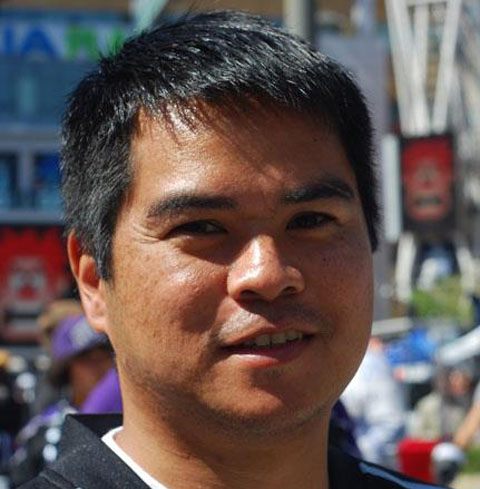 Edward de la Fuente | Itinerant Fan
I live for sports, and I love to travel. My biggest thrill is combining the two. I've been blogging about sports travel for more than a decade, and traveling for sports for twice as long.
About me | FAQ | Buy me a beer 🍺
Affiliate Disclosure
Please note that some of the links above are affiliate links, and at no additional cost to you, we earn a commission if you make a purchase. These recommendations are only for companies that we've used and have proven to enhance our sports travel experiences. To find out more about our affiliate partnerships, please read our Affiliate Disclaimer.