I like to think that I'm not really a material sort of person. I make enough money to get by in this world, but when the urge comes to spend it, I do so judiciously. When I visit a place or see a game worth remembering, I take photos, but I tend not to buy many souvenirs — unlike many sports fans I know.
Well, I've discovered over the last month and a half that maybe I AM a material sort of person. When the Los Angeles Kings won the Stanley Cup, I rejoiced, but somewhere in there I also told myself I wouldn't go too crazy with souvenir-buying. Then I decided to buy an official Stanley Cup champion hat, and had to go to about eight different stores before I could find one in my size (either every Kings fan has a small/medium-sized head like I do, or they marketed those hats toward people with huge heads). With each passing store that didn't have one, my urge to snag one of those hats grew until it reached a near-obsessive state.
When I found out a local dairy was producing glass milk bottles with logos commemorating the Kings' title — nothing special, really, just ClipArt images and the words "Congratulations Los Angeles Kings" — I moved heaven and earth to find both incarnations, finally finding them at the company's dairy (which, unbeknownst to me, was closer to my house than more than a few of the grocery stores I visited hoping to find them). In all, the milk bottles cost me a little more than $10 (I bought three) and whatever gas I burned driving around town, but it was the effort I didn't think I'd expend.
Which brings me to the Stanley Cup itself.
I figured it would be cool at some point to get my photo taken with it — you know, just as a keepsake of this glorious summer — but I didn't think that I'd be crazy-obsessive about it. Then about two weeks after the championship had been won, the Cup made a morning pit stop in the office building where I work, there for anyone within to take a picture with, and I had no idea about it because I was scheduled to work later in the day and the thing had already been spirited away by the time I reported for duty. I was bummed out when I found out it had been there, but then I was REALLY crushed when my co-workers who were there started posting pics on Facebook with the Cup.
(By now I'm sure you see the common theme here: Guy doesn't care about X thing until he sees others enjoying that thing, and then he stomps his foot and screams "I want that too!" I guess maybe it is a jealousy thing. But I like to see it as something less sinister: Guy doesn't realize how cool certain things are until he sees others enjoying those things, and once he gets a taste, he can't stop until he can experience it for himself. There, that doesn't sound too bad, does it?)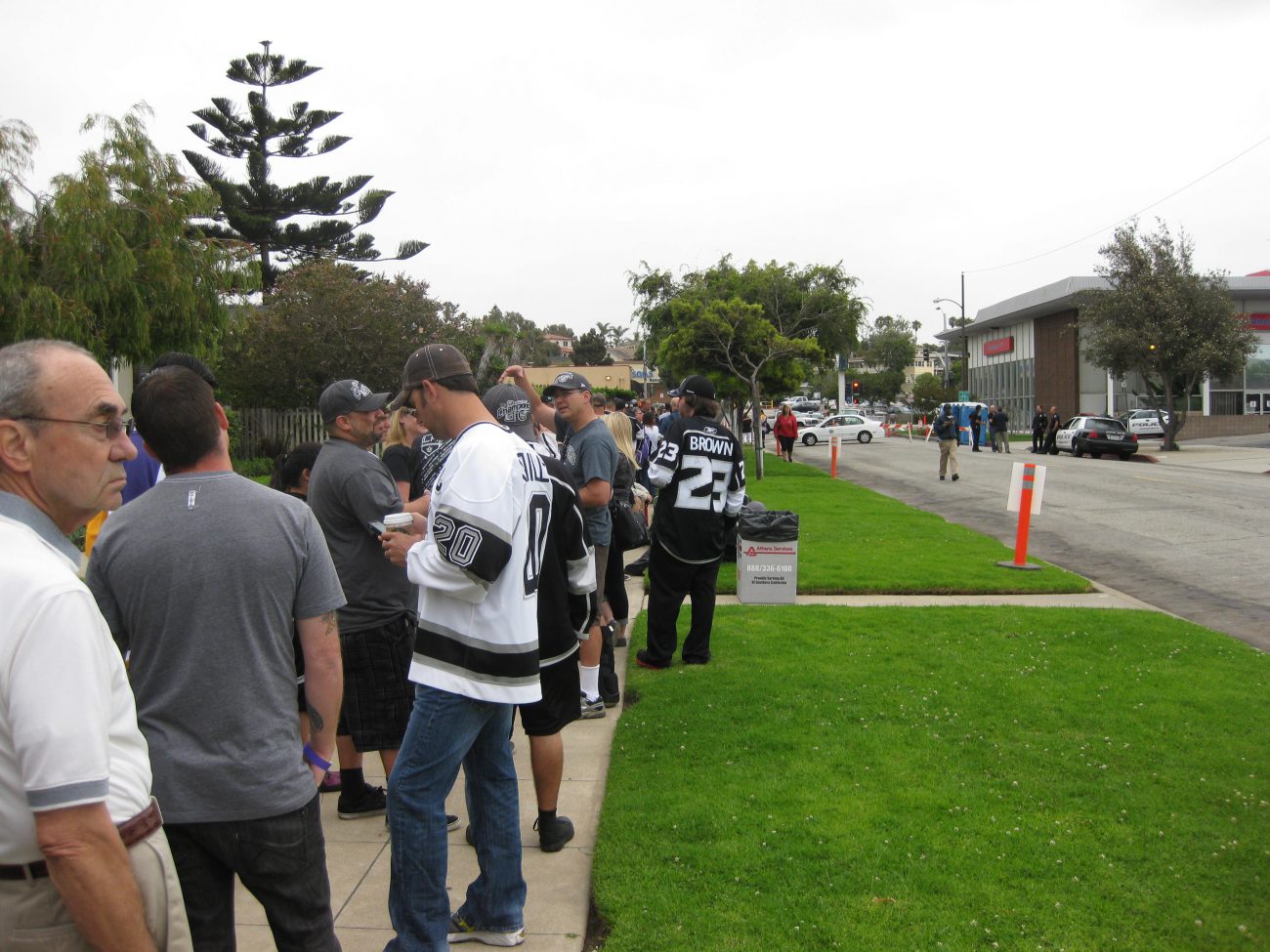 Not long after the Cup stopped by my office, I heard it was heading overseas to begin its summerlong round of visits with all the players, and at that point I thought my chance to see it had vanished at least until September. Then, a forwarded email appeared in my inbox from Twisted Sister, from the city of Redondo Beach (why my sister gets emails from the city of Redondo Beach, I don't know): The Cup would be making a visit to a local restaurant, one that has been supportive of the Kings and hockey throughout the years. And for a two-hour window, fans would be welcome to take pictures with it.
The upshot of this is I found out exactly what would make a person wake up on three hours of sleep, drive 45 minutes, then stand more than two hours in line for a 30-second encounter with an inanimate object. That, in a nutshell, is what I did (though, I have to admit, this would also accurately describe a few early-morning trips to the airport I've had in my day — the inanimate object in that case being the metal scanner). I woke up at 6 a.m., dragged Mrs. Fan out of bed (Mrs. Fan, by the way, was undecided on whether to go until five minutes before we actually left, meaning she was considering valuing sleep ahead of the Stanley Cup. I can only imagine her reaction if she hadn't gone and seen my pic with the Cup posted on social media. Or then again, maybe I don't want to imagine it), manage to elude most of the traffic through LA, and made it to Redondo Beach by 7. By 7:15, we were the 138th and 139th people in line to see the Cup (see photo above).
After two hours of chatting with friendly if not bleary-eyed fellow Kings fans, being handed wristbands as if we were waiting to enter an exclusive club, and then walking at a snail's pace through a winding queue as if we were waiting to board a ride at Disneyland… well, this happened: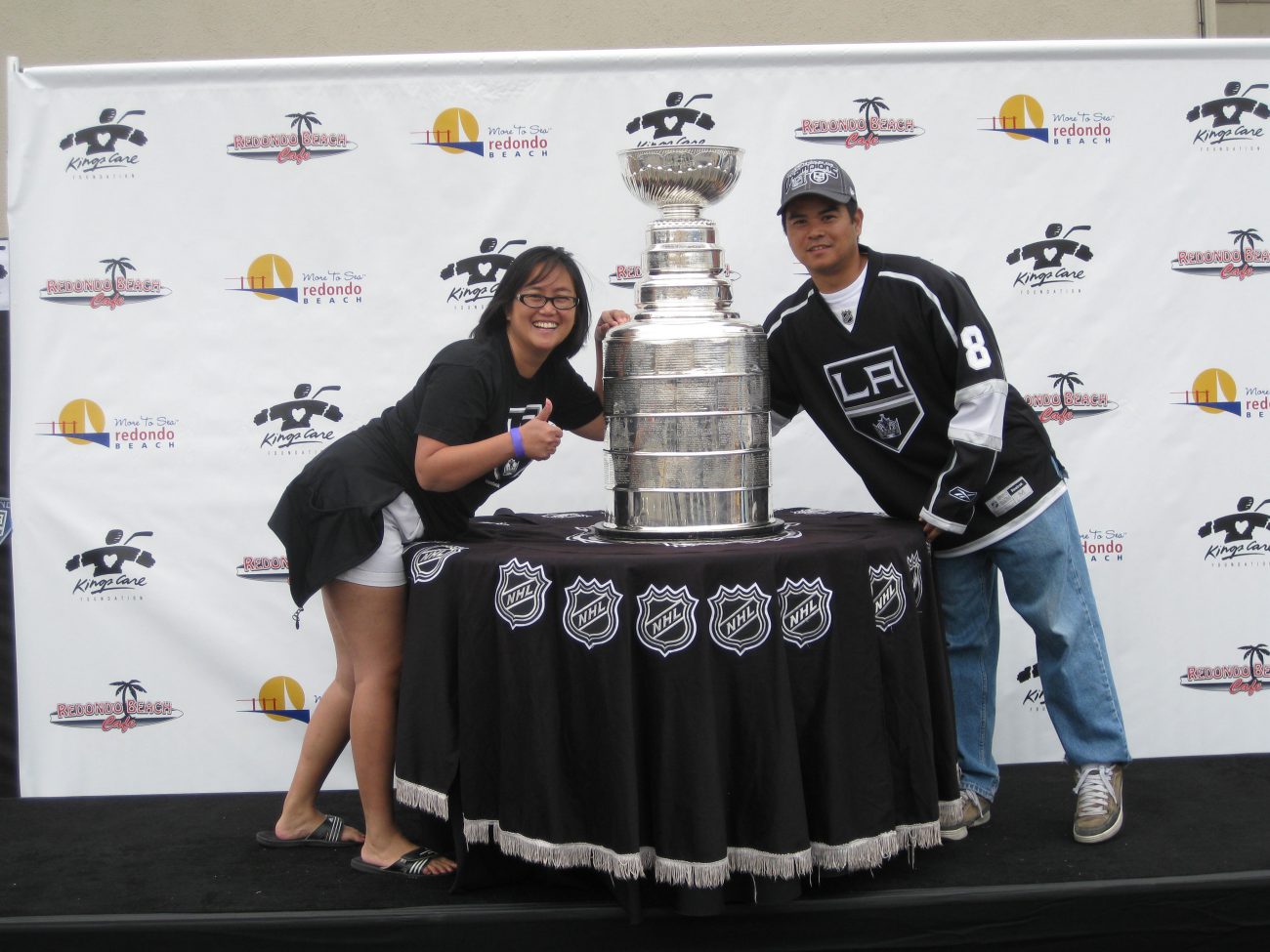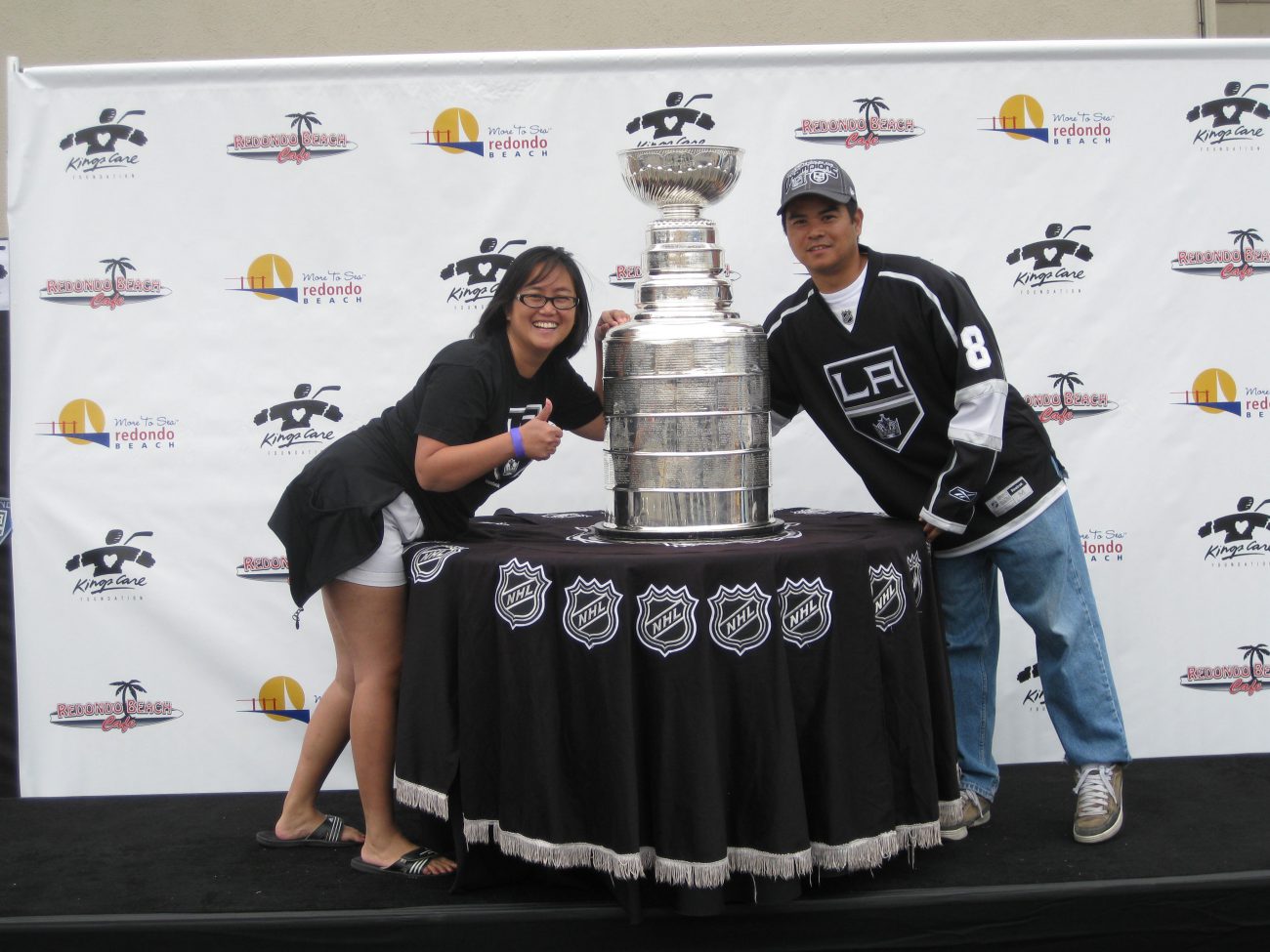 … and it was just as wonderful an experience as I thought it would be. Oh, and if I made you jealous when I posted our pics to social media that day, I apologize. I know exactly how you feel.
Postscript: There's one other item Kings fans are obsessing about these days, special-edition Bud Light bottles with the Kings logo on them. I have yet to start scouring liquor stores for them, and as of this moment I don't think I will. Does that mean I'm tapped out on searching for Kings souvenirs or I have that much of an aversion to Bud Light? I don't know. But if Newcastle Brown Ale wanted to make a special-edition Kings bottle, I'll gladly wait in line.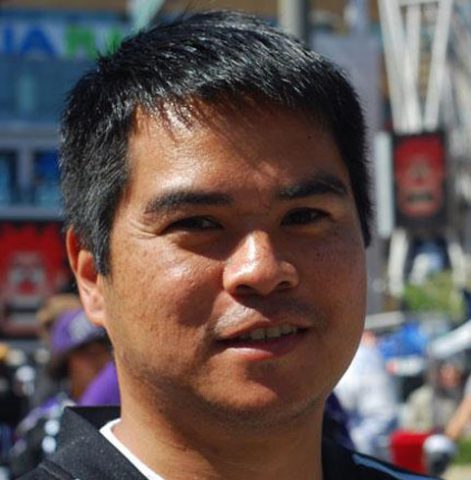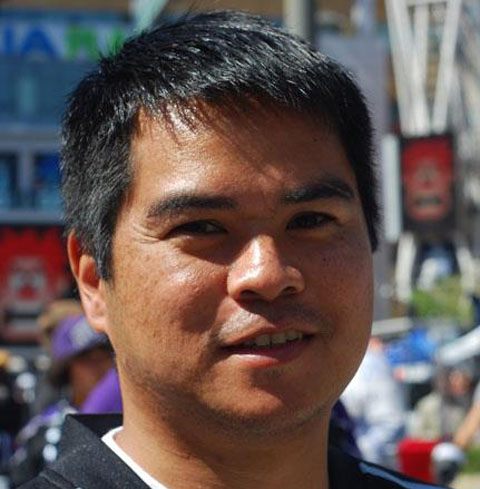 Edward de la Fuente | Itinerant Fan
I live for sports, and I love to travel. My biggest thrill is combining the two. I've been blogging about sports travel for more than a decade, and traveling for sports for twice as long.
About me | FAQ | Buy me a beer 🍺
Affiliate Disclosure
Please note that some of the links above are affiliate links, and at no additional cost to you, we earn a commission if you make a purchase. These recommendations are only for companies that we've used and have proven to enhance our sports travel experiences. To find out more about our affiliate partnerships, please read our Affiliate Disclaimer.