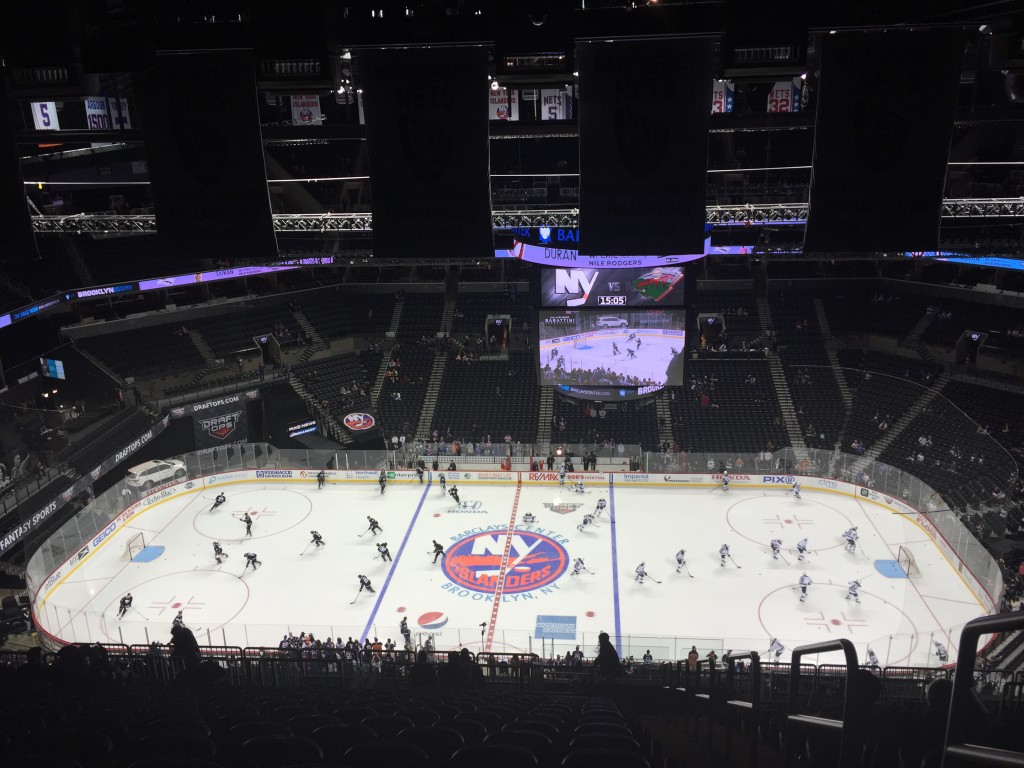 It's been nearly a full season since the New York Islanders left their longtime home, the Nassau Veterans Memorial Coliseum, and made their much-discussed move into Brooklyn's Barclays Center. And a lot of things have happened in that time — not many of them positive. From fans being in an uproar to a goal horn controversy to the team apparently having second thoughts already, the transition from the Island to the borough has not been a smooth one.
Which left us with the question: Is Barclays Center, by most accounts (including ours) a terrific venue for basketball with a prime location, really that bad for hockey? Only one way for us to find out, so we made a late-season visit to see just how barn-worthy the place really is.
(If you're here for the usual research and planning for your own trip to Barclays Center, please visit our Itinerary for info on getting there, things to do around the venue, etc. We'll be sticking strictly to the hockey fan experience inside the arena for this particular post.)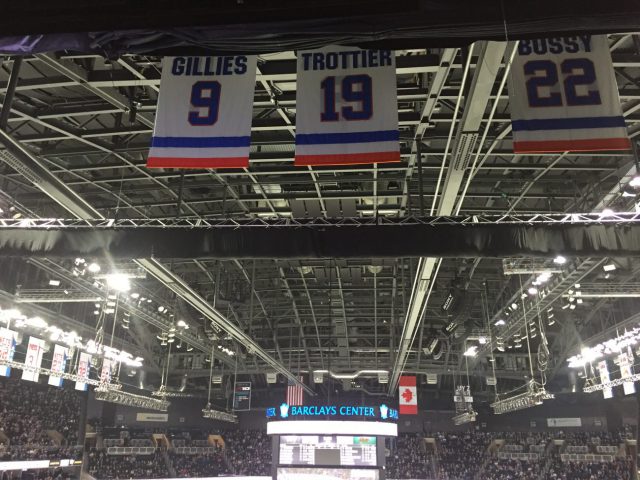 Really, there's nothing unusual about going to a hockey game at Barclays Center until you get into the seating bowl. Before that, you're probably taking the train with a bunch of Islanders fans (or fans of the opposing team, which on this night was the Minnesota Wild), and then coming up from the Atlantic Avenue-Barclays Center station with them as the noise and anticipation ramps up. Once you're inside, you've got nice, spacious concourses and plenty of places to grab a bite or a beer.
But oh, the spectating experience is certainly a unique one. First off, if you're into symmetry, don't get seats at center ice — that's what we did, but to be honest, the off-set center-hung scoreboard, which hangs above one of the blue lines when the rink is in place, bothered the heck out of me. That's a nit-pick, though.
It's that empty end of the arena that's just too difficult to ignore. Sure, if you don't like it, don't sit there (most people don't), but with very few people at that end, it makes for a very curious sight and atmosphere when the action is on that end of the ice. (Granted, this was a game early in the week and the arena was somewhat sparsely filled anyway. For weekend games, it might be a little different story.)
If you're looking for bargains, though, that end of the ice is for you. The Islanders fan club sits (and stands out quite nicely amid the empty seats around them) in Section 229, in the corner but not quite in the obstructed-view area. However, if you go to the far end, this is the view you'll be treated with: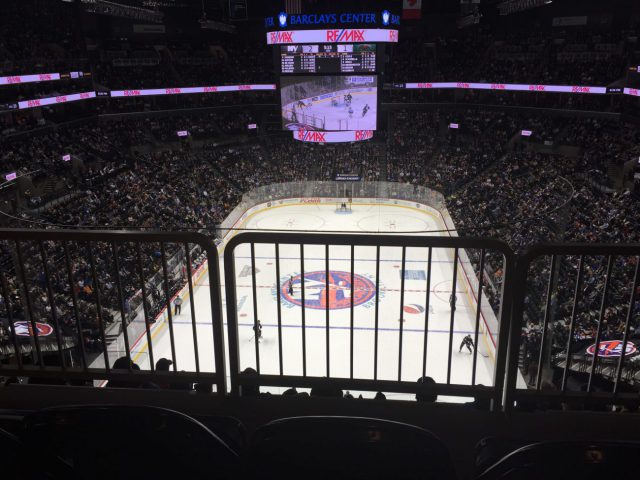 Note that you can see almost everything … except the goal closest to you, which is kind of important for following the game. Luckily, the Islanders only shoot in that direction during the second period, and the action is on the Jumbotron while in progress. Still, though, you wonder why the Islanders even sell tickets to these sections. A handful of people were sitting there, so someone is buying them or at least acquiring them from somewhere.
In the end, if you're not sitting at that end, Barclays Center's hockey imperfections become less than noticeable once the game begins. It's a fine venue for a lot of things, and as long as you focus just on the action on the ice while you're in the seating bowl, the little quibbles become fairly insignificant.
But if you're an Islanders fan who suddenly has a much longer commute to see your favorite team play in a building ill-suited for hockey, it's easy to see why you'd be concerned.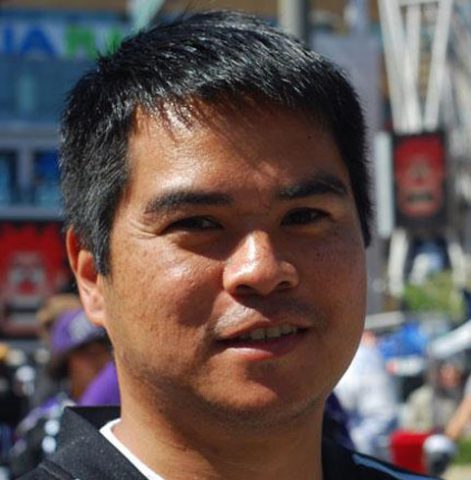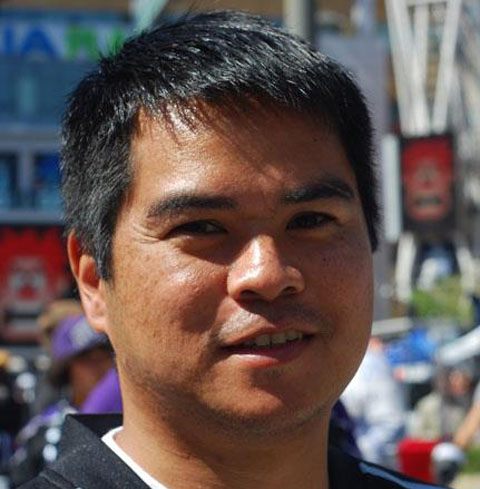 Edward de la Fuente | Itinerant Fan
I live for sports, and I love to travel. My biggest thrill is combining the two. I've been blogging about sports travel for more than a decade, and traveling for sports for twice as long.
About me | FAQ | Buy me a beer 🍺
Affiliate Disclosure
Please note that some of the links above are affiliate links, and at no additional cost to you, we earn a commission if you make a purchase. These recommendations are only for companies that we've used and have proven to enhance our sports travel experiences. To find out more about our affiliate partnerships, please read our Affiliate Disclaimer.