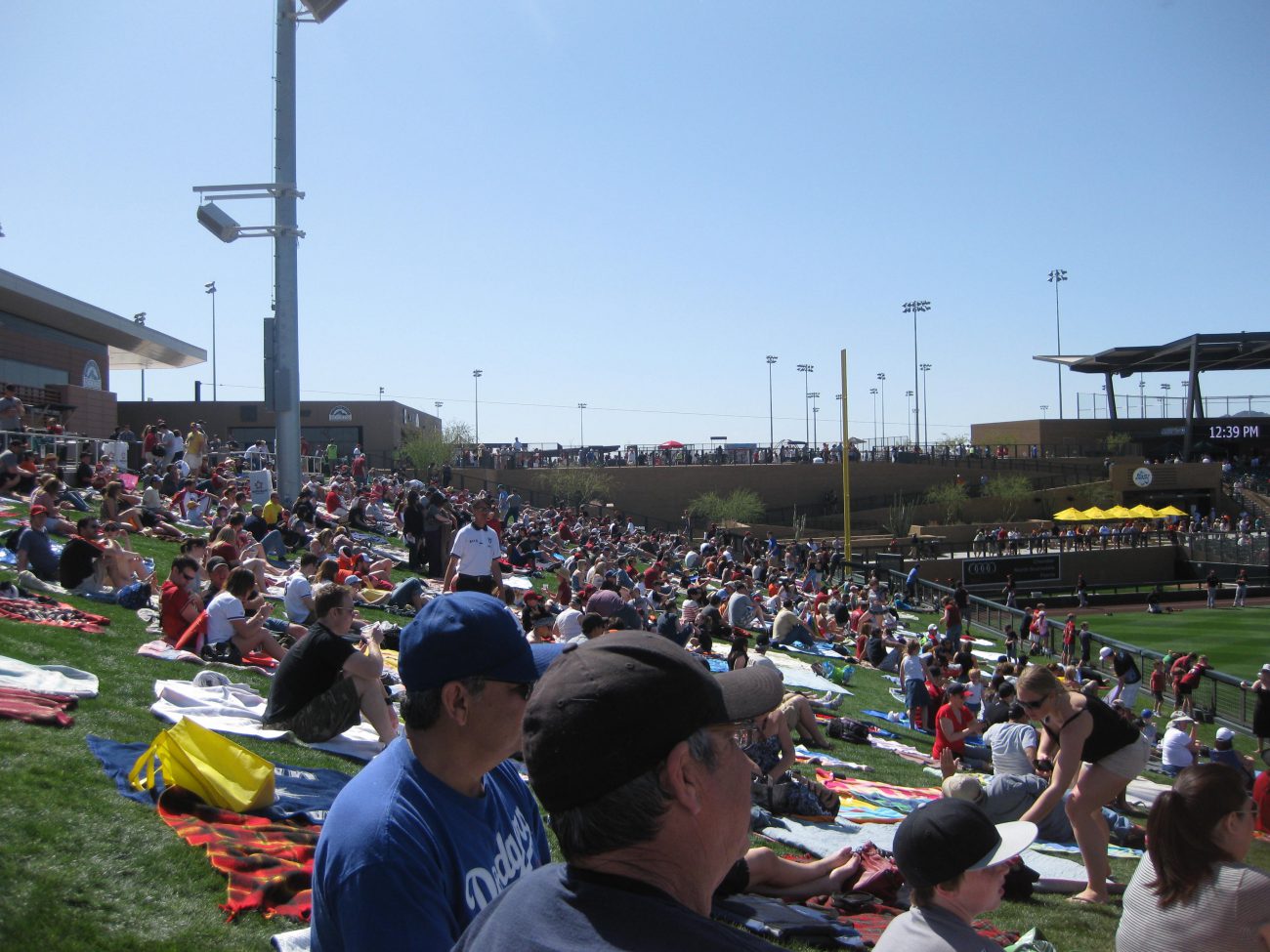 Many sports travelers, myself included, have this romantic notion of taking multi-city, multi-stadium trips over the course of several days or weeks as their dream vacation. And many sports travelers, myself included, never do it because of time or budgetary concerns, or they break it up into several chunks over several years.
If baseball is the sport you're most fond of, then consider spring training the poor man's version of the ambitious ballpark tour. You have much less ground to cover geographically, you can theoretically stay in the same hotel room for the duration of your trip, and you can typically spend much less on tickets, parking, concessions, etc. OK, so you're not going to the actual major-league ballparks or major-league cities, and you're going to games in which the star players are usually out by the sixth inning. But in some ways, this is good, too — you can focus less on the game and more on the surroundings, the fans, and simply having a good time.
If your spring training destination is the Cactus League, you have some distinct advantages over the Grapefruit League in Florida (you can read about our weekend sojourn in Florida from a couple springs ago for a refresher) — the main one being that all of the Cactus League's parks are within the Phoenix metropolitan area, and all you need is some time and a dependable car to visit all of them. In addition, the Cactus League's parks are, by and large, newer and fancier than the Grapefruit League's brethren (thanks to the same law that bequeathed this impressive behemoth onto the sports world), and so several of them are sights to behold in themselves. That's a big reason why, when Mrs. Fan and I planned out a three-day weekend trip to Phoenix at the beginning of this exhibition season, we put on our docket the Cactus League's three newest parks: Goodyear Ballpark, Salt River Fields and Camelback Ranch.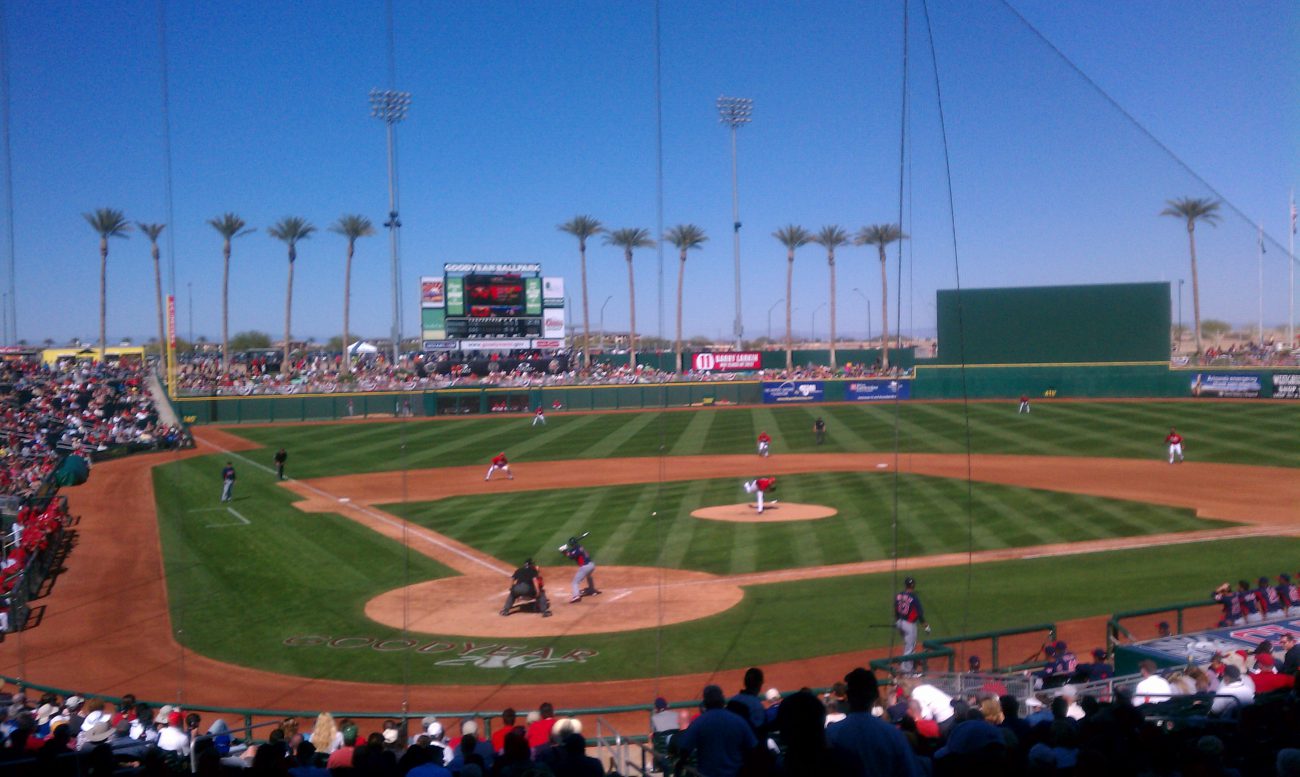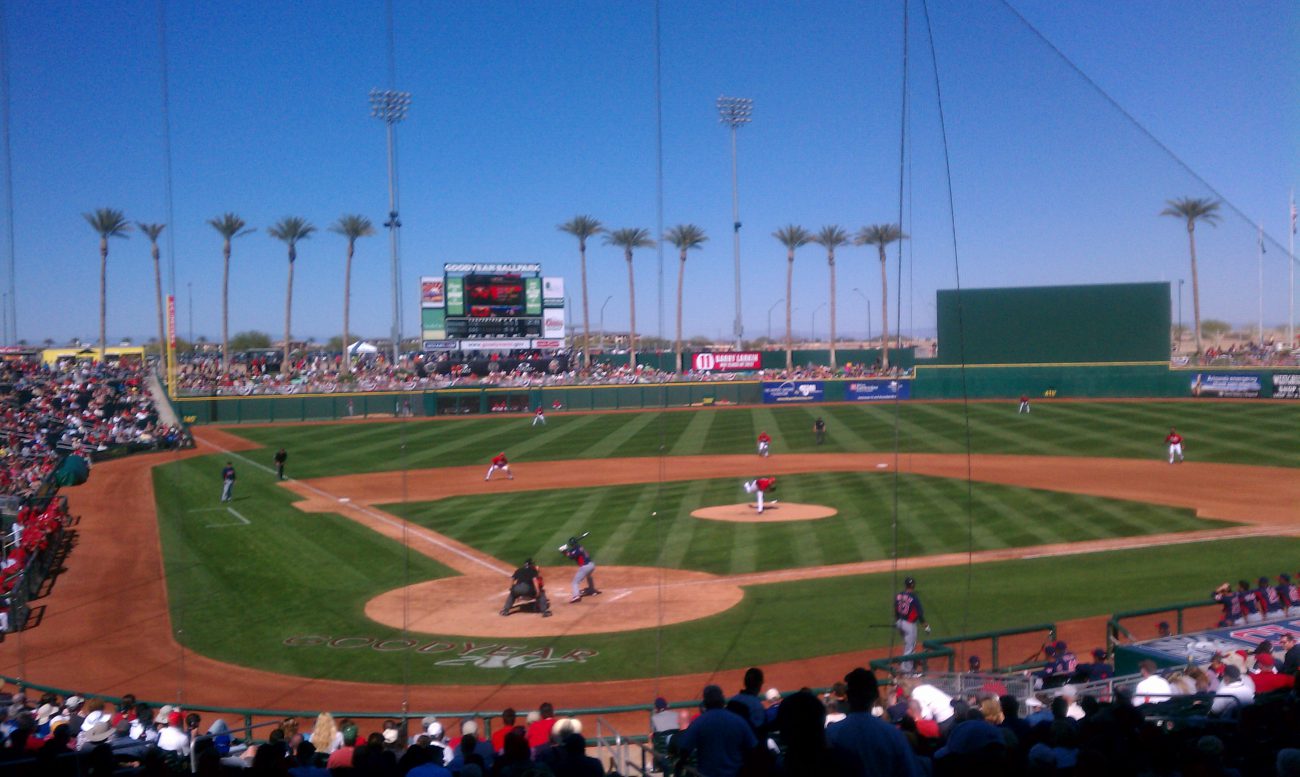 Day 1: Goodyear Ballpark
Reds vs. Indians
We started on the western fringe of the Cactus League in Goodyear, about 20 miles from downtown Phoenix on Interstate 10. (If you find yourself wondering why they would name a town after a tire company, you're not alone — I looked it up and found there's actually a good reason for the name.) We chose to go here on the first Saturday of the exhibition season, and it turned out that coincided with the Nationwide Series race at Phoenix International Raceway in neighboring Avondale. We found that out by seeing signs along the freeway directing race traffic to Estrella Parkway — the very exit to which we were headed — and that caused us to worry for a few minutes that we could get caught up in a horrendous rush of gearheads. Fortunately, that concern was unfounded, and the journey into the ballpark turned out to be fairly smooth. It's about a mile and a half south of I-10 on Estrella, and parking was relatively simple except for the fact they directed us onto a side road that dead-ended at some point and forced traffic to make a tight U-turn to enter the grass lot on which people were parking. At least it was free.
The ballpark, home to the Reds and Indians, is quite modest as spring training ballparks go. It felt intimate and gave off more of a picnic-in-the-park vibe than a major-event-with-thousands-of-people feel, which in my opinion was good. As is our custom when visiting ballparks in particular, we did a walk around the concourse and it never felt crowded in any area. Our seats were down the right-field line, but we only stayed there for a few innings before deciding to walk around some more.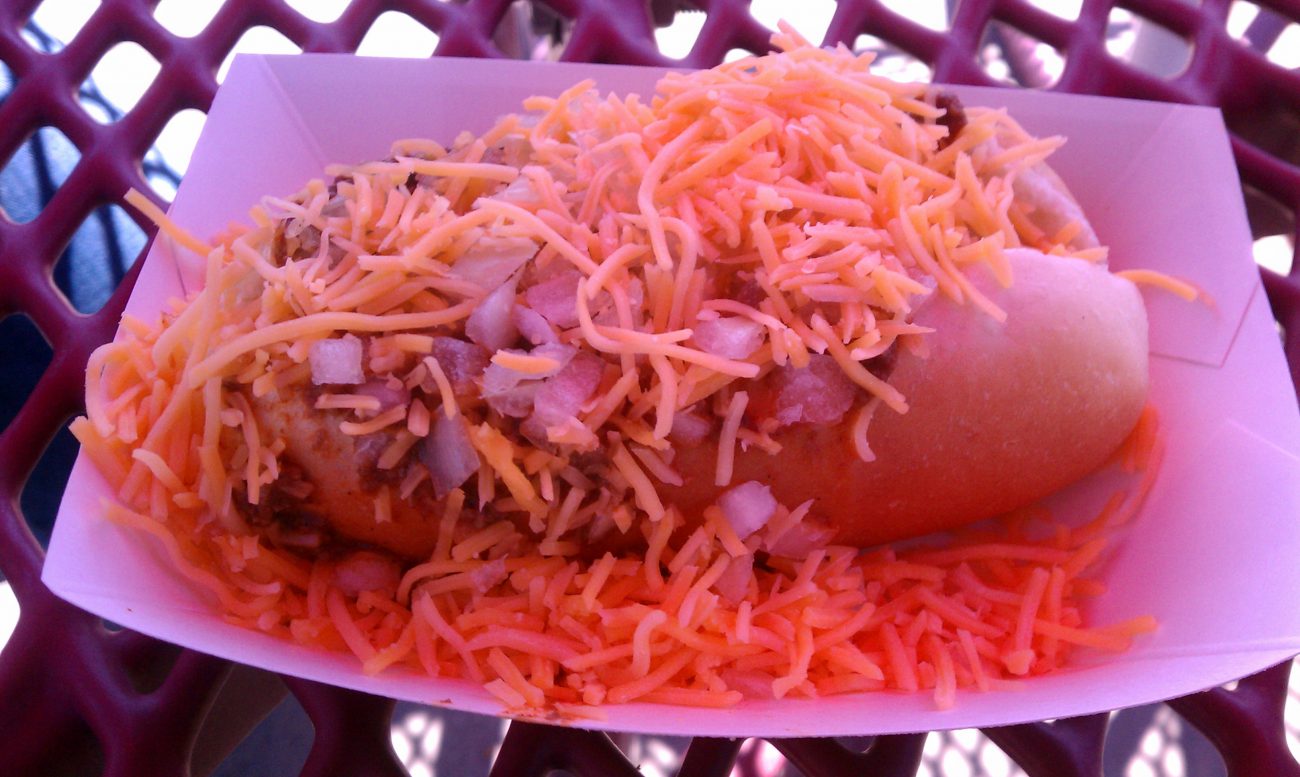 The highlight of the visit was finding out that several of the concession stands offered food specific to the regions of the teams that called the park home. So in Cleveland's case, that meant a hot dog with bacon, cheese and BBQ sauce — but Cincinnati had a local staple all to itself in Skyline Chili and its coneys. For the uninitiated, that's a smaller-than-usual hot dog with chili and finely grated cheese on it (they have 'em in Detroit, too, but Cincinnati-style uses a distinctive type of chili that can also be found served on spaghetti). Skyline may be the McDonald's of Cincinnati-style coneys, but it was too hard to resist. And, after a longer-than-usual wait while the servers behind the counter figured out how to put chili on small hot dogs, it was everything we hoped it would be.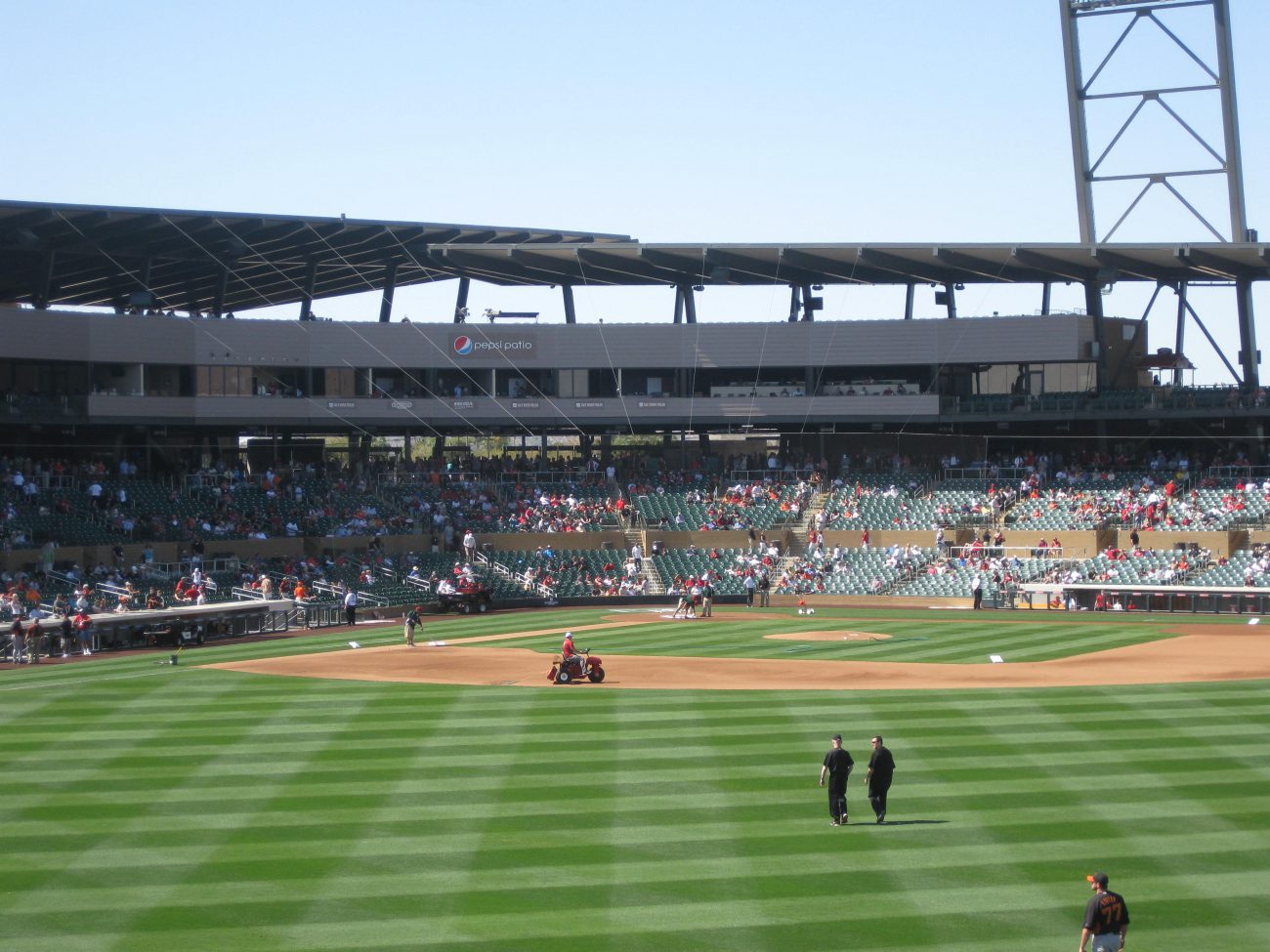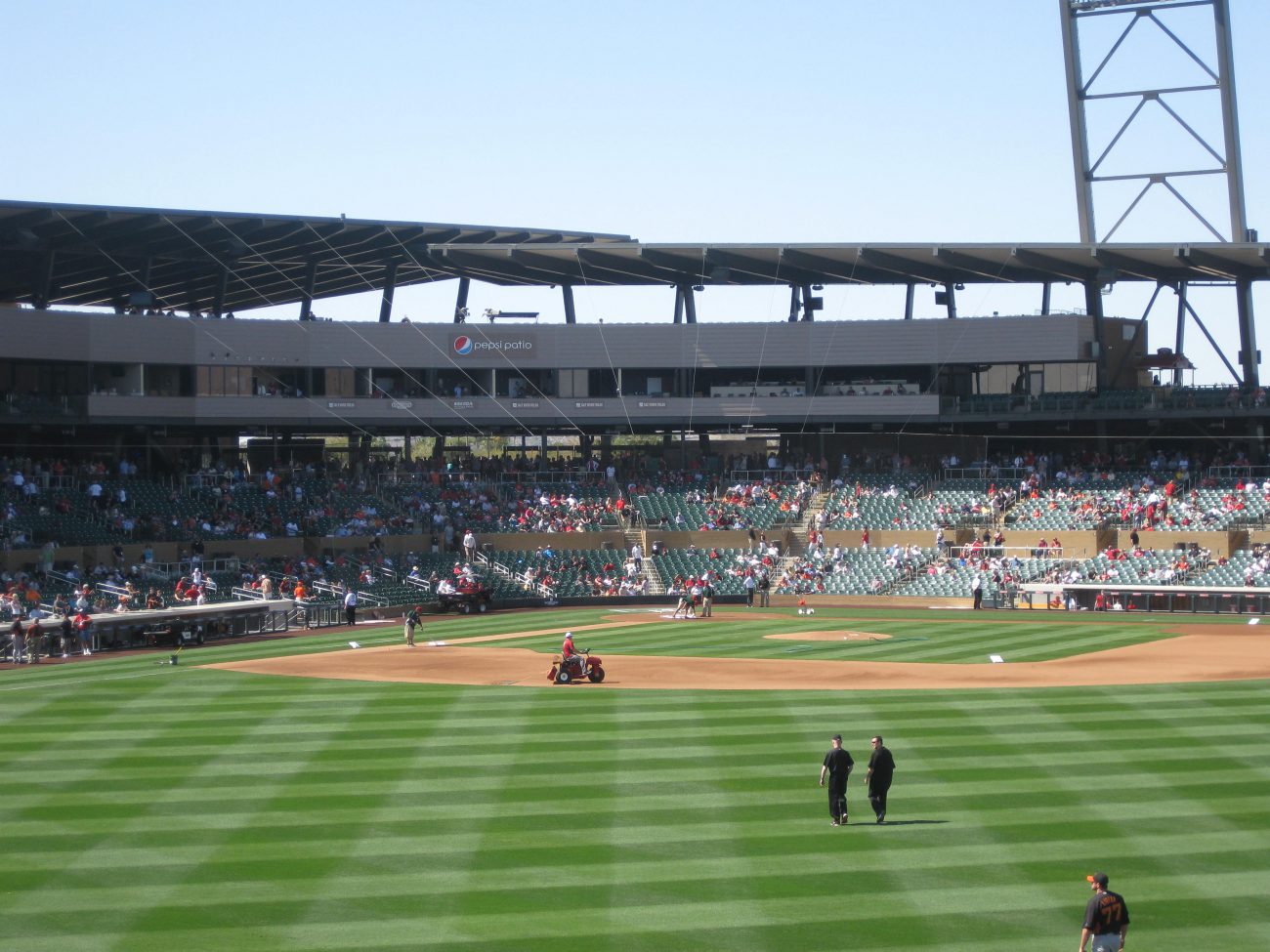 Day 2: Salt River Fields, Scottsdale
Giants vs. Diamondbacks
The spring home of the Diamondbacks and Rockies is located on a Native American reservation, but you wouldn't know it as you approached because it looks like any other part of suburban Scottsdale. If you're coming from Phoenix or any other points west, it might feel like a haul to get here, but barely a decade ago there was no Loop 101 that you could use to get to this area and you would've had to use surface streets to get there, so at least you have that going for you. (Besides, I'm from Southern California — half-hour commutes or longer are nothing to me.)
Easy access or not, you owe it to yourself to make this park part of your Cactus League tour. It's the newest of all the Arizona parks, and it's a bit of a show-off — in terms of architecture and amenities, it frankly blows the competition out of the water. A couple friends told me before our trip that it was by far the nicest spring training venue they had ever seen — one went so far as to say that it was nicer than a few actual major league parks. I consider that last statement to be only a slight exaggeration. Slap a second deck on it, and it would be major league-ready, no problem. In fact, I overheard someone at the game suggest the Diamondbacks ditch Chase Field and make this their regular-season ballpark, and none of his buddies thought he was nuts.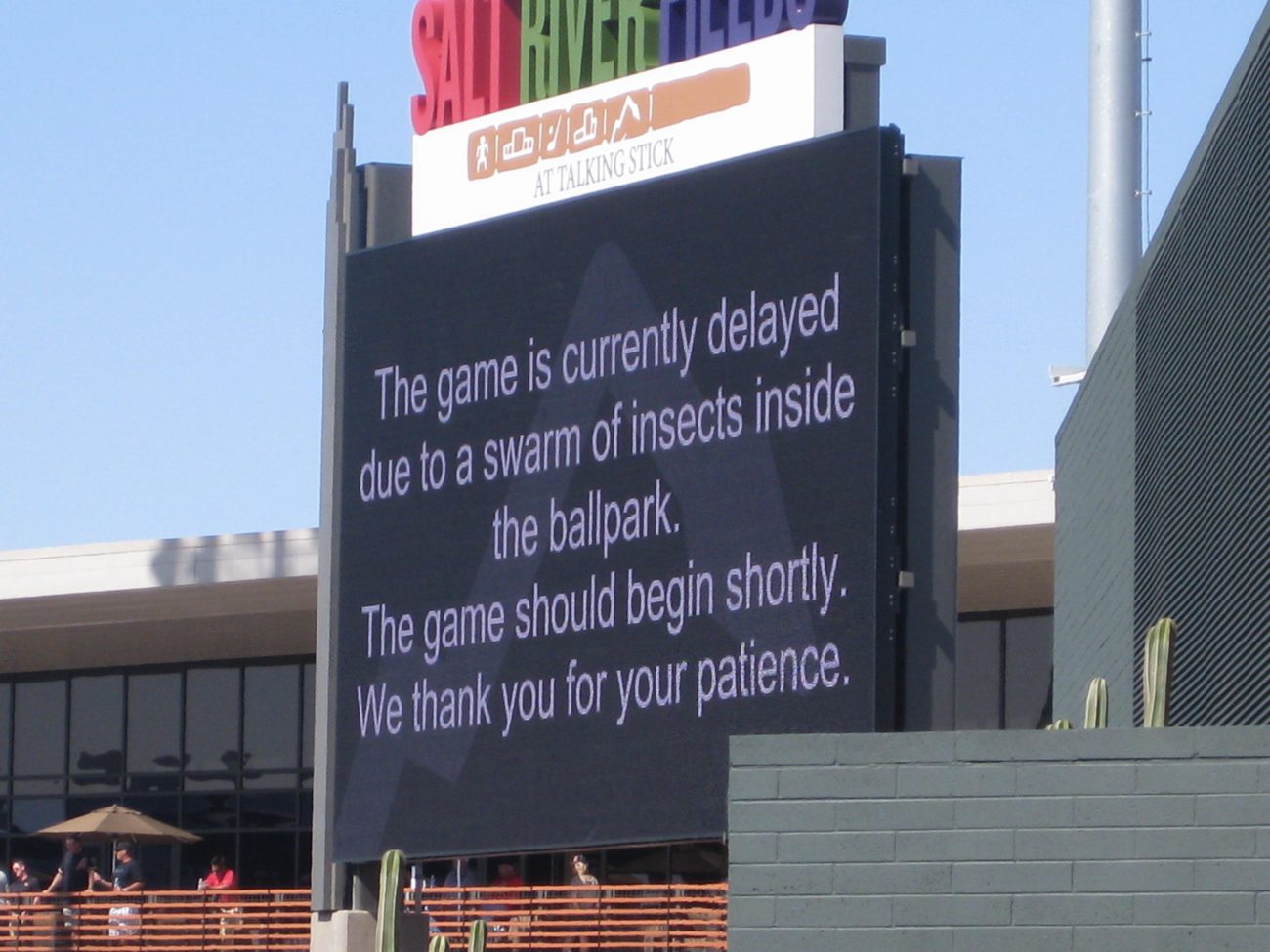 Anyway, the grounds are as beautiful as you'd expect for a new facility. It being a Sunday against the Giants, who train down the road in an older, nice-in-its-own-quaint-way ballpark in Scottsdale, the place was jam-packed, and the only tickets available to us were in the outfield berm. That was quite all right with us, since we came armed with sunglasses and a beach towel. One thing we forgot, though, was sunscreen — but that didn't matter because throughout the outfield, there were sunscreen dispensers at the ready. Whoever thought of that should honestly be certified a genius.
The game ran a bit long, mainly because of a 45-minute delay in the early innings after a swarm of bees was discovered along the right-field foul line, causing fans in that area to flee, players to give amused looks from a distance and groundskeepers to try such measures as using cotton candy to lure the bees away from the stands. Somehow, they got it all cleaned up, but that left us with enough time to bake in the sun that I sought relief twice from the concession area behind center field. The first time I hit up Coldstone Creamery, and they offered ice cream cups in only one size — a size large enough to feed a family of four. It was hot enough that I didn't mind the extra calories, though.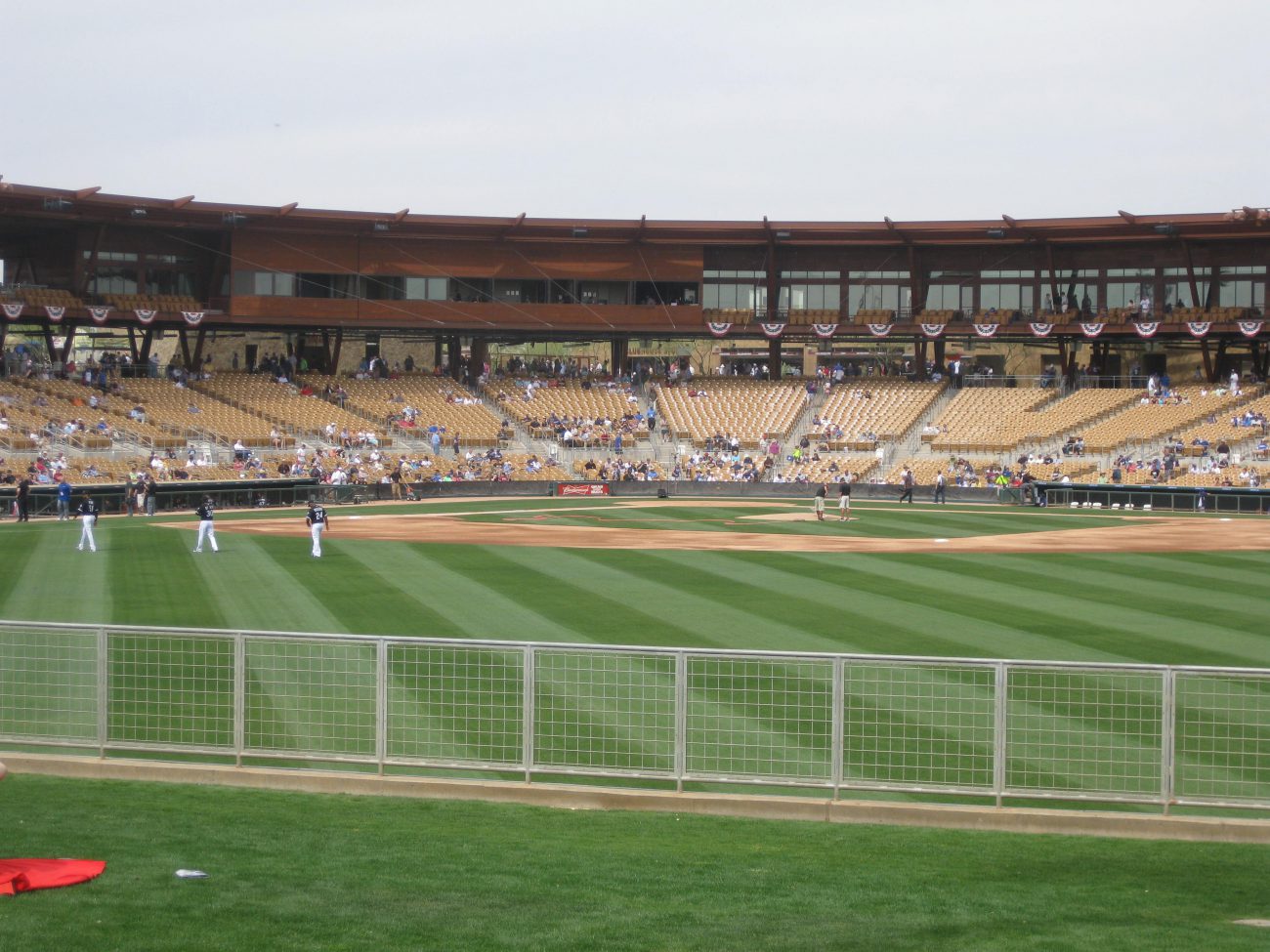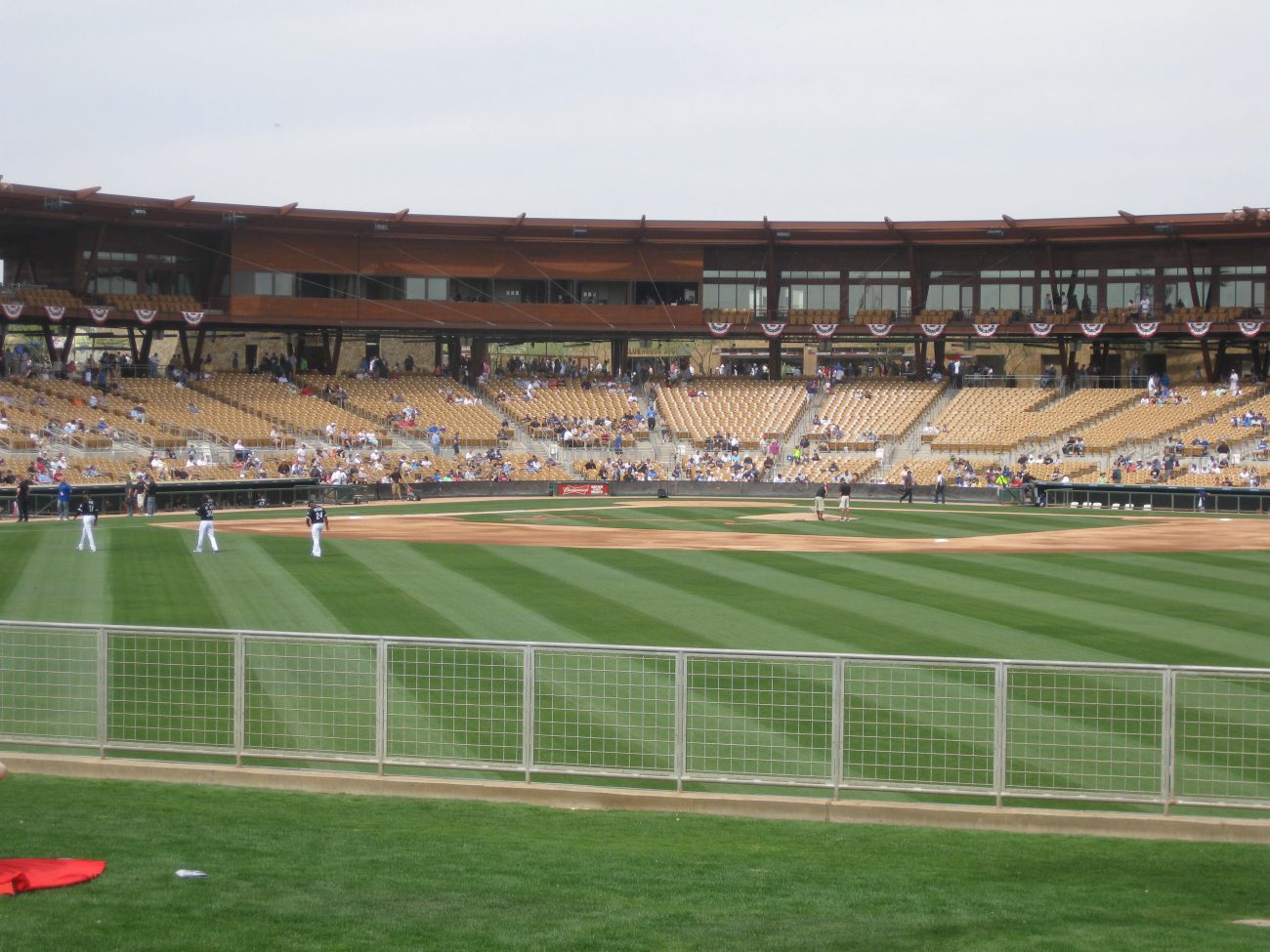 Day 3: Camelback Ranch, Glendale
White Sox vs. Dodgers
We finished our trip in Glendale because (A) it was the westernmost ballpark hosting a game that day, and we wanted to make a quick trip out of town afterward, and (B) we had been told that, until Salt River Fields came along and ruined all their fun, Camelback Ranch was considered the jewel of the Cactus League. It being a Monday, we had an easy route to find out — this game was far from sold out, and traffic flowed easily into the grounds. Oh, and parking was free — something I think they only do on the weekdays, but it was a nice incentive nonetheless.
Like Salt River, Camelback's grounds were beautifully kept. The outside felt a little like a golf course, with a pond (I'd describe it more as a moat, but that doesn't invoke pleasantness as much) surrounding the stadium and separating the Dodgers' and White Sox's practice fields. Our route from the parking lot into the stadium took us by some of the batting cages and half-fields, where players were getting in their reps. Once inside the park, you see why they call it a "ranch" (other than the fact that, before it was a ballpark, it supposedly really was a ranch): a faux-wood facade, stone walls and the like.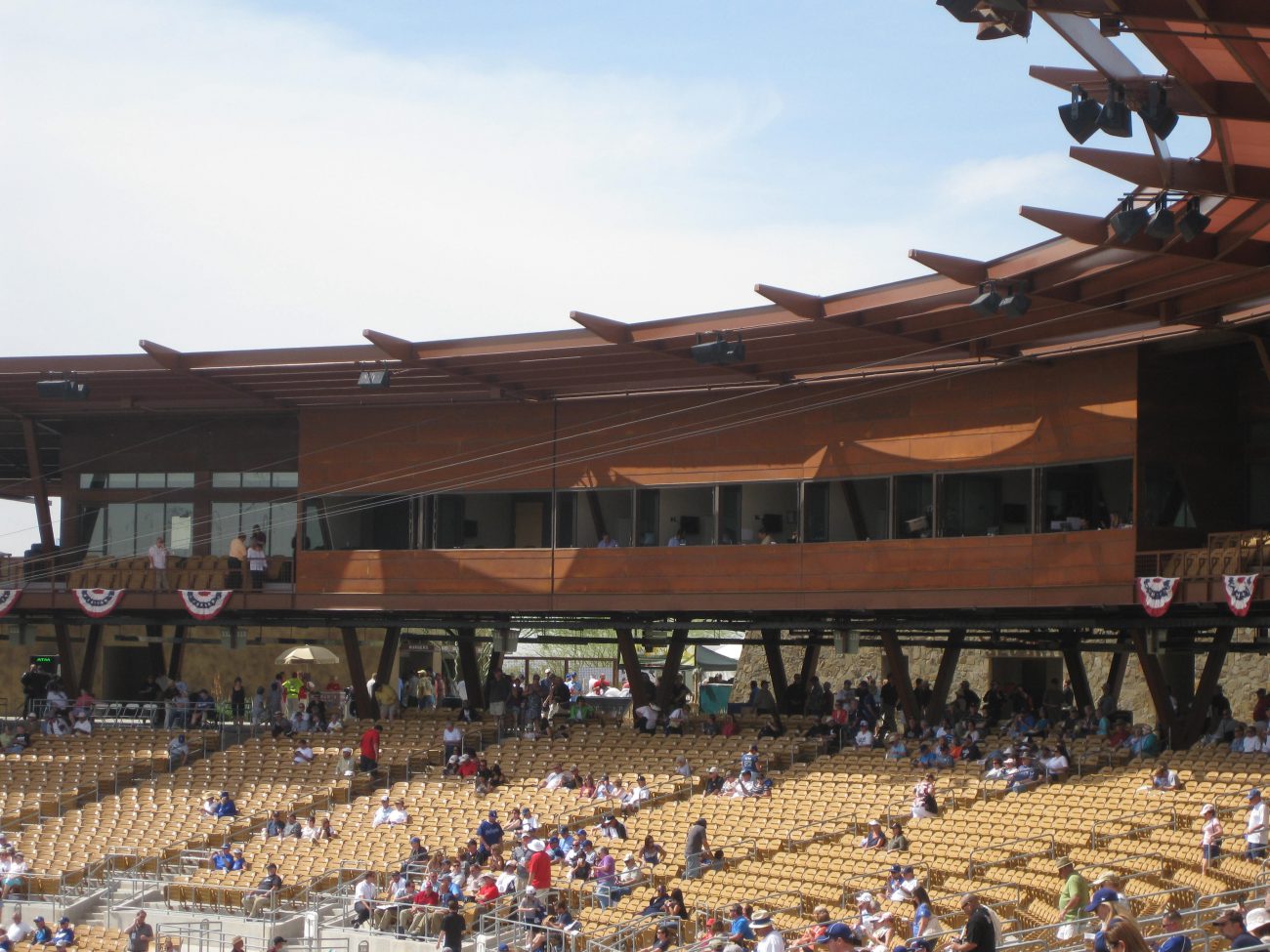 The one thing I found wrong with it was that there seems to be virtually no shade for the seating areas. For the first few innings we sat in our assigned seats along the third-base line next to an older couple, and we listened to the man explain scoring decisions and the woman compliment selected players' backsides. Then we retreated to the concourse and watched a few more innings from a standing position in the shade.
Like in Goodyear, some of the concession stands were devoted to selling the comfort food of the home teams. That means they had Dodger Dogs (!), but having remembered a really good Polish sausage I had during a visit to U.S. Cellular Field many years back, I went with that option, which turned out to be… OK. We also managed to share a shaved ice before heading out and back home to California, managing to beat the traffic out of town in the true style of our homeland.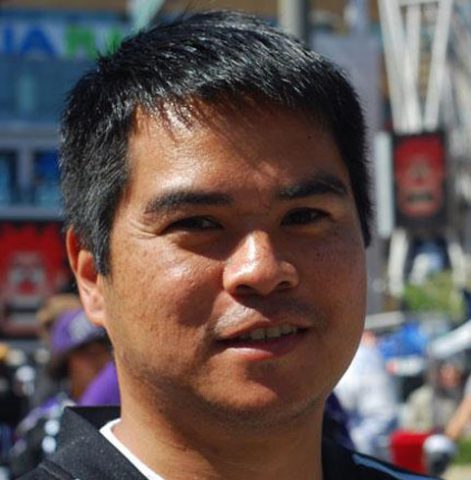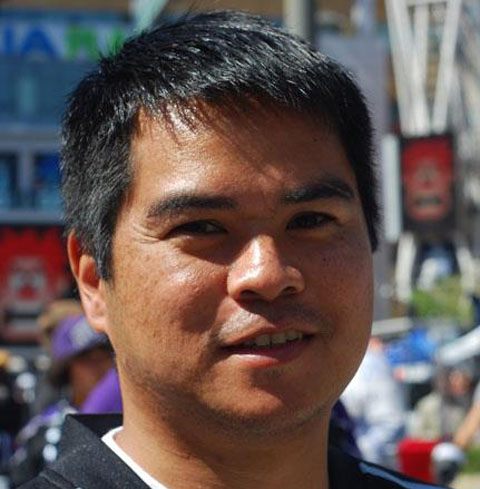 Edward de la Fuente | Itinerant Fan
I live for sports, and I love to travel. My biggest thrill is combining the two. I've been blogging about sports travel for more than a decade, and traveling for sports for twice as long.
About me | FAQ | Buy me a beer 🍺
Affiliate Disclosure
Please note that some of the links above are affiliate links, and at no additional cost to you, we earn a commission if you make a purchase. These recommendations are only for companies that we've used and have proven to enhance our sports travel experiences. To find out more about our affiliate partnerships, please read our Affiliate Disclaimer.