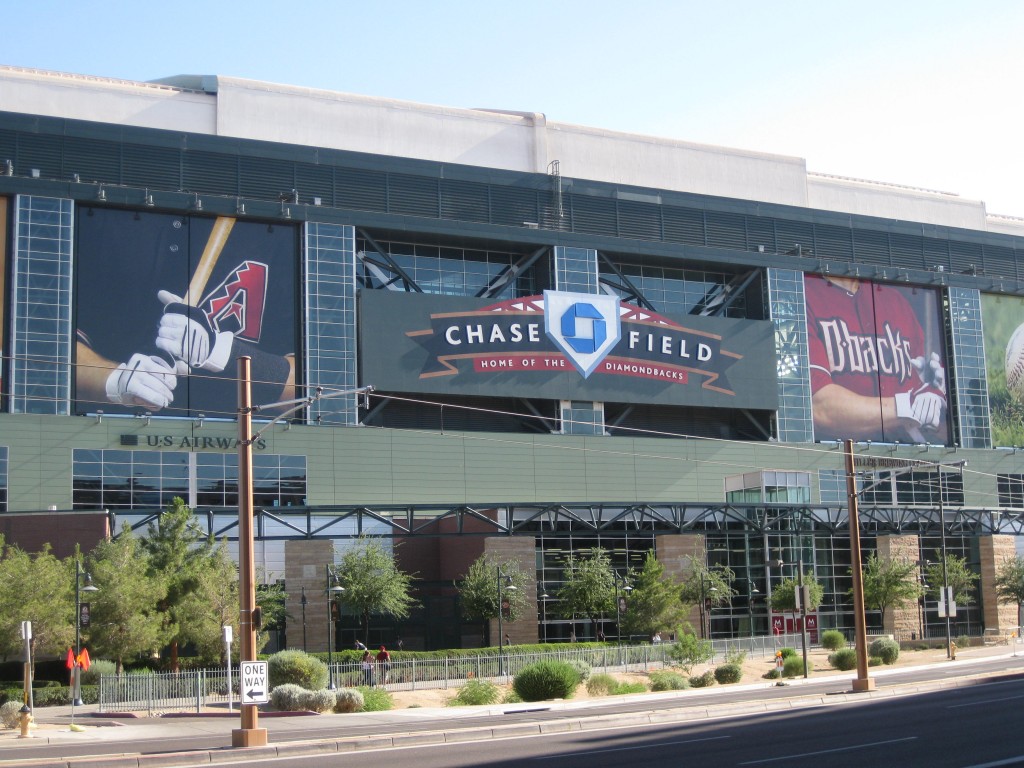 In comparing Major League Baseball's parks, many of us tend to get romantic — probably more romantic than we need to be. We like charm or tradition or quirkiness, and as a result those venues that lack that sort of charisma tend to get devalued in our minds. Take Chase Field, a park whose home team hasn't been around long enough to develop the sort of tradition we associate with baseball, and the look of which, either inside or out, doesn't really conjure up pleasant thoughts of a good ol' afternoon at the ballyard the way many (most, really) of its rival stadiums do.
But then you think about the city it's in, and it starts to make more sense. Phoenix is a metro area that has grown rapidly over the last couple decades, and as a result, so has its sports landscape — remember that barely 25 years ago, it had just one professional franchise. The Diamondbacks were born with an ambition that led to division titles by Year 2 and a World Series championship by Year 4. And don't forget the main thing we tend to associate with Phoenix — it's friggin' hot.
So take all that into consideration, and it shouldn't be any surprise at all that it's a giant, in-your-face retractable-roof stadium with a pool in the outfield bleachers and a wonderful, wonderful air conditioning system that graces downtown Phoenix.
I lived in Arizona for a few years during the early years of the Diamondbacks, when they were rockin' about 600 different combinations of purple unis and the stadium was called Bank One Ballpark. I had actually forgotten about that name back in May, when fate brought us to Phoenix for a weekend that coincided with some home dates on the D-backs' schedule. Mrs. Fan exclaimed, "I haven't been to the BOB in a long time," and I couldn't stop laughing at that. I can't imagine too many people outside of Arizona still call it that. If the good folks of the Grand Canyon State still do, then maybe there's more tradition at Chase Field than we thought.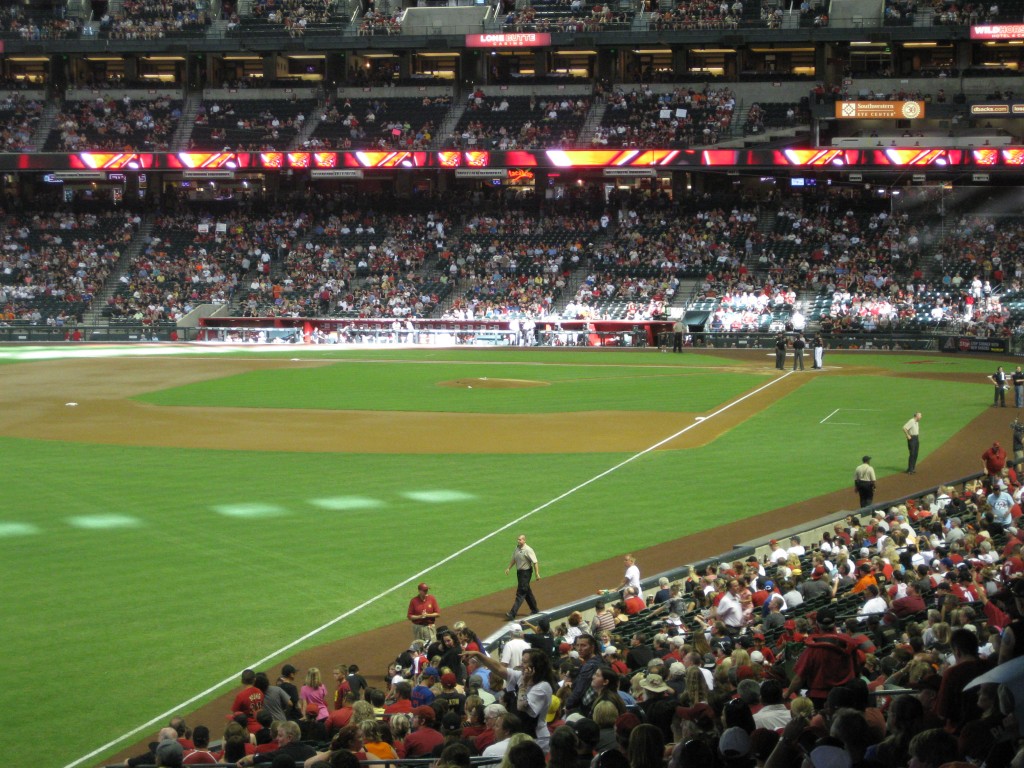 The approach
From many angles, Chase Field is hard to miss in the downtown Phoenix skyline. The joke about stadiums looking like airplane hangars can apply to a few ballparks, but it's probably more true for Chase Field than for any other. So really, as long as you know where downtown Phoenix is, you should be able to find it.
If you're driving (as we were), just head toward the tall buildings. Downtown is surrounded by a loop of freeways, Interstates 10 and 17, so your toughest challenge is finding the right exit — and finding the streets that go in the correct direction, as many downtown streets are one way. We were approaching from our hotel in Glendale, to the west of downtown, so we took I-10 and exited at 7th Street (NOT 7th Avenue — there's a BIG difference, and I know it's confusing). If you're headed eastbound on I-10, make sure you pass underneath a half-mile or so long tunnel before you exit — if you haven't hit that yet, you're not close enough.
One thing I do like about Phoenix is the proximity of the airport to downtown — probably 5-6 miles at most. If you're a visitor and you've flown in, and you looked out the window on the descent, chances are you spotted Chase Field. Sometimes the flight path takes you right over downtown. So I can't imagine a taxi from Sky Harbor to the ballpark will set you back too much.
Another option that has come into play since I called Arizona home is light rail — if you're staying near the airport, or in an eastern suburb like Tempe, this is certainly worth exploring. The line runs right by the park and stops a block away. In fact, we thought briefly about finding a station and doing park-and-ride before deciding to just drive. There are a few very large parking structures surrounding Chase Field, thanks to the convention center and US Airways Arena being nearby, and we parked for $12 in one just across Jefferson Street — despite the price, the structure was very easy to get into and out of. And in Phoenix, I think I'd rather pay a little bit more for a covered parking spot.
The build-up
We arrived about an hour before the 5:30 p.m. first pitch, but we lost about 20 minutes in our pregame enjoyment thanks to Mrs. Fan forgetting her iPhone in the car, forcing us to walk all the way back to the parking structure in the 105-degree heat to retrieve it. The thing about the heat is, you don't want to be too far away from the park lest you have to endure that walk in the afternoon heat. Fortunately, there are plenty of spots for you to grab a bite or imbibe in the area just west of the park, between it and US Airways Arena, and most of them are outfitted with those cool misters you see all around Arizona to help make going outside tolerable. Also, there's no shortage of shaved ice vendors, water ice stands, and so forth, presumably to keep you from fainting on the way in.
We also arrived without tickets, feeling fairly confident that they would be available at the door. What's more, when we got to the ticket window I asked for upper-level tickets behind home plate, expecting to pay around $25 each for them, but we were informed about a "value deal" going on that day in which those same tickets were $19 each — and included one voucher for a hot dog and drink per ticket. So I said, "Wait, you mean you want me to pay less AND accept free food and drink? How dare you!" … Actually, I didn't say that. I just willingly allowed them to give me a good deal without complaint.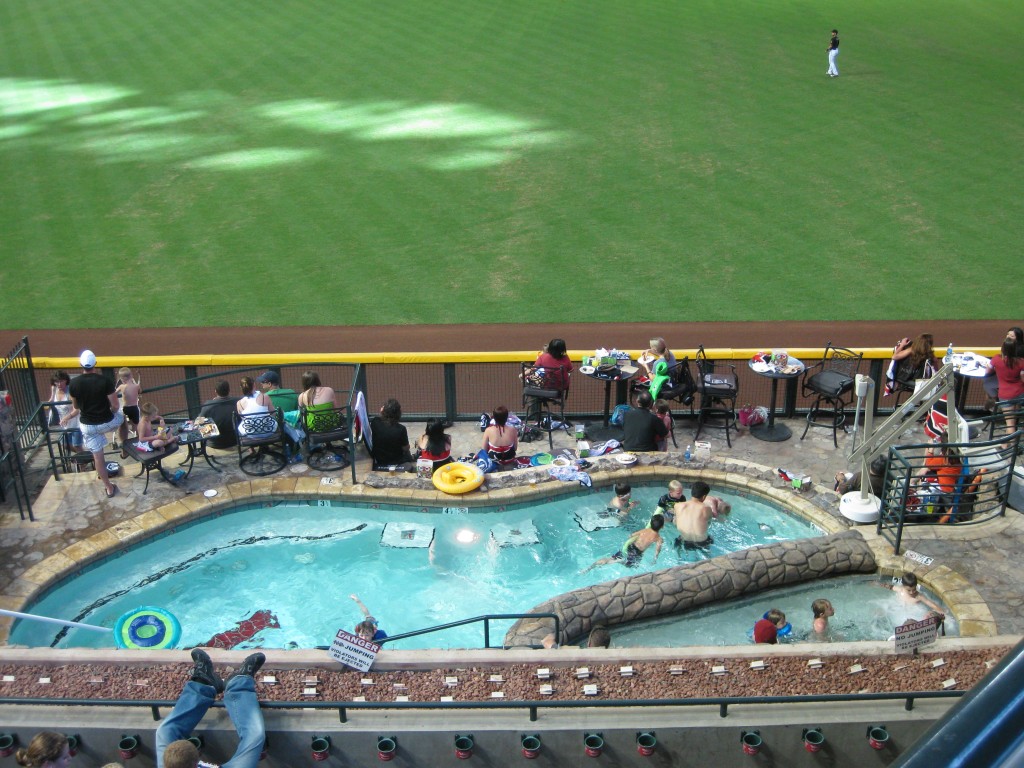 The ambiance
Turned out there was one catch to the free-hot-dog-and-soda thing: You had to go to the correct stand to cash in your voucher. We were told at the ticket window that the correct stand was any one labeled "Double Headers" (their name for the general hot dogs/peanuts/popcorn stands, of which there were quite a few) but we spent 10 minutes in line at one before we reached the front and were told we had to go to another one about 100 feet away, and with lines twice as long. I guess only some of the stands had cashiers trained in accepting free vouchers.
Otherwise, there wasn't much to complain about. We did our customary lap around the main concourse before heading up to our seats, and the concourse is gloriously wide, the concession stands are plentiful and had a varied selection, and did I mention wonderful air conditioning? The only thing you wonder about the place is if they put a few thousand too many seats in, especially in the upper deck. The sections there look like they go about 50 rows up, which must feel like scaling Mount Everest to those who have to make that trek. Not surprisingly, those top rows were empty save for a couple teenagers who surely ran up there so that they could goof off without being noticed. As for us, we were about 10 rows up, just behind home plate, and perfectly OK with that height.
Oh, and let's not forget that pool. I was wondering who would have the presence of mind to come to a ballgame with a swimsuit, but it turns out having access to the pool is just like having access to a luxury suite, since we walked by that area and I saw no easy routes inside. Another clue toward that conclusion came during the game, when a ground-rule double bounced into the pool area and was snagged by a tall, well-tanned man. When the replay was shown on the massive scoreboard, it was revealed that man was none other than Phoenix fave Dan Majerle.
Later in the game — before it had gotten dark, surprisingly — they decided to open the roof. Seeing the roof open over us was concerning (because of the blast of heat that made its way inside as soon as the first bit of sunlight appeared), but they must have left the air conditioning at full blast because it didn't feel too bad. Well, maybe the D-backs fans weren't too comfortable watching their team get Matt Cain'd for the most part in a loss to the Giants, but to us it felt quite all right.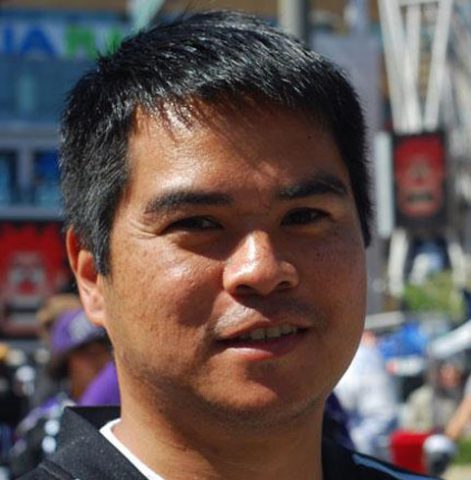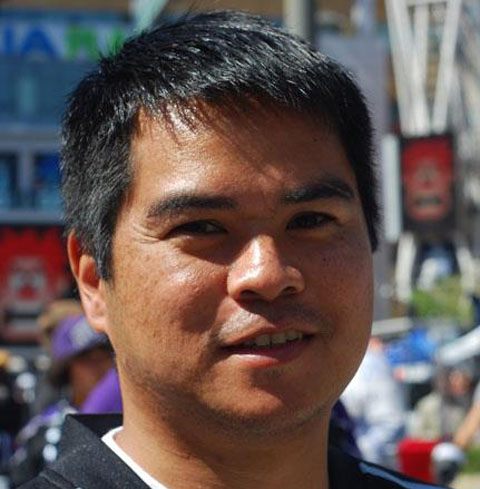 Edward de la Fuente | Itinerant Fan
I live for sports, and I love to travel. My biggest thrill is combining the two. I've been blogging about sports travel for more than a decade, and traveling for sports for twice as long.
About me | FAQ | Buy me a beer 🍺
Affiliate Disclosure
Please note that some of the links above are affiliate links, and at no additional cost to you, we earn a commission if you make a purchase. These recommendations are only for companies that we've used and have proven to enhance our sports travel experiences. To find out more about our affiliate partnerships, please read our Affiliate Disclaimer.