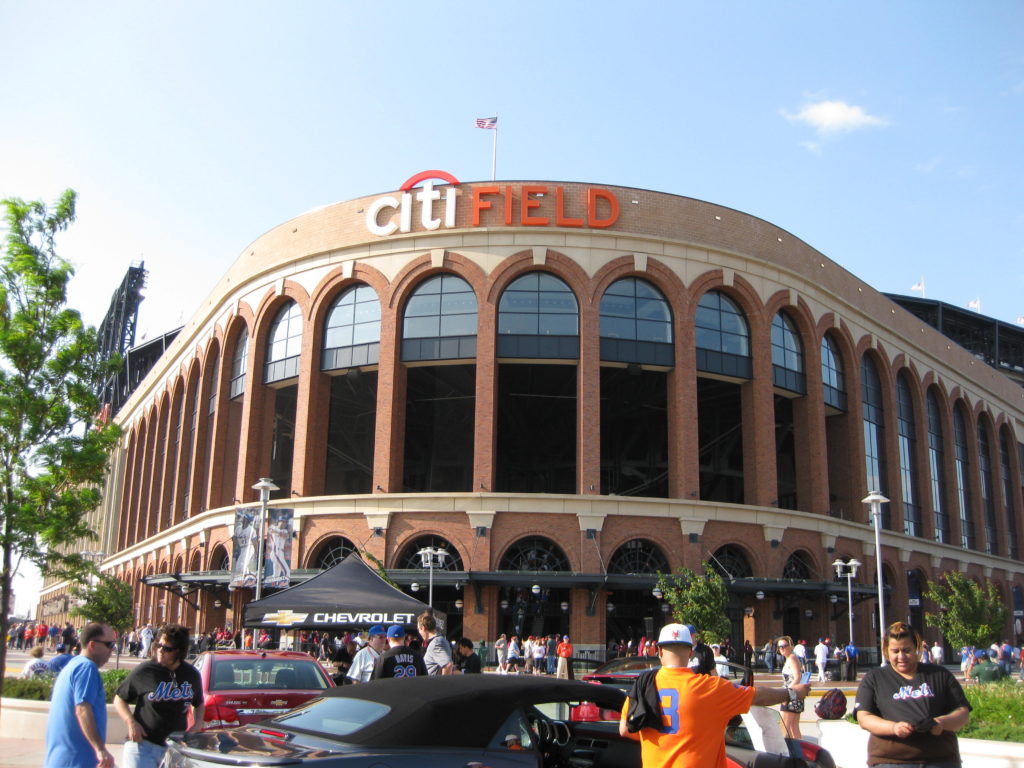 In New York they always have to do things two ways: big and elegant. It stands to reason that a new ballpark in New York would be the same way. But while you expect that sort of thing from the Yankees, whose apparent mission in life is to be bigger and more elegant than everyone else (while also hogging all the glory), it's a little less expected when it comes to the Mets.
If the Yankees and Mets were brothers, the Yankees would be the handsome older brother that did everything right growing up, won all sorts of awards (spelling bee, science fair, what have you), was valedictorian of his high school class, enrolled in college a couple years early and finished in three years, then breezed through law school and was a hotshot lawyer by 22, and is now a three-term senator. The Mets would be that slightly less attractive younger sibling who also won a few awards, graduated fourth in his high school class, completed college in four years, followed his brother's path into law school and is now a respected trial lawyer. Impressive, yes, but forever doomed to be overshadowed by the accomplishments of big brother. And while the pangs of jealousy still surface every now and then, they're perfectly satisfied with their lot in life.
When the two teams decided to open ballparks at the same time, you had to think the Yankees' digs would be so much nicer than the Mets' place. And yes, the new Yankee Stadium is quite opulent. But with Citi Field, the Mets sure seem to have built a nice little home for themselves. Perhaps it's fitting that a row of auto body shops sit across the street, but say you wanted to buy a vacation home on Cape Cod and instead settled for a getaway pad in Kennebunkport, Maine. Maybe it wasn't your ideal spot, but it sure is pretty damn nice nonetheless. Especially for gastrophiles, as myself and Mrs. Fan very quickly found out a few weeks ago when we took in a Mets-Phillies game. And, let's face it, the old Shea Stadium was one of the biggest dumps in baseball, so they didn't need to try that hard to improve the fan experience.
The approach
If you've ever considered going to a Mets game then you probably know about the 7 train. Heck, if you're a sports fan at all, you probably know about the 7 train, since the same stop (Willets Point, which used to include "Shea Stadium" in its name but now is referred to as "Mets-Willets Point," presumably in case Citibank goes belly up sometime down the road and the ballpark's name changes) is also used to access the USTA National Tennis Center, home of the U.S. Open. The subway is the only way to get to Citi Field from Manhattan without spending gobs of money on parking or a cab, or sitting through tear-inducing traffic. And despite what this guy thought a few years back, the experience isn't that bad. If you're making the trip within two hours of the game, you're traveling with mostly baseball fans anyway. Just know that if you're starting from Times Square or Grand Central Stadium, the ride is a good 45 minutes — half an hour if you're lucky enough to get on one of those express trains. If you're coming from any of the other boroughs, you're guaranteed to end up on the 7 at some point.
Oh, so you want to drive? There are plenty of options — Grand Central Parkway, Long Island Expressway, etc. I've only made the drive from New Jersey, but I've done it several times and used a few different routes. They're all painful. If you get anything at all out of this blog entry, it should be this: Don't drive to Citi Field. Take public transit. Most New Yorkers already know this. If you're visiting from some place that's car-reliant and that's all you know, fight your inhibitions and use the train. If not, then don't blame me if you slipped just a little bit closer to insanity.
As for me and Mrs. Fan, we had spent the day visiting friends in Brooklyn, so when the time came to head to the game, we hopped on the G train, caught the 7 at Court Square and made it to Citi Field a good 15 minutes earlier than we had anticipated. No hair was pulled in the process.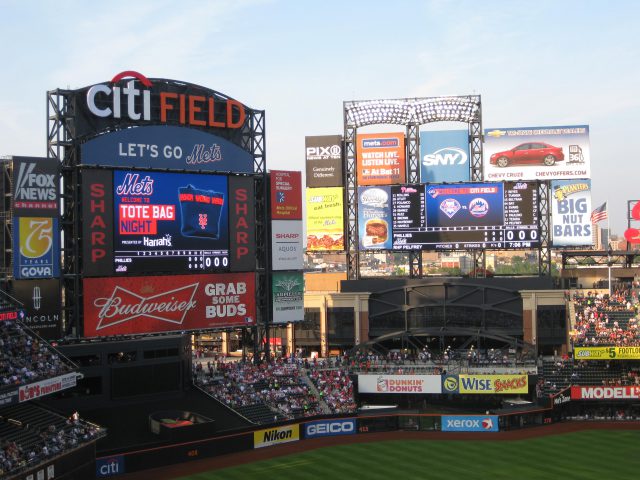 The build-up
Personally, I'm a fan of stadiums in downtown areas, and I downgrade venues that don't have much around them in the way of retail, entertainment, etc. — the reason being that I don't want to feel like once I get there, I have to go in and buy overpriced food and drink and sit there for an hour waiting for the game to start. Citi Field certainly falls into this category, at least if you don't know the area. (If you do, there's a predominantly Italian neighborhood immediately to the west that includes a deli called Leo's Latticini, or Mama's of Corona, that New Yorkers absolutely swear by. But they have stands in the ballpark, too.) However, this is one venue that has made it absolutely worth it to go in early, walk around, and especially eat. More on that later.
In our case, we needed to get there early because we violated one of my cardinal rules of visiting a sports venue that I'd never been to before — we didn't buy tickets until the day of the game. Part of it was that we weren't 100 percent committed to going until a few days before; part of it was also that we were confident walk-up tickets would be available. We were definitely right on that count — turns out there are other entertainment options in New York on a Saturday night — and managed to snag two tickets in the upper deck, third-base side. Later on, when we arrived at our seats, we found out why they had still been available: the glass partition and the railing for the steps leading to the aisle were directly in our line of vision toward home plate. We sat there for maybe an inning and a half before deciding to move to left field (yes, left field) for a better view.
The ambiance
Citi Field is a beautiful place — spacious, clean (it had better be since it's only a couple years old) and with a few interesting features, notably the old Shea Stadium home run apple that sits just outside the front entrance; the front entrance itself, which bears a striking resemblance to a ballpark of yore (makes you wonder why they didn't attempt to find a spot in Brooklyn to build it); and, just inside the entrance, a plaza that pays tribute to Jackie Robinson, complete with running video highlights of his playing days and various mementos.
OK, now that that's out of the way, let's talk about the food, since I've teased it twice already. I have three words to describe it: Oh. My. God. The selection is simply astounding. Off the top of my head, here are just some of the items available:
• Pulled pork sandwiches
• Fresh-cut french fries with dipping sauces
• Lobster rolls
• Burgers/shakes from Shake Shack
• Nathan's hot dogs/french fries
• Italian heroes
• Sushi
• Fried chicken
• Carnitas
• Ribs
• Made-to-order pasta
• Edamame (haven't seen that since I saw a game in Japan)
• Chinese stir-fry dishes
• Fruit (!)
• Baked desserts (cupcakes and the like)
• Antipasto
• Fried fish sandwiches
Turns out both the Mets and Yankees went all out in their planning of concession stands at their new digs, making more of an effort to bring fine dining to the masses. Just walk around the main concourse and you'll see something to your liking eventually. Also, unlike a lot of other stadiums, most of the options down below are also available in the upper deck, particularly in what amounts to a food court behind home plate. It was in this area that I ran into an old friend from my East Coast days, Finger Food, who was there in a journalistic capacity, but was waiting for the Mama's of Corona stand to open so he could buy an Italian hero. He said without hesitation that Citi Field was the best food ballpark in the nation, ahead of San Francisco's AT&T Park (which has long been my choice in that department). After surveying the options, I'm more inclined to agree with him.
Mrs. Fan didn't hesitate, buying a fried chicken drumstick before the game. I hemmed and hawed for a little bit, then finally decided on a standard-issue hamburger from the Nathan's stand. Poor choice — or was it? I was motivated by the condiment stand. You know how at most stadiums the condiment choices are usually ketchup, mustard and relish in these big bins that you depress like bottles of lotion? Those aren't the only options at Citi Field, and this might be what really sets it apart. They have what looks like a salad bar that includes, among other things, peppers, shredded lettuce, diced red onions and sauteed mushrooms. And the last item is what really got me going — anyone who knows me knows I love mushrooms, and by the time I was done with the condiment bar I had what essentially was a sauteed mushroom burger with a beef patty below (I resisted the urge to go back with my empty paper tray to get more, and in my defense, we saw at least one other guy do the exact same thing). So yes, my standard-issue hamburger was really good.
Plus, we made up for it later by heading down to the main concourse to buy a lobster roll (delicious, if not small for $17), and it was from a standing-room spot in right field that we watched the Phillies come back from a 2-0 deficit to win. The Phils' eighth-inning rally delighted Mrs. Fan, a card-carrying Phils fan, and pissed off some wiry-looking older guy who tried to pick a fight with the Phillies fans near us for, in his words, "yelling in my wife's ear" after the Phillies surged ahead. Security came in and told the Phillies fans to leave their spot, presumably for the sake of the Mets fan's sanity.
When the nearest usher went back to his post guarding the aisle right next to me, I remarked, "Just another day at the ballpark, huh?" referring to the near-fight. "Yeah," he said. "They just don't know how to hold leads." No word on whether he was able to drown out his sorrows at Shake Shack after the game.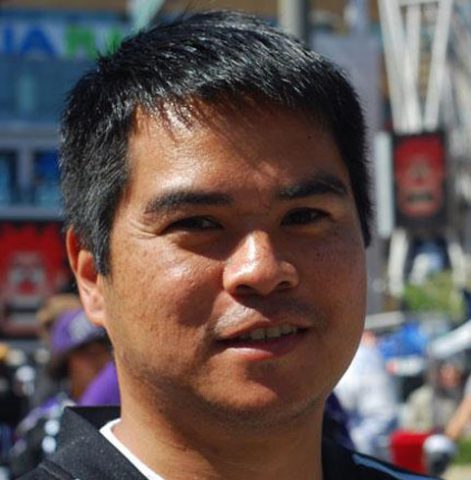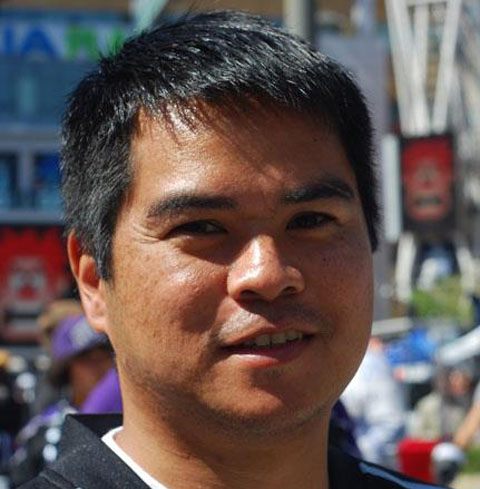 Edward de la Fuente | Itinerant Fan
I live for sports, and I love to travel. My biggest thrill is combining the two. I've been blogging about sports travel for more than a decade, and traveling for sports for twice as long.
About me | FAQ | Buy me a beer 🍺
Affiliate Disclosure
Please note that some of the links above are affiliate links, and at no additional cost to you, we earn a commission if you make a purchase. These recommendations are only for companies that we've used and have proven to enhance our sports travel experiences. To find out more about our affiliate partnerships, please read our Affiliate Disclaimer.