(Editor's note: We have a more recent Itinerary of Dodger Stadium on the site, but we've left the original on the blog because, well, we believe you can't have too much information at your disposal. Plus, it was written by Mrs. Fan. So please give it a read, won't you?)
As much as I'd like to be traveling the world, dropping in on stadium after stadium and checking out games, I can't do that. I got things like work and family and friends and money to worry about. Which is why, for my good and the good of this blog, it's nice to have friends who like sports and traveling to sporting events.
Yep, it's good to have connections — especially in your own household. I recently was given two vouchers redeemable for free Dodger tickets, but I had no plans to be in Los Angeles at the same time as the Dodgers anytime until October. Mrs. Fan did have a trip planned, though so I gave the vouchers to her. I hinted that maybe she'd want to write a blog entry on the experience, and then thought to myself, "She'll never do it." So imagine my surprise when she actually wrote one! I need to give people ticket vouchers more often.
Anyway, the following entry was not written by me — and the picture isn't original, either, as she didn't bring a camera. But I'll let her slide … this time.
---
It's the dog days of summer, and what better way to spend it than taking in a baseball game? It's a grand tradition.
Mrs. Fan (that's me!) did just that, visiting Dodger Stadium for a midweek game between the local 9 and the Colorado Rockies. A trip to Chavez Ravine is always a good time … even if I'm not a Dodger fan. Hey, I'm there for the game, dude!
The approach
The perfect storm of events combined so that I could go to a Dodgers game: I had two ticket vouchers courtesy of Mr. Fan, I happened to be in L.A. during a Dodgers homestand, and I had friends willing to go. I took two of my designer buddies, Zookeeper and Top Dog.
The vouchers were good for a free ticket in the way, way upper deck, or $12 off a ticket in the reserve section (basically the second deck). We figured we'd be sneaky and get the free ticket and just move down. I mean, who was going to be there on a Wednesday, right?
I can't really complain about getting vouchers, but the things came with more restrictions than Catholics have during Lent. First off, you could only use them for games that fell on a Sunday through Thursday. Secondly, you couldn't use them on blackout dates (there were a whole host of these on the Dodger website). That particular Tuesday was a blackout date, so that left Wednesday as the only day we could go.
When we first arrived and I walked up to the ticket window to redeem the voucher, the guy told me I couldn't get a free ticket in the upper deck because "they were subject to availability and no free upper deck tickets were available." I looked at him cock-eyed (the joint was practically empty!), but whatever. Paid for the tickets and moved on my merry way … and climbed a million steps to get into the stadium.
The build-up
Of course, when you think L.A., you think ridiculous amounts of traffic. It's a way of life. But my companions and I left North Hollywood sometime after 6:15 — it was a 7:05 game — and arrived at the stadium in enough time to buy food, get beer and hear the national anthem. As Top Dog remarked, "I don't think I've ever made to a Dodger game in time for the anthem."
It was a traffic miracle! (Well, the carpool lane also constitutes a traffic miracle during L.A. rush hour. I'll admit it, we looked out at the stopped cars as we cruised by and snickered, "Suckas!")
There also weren't a lot of people at the stadium in the first place. Parking was painless (who knew?), and while going up Stadium Way on the 5 was a little slow, it wasn't excruciating.
Ticket lines weren't crowded, but they were a little slow for some reason. It was a game of where-should-we-stand-to-get-faster-service? Beyond that, we were all there without incident, except we realized we parked as far as possible from where our seats were, and basically walked the entire perimeter of the concourse to get there. It's OK. No beer was lost in the process — they actually put lids on your cups for you, and Zookeeper decided he would drink his from a straw, which of course had Top Dog and I in stitches. I mean, who drinks a Miller Lite like a soda?
Oh, and one thumbs up to Dodger Stadium: They serve Blue Moon there. It's expensive as hell, but I wouldn't be caught dead drinking a Miller Lite. Especially through a straw. (I did not consume my Blue Moon through a straw, either.)
The ambiance
It's no secret that L.A. likes a winner and will turn on you pretty fast if you suck. The Dodgers weren't looking too good at this point in the season, plus it was the Rockies in town, so attendance wasn't going to be that great anyway. Never mind the fact that it was a midweek game and that some kids might have been trickling back to school already (side note: when did kids return to school so danged early?!), but the place was one-third full. One-third! The entire upper section of the outfield bleachers was empty, and there were lots of empty sections throughout.
At some point during the game, I remarked to Top Dog and Zookeeper that I felt like I was at a Montreal Expos game.
It's a darn shame since Dodger Stadium is a great place to take in a game. Top Dog and Zookeeper agreed. It was near sunset when the game started, the view was pretty, the mountains were a great backdrop. Both my companions were in agreement that fewer stadiums are as picturesque as Dodger Stadium.
Despite the lack of fans, it was relatively festive. A girl was celebrating her 21st birthday in our section and gave out free cupcakes, and there were the usual suspects bouncing beach balls around. There were even some great plays on the field (like the Rockies' second baseman flipping a throw to first behind his back).
However, the exodus started around the eighth inning and got even worse when the game went to extras (the Dodgers lost in 10 innings). The upside, though: Getting out of Dodger Stadium and getting on the road was a breeze. As Zookeeper remarked, it might have been the easiest trip out of Dodger Stadium ever.
Oh, and another thumbs up to the Dodgers for piping in the radio broadcast to the bathrooms. Nothing like listening to the smooth sounds of Vin Scully while you're waiting in line for the can … or on it, I guess.
The damage
Tickets: $51 for three, reserve level (two of those tickets were $12 off, thanks to ticket vouchers)
Transportation: $15 for parking
Food: About $40 (there were at least four beers involved, plus three Dodger Dogs, a California Pizza Kitchen pizza and garlic fries)
Souvenirs: $0
(Editor's note: For more, check out our Revisit of Dodger Stadium here.)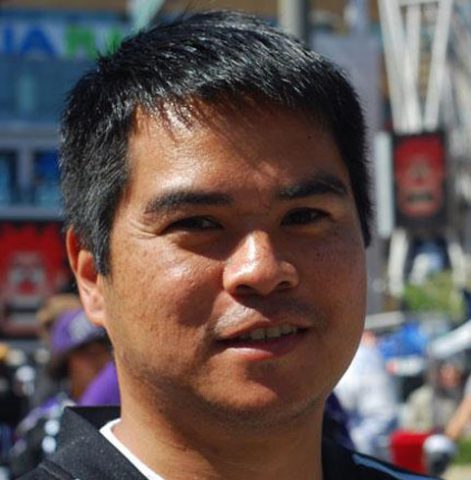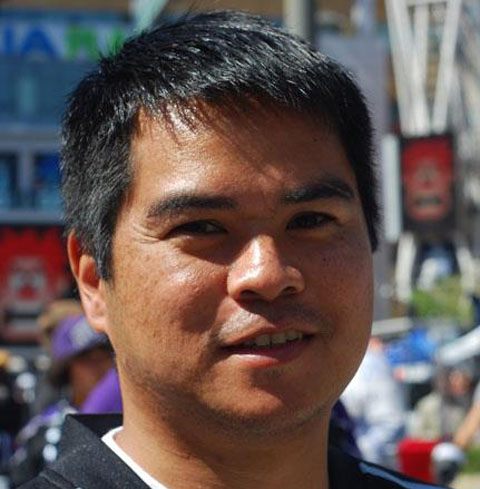 Edward de la Fuente | Itinerant Fan
I live for sports, and I love to travel. My biggest thrill is combining the two. I've been blogging about sports travel for more than a decade, and traveling for sports for twice as long.
About me | FAQ | Buy me a beer 🍺
Affiliate Disclosure
Please note that some of the links above are affiliate links, and at no additional cost to you, we earn a commission if you make a purchase. These recommendations are only for companies that we've used and have proven to enhance our sports travel experiences. To find out more about our affiliate partnerships, please read our Affiliate Disclaimer.