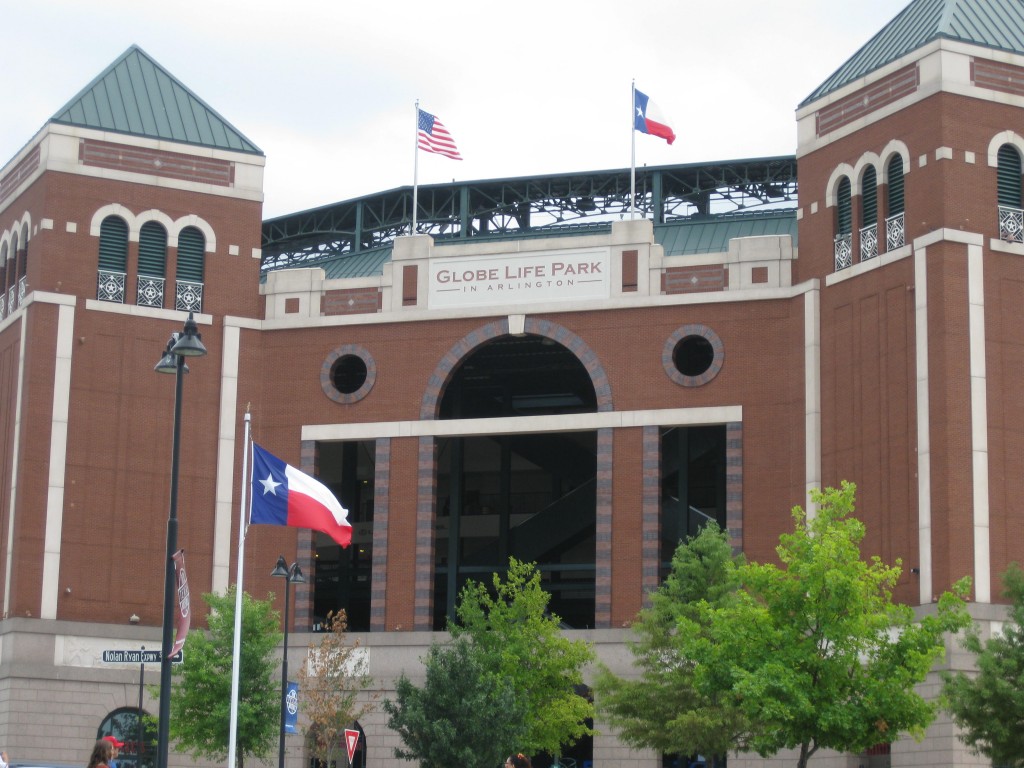 As American tourist destinations go, there are a lot worse places to visit than Arlington, Texas. Within a rather small area, you have a pretty big amusement park (and a water park alongside it), a convention center, hotels and restaurants galore and plenty of parkland. Oh, and of course the sports fan is nicely covered as well with one of the world's biggest and most impressive football stadiums and, not far away, a pretty nice ballpark for the baseball aficionados.
If that previous sentence makes it sound as though we're selling Globe Life Park a little short considering that it sits in the shadow of the behemoth AT&T Stadium, well, we don't mean anything by it. While not exactly as awe-inspiring as its neighbor, the park formerly known as Rangers Ballpark In Arlington is definitely unique in its own ways, and offers a few things that make it worthy of placement on any ballpark tour list. Just bring a hat, a sense of curiosity and a big appetite.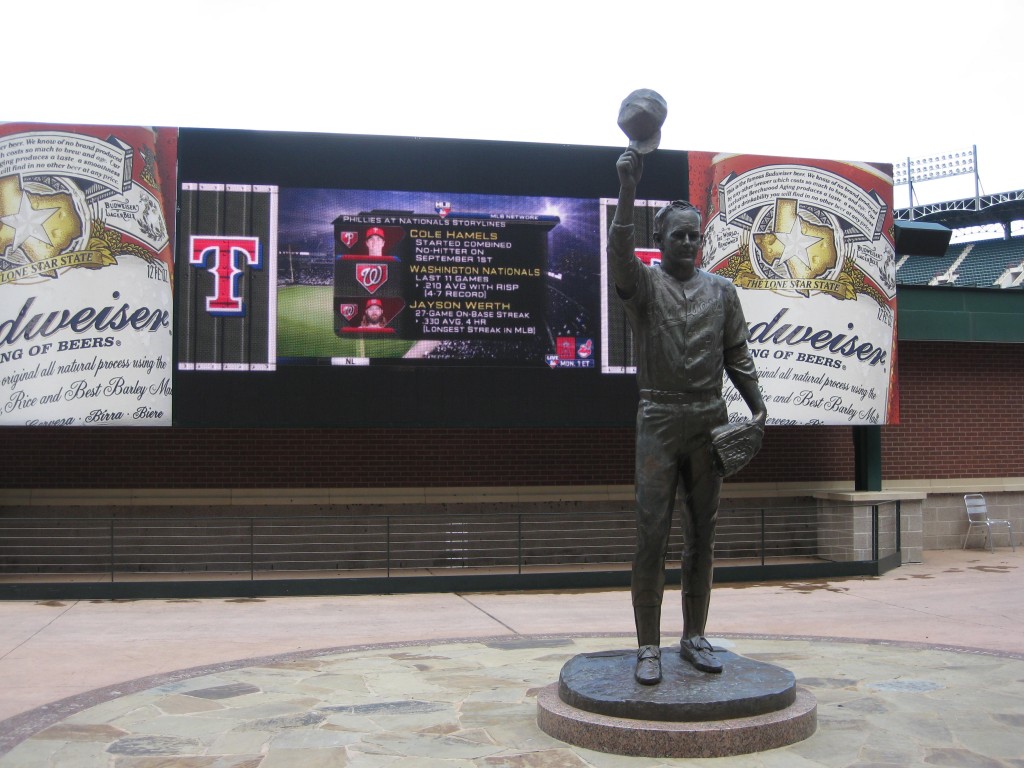 The approach
The only big problem with Arlington from a logistical standpoint is you have to get there by car, as it is located about 20 miles from downtown Dallas (but slightly closer to Fort Worth). So if you flew in from out of town, rent a car or hail a cab — expect a fare of about $30-35 from the Dallas-Fort Worth Airport. This was my approach, and my fare before tip landed right in this range.
Globe Life Park is in the middle of what can best be described as Arlington's entertainment district, with both AT&T Stadium and the Six Flags over Texas amusement park not far away. If your sole purpose for visiting the Metroplex is to watch baseball, you have plenty of lodging options in the general area, some within reasonable walking distance of the ballpark. And depending on the heat and humidity, which during baseball season can admittedly be nothing short of oppressive, you may find a walk to the ballpark from a local hotel to be reasonable and actually quite pleasant thanks to the abundance of parkland nearby.
If you'd rather use a car, there's plenty of parking in the surrounding area. Know, though, that if there's a large-scale event happening at AT&T Stadium at the same time, even the lots closer to the ballpark could be jam-packed. That was the case on the day I visited, though, the Rangers reserved the lot nearest the ballpark — just west, along the first-base side — for baseball fans.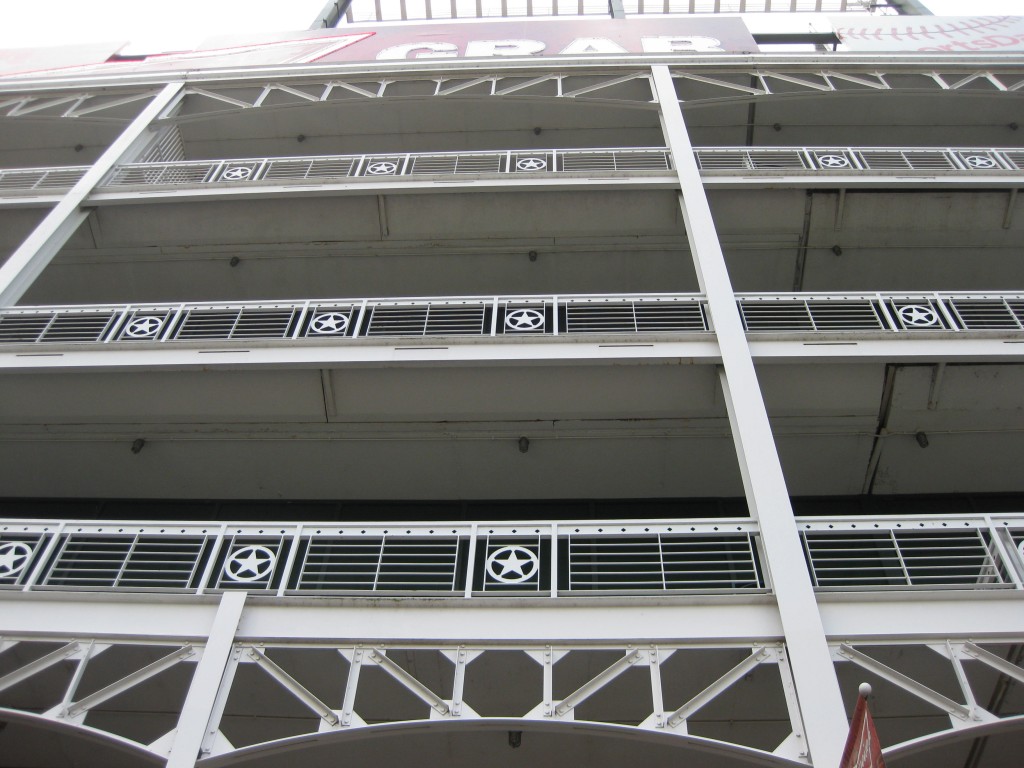 The build-up
Along with the many brand-name hotels in the general area are many brand-name restaurants — including ones you're likely familiar with, such as Sonic, Steak 'n' Shake, On The Border, etc. Some of the larger hotels in the area will also have bars that cater to the sports fan, since it's a good bet much of their clientele during the summer months have a Rangers game somewhere in their plans.
But if you're looking for a bit of adventure in your dining options and you'd rather not leave Arlington, your better bet might just be to head into the ballpark already. More on that down below.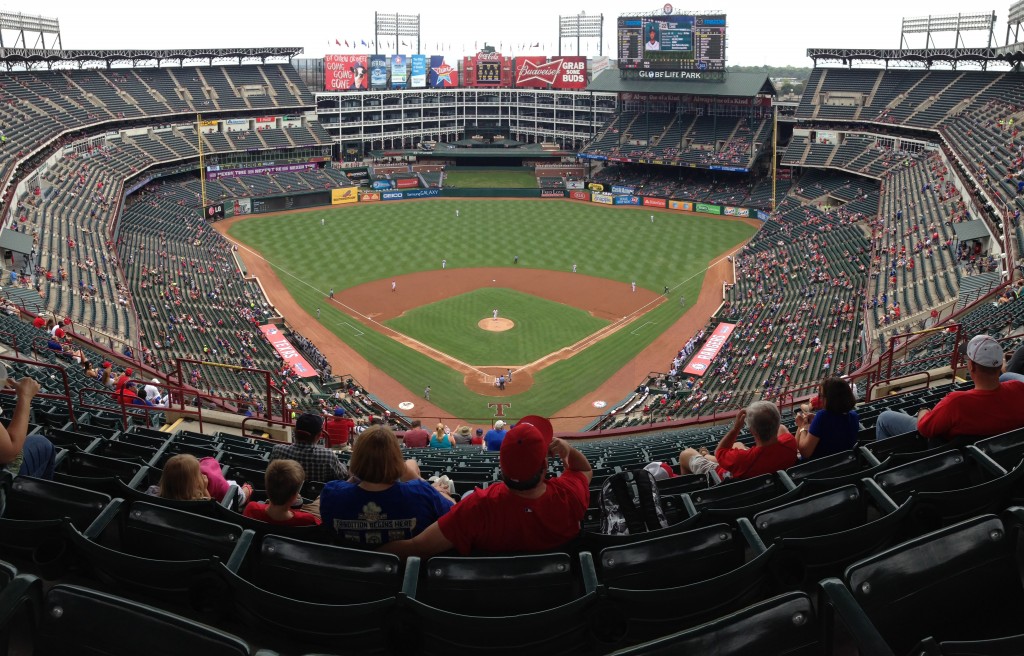 The ambiance
I'll admit that this particular day probably wasn't the most accurate representation of the Rangers fan experience. Who could blame 'em? The team's season was skidding toward a last-place finish, their manager had just resigned, and the Cowboys were getting ready to begin their season just down the street. Oh, and it was hot and humid as heck. I'm not sure there were more than 5,000 fans in the seats at first pitch.
But the one positive of it was that there was that much more room to roam and explore. A good starting point is the home-plate gate, at which you'll find a statue a man holding hands with a child that stands as a tribute to a fan who died in a fall at the ballpark in 2011. Once through the turnstiles, you'll find a food court of sorts that is definitely worth checking out. Recently revamped, the stands in this area include one in which nearly every item costs $26 but is appropriately huge (menu items include the "Broomstick," a two-foot long hot dog, and the "Tanaco," a two-foot long taco). But the thing that intrigued me the most before my visit was the bacon on a stick, served at an adjacent stand. While it looks like a slice of bacon, it's about three inches thick and tastes more like a pork chop. But for $7.50, plus a free slathering of maple syrup if you want it, the price was right, and in eating it I felt very much like I was at a state fair somewhere.
You'll want to spend time walking around the outfield, as well. A statue of one of the Rangers' greatest players, Nolan Ryan, stands in the outfield, right next to a big outdoor bar that, sadly, was not very busy on this day. This plaza, behind center field, is in the shadow of what easily is Globe Life Park's most distinctive feature: A four-story office building with white trim and decorated with lone stars. From afar, you probably can't tell that it's an office building — I, for one, thought it was a hotel. But it fits right in with the motif (and frankly, it looks like it would be perfect for the set of the TV show "Dallas") and it's kinda cool to take a look at it up close.
Right next to the office building are the right-field bleachers, meant to be a home-run porch and designed to resemble ballparks of yore, in particular due to its support columns in the seating area and the roof covering it. Sitting on top of the roof is the ballpark's HD videoboard, which makes for an interesting contrast between modern and old-timey.
The Texas hospitality was on full display, with ushers saying hello to you at every turn — or maybe it was because there were so few people that the ushers had time to talk to everyone who passed by. (One strange thing that happened, though — I was asked, nicely, not to walk down the escalators, even though there was nobody in front of me. I guess they didn't want me tripping and falling, and then turning around and suing them.) My ticket was in the upper deck, but I pretty much had my pick of whichever unoccupied seat I wanted as I watched the Rangers eke out a 1-0 victory. Since the seat I chose was in the shade, I didn't mind all that much.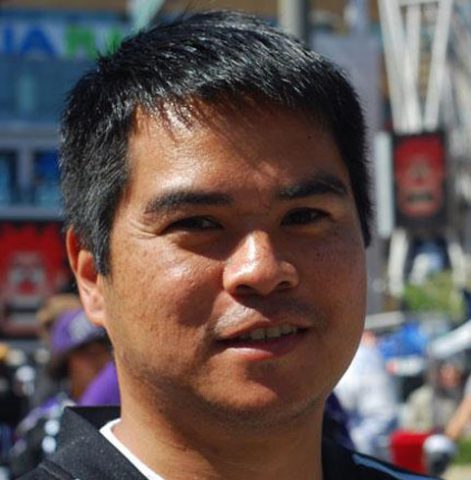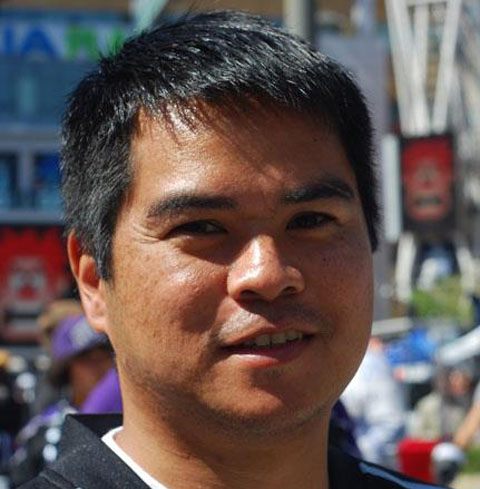 Edward de la Fuente | Itinerant Fan
I live for sports, and I love to travel. My biggest thrill is combining the two. I've been blogging about sports travel for more than a decade, and traveling for sports for twice as long.
About me | FAQ | Buy me a beer 🍺
Affiliate Disclosure
Please note that some of the links above are affiliate links, and at no additional cost to you, we earn a commission if you make a purchase. These recommendations are only for companies that we've used and have proven to enhance our sports travel experiences. To find out more about our affiliate partnerships, please read our Affiliate Disclaimer.