If you want to see a number of ballparks in a short amount of time, it's best if you plan it out, of course. But sometimes you get sent somewhere for other reasons, and then it occurs to you, "There's baseball in them there parts," so you hurriedly put together a plan to see as many games in as many parks as possible. And that's OK, too, and can be fun in its own reckless way.
Such was the case last weekend when I, having spent the week in the Tampa Bay area on business, found myself with a free weekend, a rental car and nothing but spring training around me. My base was St. Petersburg, which used to host spring training but now doesn't, but there were no less than five Grapefruit League sites within a half-hour's drive of me and several others if I were willing to venture a little farther. In other words, a baseball fan's idea of paradise.
In my case, I had time for only two games and didn't feel like driving very far (OK, so I'm lazy). On Saturday I had my choice between seeing the Yankees in Tampa and the Phillies in Clearwater, but the choice was made for me when I looked online for tickets the night before and found the Yankees were sold out. On Sunday, I settled on the proximity of the Blue Jays in Dunedin instead of a trip over the Sunshine Skyway to see the Orioles in Sarasota.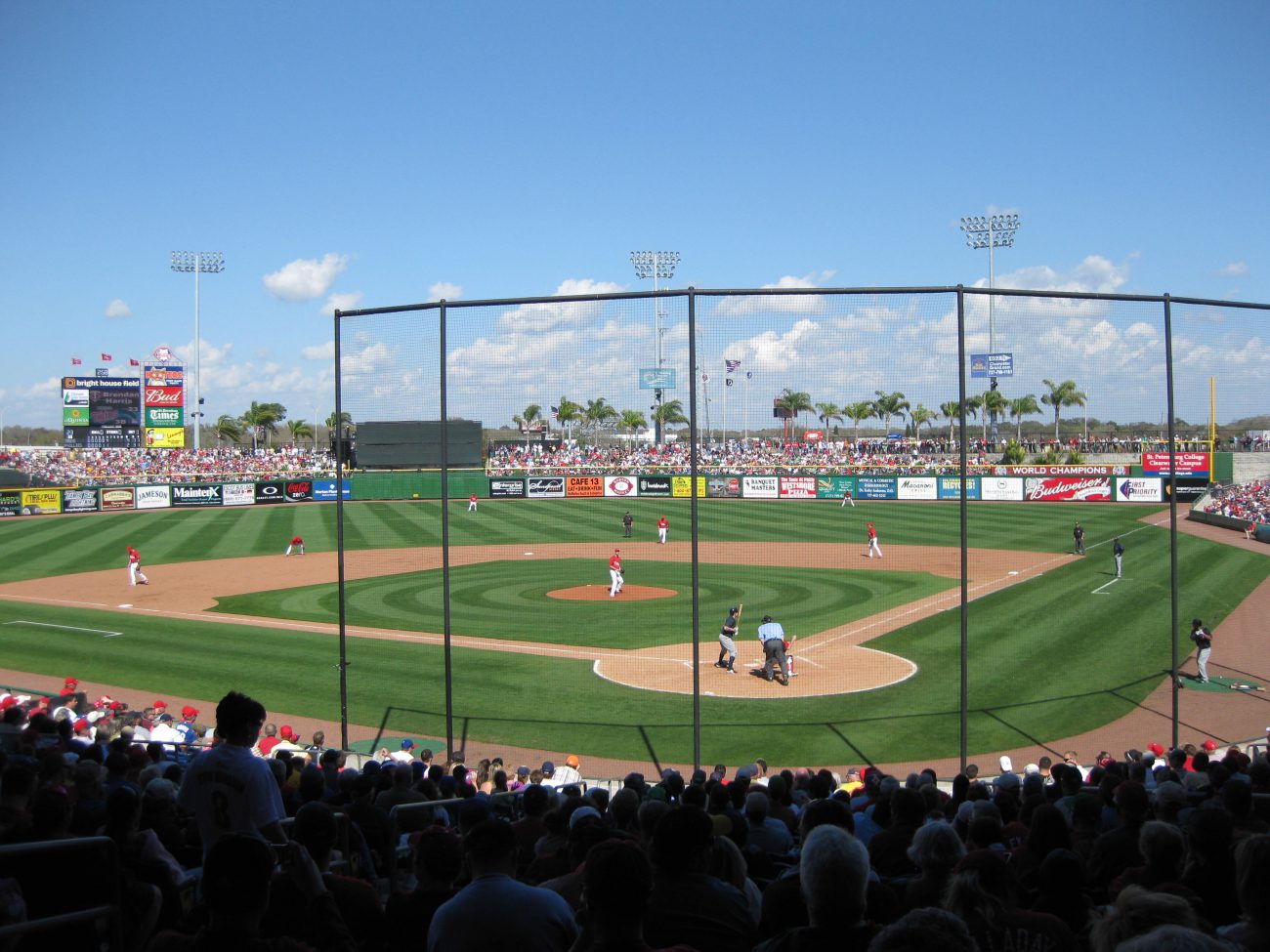 Day 1: Bright House Field, Clearwater
Phillies vs. Twins
The approach
It goes without saying that you need a car to reach any spring training site in Florida. That said, many of the Grapefruit League ballparks sit in the middle of either quaint "downtown" areas or busy retail districts, so there's a lot going on in these areas, ballgame or no ballgame. Clearwater, just north of St. Petersburg and just across the bay from Tampa, is no different — though it's not "downtown" per se, and nowhere near the beach, Bright House Field and the Phillies' minor league complex are located amid a sea of shopping centers, big-box stores and car dealerships. The ballpark also sits alongside U.S. 19, one of many roads in Florida that is basically a freeway with stoplights.
I had planned to attend the game between the Phillies and Twins on my own, but at the last minute I found out an acquaintance — High Street, an Englishman I met during my week of business — wanted to go, too. So I picked him up in Tampa and got to cross the Courtney Campbell Causeway, which pretty much leads directly to the ballpark. Once you get into Clearwater, there are plenty of small but useful signs that simply read "Phillies" and an arrow pointing you in the right direction.
The build-up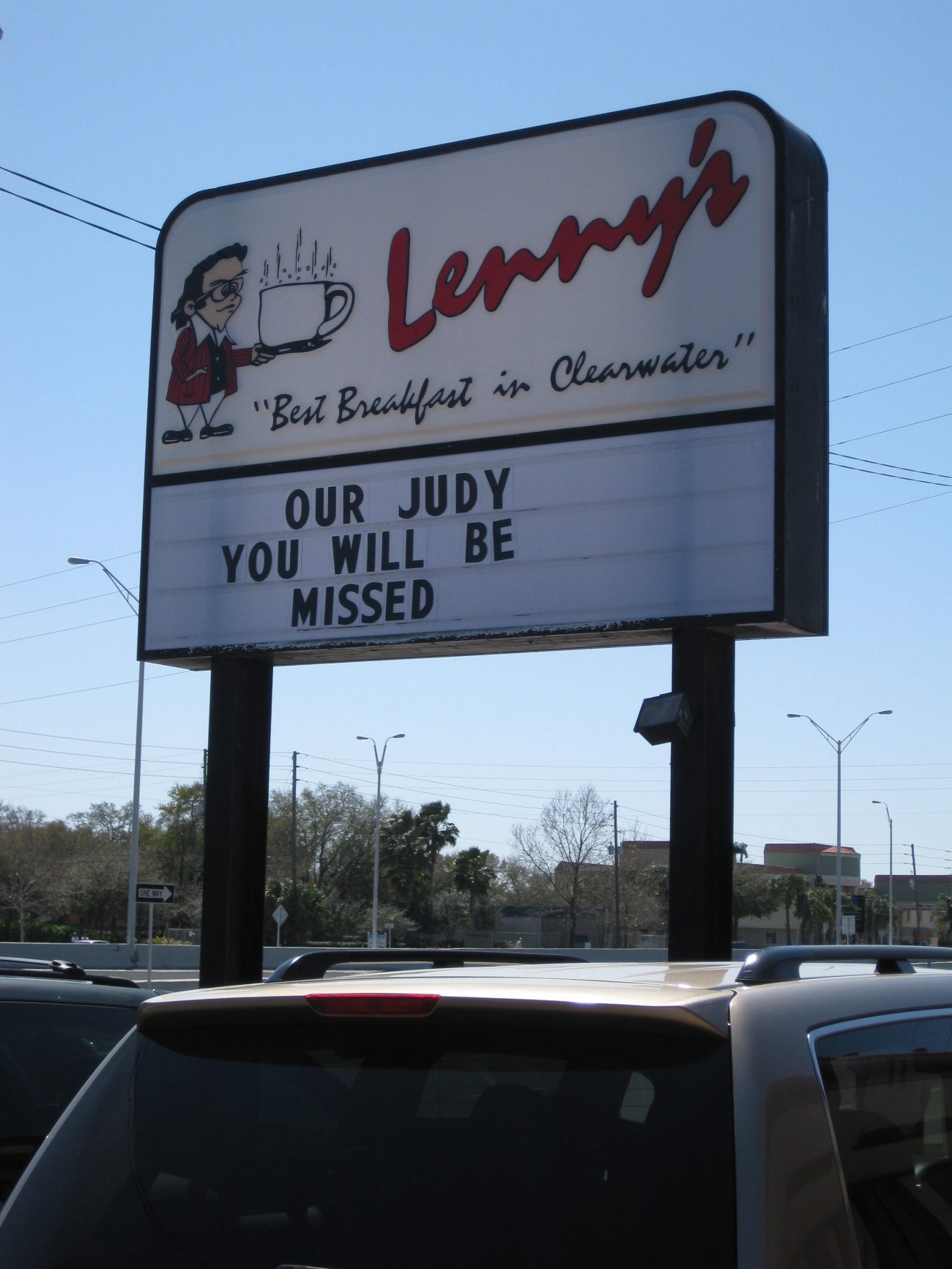 There's no shortage of places to go before a game in Clearwater — for example, the original Hooters is down the street from Bright House Field. But anyone in the know (meaning, Phillies fans) knows the place to go before the game is Lenny's, a breakfast joint less than half a mile from the ballpark. At least that's where I took High Street, and he wasn't disappointed. We waited 45 minutes for a table, and didn't mind it one bit. Wanting something purely American, he ordered chicken-fried steak and eggs, and loved it.
From there, it was about getting to the game, and why we didn't use our feet, I don't know. We got back in the car and drove around the block to a game-day parking lot, where we paid $8 and walked about the same distance as we would have had we walked from the restaurant. Big-time mistake.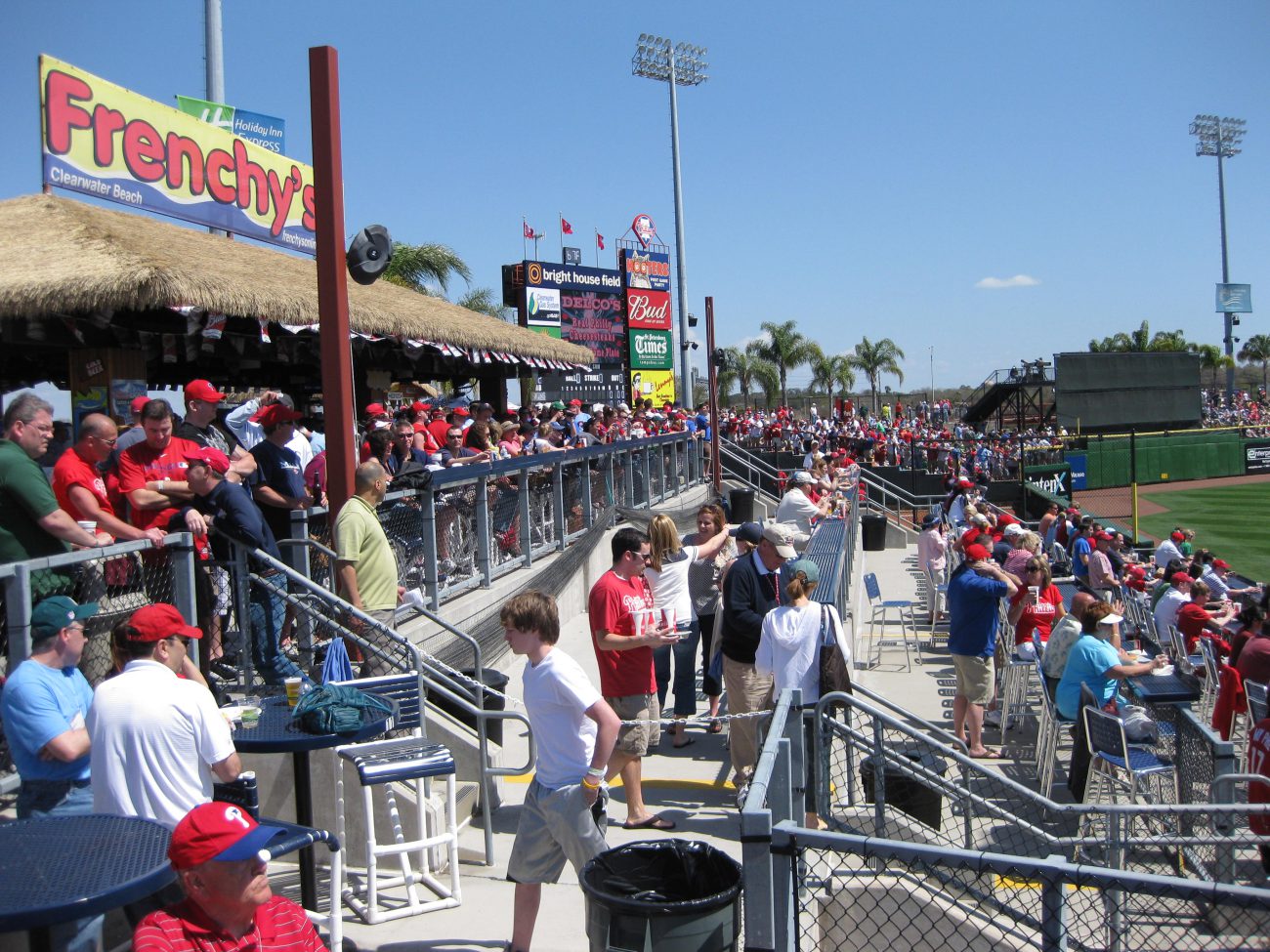 The ambiance
We got off to a bad start when High Street had the danishes he saved from Lenny's confiscated, and an usher rather gruffly tell him, "No food or drink allowed." That was his introduction to American sport's prevailing theory of pay-for-everything. But otherwise, we really enjoyed ourselves. Phillies fans seem either happy-go-lucky now that their team is a major-league powerhouse or drunk with power because their team is now a major-league powerhouse — I can't decide. Whichever it is, there was a festive attitude at the game, even during the first three innings when next to nothing happened.
The ballpark is pretty impressive as far as spring facilities go, except for the fact the main entrance is in left field. They seem to go out of their way to make the Philly folk feel at home, offering cheesesteaks for sale. What's really cool is that there's a tiki bar in left field that remains open for hours after the game ends, and as we left it seemed as though half the stadium was planning to stick around.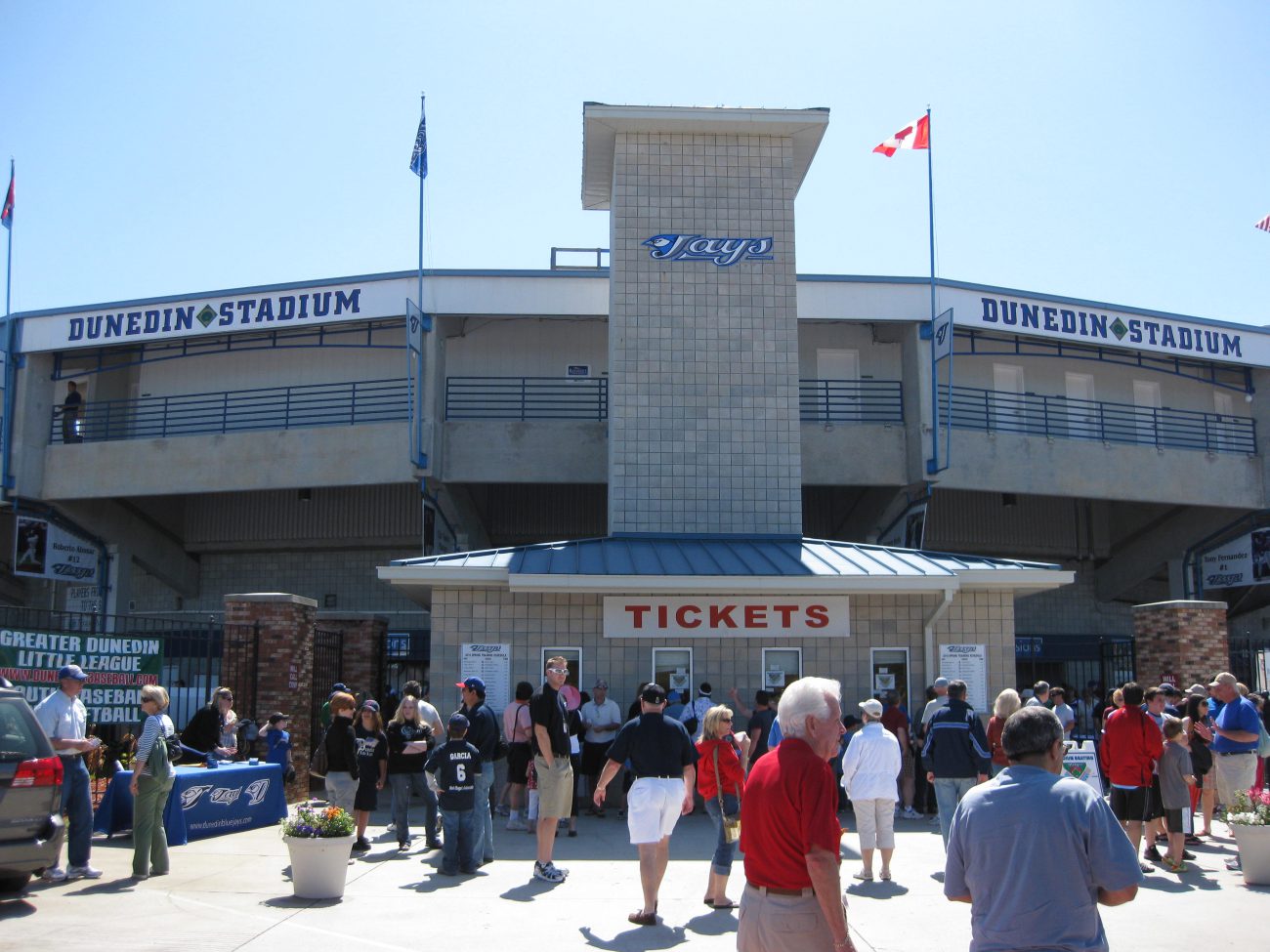 Day 2: Dunedin Stadium
Blue Jays vs. Braves
The approach
The next day, Dunedin was the only choice within 20 miles, so Dunedin it was. The stadium, the spring home of the Toronto Blue Jays, sits not far from downtown Dunedin, which is sort of a hidden gem — lots of quaint but very good restaurants and bars. There's a walking/bike trail that leads from the downtown area to the area near the ballpark, but if you're coming from somewhere else, you'll have to drive in through a grid of one-lane roads. Like in Clearwater, there are friendly signs saying "Jays" and arrows to point you on your merry way.
The build-up
I paid $10 to park in the parking lot of an office building across the street from the stadium. I don't understand how they could charge more for parking than Bright House, but whatever. Maybe it's because you have less of a walk to the park. If you don't want to pay that much, a lot of residents within a few blocks would be happy to let you park on their front lawns for $5 or less.
No pregame restaurant here for me, though there are several mom-and-pop type restaurants across the street. I've eaten at a couple of them in the past and was not disappointed.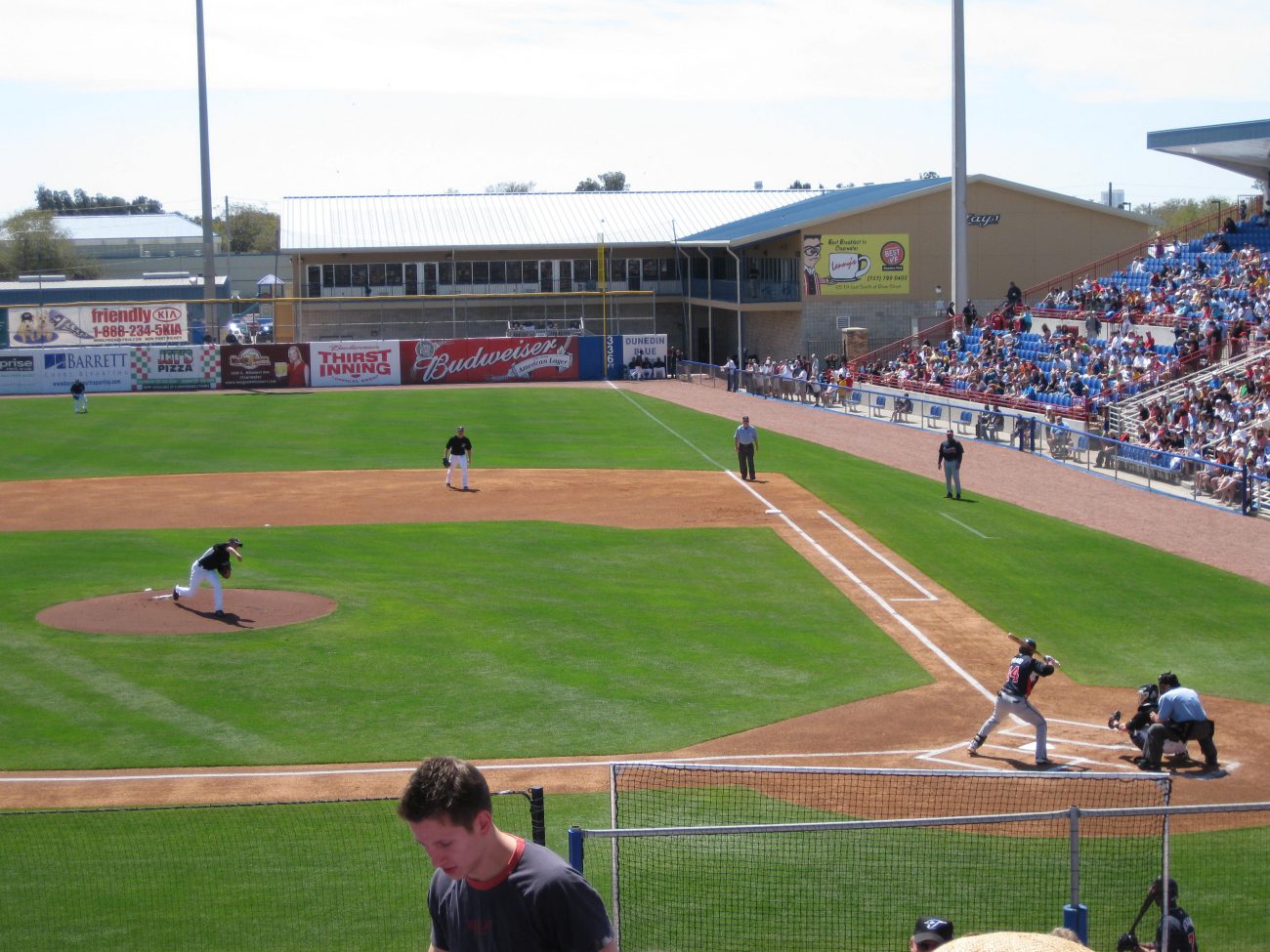 The ambiance
This being Canada South and all, people are quite friendly. Maybe it was because of the fact it was Sunday, but the atmosphere felt more like a big family reunion picnic than a ballgame. Also, there was definitely an intimacy to this ballpark — a glorified high school park — that I didn't sense in Clearwater. With less people around, you tend to hear everything that people shout, and I have to think the players hear a fair amount of that, too.
I ate at the ballpark, and I walked the concourse from end to end trying to decide on what to have. There were some pretty good choices out there, including a full-on barbeque pit, but I settled on a smoked sausage, which, frankly, sucked. It cost a dollar more than a regular hot dog, so I figured it would at least be bigger, which it wasn't. And it really tasted like a burnt hot dog. Very disappointing.
I had seats maybe 15 rows behind the visiting team's dugout on the third-base side, which was fun. The fans around me were very entertaining as well — one of them kept yelling for Toronto's Randy Ruiz, not exactly a svelte sort, to "get off your fat butt and hit a home run." Then, lo and behold, Ruiz homered. I didn't catch whether Ruiz flipped the guy off on his way back to the dugout.
If you sit near the aisle, though, good luck. The seats don't flip up like normal stadium seats. So when someone wants to scoot by you, you could stand up like you normally do… but you can't get any more out of the way than if you remained seated. But I know, I know — I nit-pick.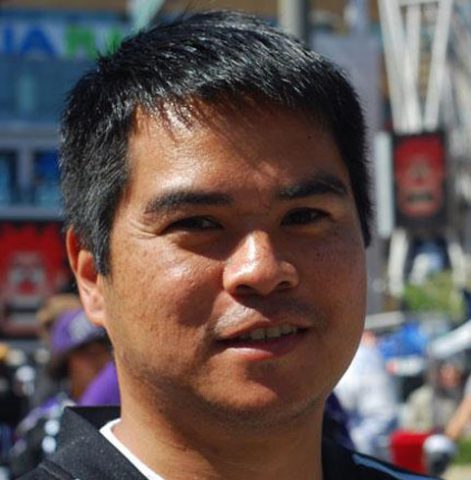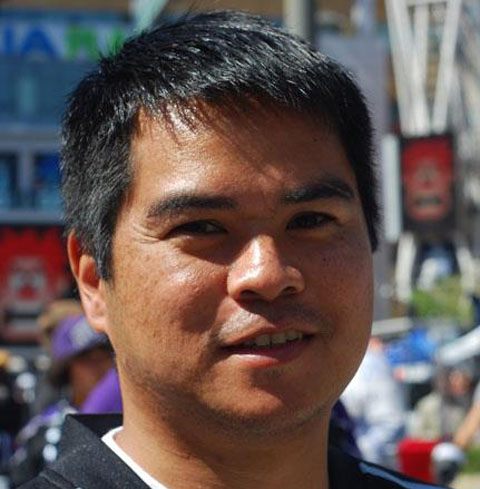 Edward de la Fuente | Itinerant Fan
I live for sports, and I love to travel. My biggest thrill is combining the two. I've been blogging about sports travel for more than a decade, and traveling for sports for twice as long.
About me | FAQ | Buy me a beer 🍺
Affiliate Disclosure
Please note that some of the links above are affiliate links, and at no additional cost to you, we earn a commission if you make a purchase. These recommendations are only for companies that we've used and have proven to enhance our sports travel experiences. To find out more about our affiliate partnerships, please read our Affiliate Disclaimer.