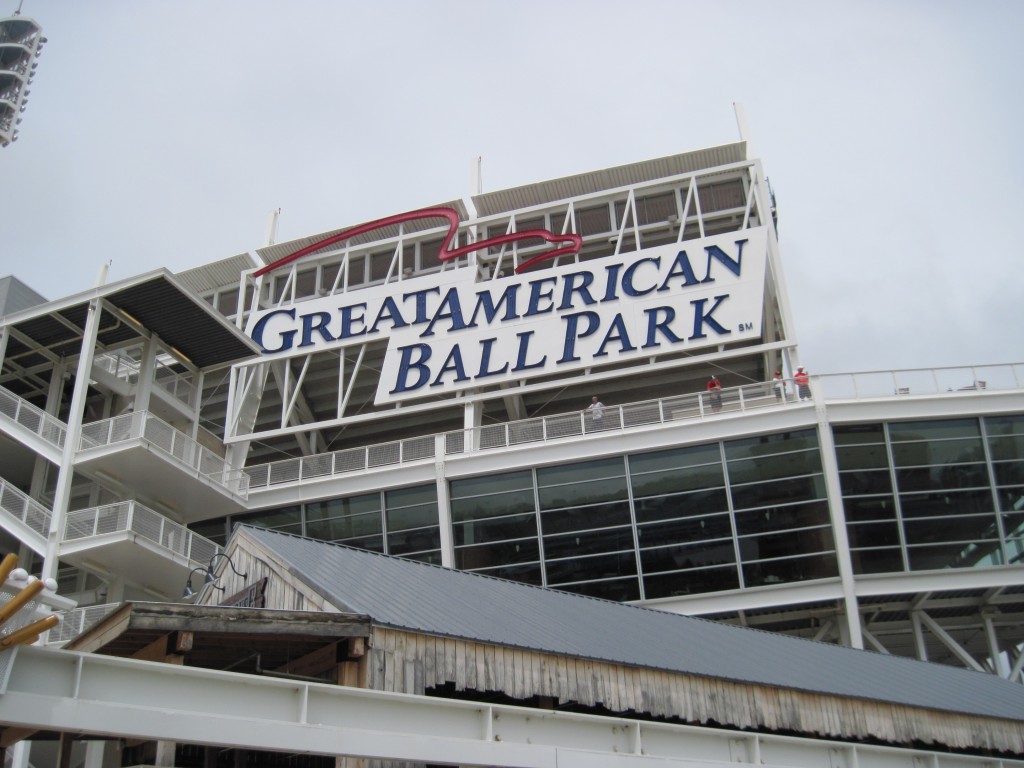 No matter how finely you plan a vacation down to the very last detail, schedule it down to the minute, it's the unexpected stuff that ends up being the most memorable. With that in mind, I was absolutely swept off my feet by our recent visit to a locale that Mr. Fan knows quite well: Cincinnati.
The Queen City was the first stop of a four-city, 10-day, baseball-centric sojourn that me, Pop and one of my very best friends Oaktown and Down took in July. Admittedly my bar for Cincy wasn't too high but still, it's always great to have expectations far exceeded.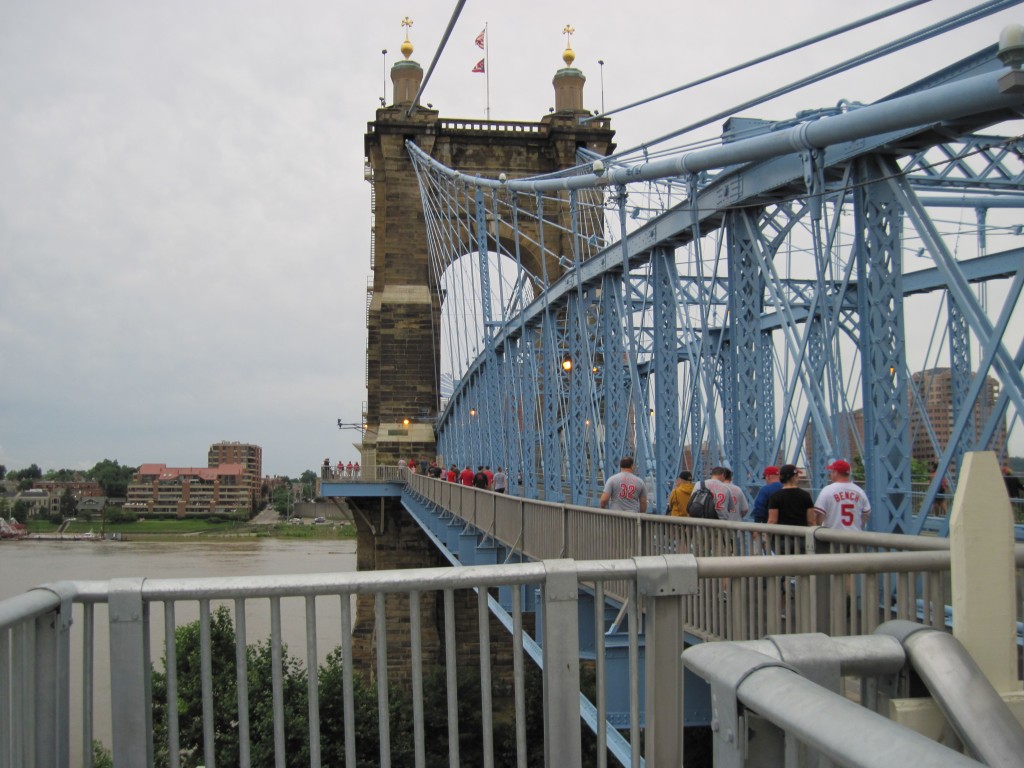 The approach
The first entire day of the trip consisted of travel we all flew into Chicago (me from Los Angeles, Pop and Oaktown from the Bay Area) before hitting a connector to Dayton. Cincinnati's airport (which, fun fact, is actually in Kentucky) is pretty much a ghost town now that Delta no longer uses it as a hub — so keep that in mind when booking travel to and from the area. From there it was a 90-minute drive into the city — we got in around 10 on a Friday night ahead of a 4 p.m. game the next day.
After some late night dinner — steamed sandwiches, which were amazing — we went back to our hotel which was situated in the heart of downtown about six blocks from the ballpark and got some rest for the day ahead.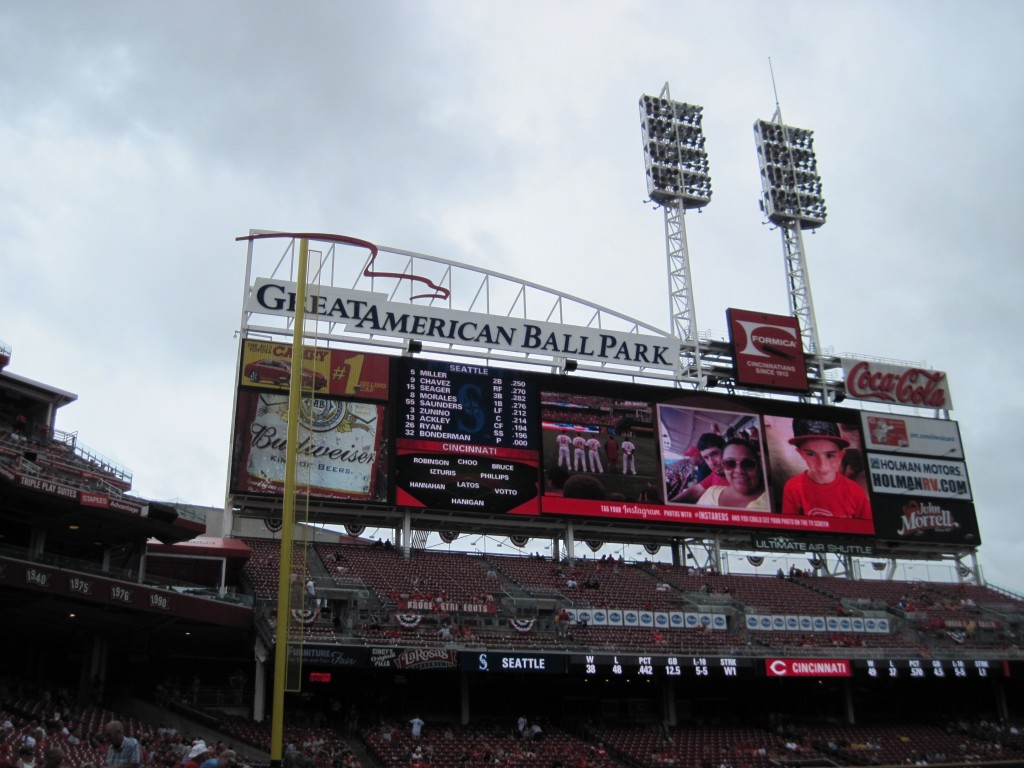 The build-up
With its proximity to the center of downtown, there is no shortage of things to do within about a mile of the ballpark, but if you want to get down there early and not wander too far they've got you covered too. Great American Ball Park and the Bengals' Paul Brown Stadium essentially straddle the periphery of Riverfront Stadium, which housed both of the city's professional franchises throughout the '70s, '80s and '90s.
It's quite impressive that they were able to shoehorn such a beautiful ballpark in between an existing monstrosity of a stadium (that still had to be used) and an arena, which is just beyond left field. There is no shortage of parking lots nearby for the predictably exorbitant fees starting right around $20. Hotels on the other side of I-71 will charge a more modest $8-10 if you're willing to hoof it a bit farther. If walking a mile or so isn't a huge deal, you could always park across state lines in Kentucky for as low as $2 per the locals. That way you can walk the Roebling Suspension Bridge, which was the prototype for the slightly more famous Brooklyn Bridge in New York.
After a bit of sightseeing in downtown we walked the nine blocks to the ballpark complex about two and a half hours ahead of first pitch. To our dismay (and this would be a continuing theme), the park did not open until about 80 minutes before first pitch. Should you find yourself in such a pickle, don't fret, there is plenty to do in the redeveloped area that used to be Riverfront Stadium, which we did after the game (Jimmy John's FTW). We killed time in the Reds' massive team store and Hall of Fame, which is a separate building with a statue garden sitting in between it and the home plate gate, before heading in.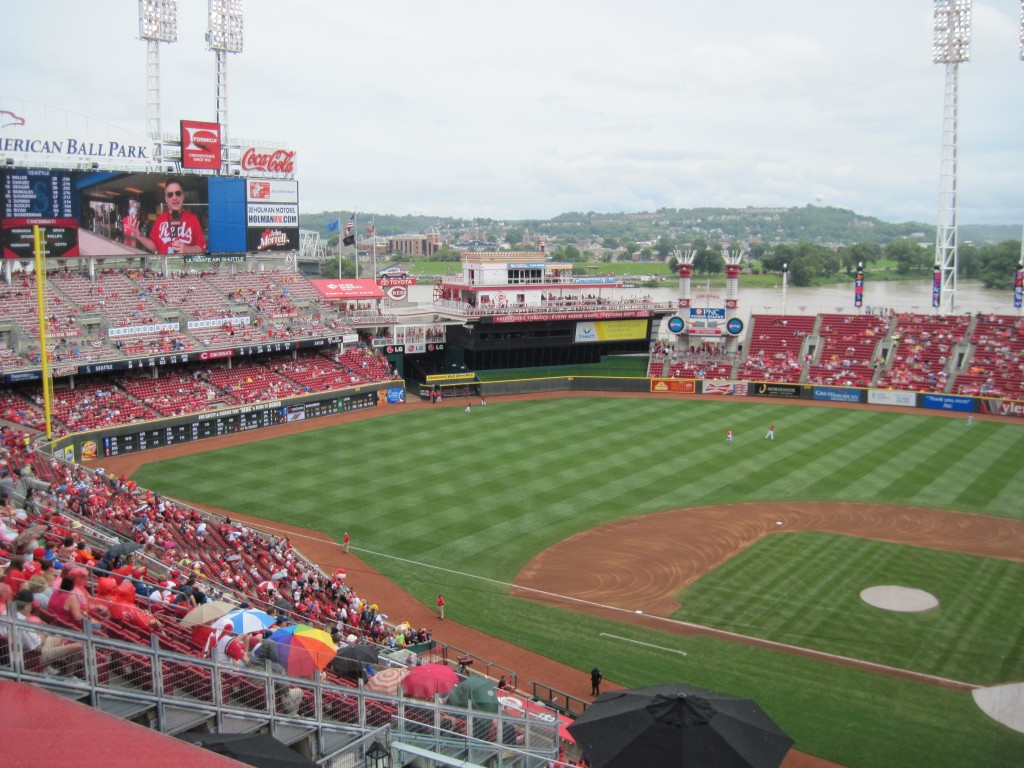 The ambiance
As anyone who enjoys grabbing some suds at the old ball yard knows it can be a treacherous process, fraught with folly, and foam. Half the time it takes two minutes to fill your cup and it takes five more to settle.
Not so in Cincinnati. It has several stands equipped with a keg that fills the beer from the bottom up in about seven seconds; it's sealed with souvenir magnets that attach to a metal ring on the bottom of the cup. At first I was surprised, not seeing a tap I figured they would hand me a metal pint or something. Then one of the ladies working the stand plopped the cup down, hit a button and voila!
I stood transfixed; the way I imagine Lewis & Clark did upon reaching the Pacific, or a child its reflection for the first time, or a Canucks fan lighting his first dumpster fire.
But there's much more to this ballpark on the banks of the Ohio River than just creative liquor distribution. The concourses are especially wide and open up into corners with picnic tables and food courts near the home plate area. Beyond center field there is a bar/restaurant shaped and themed like a riverboat. You'll see historic riverboats traversing the river during games, too.
As far as specialty concessions there are local purveyors Skyline Chili (a MUST-try) and Frisch's Big Boy (you can do better).
The upper seating bowl splits just off home plate on the third base side to allow for the Great American Insurance building, across the freeway and up the hill, to peer into the park.
There is not a bad seat in the place mainly because it's so steep. The right-field bleachers look more like a wall than a seating area which creates a more intimate feeling and contributes to the moniker: "The Great American Smallpark." The pitch in the rest of the park is pretty steep too and it's beautiful in it's simplicity with just two decks and a loge area.
Oaktown and Down noted that the red seats were a great touch, too. Both of us having grown up going to the Oakland Coliseum, which featured ugly orange seats (plenty of which were empty) throughout the '90s, we can appreciate seats that match the team's motif.
The game itself was a snoozer, with the Reds erasing an early deficit and pounding the lowly Mariners while a light drizzle came and went.
The lone highlight during the game occurred in the third inning when I hailed one of the in-seat beer vendors working our section and he asked me why I was wearing so much A's gear. I replied that I grew up there and told him about our trip. Just being friendly I asked where he was from and he replied "Oh, a little college town a few hours away from here. It's called Athens."
As it turns out my roommates, Tweedle Dee and Tweedle Dum, both grew up there and all four of us are around the same age. I gave Beerman their (real) names and to my shock he and Tweedle Dee were great friends growing up. What a small world.
Always embrace the unexpected.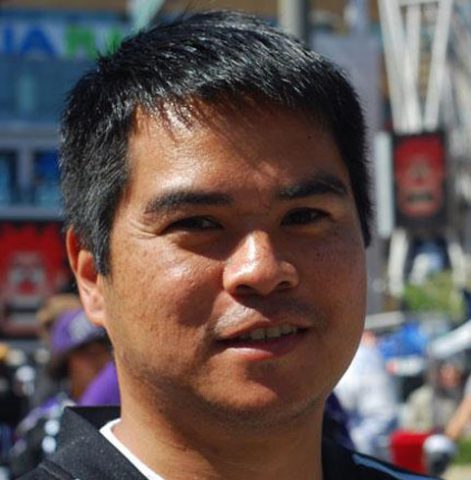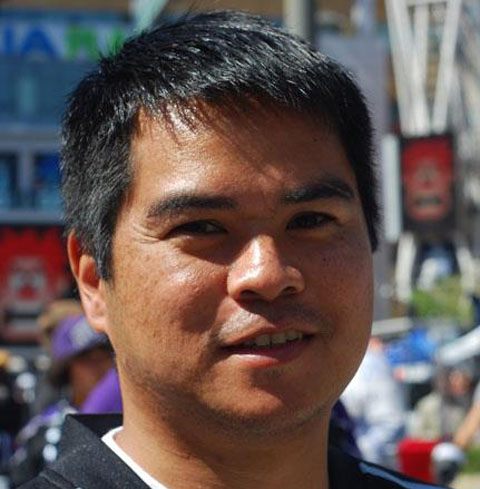 Edward de la Fuente | Itinerant Fan
I live for sports, and I love to travel. My biggest thrill is combining the two. I've been blogging about sports travel for more than a decade, and traveling for sports for twice as long.
About me | FAQ | Buy me a beer 🍺
Affiliate Disclosure
Please note that some of the links above are affiliate links, and at no additional cost to you, we earn a commission if you make a purchase. These recommendations are only for companies that we've used and have proven to enhance our sports travel experiences. To find out more about our affiliate partnerships, please read our Affiliate Disclaimer.