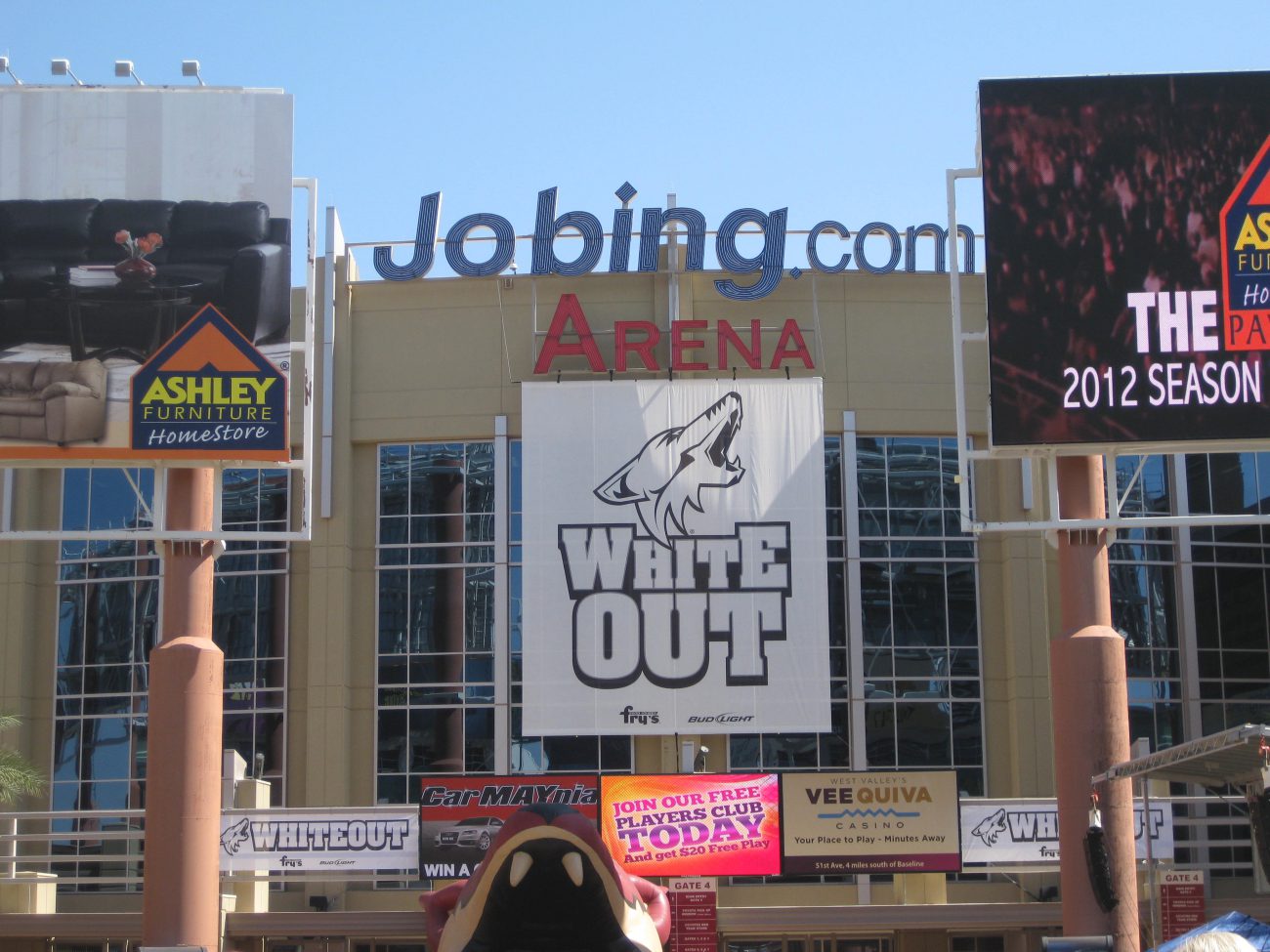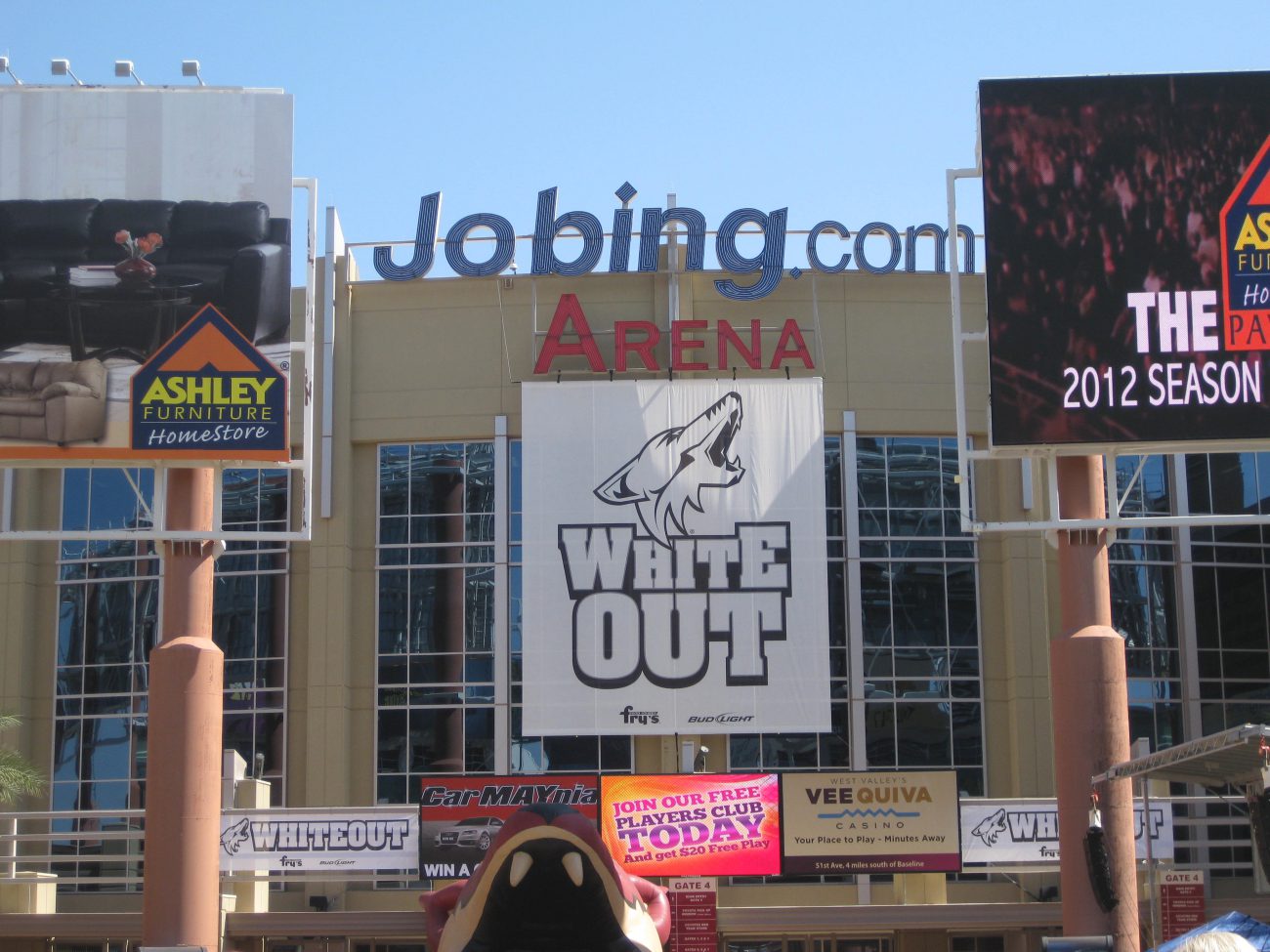 There's so much going on in the Westgate section of Glendale, Ariz., that it's easy not to notice there's a hockey arena there. Frankly, even when you're aware it's there, it's easy to not notice it. Gila River Arena (the first word is pronounced "HEE-la," by the way) is tucked into one end of the sprawling Westgate City Center retail complex, surrounded by flashy billboards and multi-story buildings housing restaurants and high-end lofts, and on the other side and across the street is the behemoth University of Phoenix Stadium. So the arena, not unlike its primary tenant in the greater Phoenix area's sports landscape, tends to get lost amid its surroundings.
Me being a hockey fan (therefore I'm used to things I like being underappreciated), I had always wanted to see a Coyotes home game, in part because it's the easiest road trip to make from Southern California — just five hours through the desert. The opportunity wasn't there when I came to Phoenix in March for some Cactus League baseball, so Mrs. Fan and I settled for a quick drive-by so that we could say we had at least seen the place. Little did we know that two months later the opportunity would arise again, as our beloved Los Angeles Kings were in the throes of their magical playoff run and found themselves opening a playoff round in Phoenix — excuse me, Glendale — against the Coyotes. So we dropped everything for a weekend and headed into enemy territory to cheer on the road team.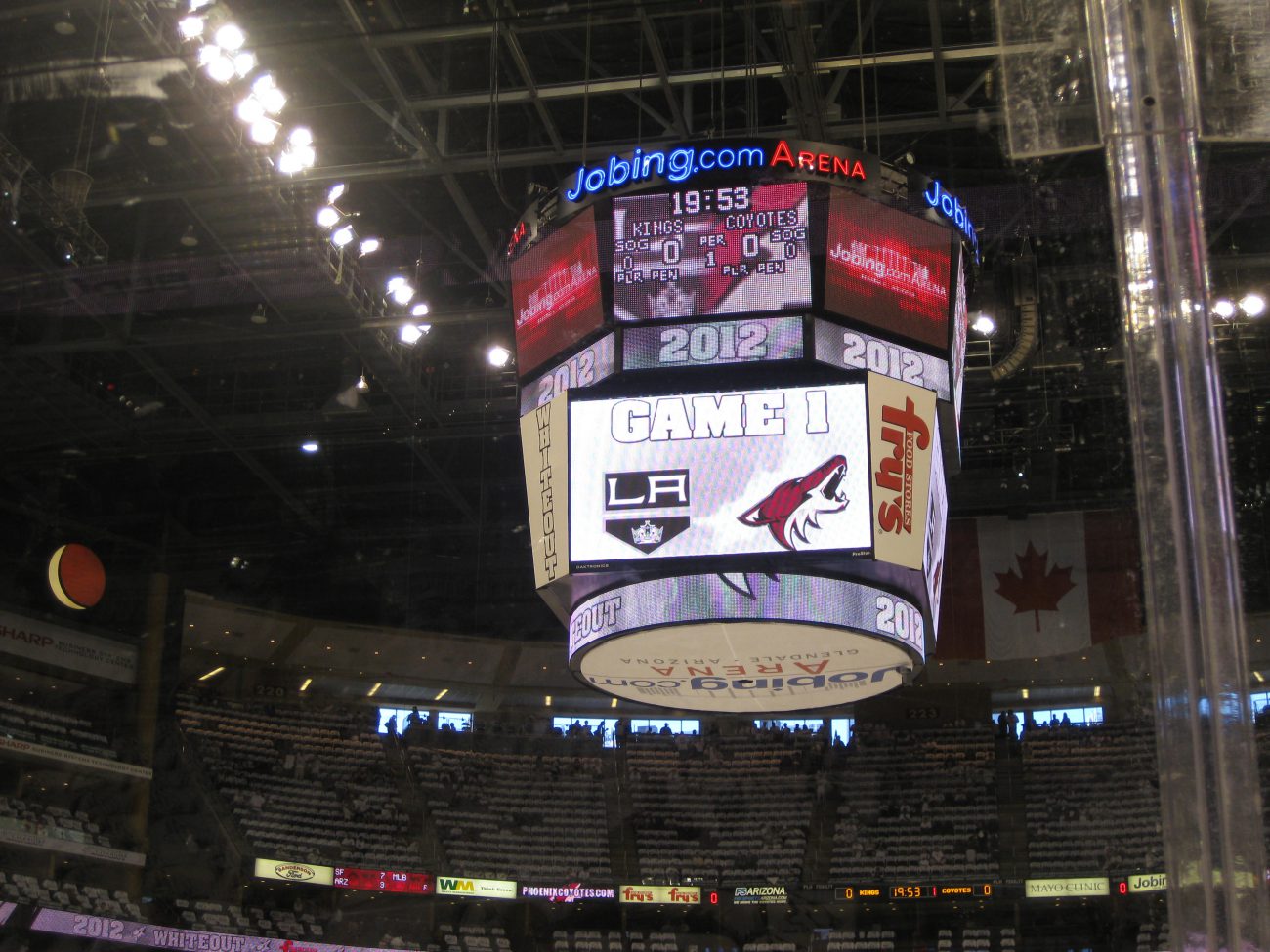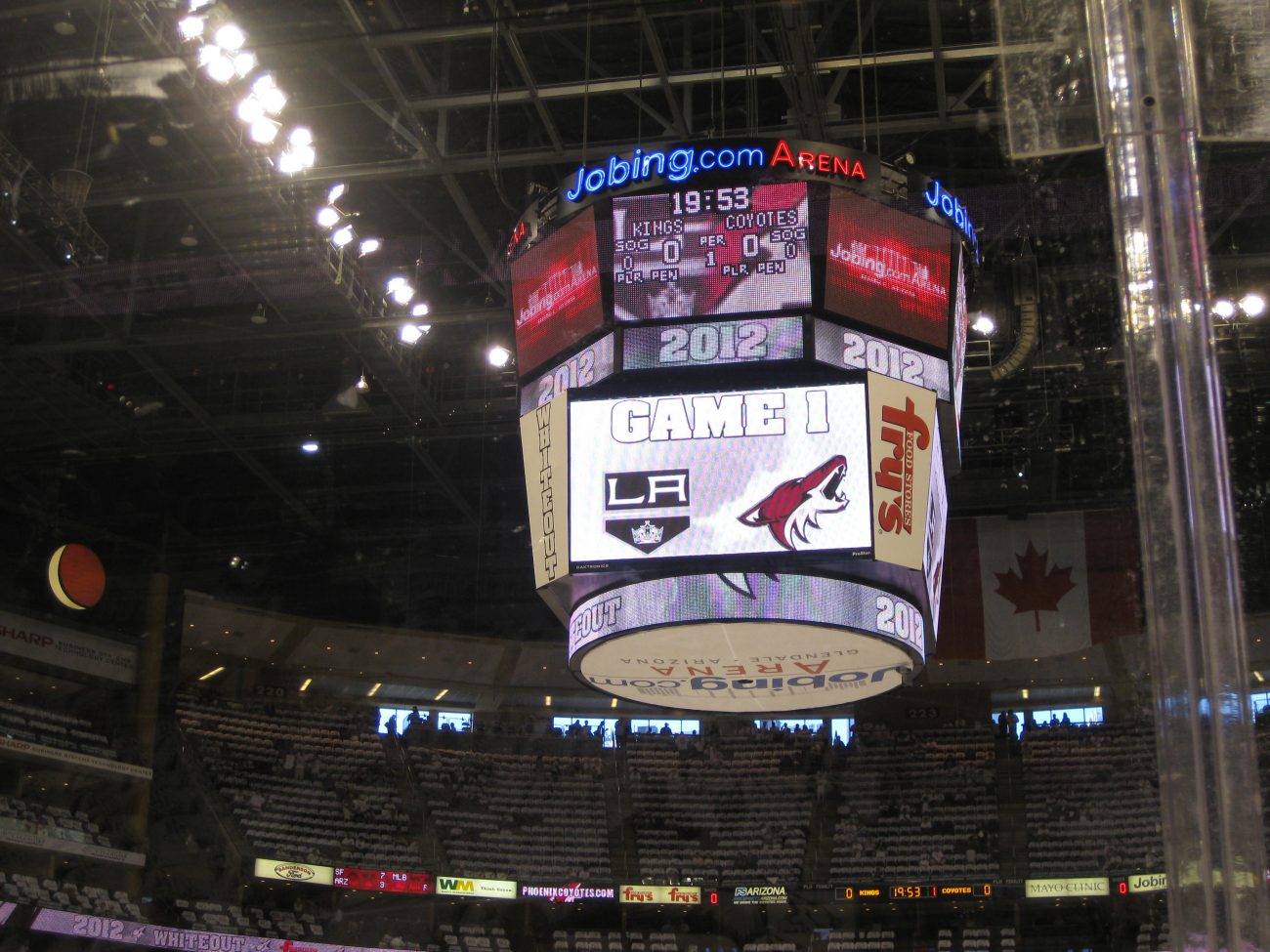 The approach
Glendale is about 15 miles or so west of downtown Phoenix, and the arena itself is off Loop 101 at Glendale Avenue — easy to remember, even without that giant spaceship-like football stadium as a guide (seriously, that thing is visible from miles away; in fact, as soon as you get on Loop 101 from Interstate 10, about 7-8 miles from your destination, you can already see it). And there's no shortage of hotels, ranging from swanky to budget, to choose from in the area. Really, all you need is a map and access to Orbitz to plan this trip right. We were able to reserve lodging for one night at a commuter hotel about half a mile away from the arena for about $120 before taxes.
We figured that tickets would be hard to obtain, but even that turned out to be a piece of cake. The "cheap" seats sold out quickly, but we heard reports that lower-bowl seats were available right up until game time. As it was, we heard from a Twitter friend, Blogger Dave, that he had bought a couple extra pairs of tickets during the initial Ticketmaster on-sale with the intention of making sure they wound up in the hands of fellow Kings fans at face value. The tickets put us in the upper deck, maybe five rows from the top, at the end of the ice where the road team would shoot twice. The ease of planning this trip made me worried that the fates would balance out and something would go drastically wrong at some point (spoiler alert: nothing really did, including the outcome of the game).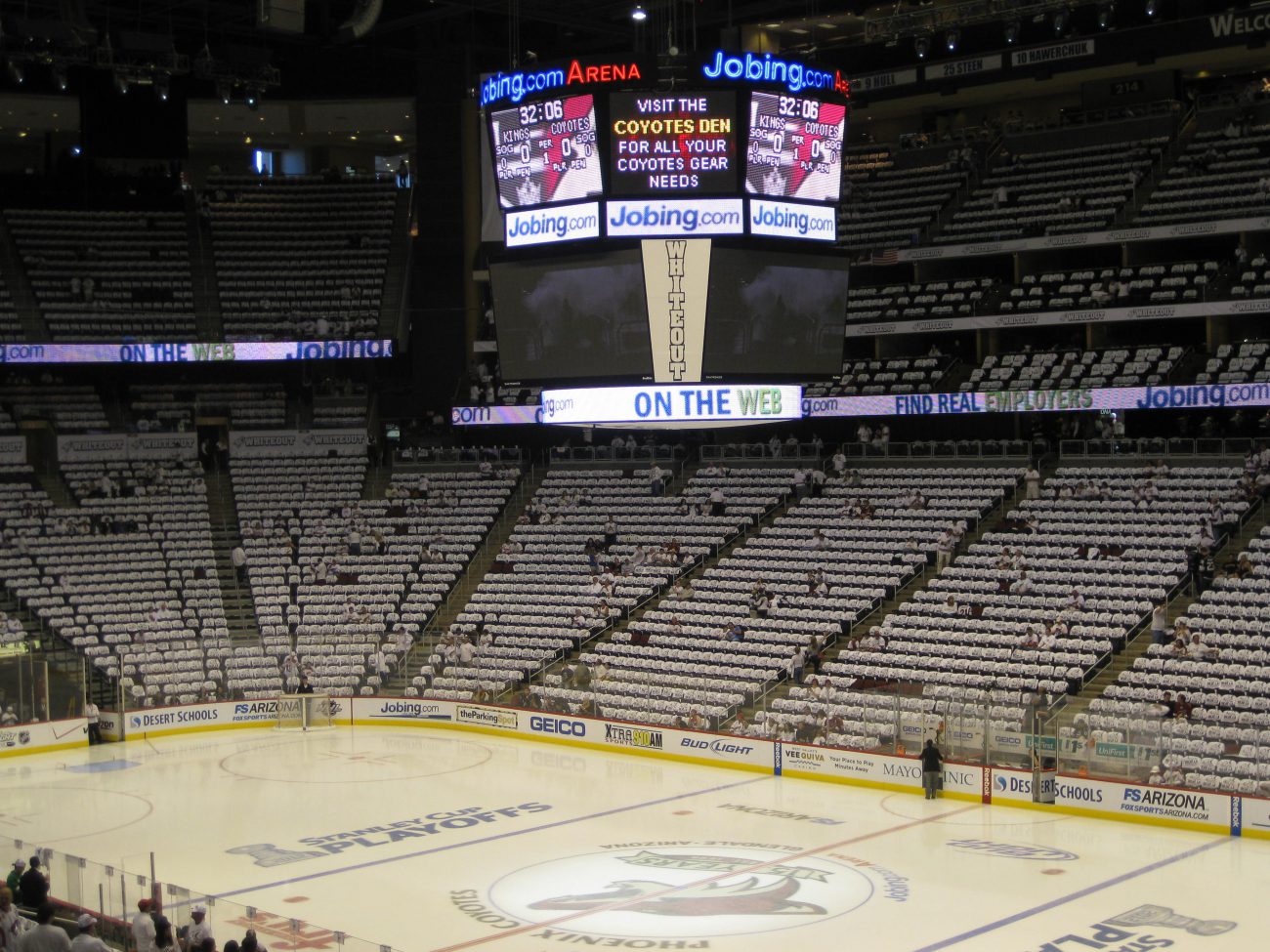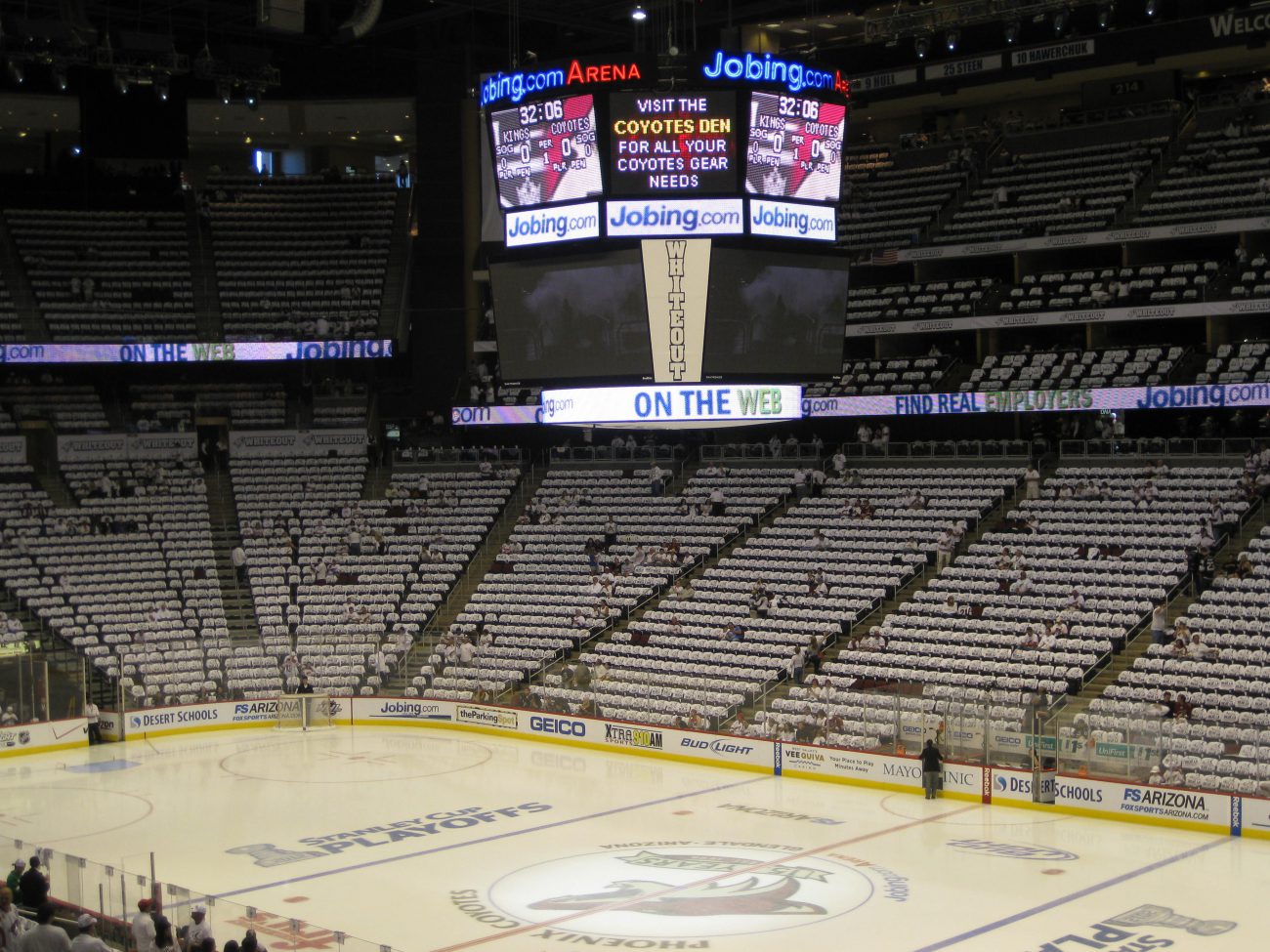 The build-up
As I alluded to above, there's a lot more to do if you venture into this area than go see a hockey game. And certainly on a Sunday afternoon in May, even with the temperature pushing 100, there were folks visiting Westgate who obviously had no intention of going to the game. This, we found, resulted in distinct advantages for the sports fan.
We came over from our hotel at about 12:30, leaving us with more than four hours to kill before the 5 p.m. start. So the first order of business was to find somewhere to eat, and we chose a Gordon Biersch on the outskirts of the property for a couple reasons: 1) We wanted a place where we could sit in air conditioning and have a nice, leisurely lunch with a beer, and 2) we wanted the alibi. I'm so used to having to pay to park for a sporting event that it seemed curious that I could park anywhere around the Westgate retail area, do whatever for a couple hours, then go to the game and not feel like I'm shafting the Coyotes or the city of Glendale or whoever of much-needed parking revenue. But hey, I patronized an establishment and poured money into the facility in other ways, right? So my parking for free is no big deal, right?
(As it turned out, later on I noticed an area of the parking lot adjacent to the arena that was cordoned off and staffed by folks taking money. I didn't see how much they were charging, but it didn't look super busy. Guess there aren't that many suckers in the Phoenix metro area.)
There were at least 7-8 restaurants much closer to the arena, including three or four literally on the arena's doorstep. We had heard that Kings fans were planning to take over one of those restaurants, a Margaritaville, so we made that an intermediary stop on the way in. Sure enough, we walked inside and found both floors of the restaurant crawling with Kings fans, and one or two tables with Coyotes fans wearing I-can't-believe-of-all-the-freakin'-restaurants-we-could've-chosen-we-chose-this-one looks on their faces. But the Stanley Cup playoffs aren't a time to take sympathy on your opponents, so we went in and partook in the pregame Kings-fan glee until it was time to head inside the arena.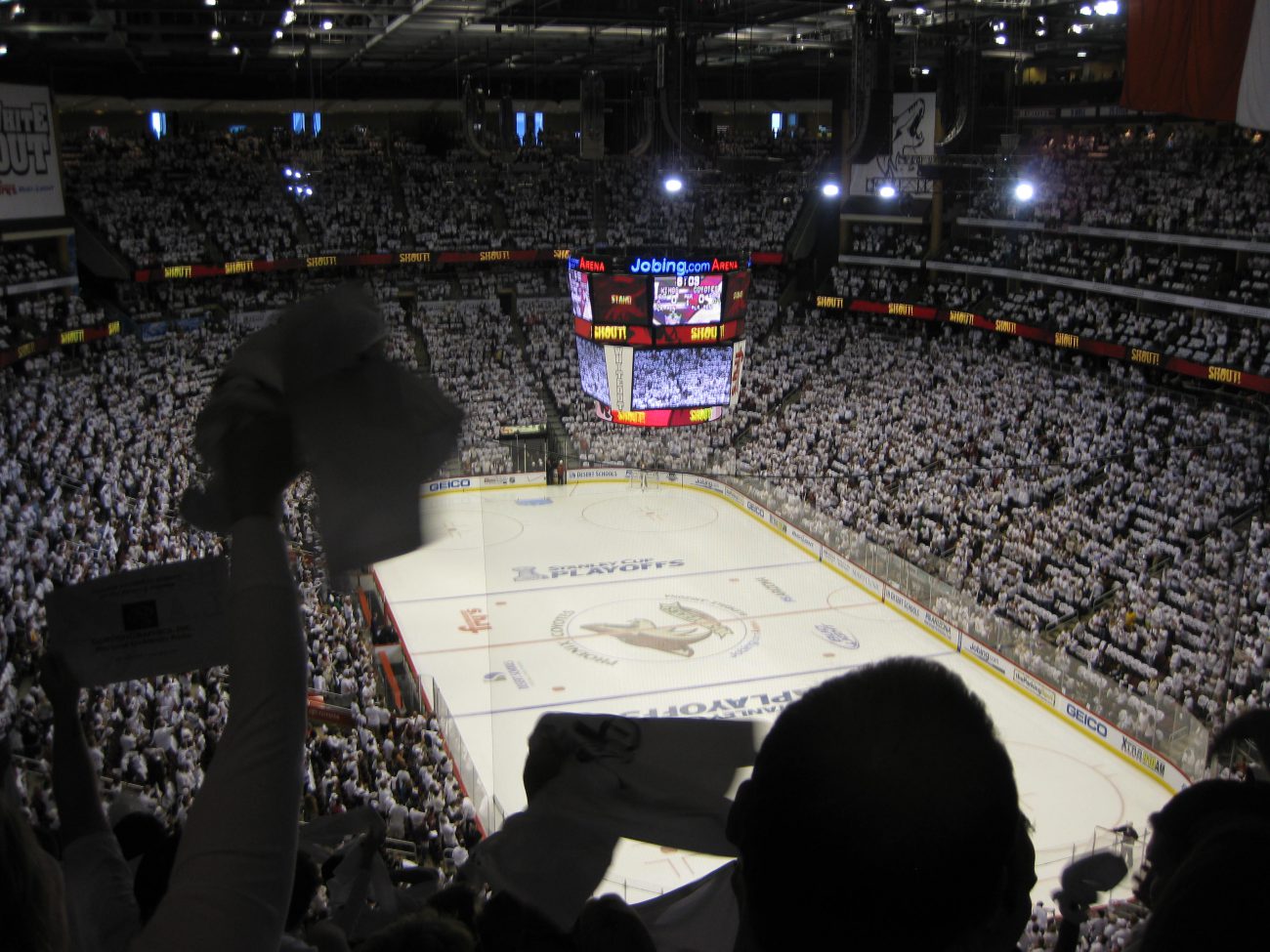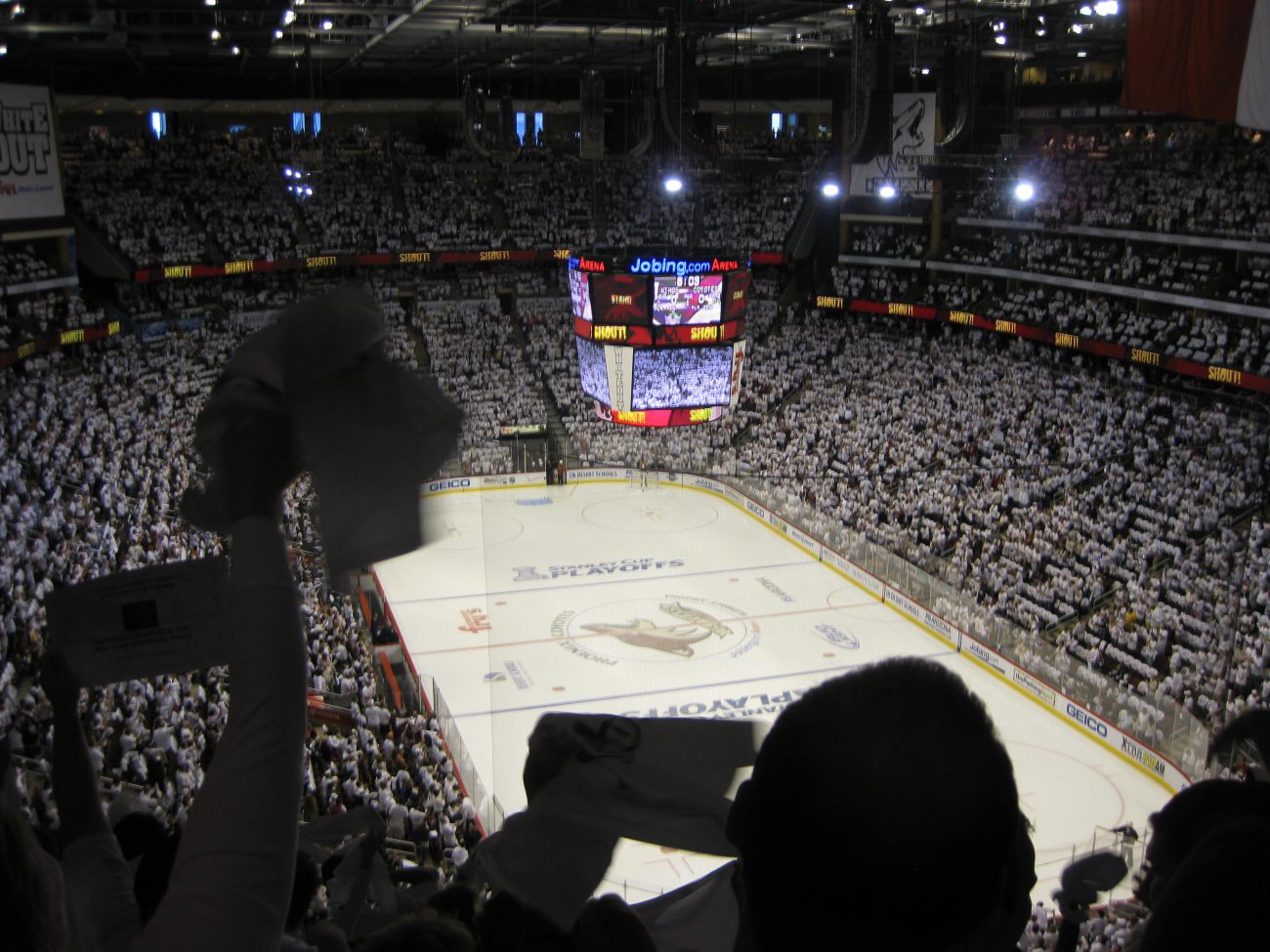 The ambiance
Coyotes fans (insert your own joke here about the quantity of them, because God knows I already made enough of those during the playoffs) take their White-Out tradition seriously. If you don't know what that is, for home playoff games, everyone is encouraged to wear white to create the visual effect seen in the photo above — a carryover from their days as the Winnipeg Jets. As Kings fans, we came to disrupt that White-Out as much as possible, so we wore black jerseys into the game, and that made for an interesting and sweaty walk into the arena. But they had left white T-shirts at every seat as a little reminder to any uncooperative fan. When we sat at our seats, a man two rows up immediately deduced that we wouldn't be needing our shirts and asked if he could have them to give to his relatives, and we obliged. Don't know if that bit of goodwill helped, but we weren't hassled much during the game.
Frankly, I was nervous about the game — the Kings had not lost a road game in the playoffs to that point, and I didn't want to do much to upset that mojo — so I didn't visit a concession stand or really take many mental notes on what there was to offer inside the arena. I remember a place where you could get hand-carved sandwiches, and quite a few stand-alone beer stands, but not much else stood out.
We went down to ice level pregame and visited a few Twitter friends, Class Actress and her pals The Curling Crew, and we watched warmups from one end of the ice while chatting about the Kings' run so far. Afterward, we headed up to our "nosebleed" seats, which for my money weren't too bad. Our maybe it was the fact that from the upper-level concourse, you have to walk down to any seat in the upper deck, which sort of creates the illusion that those high-up seats aren't that high at all. Another thing worth noting is that there are no corner seats in the upper deck, an interesting bit of arena architecture that also lends to the overall intimacy of the place.
It turned out to be a back-and-forth game until the third period, when the Kings took the lead for good. Walking out afterward, the Coyotes fans were noticeably edgier (one inebriated fellow sidled up to a group of Kings fans we were chatting with and said something to the effect of, "I really want to kick your ass right now" — he was joking but you could sorta tell he actually wanted to), while Kings fans seemed relieved. In fact, we ran into Blogger Dave in the concourse and he took us in for a group hug, as though we felt we had really dodged a bullet. I suppose we had, but it sure made the heat and the drive home much easier to take.
The damage
Tickets: $70 each (bought on the secondary market)
Transportation: $0
Food: $0
Souvenirs: $0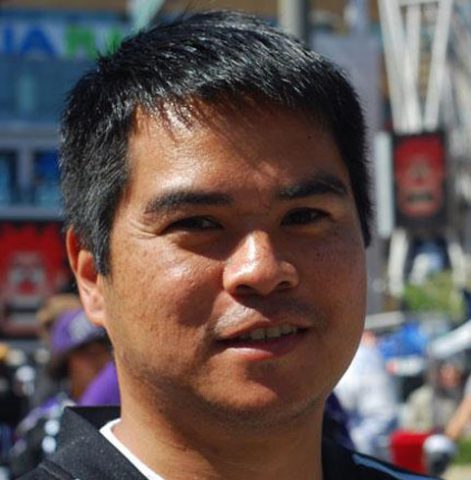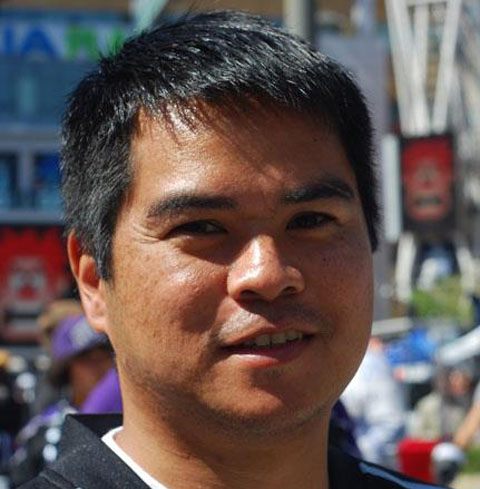 Edward de la Fuente | Itinerant Fan
I live for sports, and I love to travel. My biggest thrill is combining the two. I've been blogging about sports travel for more than a decade, and traveling for sports for twice as long.
About me | FAQ | Buy me a beer 🍺
Affiliate Disclosure
Please note that some of the links above are affiliate links, and at no additional cost to you, we earn a commission if you make a purchase. These recommendations are only for companies that we've used and have proven to enhance our sports travel experiences. To find out more about our affiliate partnerships, please read our Affiliate Disclaimer.