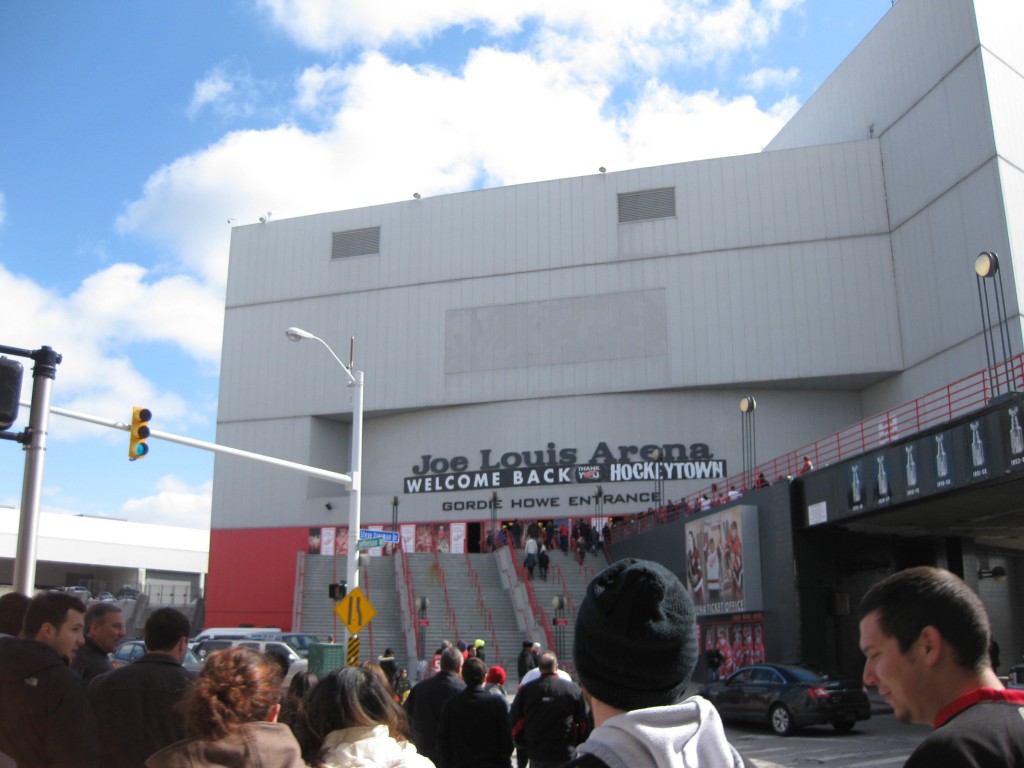 I've been to many outdated stadiums and arenas in my day, and talked to the fans of the teams that play in these buildings, and the impression I get is always similar. It usually goes something like this: "Yeah, it's a dump. But it's OUR dump, and we love it and we'll be really sad when it finally gets replaced."
It's completely understandable. These venues are outdated because they're older, but if they're older that means they house a team with a long history — and oftentimes, a long tradition. So fans have seen some of their team's best times in that building — championships, milestones, epic games and the like — and as a result, their "dump" holds a tremendous amount of sentimental value.
You can really feel this vibe at Detroit's Joe Louis Arena, home of the Red Wings and situated in the self-proclaimed Hockeytown. As a venue, there are plenty of drawbacks, but the tradition with which you surround yourself manages to (mostly) cancel out the negatives. Certainly the hometown fans seemed content with ignoring the drawbacks during the game I saw there, a nationally televised Sunday matinee against the hated rival Blackhawks. Besides, they're about to get their new arena starting in 2017, so time is running short to feel nostalgic about the Joe.
The approach
Detroit has a less-than-stellar reputation nationally, but in this regard I am fortunate to have a few friends who live there, and they've shown me enough of the hot spots around town that I feel that it's a very underrated city. The following is true for any place, but especially with Detroit: You can have a great time there if you just know where to go. And so when I decided to make this weekend journey, I made sure I wouldn't be alone: I invited pals Mr. and (Soon-To-Be) Mrs. Rock City, Detroit natives and Red Wings fans, along for the game, getting the added benefit (along with their wonderful company) of having free transportation from the airport and around the city.
So if you don't have the advantage of knowing any Detroit locals, know that the airport is maybe 15 miles from downtown, and if you don't have a ride, your only options for getting there are taxi and shuttle. (Having done it before, I know a cab ride will run you about $45.) Along the way you get treated to such views as a giant tire and quite a few factories, most of them undoubtedly automobile-related — this is the Motor City, after all, and Ford in particular seems to have a presence everywhere.
Whether you're flying in, driving in, parachuting in or whatever, just know you have to get downtown, and then from there finding your way to the Joe isn't too hard. The arena sits on the fringe of downtown, flanked by the Detroit River on one side and the massive Cobo Center, the city's convention center, on another. Detroit has something called the People Mover (if you've ever been on the old Disneyland ride of the same name, it's pretty much the same thing minus, you know, the lasers and robots and stuff — it isn't close to a subway or even light rail) that makes a constant loop around downtown and stops right in front of the arena. Or you can just walk, but that wasn't exactly a desirable option on this particular day with the temperature hovering around 20 degrees.
The build-up
We parked downtown and met up with another couple, Michigander and Michigandress, at a hoppin' breakfast joint called the Hudson Cafe about 3/4 of a mile from the arena. The place was crawling with Wings fans, forcing us to wait about 45 minutes for a table, and when the waiter began serving us, he asked, "So what brings you guys downtown today?" since none of us were wearing any Wings paraphernalia. From there, we drove to STBMRC's office, barely three blocks from the arena, so that we could park for free and avoid the glut of traffic that was clustering nearby. Did I mention it's nice to have friends when you're visiting a city?
With downtown Detroit, though, there are quite a lot (perhaps a surprising amount) of pregame options, particularly now with Comerica Park and Ford Field around (if we ever get around to visiting those stadiums, we could get into more detail on that). Greektown, home of quite a few bars and restaurants, and Midtown, perhaps the trendiest section of Detroit, are both reasonably close (though closer to Comerica and Ford Field than to the Joe). In fact, down the street from Comerica you'll find two popular Red Wings-themed eateries, the Hockeytown Cafe and Cheli's Chili Bar (I actually watched the Wings clinch the 2002 Stanley Cup at the Hockeytown Cafe, believe it or not). There are even two or three pretty busy casinos in the general vicinity. So if you've read this far and are still fretting about seeing a game at the Joe because you're worried there's nothing to do in Detroit other than see the game, we're here to tell you that there's plenty to do.
The ambiance
In hockey parlance, arenas are sometimes referred to as "barns," presumably because the rinks in which Canadian farmboys learned to play the game were housed in dingy old buildings that felt like barns, or even were barns at one point. Well, Joe Louis Arena has that barn feeling to it, particularly in the concourse — dark, cold, dingy. And though the building is old and outdated (though still slightly younger than me, dammit), I don't even mean this in a bad way. In fact, there's a certain charm to this in that when you watch a game here, there's no doubt that the action on the ice is what's most important.
This reveals itself in other ways. For example, goal songs have become the norm around the NHL, and catchy ones become something of a theme song for the team — perhaps no one knows this better than Blackhawks fans. But when the Red Wings scored their lone goal of the game, I don't recall any music at all playing, just a horn blaring. And when the team takes the ice, there's no fancy entrance music greeting them — just applause and then, at least five seconds in, a rock song that I couldn't identify because it wasn't being blasted.
Once you're in your seat (and we had prime ones 16 rows back of the net at which the Wings shoot twice), watching a game at the Joe is a terrific experience. It's getting to your seat that can be a challenge. If you're approaching the arena from street level, you're faced with walking up some rather steep steps to get to the entrances. Ice wasn't an issue on this day, but Michigander regaled me with stories of having "eaten it" on these steps and watching other fans do the same, and after walking up and down them, I can really see how that happens. Once you're inside, you'll see a concourse that seems perfectly wide enough, but the Joe is one of those arenas in which one concourse serves the entire building, and that can make for major traffic jams (more on that later). And the tunnels leading from the concourse to the seating bowl are covered by thick, heavy curtains that don't seem to serve a purpose other than to give fans another thing to worry about as they try to transport their beer and hot dogs to their seats.
The concourse is worth a walk around if you can manage it, though, because there are some cool Easter eggs if you're observant. There are statues within (strange that they're inside, though), but those are easy to find. I happened to look up at the right time and saw an octopus in a Wings jersey (if you don't know that story, then why are you reading this?), which I thought was pretty rad. There are also old-timey photos of past Wings players scattered around (test your knowledge and see which ones you can identify!).
Michigander was kind enough to treat us all to beers before we headed to our seats, and I couldn't help but go for Molson Canadian, the availability of which, along with Tim Hortons, is a nice reminder of how close you are to Canada. That 20-ouncer, though, necessitated me going to the bathroom during the second period, and the closest bathroom had about a 10-minute wait. When I got inside, I found out why: the urinals — excuse me, the troughs — allowed for only about 5-6 people to go at a time. Surely there are larger bathrooms around the arena — there's even one that's housed ABOVE a row of concession stands and thus requires a walk up some more steep steps to access — so if you don't want your bathroom breaks to disrupt your enjoyment of the game too much, you may want to scout out your bathrooms. (I know, kind of a weird thing to suggest.)
But back to the experience in the seating bowl. The arena looks intimate enough but yet manages to cram more than 20,000 people inside, which is of course good and bad — the seats and aisles can be narrower than usual, but it makes for a wonderful atmosphere. Plus there's plenty of standing room, and unlike the arena I had visited a day prior, the SRO patrons are stationed in the aisle separating the upper and lower bowls — not a bad view for not having a seat. And, as Mr. Rock City pointed out to me, the only luxury suites to be found are at the very top of the building. Definitely a blue-collar feel to this crowd, and knowledgeable, too. We had a group of women seated directly behind of us, one of whom was explaining to the other the intricacies of hockey (players' positioning, why certain penalties were called, power plays, etc.), and by the third period, the woman in the know seemed to have it down pat. "That was a great penalty kill … right?" she said to her friend, and don't know if she noticed me nodding approvingly, too.
On this afternoon, everyone were treated to a terrific game, though the Wings fans might not necessarily think so. See, the Blackhawks came in with this little streak going, and they brought with them a ton of their fans (I'd say about 20 of them were on my regional-jet flight from Chicago that morning). The Wings looked like they were on their way to ending that streak until the Hawks tied the score with less than two minutes remaining, and went on to win in a shootout. So as Wings fans, including my friends, started walking out of the arena, there was a definite "OF COURSE that was gonna freakin' happen" mood in the air … and the frustration was compounded by the traffic jam of all traffic jams we encountered in the concourse near the upstairs bathroom. It literally took us 10 minutes to get out of the logjam of people, and another 10 after that to exit the arena. So maybe staying in your seats a few extra minutes after the final horn isn't the worst thing in the world. Besides, it gives you an excuse to soak in that atmosphere a little bit more.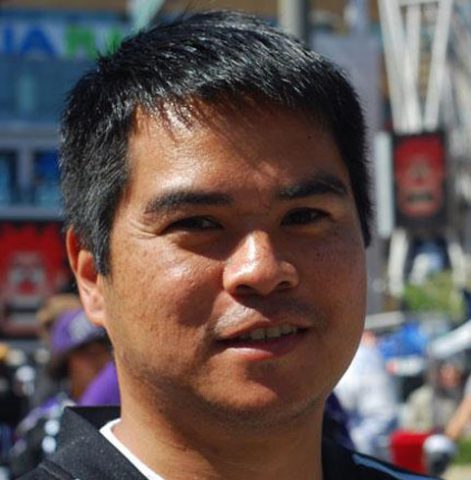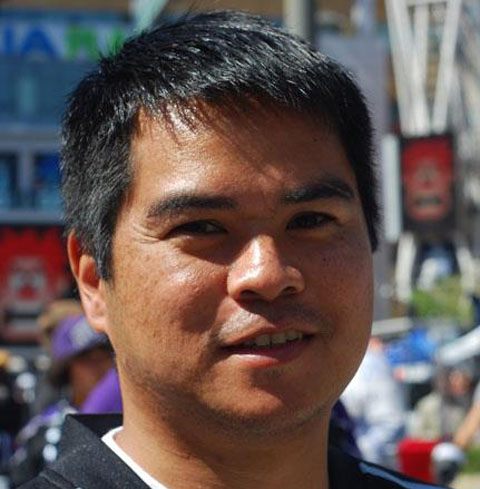 Edward de la Fuente | Itinerant Fan
I live for sports, and I love to travel. My biggest thrill is combining the two. I've been blogging about sports travel for more than a decade, and traveling for sports for twice as long.
About me | FAQ | Buy me a beer 🍺
Affiliate Disclosure
Please note that some of the links above are affiliate links, and at no additional cost to you, we earn a commission if you make a purchase. These recommendations are only for companies that we've used and have proven to enhance our sports travel experiences. To find out more about our affiliate partnerships, please read our Affiliate Disclaimer.