Over more than 10 years of going to major-league parks, my travels never took me to Kansas City and Kauffman Stadium. The more time passed, the more I realized this was a shame. Maybe my growing desire to see "The K," as the locals call it, was directly proportional to my appreciation of barbecue and the desire to experience it KC-style, but still, I felt more and more that Kauffman Stadium was a notable omission on my venues list.
When the opportunity arose to rectify that omission, I was compelled to jump at it. I had heard that The K was a much-improved facility, made possible by a renovation that helped the Royals land the 2012 All-Star Game. Over one steamy Midwestern evening, I found out just how nice this ballpark really was. The Royals' longstanding doldrums and the stadium's age may keep it from ascending to the upper echelon of major-league parks in the minds of many, but to me it's an underappreciated gem — an older ballpark that looks modern, a large venue that feels intimate, a stadium built during the "cookie-cutter" era that manages to be unique. Those are all fine traits for any park to have.
The approach
The reasons why it has taken me so long to get to Kauffman Stadium became clear right away, in the planning of this trip. The ballpark is not near anything of relevance except Arrowhead Stadium, right next door in what makes up the Truman Sports Complex. Downtown Kansas City is a good 7-8 miles away, and so is Country Club Plaza, a popular spot for hotels; what's worse, no public transportation runs to the Sports Complex, not even special-event buses.
If you want to go to the Royals game (or just about anything outside of downtown KC, for that matter) that badly, I suppose it is easy enough to just rent a car, or take a cab — there is a dedicated lane right outside the stadium for taxis, and there were quite a few ready and waiting for fares at the end of the game I attended. But I was on a budget, and I would only be in Kansas City for 18 hours, so renting a car for the sole purpose of going to a ballgame (and then paying the $10 for general parking that the K charges) or taking a cab seemed like too big a chunk of my budget to spare.
I did a LOT of research on this issue before my trip, and I stumbled upon a hotel that offered free shuttles to Kauffman Stadium. It's a boutique hotel called The Q, it's located in the Westport area of town (4-5 miles from downtown, and about a mile from Country Club Plaza), and its rates were comparable to any other hotel in the general area. You have to ask for their Royals package when booking, which hikes up the rate a tad, but to me the $20 difference in rate beat the $50 roundtrip fare (at least) I was facing if I took a cab.
And it turned out to be a great service — the drivers were nice and the rides were cheery. I shared the pregame shuttle with two guys from Indiana who were doing their own three-city ballpark tour (they went to Minneapolis and Milwaukee before arriving in KC), and rode back with them and a party of co-workers from a restaurant in Oklahoma whose night of partying was only getting started. Festive times. (Disclaimer: There are no guarantees the hotel will continue doing this shuttle in future seasons, but it seems popular enough that it would be in their best interest to keep it going, and if you're rental-car-and-cab-averse like me, it's worth checking out.)
The build-up
It being a Monday night game in the height of summer, when the heat and humidity are at their most stifling, and the Royals middling along at five games under .500 entering the night, the ballpark was barely a third full. That meant it took hardly any time at all for the shuttle to exit Interstate 70 at something called the Blue Ridge Cut-Off, navigate into the stadium grounds and come to a stop in front of the right-field gate. In total, the ride took about 15 minutes, and traffic was light at best as we arrived 45 minutes before first pitch.
Once you're on the stadium grounds, you have a few options: 1) Go inside; 2) walk around and look at Arrowhead Stadium since it's right there; or 3) just stand there. There is nothing else around, save for a few midrange hotels across the street and across the interstate. If they have bars, then maybe it's worth peeking into one of them, but I didn't bother to find out.
The ambiance
What Kauffman Stadium lacks in surroundings, it makes up for in features — most prominently the fountains and waterfalls beyond the fence in left-center and right-center fields. These fountains, a tribute to Kansas City's status as the "City of Fountains" (and if you want to know why it's called that, just drive around town a bit), have always been the feature that sets the stadium apart, but before its renovation, they were just something to gawk at when nothing was happening on the field. Not anymore. Since 2009, when a concourse, bleachers and party porches were built amongst them, the fountains have been part of the experience of attending a game at The K, and they truly make the difference between Just Another Ballpark To See Major League Baseball and Must-See Ballpark For Any Traveling Baseball Fan.
On the ride over to the game, the shuttle driver sympathized with us having to sit outside in the oppressive humidity and gave us his insider tip for beating the heat: The party porch in right field, accessible via a staircase down from the main concourse. Anyone with a ticket could go down there, the driver said proudly, and the biggest benefit to standing there was that the porch was positioned in front of the waterfalls, so the mist coming off them would cool you down. Around the fourth inning, I tried this. He was right. It was tremendous.
Alas, I had other parts of the ballpark to see, and the outfield concourse is certainly worth a stroll through no matter how hot and humid it is. The Royals Hall of Fame is situated out there (I didn't go in, sadly), as are statues of the two ex-players and one former manager whose numbers have been retired by the team. You can also get a close look at the giant vertical scoreboard in center field, shaped like the Royals' logo — another distinctive feature of the stadium — as well as find most of the concessions options, which are rather meager in this age of increasingly fancy ballpark offerings. (Our driver also told us that the hot dogs at The K "taste like they've been stepped on" — I swear, that's what he said — but I didn't bother to find out whether he was telling the truth on that one.) This being Kansas City and all, barbecue is on the menu, but quite frankly, if you're in KC and haven't already sought it out before going to the game, you probably aren't much of a BBQ fan anyway. Me, I had my fill from a fairly reputable spot in the hours before the game.
After entering the stadium through the Hy-Vee Gate and walking around for a bit, I went to my seat on the Hy-Vee Level (I sure hope Hy-Vee, a supermarket chain, has gotten its money's worth and gets a significant amount of its business from Royals fans). Sitting about halfway up and almost directly behind home plate, I felt the view wasn't bad — not too far up, not too far back. The biggest benefit was that it — and impressively enough, most of the upper deck — was in the shade at the 7:10 p.m. first pitch. After a couple innings, I gave in to the heat again and got myself a Sheridan's Frozen Custard, which was certainly worth the $6.75, and headed down to the party porch.
The Royals fans in attendance — many of them families and teenagers out having a good time, perhaps befitting a Monday night in the summertime — were boisterous and cheerful, but by the middle innings they were mostly drowned out by the many Orioles fans who had much more to cheer about. Interestingly enough, the game after this one, the Royals began a nine-game winning streak that vaulted them into playoff contention. It hasn't happened often over the years, but I have to imagine that the revamped K is an even nicer ballpark when the home team is on a roll.
Return to Itineraries | Return to the Itinerant Fan homepage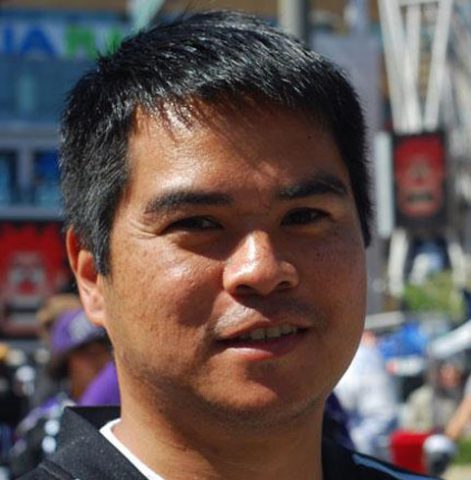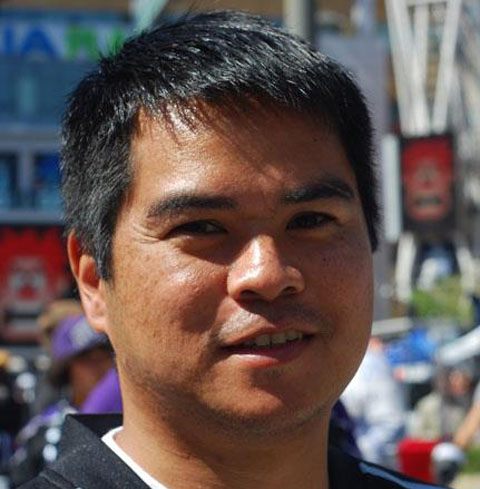 Edward de la Fuente | Itinerant Fan
I live for sports, and I love to travel. My biggest thrill is combining the two. I've been blogging about sports travel for more than a decade, and traveling for sports for twice as long.
About me | FAQ | Buy me a beer 🍺
Affiliate Disclosure
Please note that some of the links above are affiliate links, and at no additional cost to you, we earn a commission if you make a purchase. These recommendations are only for companies that we've used and have proven to enhance our sports travel experiences. To find out more about our affiliate partnerships, please read our Affiliate Disclaimer.