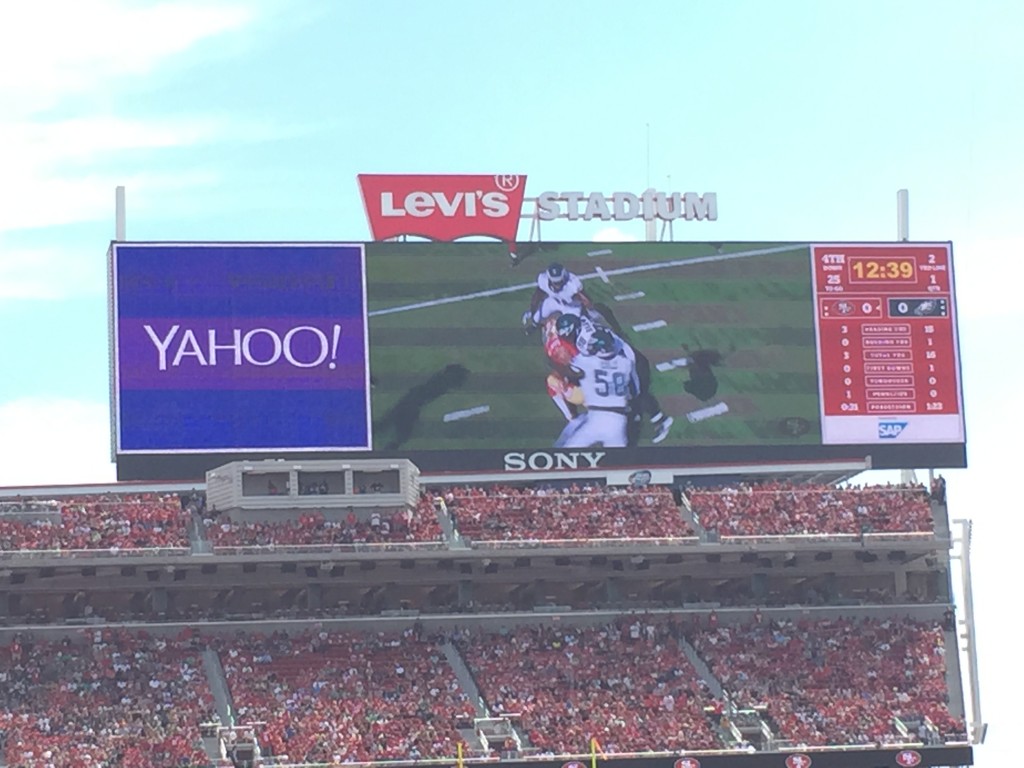 Ever since Oriole Park at Camden Yards touched off a renaissance of sports architecture, the opening of new venues — especially those of the outdoor variety — in North America have been greeted with plenty of anticipation and fanfare.
Levi's Stadium – the San Francisco 49ers' new $1.3 billion technological and engineering marvel – has been no different and lives up to the hype. Being a sucker for stadium architecture and with my beloved Philadelphia Eagles visiting the Bay Area – the stadium is actually 50 miles south of San Francisco, which doesn't seem that much further from the downtown core than Candlestick Park was – me and my girlfriend Vintage Gal decided to make the trip from Los Angeles to take in the second regular-season game at Levi's.
Aside from the outcome of the game, we had a great time and already anticipate a return trip.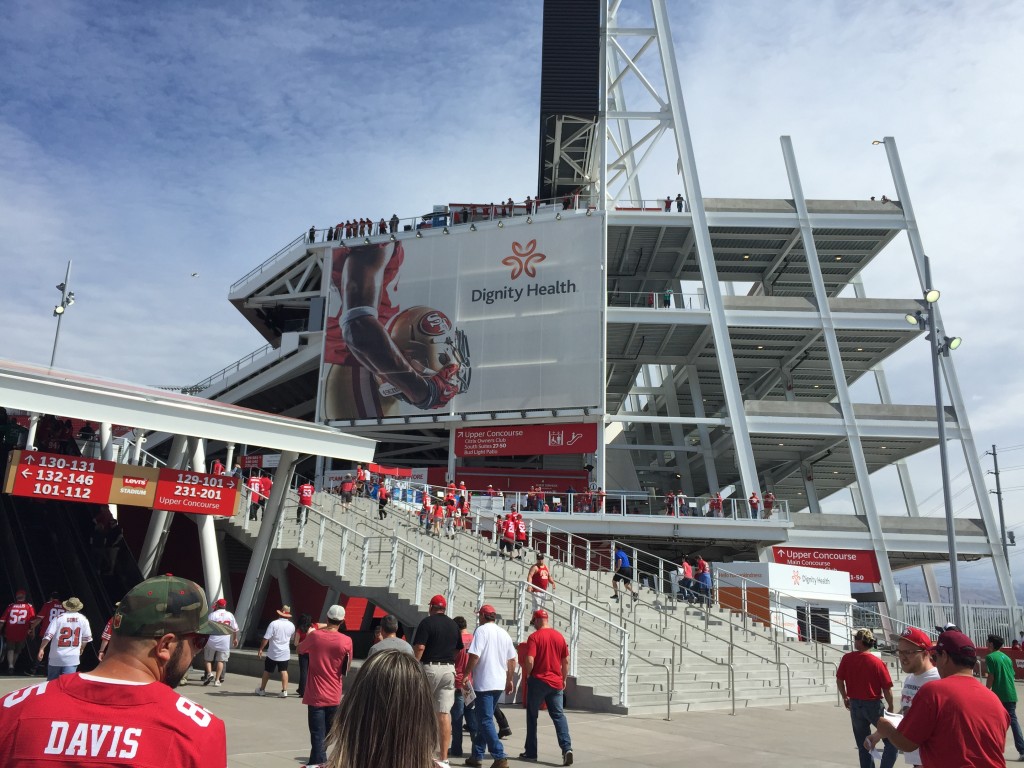 The approach
As I mentioned above, the successor to wind-blown and downright freezing Candlestick Park is actually located further down the San Francisco peninsula in Santa Clara, where the team has been headquartered for the DeBartolo-York family reign.
We flew into Mineta-San Jose International Airport the night before the game and stayed in a hotel just a scant few blocks from the stadium, eliminating the need to even have car. The stadium is a mere six miles from San Jose's sparkling air transit hub and is actually directly in the departing flight path, which makes for some cool visuals during the game.
Though it only sits about a mile off the Bayshore Freeway (US 101) and is slightly visible from it, you don't feel like you're approaching a sports venue as much as you feel like you're trapped in a scene from Office Space. Part of this is because gameday traffic is pretty awful and the other part is because you're essentially in the middle of several large office parks. Oracle's campus is nearby, as are several other tech giants. Two other major Bay Area freeways, Route 237 and I-880 are also just a few miles to the north and east, respectively, making getting there by car relatively easy, until you exit the freeway.
The stadium was built just a stone's throw from California's Great America, a former Marriott and Paramount theme park and shares a parking lot with it (Great America is closed during 49ers home games).
Parking the relatively small on-site lot will run you $40 for the right to sit in gridlock on the way in and out, while there are spaces in the surrounding industrial parks and even the fairways of the Santa Clara Golf and Tennis Club to the north. Tailgating is allowed in several of the off-site lots that are just a few blocks from the entrance and the atmosphere seemed livelier there than it did walking through the actual parking lot.
Of course, if you're staying in San Francisco or any points north in between, it may behoove you to take CalTrain, as there is a spur off the main line that stops right at the north entrance gates. Round-trip all the way from San Francisco will run you half of what it would to drive when you factor in gas and parking costs.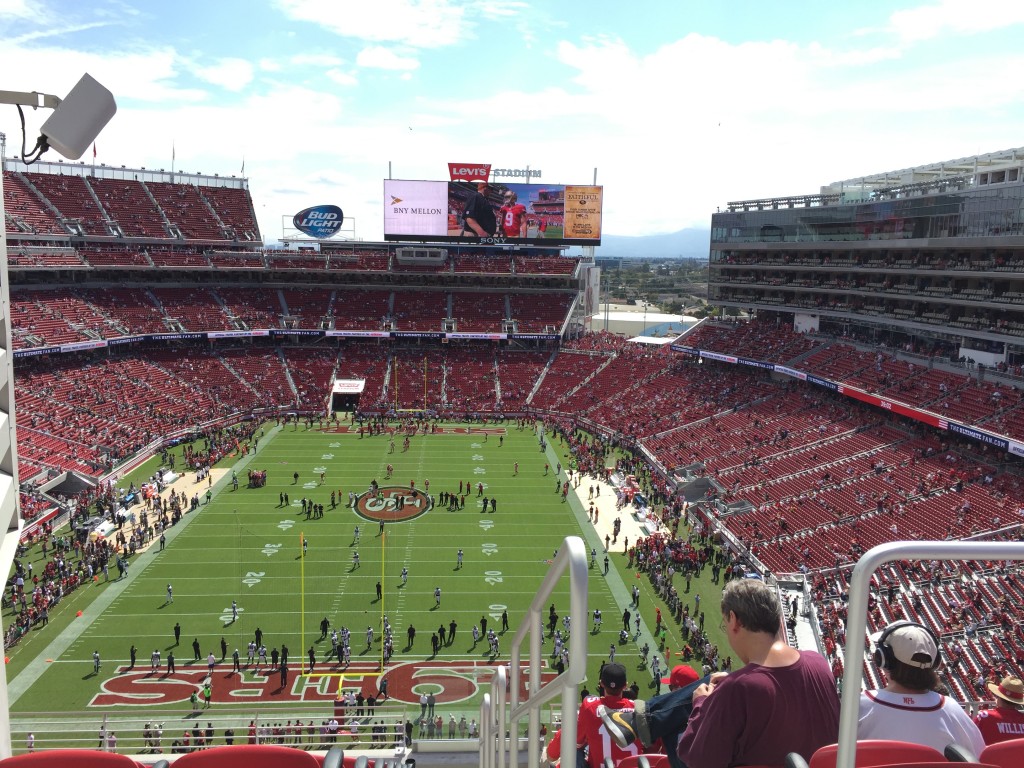 The build-up
After a refreshing 15-minute walk Vintage Gal and I were on site and, being decked out in green, hearing it from the locals. Most of the 49er faithful were cheery and inviting, a welcome change from the Candlestick days.
If you're like me and only attend a professional football game maybe every other season (Hey! My team plays 3,000 miles away and I enjoy Sunday Ticket thank you very much), it would behoove you to check (and re-check) the NFL's ever-evolving carry-in policy. Basically, don't bring anything outside of a cell phone, wallet and your keys. If you have to bring other items you need a clear shoulder bag that makes it easy for security staff to quickly make sure you're not bringing in any contraband.
For their part, the team tries to make getting in and out of the place as easy as possible, from maps dotting the surrounding area and large, bold signage directing those with or without bags to their appropriate lines (though you will have to step through a metal detector, so stash that flask close to your belt buckle and plan on going in about 30 minutes early so you don't miss any of the game).
It's worth noting that if you're approaching from the west (Great America Parkway in particular) you'll have to cross a creek and the only pedestrian bridges are at the north and south ends of the stadium, so start to head in that direction on approach. We walked right in from that direction with no wait while we observed a huge crush of people trying to approach from the east side, so keep that in mind as well.
Once you clear the metal detectors you won't encounter any ticket takers with handheld devices like you might see at other venues, instead there is one stadium employee per two or three small pillars that you scan your own ticket with. Maybe we're just easily amused, but Vintage Gal and I thought that was brilliant.

The ambiance
One of the true tests of an architect is making the building fit in with its surrounding environs. HNTB, the firm that designed Levi's accomplished this with aplomb. From the bright white support structures which make the signage and red seats inside stand out, it manages to serve its purpose as a large sports venue without feeling sterile or lacking in character, like other places visited by this website.
The lower and upper concourses are plenty wide with carts close to the seats and the more permanent stands on the outside. As with other venues, notably PNC Park in Pittsburgh and Busch Stadium in St. Louis, you can actually walk behind the permanent stands and there are even more selections, mainly small snacks and, importantly, more beer.
The design element that sets Levi's apart from every other professional football venues – and to my knowledge, major college stadiums as well – is that one entire sideline is a four-level high block of luxury suites and a club level that is detached from the rest of the spectator areas. The second and third seating levels wrap around from end zone to end zone in sort of a very wide horseshoe. In all, it's a unique design and one that should be interesting late in football seasons as the winds whipping off the Bay will swirl even more with a penetration point on either side of the field.
Not only does Levi's fit in aesthetically with its Silicon Valley surroundings, it does so functionally as well. Want to grab a quick bite and a brew without missing seven minutes of game time? There's an app for that. By using the Levi's Stadium app you can order from a limited menu (but still includes hot dogs, nachos, and pretzels as well as soda and, importantly, beer) that you can pick up in an express line or have delivered to your seat for a nominal fee. Vintage Gal utilized the app to get us some nachos (with Tillamook white cheddar, queso fresco and fresh red peppers) and a drink and only missed one offensive series – a three-and-out for the home team.
The game itself was a study in duality as the Eagles defense and special teams dominated in the first half, while the offense was nowhere to be seen for the first 55 minutes. The 49ers got off to a shaky start but warmed up and eventually earned a 26-21 victory on the strength of a late goal-line stand in the end zone we happened to be occupying. (This was also the end zone in which the Eagles returned an interception and a punt for touchdowns – lots of action).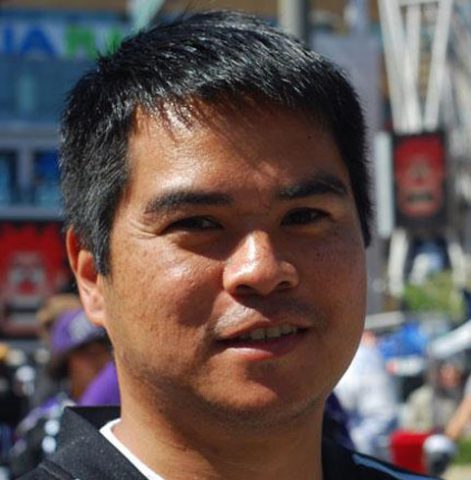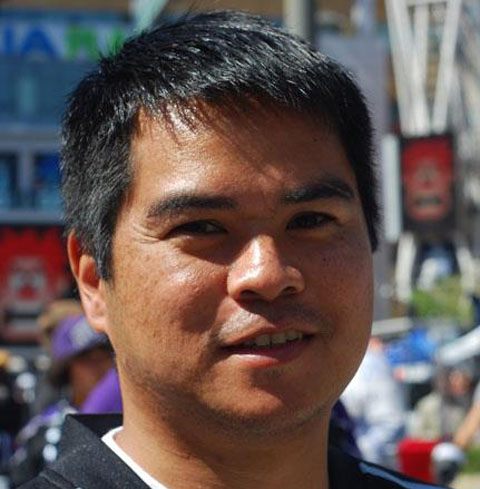 Edward de la Fuente | Itinerant Fan
I live for sports, and I love to travel. My biggest thrill is combining the two. I've been blogging about sports travel for more than a decade, and traveling for sports for twice as long.
About me | FAQ | Buy me a beer 🍺
Affiliate Disclosure
Please note that some of the links above are affiliate links, and at no additional cost to you, we earn a commission if you make a purchase. These recommendations are only for companies that we've used and have proven to enhance our sports travel experiences. To find out more about our affiliate partnerships, please read our Affiliate Disclaimer.