As satisfying as it is to knock another stadium off the list, it's even better when you get the opportunity to visit a stadium twice, and better still when those two opportunities come on consecutive days. If it's a football stadium, it's certainly a rare opportunity, but a busy place like MetLife Stadium can offer such chances. It hosted an unusual doubleheader in early September, with Syracuse "hosting" USC in a college game on a Saturday and the Jets opening the NFL season against the Bills the following afternoon. And I was there for both games, going with Mrs. Fan and MongerTron to see the alma mater, and sticking around to catch some NFL action while we were at it.
And if time spent together is any indicator, well, me and MetLife Stadium are pretty cool buds now. Over the course of two games, many dollars spent and one semi-harrowing hourlong thunder delay, I feel like I got to know the new place pretty well. And there's a lot of MetLife to know, from its many, many concession stands to its many, many urinals. It's big enough that two games and probably about nine hours spent within over two days wasn't enough to get a glimpse at everything I wanted (I'm upset I didn't get a picture of the statue of Lucy from "Peanuts" pulling the football away, which is stationed just inside one of the main gates), but it was still plenty of time to feel like I'm well acquainted.
For purposes of making this a usable guide, I'm basing most of the following on the Sunday Jets game, since I figure that's what most people who are reading this will want to know about. But since Syracuse apparently plans to host games at MetLife for some time, I think adding a few relevant details about the Saturday experience won't harm anything.
The approach
It may seem strange that a sprawling sports complex that's mere miles from Manhattan would feel like it's in the middle of nowhere, but the Meadowlands manages to accomplish that vibe. It's pretty well-documented that the complex was built in the middle of swampland; there's a major highway and plenty of industrial parks around but to a visitor it still feels like a difficult place to reach.
Thankfully, a few years ago a New Jersey Transit rail spur to the Meadowlands was built, making it accessible by public transportation for the first time. It's easy enough to use whether you're staying in New York proper or New Jersey — you just have to get to one of the Penn Stations in either Manhattan or Newark, then take NJ Transit to Secaucus Junction and transfer to the Meadowlands train from there (Note: Be sure to select the Meadowlands as your destination from your point of origin, and save yourself the trouble of buying a ticket after the game by selecting a round-trip ticket. You'll be glad you did right around the time you spot the lines to buy train tickets as you're walking out).
We were staying in Newark and, having left the hotel two hours before game time, boarded the train from their Penn Station. When we stepped off the train in Secaucus, one stop away, we met up with a crush of football fans and followed them up an escalator, across a lobby, through some electronic gates (usually when you ride NJ Transit, your ticket is only needed when the conductor asks for it on the train, but if you're headed to the Meadowlands you need it to pass through these gates), then down two more sets of escalators to a waiting train. And while the train was certainly full, it wasn't uncomfortably packed. The ride took about 10 minutes — though the stadium is in your sights within about three minutes, the tracks take you past the stadium and make a 270-degree loop before arriving at the Meadowlands station, no more than 200 feet from the nearest stadium gate. So it was nice and convenient, but you can tell the idea of rail to the Meadowlands was once an afterthought. Or maybe New Jersey just really loves its jughandles.
(By the way, I obviously have no experience with parking at MetLife, but one of the things I noticed while looking out the train was a parking lot of what looked like an office park that was full of tailgaters, and nearby a fleet of school buses waiting to take them to the game whenever they chose to do so. This lot was maybe two miles from the stadium, and I saw the sign advertising the cost to park: $25. $25! So who knows how much it costs to park in the stadium lot, but if you're visiting from elsewhere and you want to tailgate, all I can say is hopefully you already have a friend who's a Jets or Giants season-ticket holder.)
For the college game, the Meadowlands train wasn't operating, and instead they offered shuttles from Secaucus. We were worried that this would turn into a nightmare of waiting for and then cramming into buses, but that turned out to not be the case, probably because the stadium was only half-full for the game. We waited maybe 10 minutes for a bus headed to the stadium, and to our absolute delight, barely more than 15 to board one headed back. So maybe our expectations were low to begin with, but kudos to NJ Transit for making the trips rather smooth ones.
The build-up
Once you arrive at the stadium grounds, and you don't have a grill and a cooler full of beer with you, there's really nothing left to do but go into the stadium. There's nothing around to entertain you — only a horse racing track that I'm pretty sure wouldn't dare operate on the same day as a football game, an obsolete arena that has lost its major tenants and now seems to just sit forlornly amid weeds, and a partially constructed mall/amusement center that may or may not open sometime in the near or distant future. We knew about this lack of options going in, so before both games we made like good East Coasters and stopped at Dunkin' Donuts before getting on the train.
MetLife Stadium is impressively big, well-outfitted and clean, but so it should be with new stadiums, frankly. The downside to this, often, is that the venue comes off as being sterile, which is basically what our friend Jersey Boy, a Jets fan and game-day employee who came down to visit with us before the game, told us. And I found he was right for the most part — this stadium with two major home teams goes through a lot of effort to make it feel like the home of whichever team is playing, from the large player photos along the concourse walls to the interchangeable ring of honor in the stadium bowl to even the lights that illuminate the aisle numbers, and yet through all of that it still just feels like a run-of-the-mill stadium. And that's OK. Not every stadium can be Fenway Park, and even if that was the goal, a place would need years of wear and tear and/or a very unique design to achieve it. MetLife Stadium does what it's supposed to do: cram as many people as it can into itself and give everyone a decent view of the action on the field.
MongerTron decided to search the team stores for a Keyshawn Johnson Jets jersey, but after going through one to no avail, Jersey Boy was quick to tell him his quest would be fruitless: "eBay, my friend," he told him. So instead we made the long trek up the ramp to our seats in the 300 level, a walk that took maybe 10 minutes.
The ambiance
Our seats were definitely nosebleed — about 10 rows from the very top, behind one of the goalposts (the panorama above was taken from those seats). Though they were indeed high, I didn't feel they were so far away that you couldn't see the action, even when it was taking place near the far end zone. (FWIW, our seats for the college game were in the lower level, 25 rows from the field on the same end zone side.) Even if your vision isn't that great, you could probably watch the game at times on one of the FOUR jumbo screens, posted at each corner of the stadium.
As mentioned earlier, there was quite an array of food options available — which these days seems to be a requisite for New York sporting venues — and us being from out of town and thus having already braced for the possibility of spending a lot of money, we were OK with gorging at the concession stands. Here's the rundown of what we bought over the two days: Fried clam strips, Italian sausages, a footlong hot dog, brownies from Mrs. Fields (kind of a strange concessionaire to have at a football stadium, in my opinion, but every cart I saw — and there were more than a few — had at least 4-5 people in line), and $12 cups of Yuengling, a favorite beer of ours that you can only get in the Northeast.
Plenty of Bills fans made the trek from Buffalo or wherever else they may live to be at this game, and many of them were in our section. Most were jovial and quite funny (they needed that attitude for later in the game when the Bills trailed by as much as 41-7), but we still managed to spot a couple fights, including one the next aisle over in which I saw a guy lunge downward to throw a punch at a dude in a Bills jersey one row down. The scrum dispersed, and a few minutes later when the stadium cops came to restore order, a few folks pointed in one direction and they wound up hauling away a muscle-bound guy wearing a wifebeater and sunglasses (yeah, no one would ever suspect a guy looking like that of starting a fight). Otherwise, we had a great time — and so did the Jets fans after their romp was completed.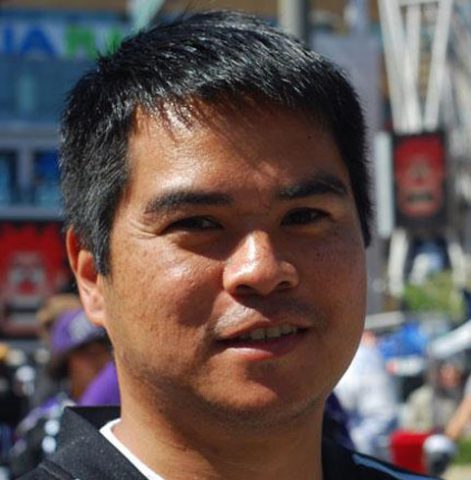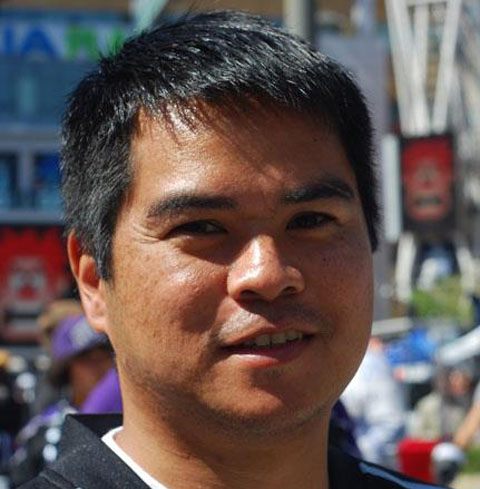 Edward de la Fuente | Itinerant Fan
I live for sports, and I love to travel. My biggest thrill is combining the two. I've been blogging about sports travel for more than a decade, and traveling for sports for twice as long.
About me | FAQ | Buy me a beer 🍺
Affiliate Disclosure
Please note that some of the links above are affiliate links, and at no additional cost to you, we earn a commission if you make a purchase. These recommendations are only for companies that we've used and have proven to enhance our sports travel experiences. To find out more about our affiliate partnerships, please read our Affiliate Disclaimer.