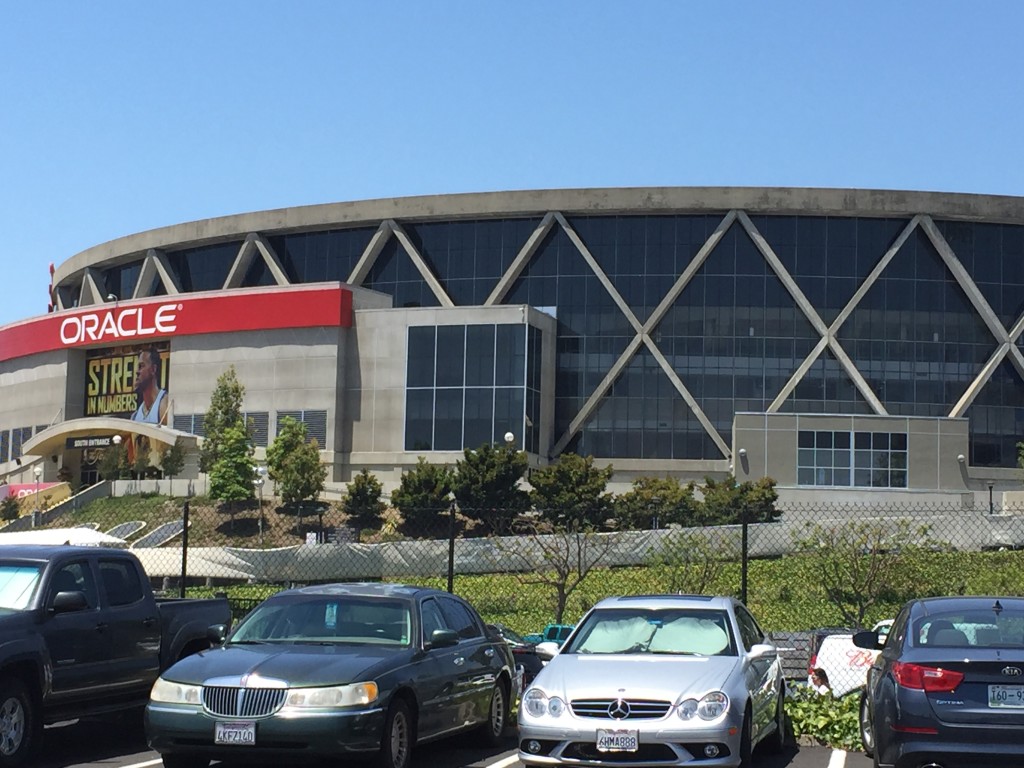 Oakland, on the opposite side of the bay from San Francisco, holds such a prominent spot in the Bay Area's sports landscape because of the Oakland-Alameda County Coliseum Complex, an expansive piece of real estate that lies right alongside Interstate 880. The O.co Coliseum, home of the A's and Raiders, gets most of the attention, but Oracle Arena, home of the Warriors, sits less than 100 feet away. And because the Warriors, for much of its recent history, have been NBA doormats, their arena have not often been thought of as a must-see destination for the typical NBA fan.
But I wasn't opposed to checking it out when Mrs. Fan and my buddy MongerTron, both New York Knicks fans, wanted to check their team out when they visited the Golden State Warriors at Oracle Arena. So I went, and we were joined by his brother Mr. Fix-It and his girlfriend Jazz to form a convenient five-some.
The approach
What I said above about checking out a venue that I haven't yet been to isn't entirely accurate with Oracle Arena. I had been there a couple times before going to this game. It's just that each previous time, I went to see a concert. So I came into the evening with a pretty good idea of how to get there, how to navigate the grounds, etc. We just didn't count on the fact that it would rain all day and all night, and that by the time Mrs. Fan and I hit the road on the way to the game, the roads would be a complete mess. More on that later.
Our typical plan for getting to Oracle is via BART, the highly underrated regional train system that serves the Bay Area. We would be meeting the other three at the arena, since they were driving from a different location — they intended to park at the game. We knew from experience that parking at the arena, or the adjacent Oakland Coliseum, is rather costly – $25 the last time I did it, for an A's game two seasons ago. Now, the BART Coliseum station can be kinda sketchy, but life's full of trade-offs. I don't mind dealing with a few unsavory characters if it means saving upwards of 20 bucks.
So we set off on this evening fully intending to drive to the nearest BART stop and taking the train in, but the weather made us lose our heads. Setting off from home in late afternoon, we got caught in traffic for more than two hours on Interstate 80 — long enough that we decided to abandon our BART plans and head directly to Oakland. Half an hour after making that executive decision, we had made little progress on the freeway, it was raining harder than ever, and our poor friends were sitting in their car in the arena parking lot, having waited more than an hour for us since we had the tickets. Finally, we reversed course again and headed for the nearest BART stop, in El Cerrito. Thank goodness for smartphones, too, or we might have never found the station. After all that, we arrived at the arena sopping wet more than 20 minutes after tipoff, with our slightly irritated friends waiting for us at the north entrance.
If that story hasn't completely scared you off going to Oracle entirely, one last note on BART: When you arrive at the Coliseum station, the first thing you'll encounter is a long pedestrian bridge that crosses over a road and more train tracks. At that point the Coliseum is right on you, and you'll be able to see it well before you pull into the station. If you're going to the arena, however, the long walk across the pedestrian bridge is made twice as long since you then have to walk around the perimeter of the Coliseum to get to the arena, which is completely on the other side. Be warned that it is a long walk — at least 7-8 minutes, even if you are a fast walker. Now try doing that when it's pouring outside and you get where myself and Mrs. Fan were that night.
The build-up
Well, there really was no build-up to speak of on this night considering all the issues referenced above. But I can say based on previous visits that because of its location, you'd have to try pretty hard to have an enjoyable build-up before you get into the arena. That is, unless you like chain fast-food restaurants and airport motels (the Oakland airport is about a mile down the road). There is an In-N-Out Burger nearby, but it's probably a good 3/4-mile away.
If you're out of town and looking for something to do before going to the Warriors game, here's my suggestion to you: Stay in San Francisco and do all your touristy stuff there, then hop on the BART when you're ready to go to the game. Seriously.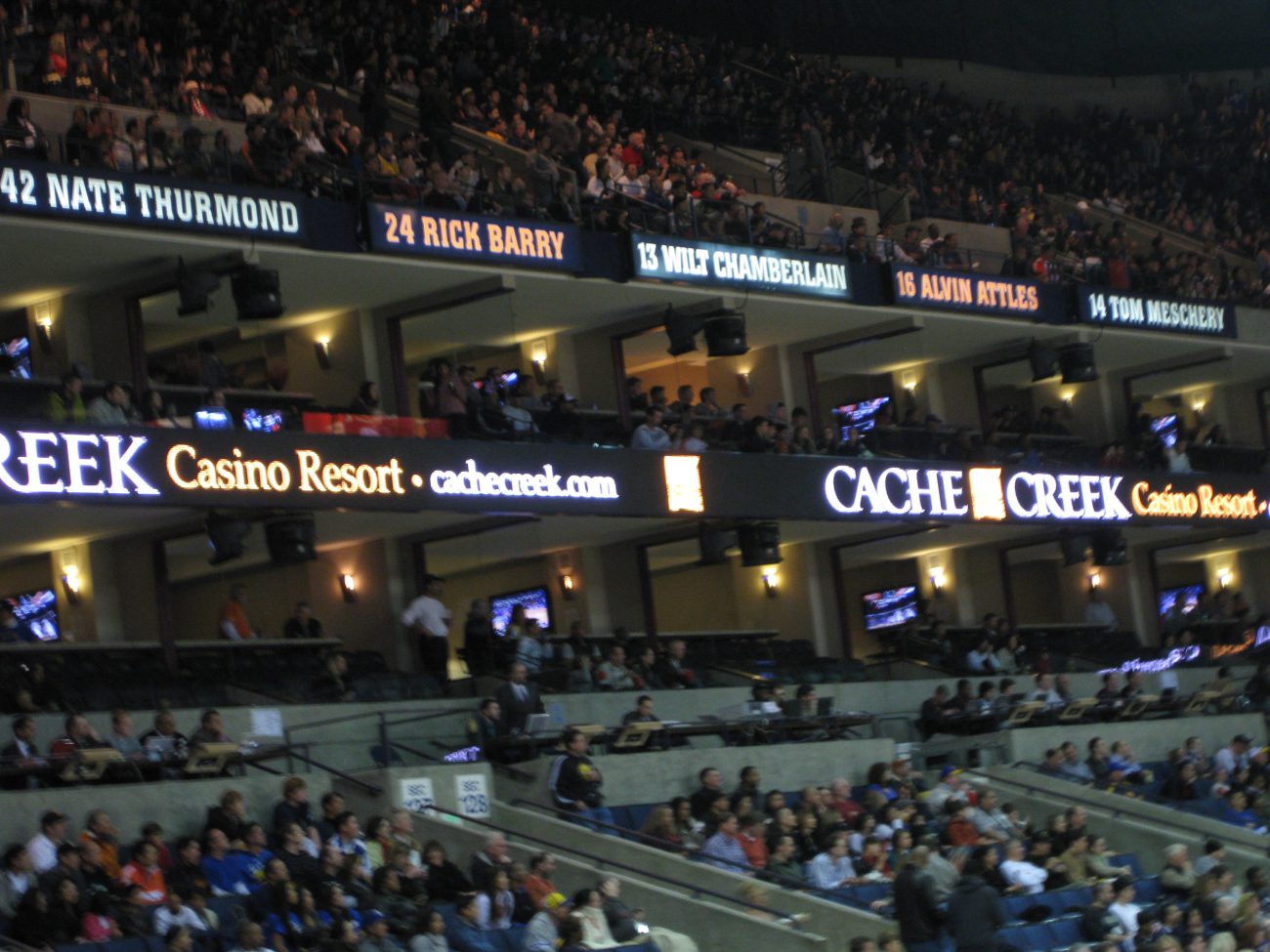 The ambiance
Oracle Arena seats about 19,500, which is pretty large as far as NBA arenas go. So you'd probably be surprised to find that it's a pretty intimate joint. The funny thing for me is, in three visits here — two concerts and one basketball game — I have never sat in the upper deck. It's all been lower bowl for me, and this time was no different since MongerTron wanted to sit as close to the court as possible without breaking the bank. As a result, our seats were pretty sweet: Behind the basket closest to the Warriors bench, about 20 rows up from the court.
Otherwise, the intimacy has its disadvantages. You can usually tell how old a sports venue is by how wide the concourses are, and here they're tiny. Getting around the building seems to always be an exercise in squeezing around folks and darting into open spaces — a challenge even when everyone isn't wearing heavy coats and the aisles aren't covered in wet, muddy footprints. And the concessions and entertainment options on the concourses are pretty unremarkable. That said, the sightlines are excellent for basketball. (By the way, the acoustics for concerts are pretty good, too. And I was reminded of that during the Warriors game when I looked up and saw a disco ball hanging from the roof.)
We made it to our seats just before the end of the first quarter, so our group wasn't too ornery. We saw a pretty entertaining game, including watching a ball bounce on top of the 24-second shot clock and come to rest there (someone had to climb up on a ladder and retrieve the ball at halftime), and the Knicks won, appeasing the NY fans in our group and making the trek through the rain worth it — at least in their eyes.
For more on Bay Area venues and things to do, check out our San Francisco city guide.
Return to Itineraries | Return to The Itinerant Fan homepage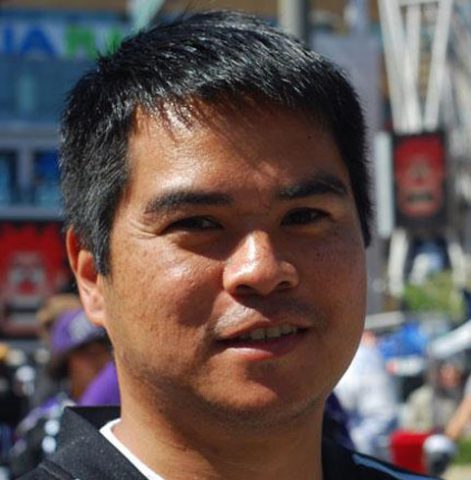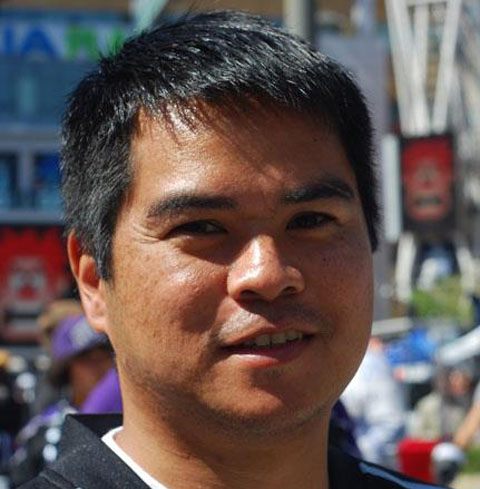 Edward de la Fuente | Itinerant Fan
I live for sports, and I love to travel. My biggest thrill is combining the two. I've been blogging about sports travel for more than a decade, and traveling for sports for twice as long.
About me | FAQ | Buy me a beer 🍺
Affiliate Disclosure
Please note that some of the links above are affiliate links, and at no additional cost to you, we earn a commission if you make a purchase. These recommendations are only for companies that we've used and have proven to enhance our sports travel experiences. To find out more about our affiliate partnerships, please read our Affiliate Disclaimer.