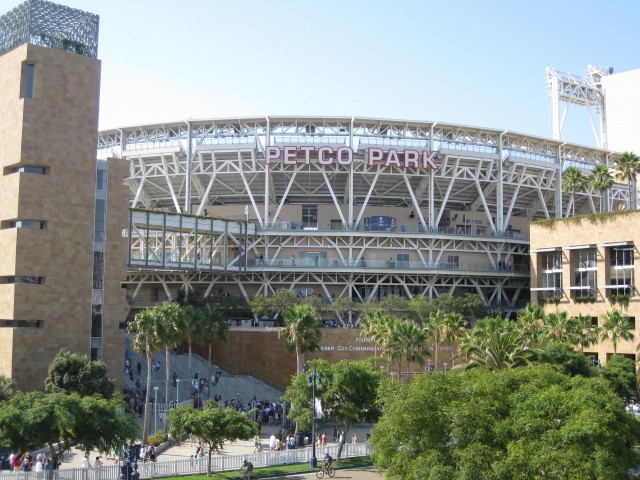 By any measure you can think of, San Diego is a big city. But sometimes when you're a visitor, it's hard to think of it as one because the weather is always so perfect and the scenery is always so beautiful, so you start thinking that all the residents do all day is frolic along the beach, sit at outdoor cafes and eat fine food or something else that can only be described as leisurely. (Well, that's not entirely true, but it's probably true that San Diego residents get called "lucky" by outsiders as much as residents of any other city in America. They don't call it "America's Finest City" for nothing.)
Go to a ballgame in San Diego, and this vibe is most certainly present. Petco Park sits on the edge of downtown, and if you're looking past the outfield you can see planes go by periodically (it's amazing, when you think about it, how close the airport is to downtown in San Diego, and as a result how close planes on final approach get to downtown. And if it looks close on the ground, try looking out the left side of the plane if you ever fly into San Diego. It's a little disconcerting). But the closest things to Petco Park are several hotels (one is actually attached to the park via pedestrian bridge), the massive San Diego Convention Center, home of freaks like this, and the very cool Gaslamp Quarter. So everything about attending a Padres game screams "leisure," which worked just fine for Mrs. Fan and me one July Sunday afternoon when we chose to see the Padres and Rockies clash under the San Diego sun.
The approach
We had originally intended to make a weekend out of being in San Diego, but changes in our plans plus changes in other folks' plans for us led to it becoming just a day trip down from L.A. So we drove down along Interstate 5, but we stopped at Old Town, still a good 7-8 miles from downtown. Why? To take advantage of the San Diego Trolley, for my money one of the more underrated public transportation systems around the country. (Don't be fooled by the name — they call it the trolley, but it's really light rail.)
The option existed for us to just drive straight downtown, and from past experience it's not that hard — following Route 163 south drops you right onto 10th Street, which leads straight to the ballpark — but I wasn't sure what I would face in terms of parking when I got there. At best I'd be parking in some shady downtown lot several blocks away, and at worst I'd be forking over fistfuls 'cause, after all, this is California. Turns out the Padres do operate a "Parkade" a couple blocks away from the stadium — a few signs say it's for season-ticket holders only but I bet these days that's not really a problem — and a few other nearby lots, but I did maybe 30 seconds of research into the issue before I just gave up and decided to take the trolley.
And, frankly, the trolley makes things a no-brainer. For $5, you can purchase an all-day fare and ride it to your heart's content until midnight. From Old Town, the ride downtown is maybe 15 minutes, and made slower only by the need to travel more slowly through the downtown streets, and drops you off a block away from Petco's main entrance. It also goes to a lot of places you might want to try visiting in San Diego. Oh, did I mention parking, at least at the Old Town station, is free?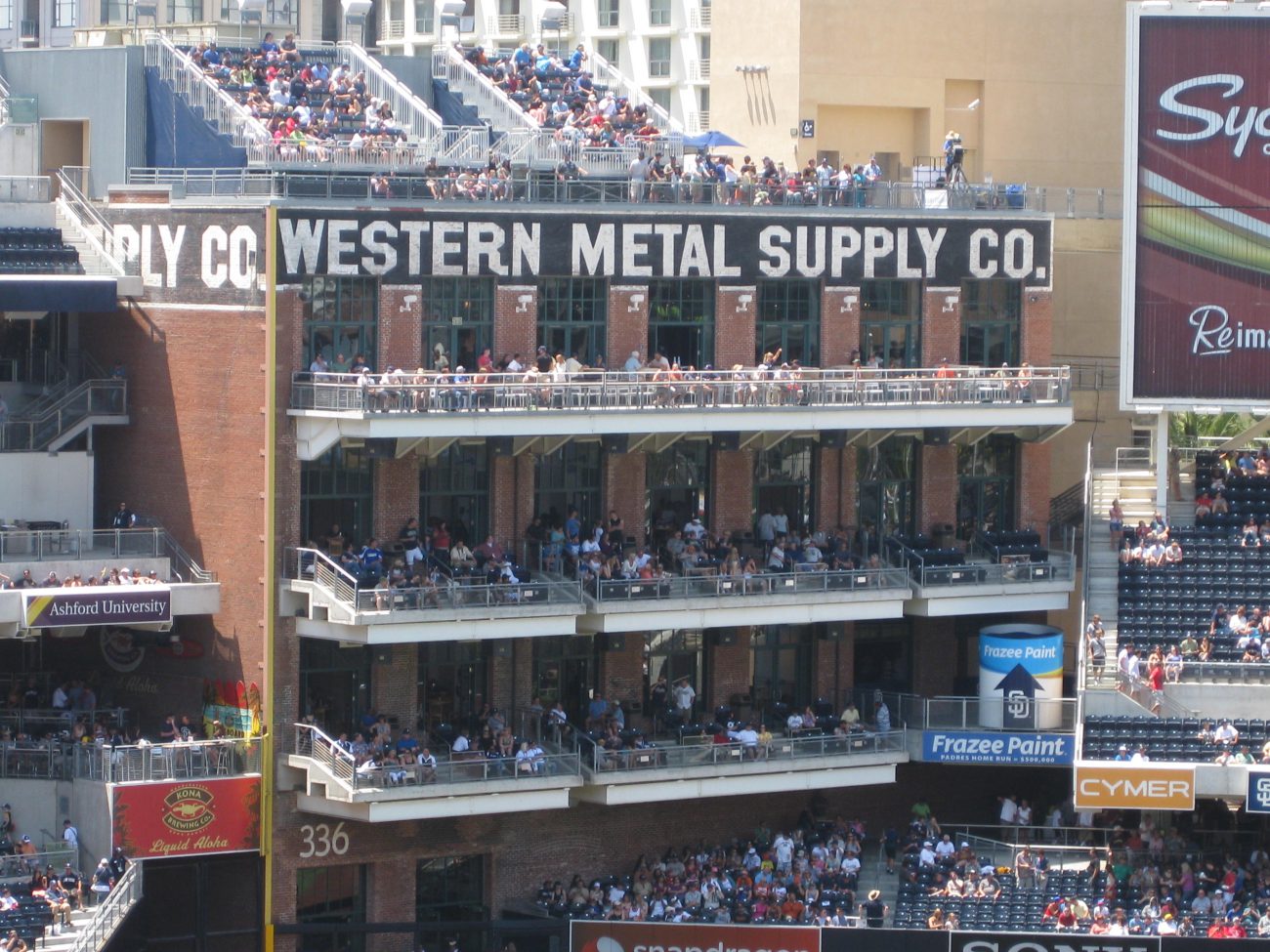 The build-up
Given your proximity to the Gaslamp Quarter, Seaport Village and the rest of downtown, you'd almost have to try not to find something to do before and after the game. I've said it before, but location is everything to me when I form opinions about stadiums and arenas. If it's a beautiful facility inside but sits in a desolate, hard-to-reach area, it makes me think twice about wanting to go there again. I'm cheap and I like things to be easy, so give me public transportation and unlimited food/entertainment options every time.
Even for a Sunday morning, the area around the park was hopping (read: people were already drinking). The number of nearby hotels upped the bar quotient by quite a bit — one boasted the presence of a rooftop bar where you could sit and drink and have a (really distant) view of the game. So if that's your thing, Petco Park has it in spades. For us, Sunday morning typically means finding breakfast, and we found a great one in a joint called the Broken Yolk Cafe. Granted, it's been on TV before and has a fairly strong reputation among San Diegans, so it wasn't exactly a new discovery. But if you're feeling like eggs before an afternoon game, I really doubt you'll find a better breakfast joint in downtown San Diego. (Bonus points to them for seating us right away despite a large crowd waiting outside, because we were a pair and a small table opened up.)
From there, it was a two-block walk to the game, which was great — we were seated at the restaurant after noon and still made it through the stadium gates just before the 1:05 p.m. first pitch.
The ambiance
Imagine going to a huge, multi-level outdoor mall — there are usually lots of staircases, escalators and pedestrian bridges everywhere, and it takes you twice as long to get to the store you want because you have to go around these gaps in the concourses rather than just being able to walk in a straight line. Frustrating, right? Well, Petco Park is basically a huge, multi-level outdoor mall with a baseball diamond in the middle.
If you go in through the main entrance along the first-base side, you get a taste of this right away — you have to walk up a fairly long staircase to get to the main concourse, and God forbid you do this along the right side where the fountain is, because the staircase gradually narrows and you find yourself merging with equally confused fellow fans. Then, just walking along the main concourse is not as simple as it's supposed to be — there are structures planted smack in the middle that alter your walking path, and staircases and ramps in odd places that can easily lead you astray if you're not paying attention (and if you're a newcomer just trying to take in the scene, you almost certainly aren't). The architecture particularly gets weird around the Western Metal Supply Co. building — that random old building in left field that the builders left standing and built the ballpark around — because it's hard to tell whether you need to walk through or around it to get from one side to the other. I suppose I'll leave it to smarter fans than me to tell you how to navigate the place.
I will say, however, not to let that deter you from taking a stroll around. There are quite a few cool things to see around the park. Behind the right-field bleachers is an elaborate tribute to San Diego's naval history, complete with a very large model aircraft carrier. The Western Metal Supply Co. building houses the team store, which is impressively big. The outfield has the Park In The Park (impossibly far from the field, but at least there's a screen showing the game on the back of the batter's eye for folks picnicking out there to watch the game). You can also find the "Mercado" — a food court that sells things like BBQ, Sonoran dogs and fish tacos. If you're in the upper concourse, do yourself a favor and stop for a moment behind home plate and look outward — on a clear day you'll see the Coronado Bridge leading to Coronado Island, which isn't really an island at all – it's a peninsula.
We had sweet seats along the first-base line, in the first row of the upper deck. At least they would've been sweet if the sun wasn't beating down on our section, making sitting there hardly bearable. After a few innings we sought solace in ice cream, but that didn't do enough and by the sixth inning we had retreated to the farthest section of the upper deck in left field, right by the old building, which offered a much worse view of the field but at least was in the shade. By the late innings, that section was the most well-populated in the upper deck, while the first-base side was nearly empty save for the Marines the Padres had honored on one of their very cool Armed Forces Days (the Padres were wearing their famous camouflage unis for the game, which is worth the price of admission to see). Assuming the Marines were also Padres fans, the home team sent them away happy by scoring a late run and knocking off the Rox.
Return to Itineraries | Return to The Itinerant Fan homepage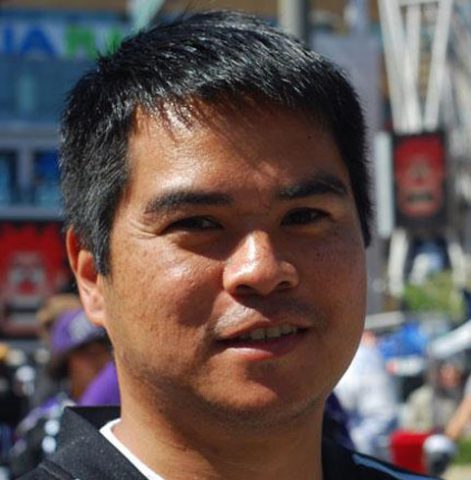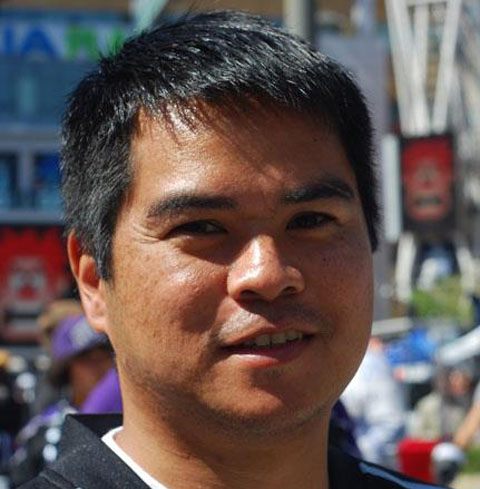 Edward de la Fuente | Itinerant Fan
I live for sports, and I love to travel. My biggest thrill is combining the two. I've been blogging about sports travel for more than a decade, and traveling for sports for twice as long.
About me | FAQ | Buy me a beer 🍺
Affiliate Disclosure
Please note that some of the links above are affiliate links, and at no additional cost to you, we earn a commission if you make a purchase. These recommendations are only for companies that we've used and have proven to enhance our sports travel experiences. To find out more about our affiliate partnerships, please read our Affiliate Disclaimer.