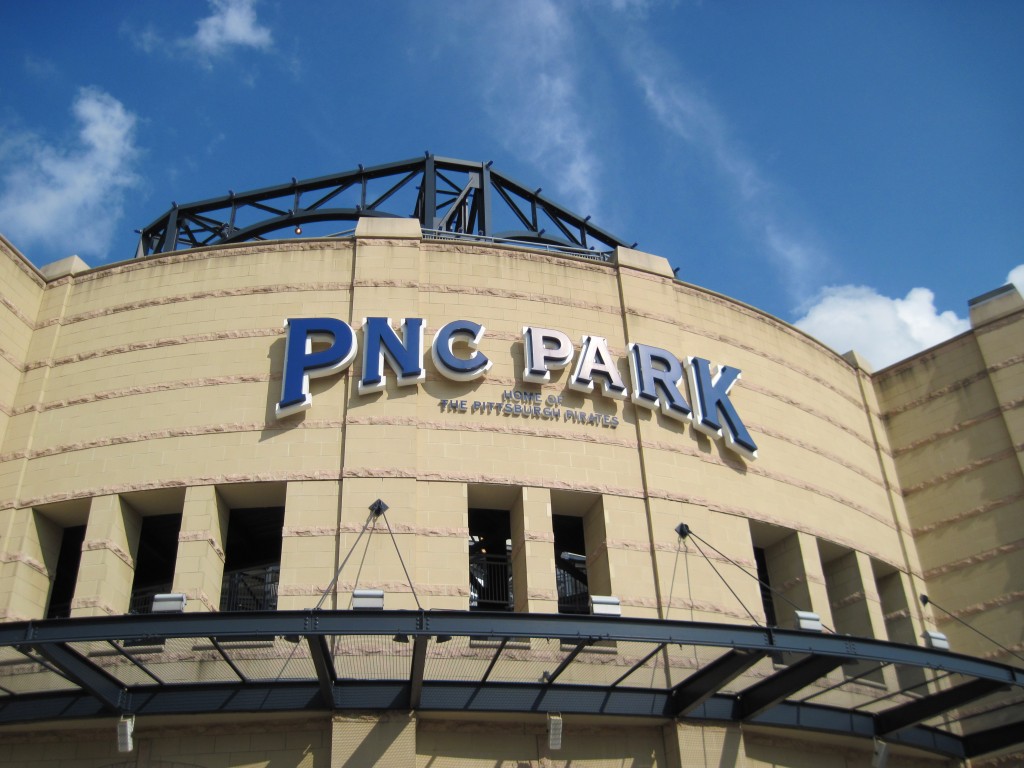 The tagline for this very site is "Your teams go on the road, so why don't you?"
When the time came at the beginning of the year for Pop and I to plan our third multi-city/park trip, I had that in mind. It occurred to me that, outside of seeing my beloved A's in the Bay Area, where I grew up, and in Southern California, where I currently reside, I haven't really travelled to see them. This had to change.
So imagine my great joy in perusing the schedule and seeing that they made a July trip to Pittsburgh to play in what many laud as the finest ballpark in the country (Sorry, Giants fans… Actually, no, I'm not sorry.)
Alas, Pittsburgh is just one city and PNC is just one park — while certainly worth visiting, Pop and I are pretty greedy (not to mention, NOT rich) so it would have been tough to justify flying cross-country for just one game. Other dominoes had to fall into place, like teams within driving distance playing at home around the same time. The scheduling gods were thankfully on our side and it worked out that Pittsburgh would be the second stop in a four-city trip for the ages.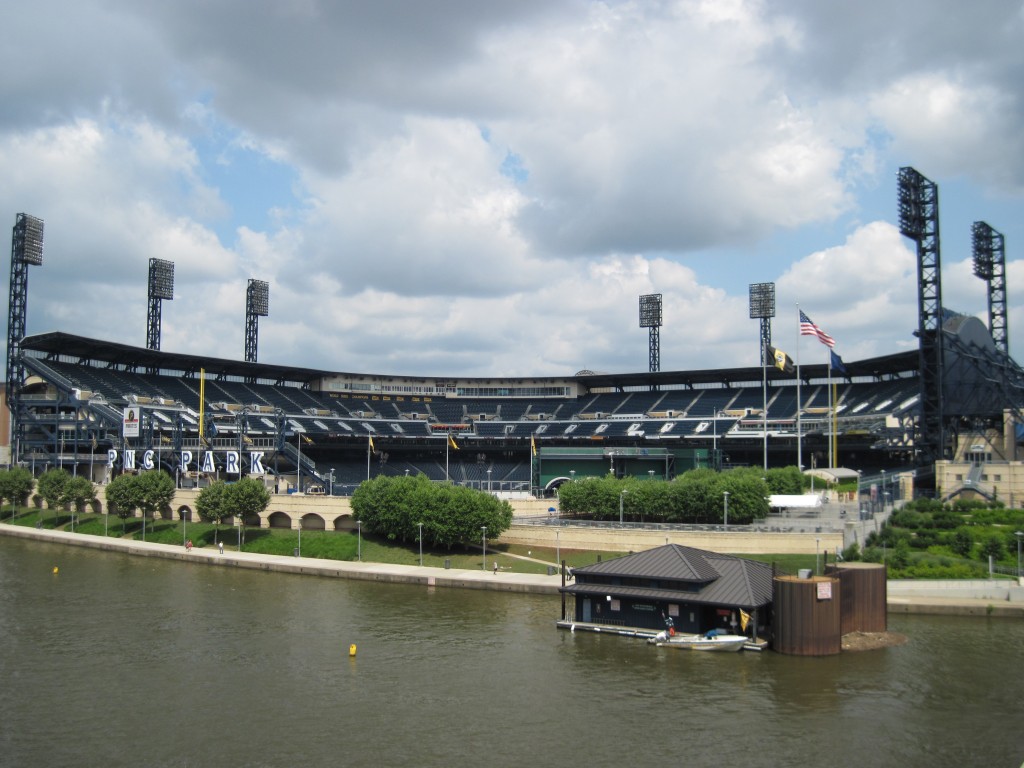 The approach
After spending a couple of days in Cincinnati we made the four-hour, three-state trek from the Queen City toward the City of Bridges, with a brief stop-off to visit a friend and former colleague of Pop's (whom we'll dub Mic Check) in Moon Township, just a few miles outside of Pittsburgh proper.
We got checked into our hotel, conveniently in the Oakland section of Pittsburgh (good omen), on a Sunday night ahead of a 7:05 p.m. first pitch the following Monday night. With pointers from Mic Check, Mr. and Mrs. Fan, and a slew of new Los Angeles friends who hail from or near the 4-1-2, we had plenty to do that day to kill time. We got down to the park around 10 a.m. and scored a great parking spot (outside of team personnel, we HAD to be the first people there). We walked the three blocks from PNC Park to Heinz Field over what essentially used to be Three Rivers Stadium, which housed the Pirates and Steelers for nearly 30 years. The location of the old home plate is marked in one of the higher-rent parking lots right next to the hulking monstrosity of Heinz, as is the location of the Immaculate Reception, which drew particular scorn from Oaktown and Down – a lifelong Raider fan.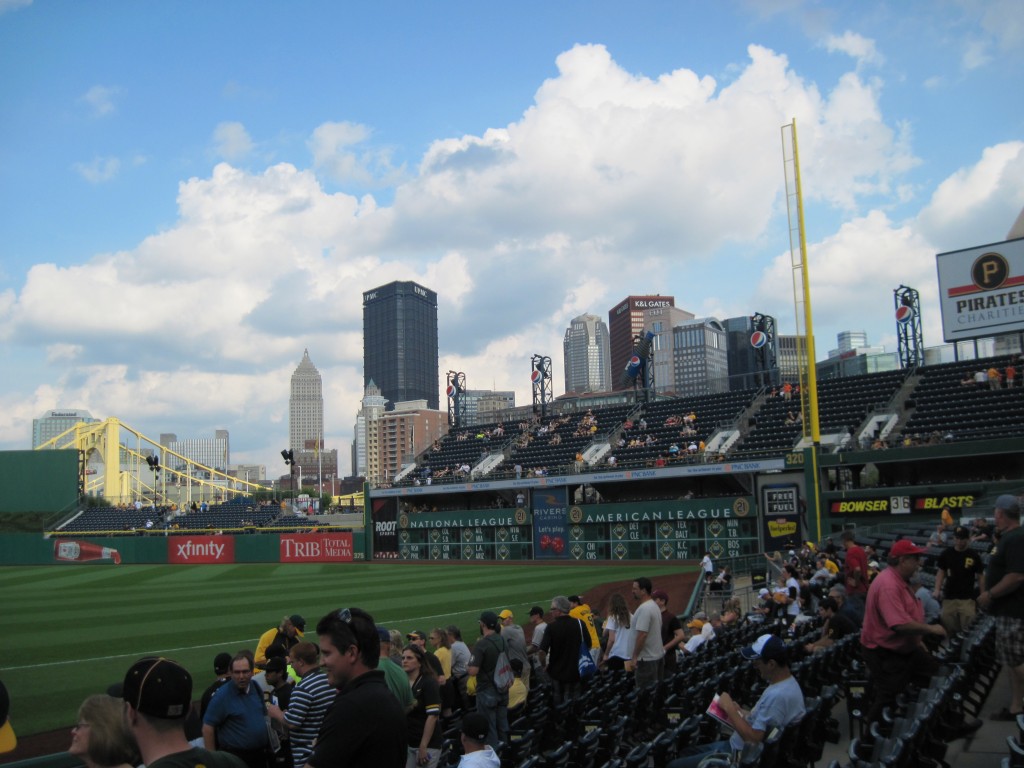 The build-up
Following an afternoon at the Heinz Museum (it's not ALL ketchup, actually, very little of it is) and souvenir shopping (for an obscene amount of my friends who are Steelers, Pirates, or Penguins fans) we met up with Mic Check at Primanti Bros. for some sandwiches on Market Square, just a few blocks (and across the river) from the ballpark.
If you have time to kill before seeing the Buccos, or the Steelers, you could do worse than Market Square or downtown, which is just on the other side of the Allegheny River from the sports complex. There's also Fort Duquesne and its magnificent restored fountain at the point where the three rivers (the Allegheny, Monongahela, and Ohio) meet. Just to the west, there are the famed inclines you probably recognize from commercial bumps during NFL and MLB telecasts repelling up and down the steep hillsides that rim the city.
After downing some delicious sandwiches, we hopped in Mic Check's truck for the quick trip across the Allegheny to get to the yard. Since parking is at such a premium in and around the sports complex (there are only a handful of lots and an eight-story parking structure on-site), the teams encourage fans to find parking in the downtown area and walk across the Roberto Clemente Bridge, which they close to vehicle traffic a few hours before game time. Lots across the river average about $6, while we paid $15 to park a bit closer to the park. There is also ferry service from all points around the city that dock just beyond the right-field fence, which seems like a pretty awesome way to get to a game.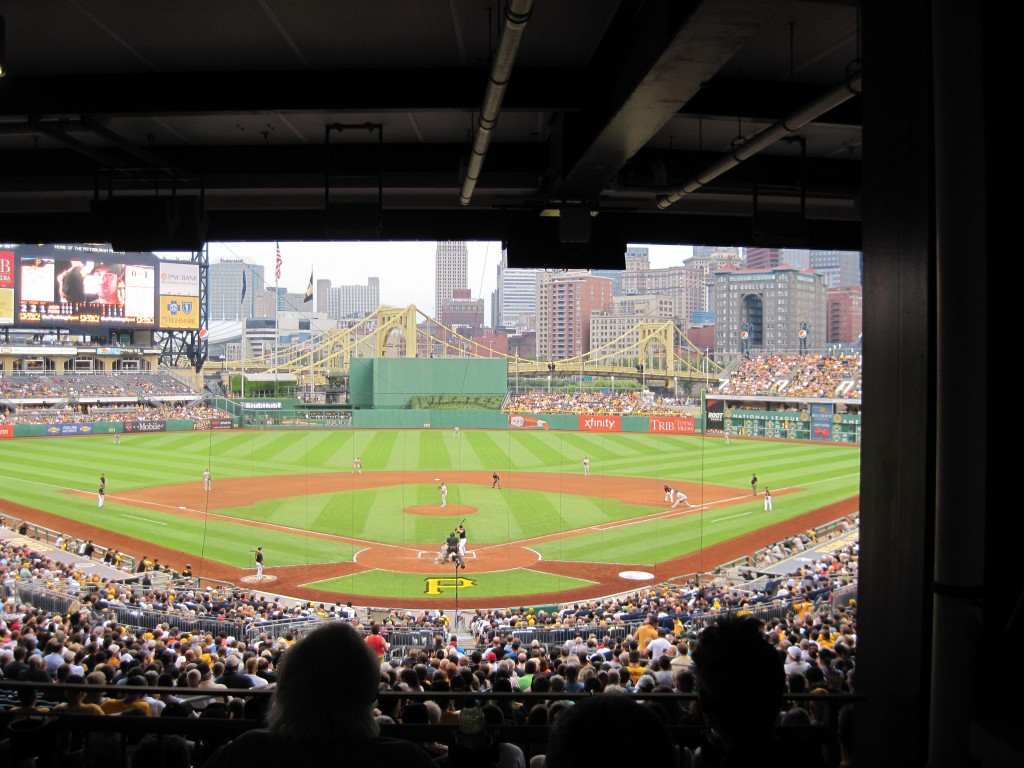 The ambiance
We walked up to the park about an hour and 45 minutes ahead of first pitch and already there were lines at the home plate and left field gates stretching back about 30 deep. For a showdown series between two division leaders, this was to be expected. As was the chorus of boos Oaktown and I got because of our green and gold garb.
I've already lamented in previous posts about the asinine policy clubs have against letting fans in to watch batting practice (God forbid they sell more beer and brats! The horror!) but in Pittsburgh that's not entirely true. Beyond left field there is a block adjacent connected to the ballpark that, on the side that fronts the street, features several bars and restaurants like you'd find in a redeveloped strip mall. Trendy, not to upscale, and appeals to the "let's down a few before we head in" crowd. You can't access the concourse but hey, you're technically "in" the park.
After waiting around for a few near the Roberto Clemente statue in center field we headed in with the first wave of people to conveniently find the A's wrapping up batting practice. For all of its aesthetic glory (the gold brick, a throwback to the some of the oldest structures in the city is an especially nice touch) the park is surprisingly small when you get inside. It reminded me of Wrigley and Fenway in that sense — watching on TV it seems so big but when you set foot inside you feel like you're in a cozy living room. Very cool vibe.
The two main concourses are accessible by multiple escalators and stairwells in addition to two huge, dizzying spiral walkways located behind home plate and beyond the left-field foul pole, so getting to and from the different levels isn't an issue. The concourses are plenty wide and the lower one provides a great view of the action and the skyline since the second deck doesn't protrude that far over the lower bowl (this came in handy standing in line getting a beer for me and Mic Check – another big fan of IPA).
Now here's the thing they don't tell you (or you don't realize) about that magnificent skyline – if you're seated in the lower bowl you can't really see it. It's a magnificent view from the upper deck but since the playing surface is actually sunken from street level, if you're looking up, you're looking at sky. But hey, if you're into shelling out big bucks for baseball tickets just to admire scenic vistas and ignore the action the field you're a Giants fan, and those people are just the worst.
And to that point, this game was pretty awesome. We got to see two All-Stars match-up in Pittsburgh's Jeff Locke and Oakland's Bartolo Colon (though neither actually made it to New York – Locke got hurt during this start and Colon pitched the Sunday before the All-Star Game) and sat in the same section as the family of (the since-traded) Grant Green making his first big-league start. The road team was the beneficiary of a pair of highly questionable calls leading to a 2-1 triumph that had Oaktown and I on cloud nine.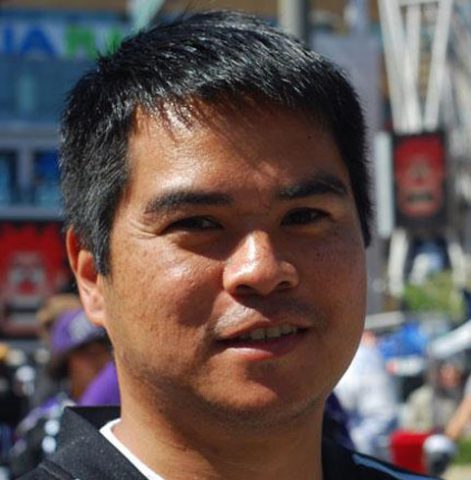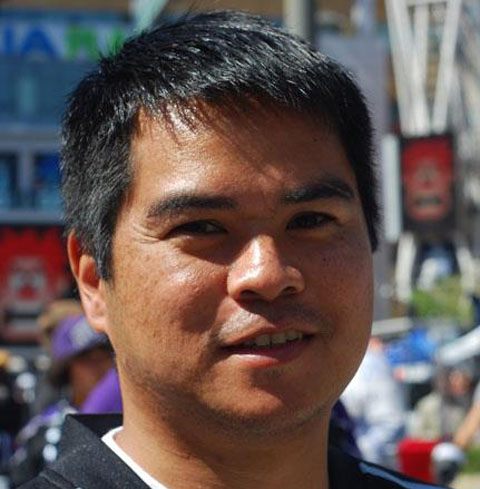 Edward de la Fuente | Itinerant Fan
I live for sports, and I love to travel. My biggest thrill is combining the two. I've been blogging about sports travel for more than a decade, and traveling for sports for twice as long.
About me | FAQ | Buy me a beer 🍺
Affiliate Disclosure
Please note that some of the links above are affiliate links, and at no additional cost to you, we earn a commission if you make a purchase. These recommendations are only for companies that we've used and have proven to enhance our sports travel experiences. To find out more about our affiliate partnerships, please read our Affiliate Disclaimer.