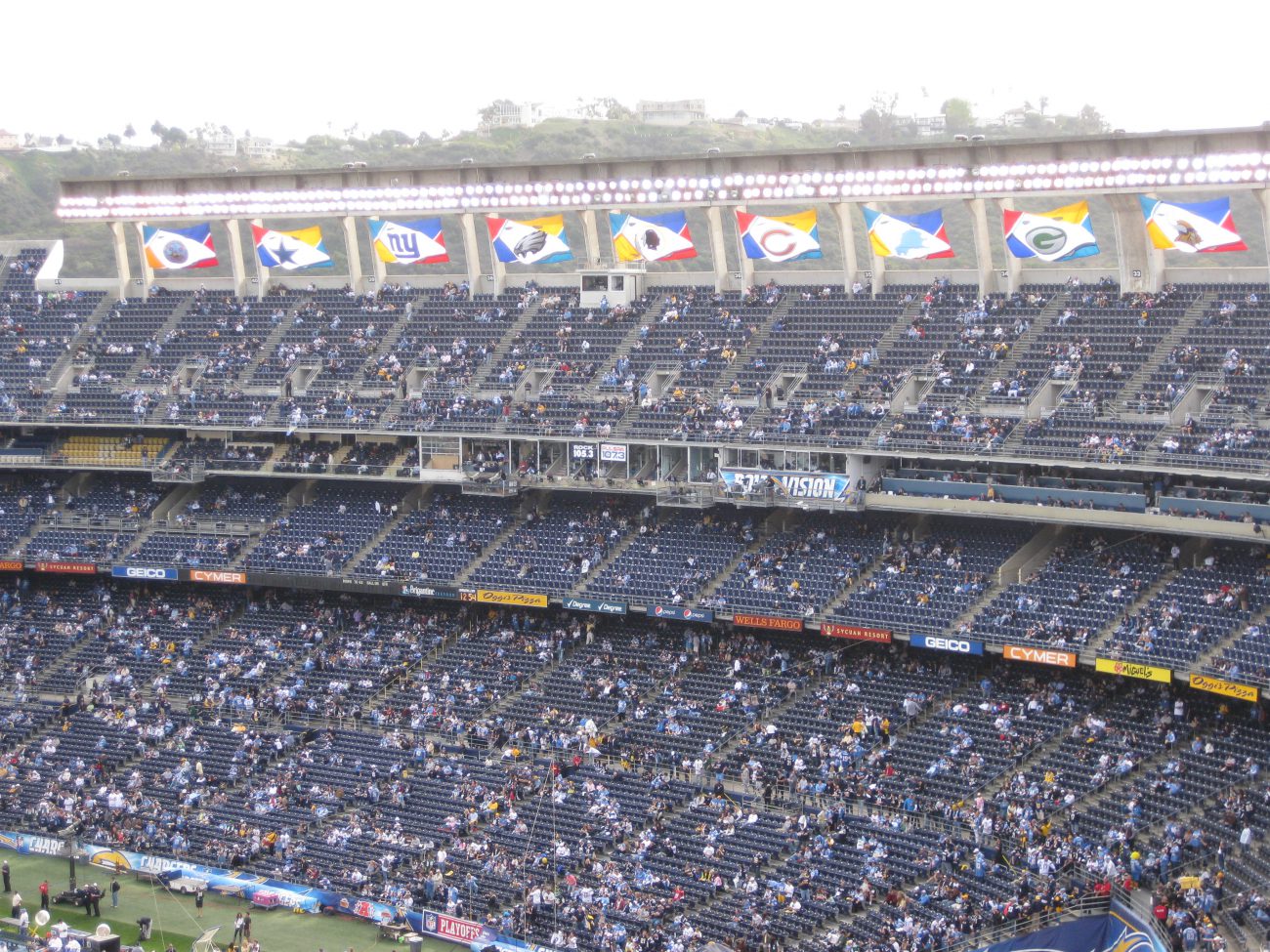 To say that Qualcomm Stadium is the best NFL stadium in California is, as a friend used to say, like bragging about being the tallest midget in the circus. It's a serviceable stadium, no doubt — one good enough to host Super Bowls in the past — but it's showing its age, and the Chargers have been sniffing around for ways to replace it for years. Still, it's the best place in California to watch a pro football game (if we included colleges, it would be a whole different story) because its two competitors up north play in stadiums either haphazardly configured for football or ruined by additions that detracted from the venue's overall feel. (Really, the 49ers and Raiders need to put their heads together, go the Giants-Jets route and build one nice new stadium that they can share… but I digress.)
As I've mentioned too many times to count previously, I attended the Chargers' divisional playoff game against the Jets with Mrs. Fan and our friend Jersey Boy, a big Jets fan. It was my first Chargers game in more than 10 years — so long that the last time I saw them live, Craig Whelihan was the starting quarterback. Who's Craig Whelihan, you ask? I'll just say that the whole Ryan Leaf mess the franchise endured in the late 1990s resulted in Craig Whelihan being the starting quarterback, and I'll let you draw your own conclusions from there.
What I found from my latest visit to Qualcomm (disclaimer: I visited many times in the early 2000s, but all for Padres games) is that it hasn't changed much, from the fan experience to the tendency the Chargers have to break their fans' hearts.
The approach
As with just about every public place in California, parking is a nightmare. The Chargers encourage fans driving to the game to buy passes in advance and get there early, which pretty much means if you don't intend to tailgate, you shouldn't be driving. There are designated overflow lots as well. Some people park in a nearby neighborhood along Mission Village Drive, which leads south directly into the Qualcomm parking lot. The problem with that is, you walk down a fairly steep hill to get to the stadium — so you have to walk back up it to get to your car after the game.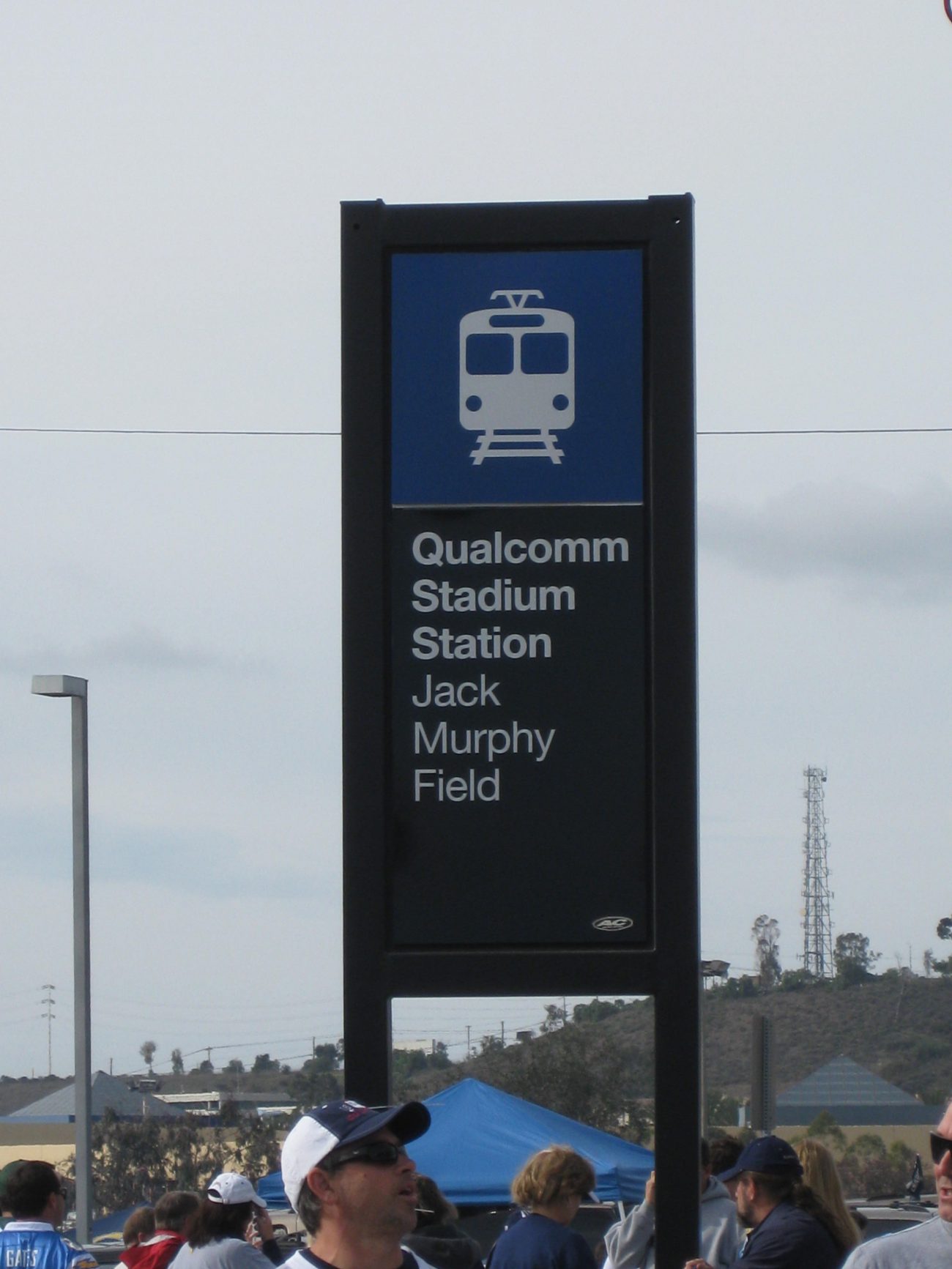 Fortunately, there are several public transportation options, including a trolley system (San Diego's fancy name for light rail) that might be the city's best-kept secret (to outsiders, anyway). Whether you're coming from east or west of the stadium, there are plenty of options to park and ride — just be sure you board at a station far enough away from the Qualcomm stop or you'll quickly get frustrated by train after train jam-packed with fans and no room for you. We boarded at Fashion Valley — parking underneath the station since the mall doesn't allow fans to park in its lots — and barely squeezed in. People at the next two stops, Hazard Center and Mission Valley Center, were pretty much out of luck trying to board the train we rode.
(By the way, a note to Fashion Valley: Why are you discouraging fans from parking in your two-thirds empty lot when your city is going crazy about the fact its football team is in the playoffs? Do you really think fans parking in your lot will detract from your business considering you've got a ton of massive lots and a parking structure? It really looks bad when you've got foreboding signs up saying "No Qualcomm Stadium parking" and your retail competitor, Hazard Center, is actually inviting fans to park there. If I lived in San Diego, based on that experience, guess where I'm going next time I want a soft pretzel or a book or something? Hint: Not Fashion Valley.)
From there, it took us 10 minutes to get to the stadium — very quick and convenient. Also, perhaps our best move of the day was buying all-day passes for $5 each despite knowing we would only take two rides. This eliminated the need to buy another ticket at game's end. One knowledgeable fan told us more people took the trolley to games than drove, and after seeing the line leading to the platform after the game, I believe him.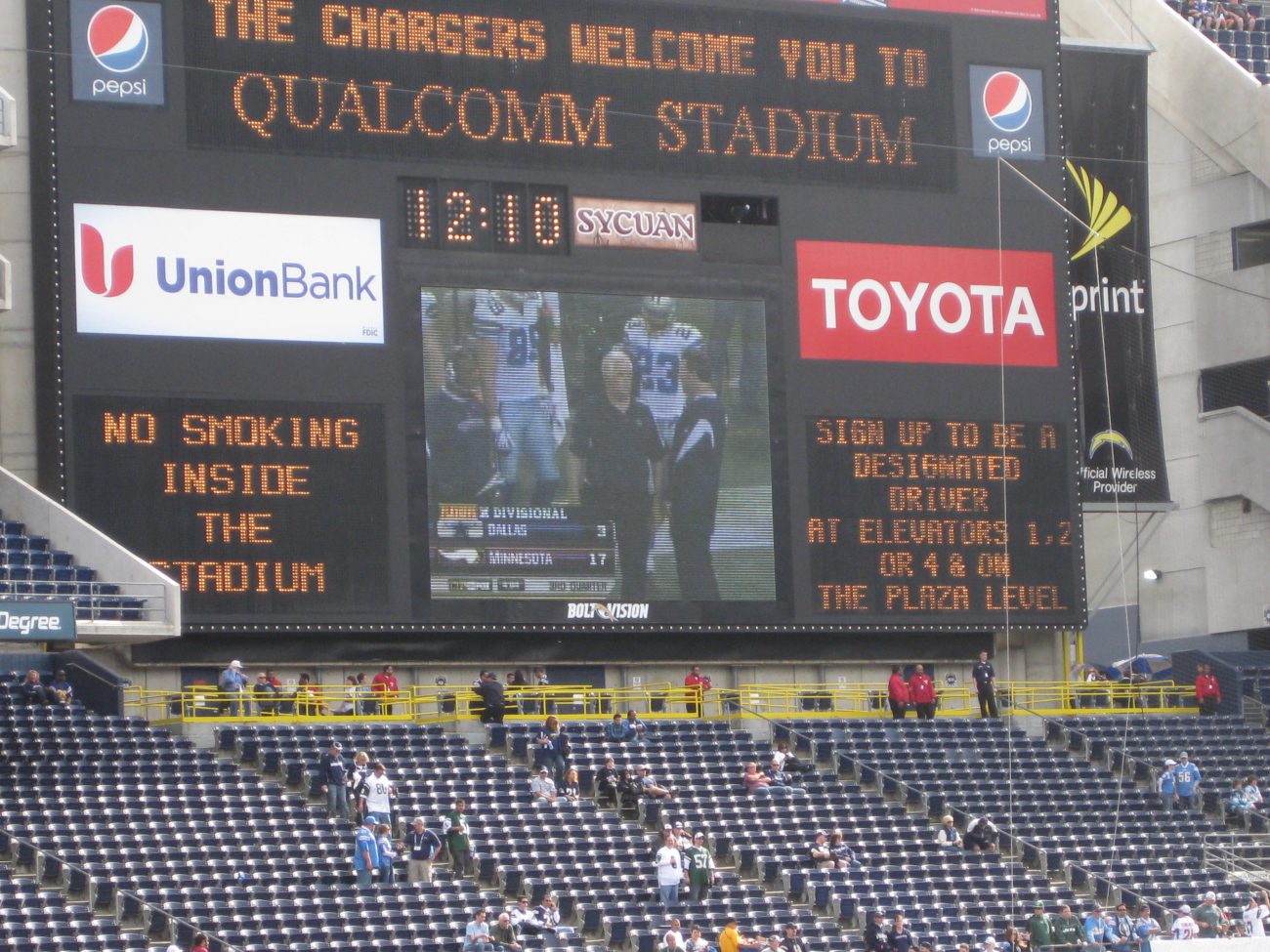 The build-up
We arrived at the stadium just when the gates opened two hours before kickoff, and since we weren't there to tailgate, we didn't have much choice but to buy stadium food. There is a shopping center just due west — it's hard to miss the big blue Ikea in the distance — but to get there by foot you'd have to walk down Friars Road, which might as well be a freeway. You could get off the trolley at Fenton Parkway, the last stop before Qualcomm, but good luck getting back on it before the game.
Anyway, we got to sample some stadium food, and it's pretty standard stuff. I had a $5 hot dog, and it satisfied my appetite just fine. I also bought a bottle of water for $6. Mrs. Fan got some rolled tacos for $7 from a Mexican food stand, and Jersey Boy ordered chicken fingers and fries for $9 from a burger stand. (Note: Qualcomm used to have Rally's stands, but no more. While the concessionaire that replaced them looks serviceable enough, it's no Rally's.) Beer cost $8.25 a cup, but none of us partook. BBQ and pizza stands were also plentiful and extremely popular. Mrs. Fan later got $5 nachos, and it was nothing special.
It occurred to me much later that I didn't see any fish taco stands around the stadium. I'm not sure if they did away with them — it's possible I just missed them — but if they did, too bad. When I think San Diego, I think fish tacos, don't you?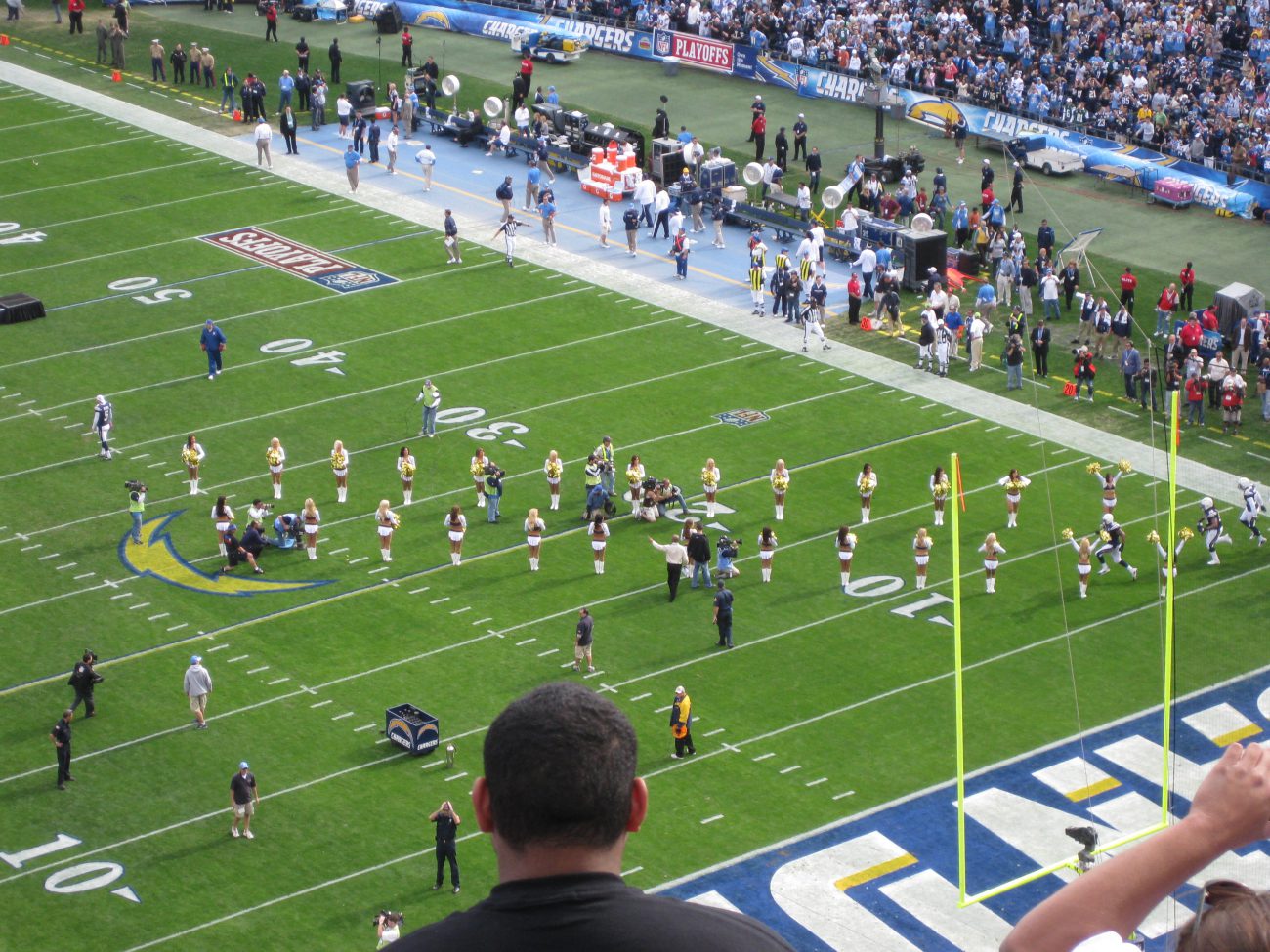 The ambiance
You know how, when you step into a brand new facility, the newness hits all of your senses — not unlike the new-car smell? That's not the case with grand old Qualcomm. Wherever you go, it smells like hot dogs and cooking oil, which I guess is not necessarily a bad thing. Certain areas of the stadium (the aisles leading toward the field- and plaza-level seats) have that floor with the raised dots that you normally see in airports or public bathrooms. And to get to the field level, you have to go down a staircase and then back up another one, where you emerge just feet from the aisle separating the field level from the plaza level — a design that hints at its multi-use history. Not very efficient.
San Diego might have a reputation for being laid-back, but don't mistake Chargers fans for being that way. They're as fired up as any set of fans in the NFL, especially these days now that they seem to have reached perennial playoff status. Of course, this was a playoff game, so there was no reason not to be fired up, and there was plenty of back and forth between the home fans and the thousands of Jets fans also in attendance, but I can attest that even during the lean times, Charger fans are devoted.
Our seats were in the second-to-last row of the upper deck, but the view was just fine, even when the action was on the opposite end of the field. You're a little far back but not too high up. I thought it was key that, if we had end-zone seats, they be facing what used to be the open end of the stadium, where the giant scoreboard is. If you're on the other end and out of view of the scoreboard, there's another JumboTron in sight, but you have to look elsewhere for a scoreboard, the timer and the 40-second clock, and forget about viewing updated stats, which they flash from time to time on the main scoreboard. My strategy meant I could see the painful truth as it unfolded and the Chargers left their fans unfulfilled for another season.
The damage
Tickets
$125 each (via StubHub, a markup from $85 face value for playoff games)
Transportation
$5 each for all-day trolley pass
Food
Just under $40 total
Souvenirs
$24 for a light blue Chargers hat that Mrs. Fan, a Steelers fan, bought to blend in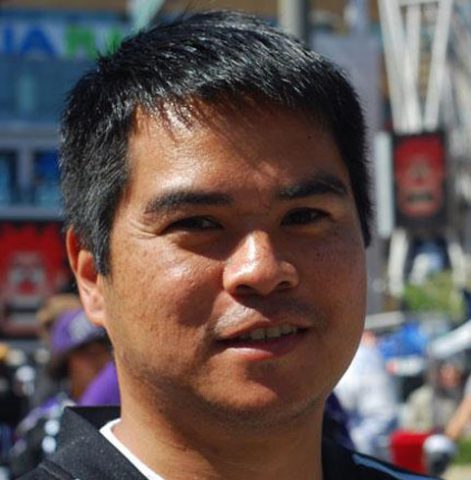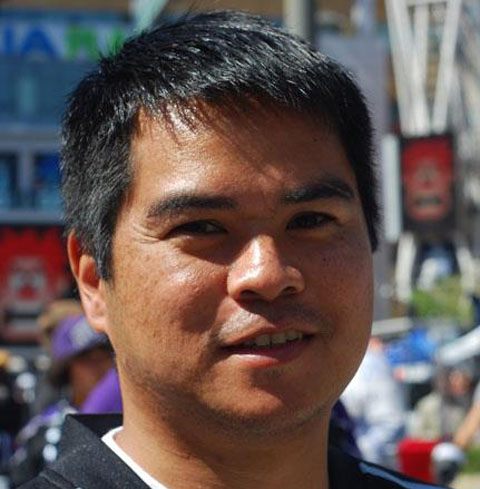 Edward de la Fuente | Itinerant Fan
I live for sports, and I love to travel. My biggest thrill is combining the two. I've been blogging about sports travel for more than a decade, and traveling for sports for twice as long.
About me | FAQ | Buy me a beer 🍺
Affiliate Disclosure
Please note that some of the links above are affiliate links, and at no additional cost to you, we earn a commission if you make a purchase. These recommendations are only for companies that we've used and have proven to enhance our sports travel experiences. To find out more about our affiliate partnerships, please read our Affiliate Disclaimer.