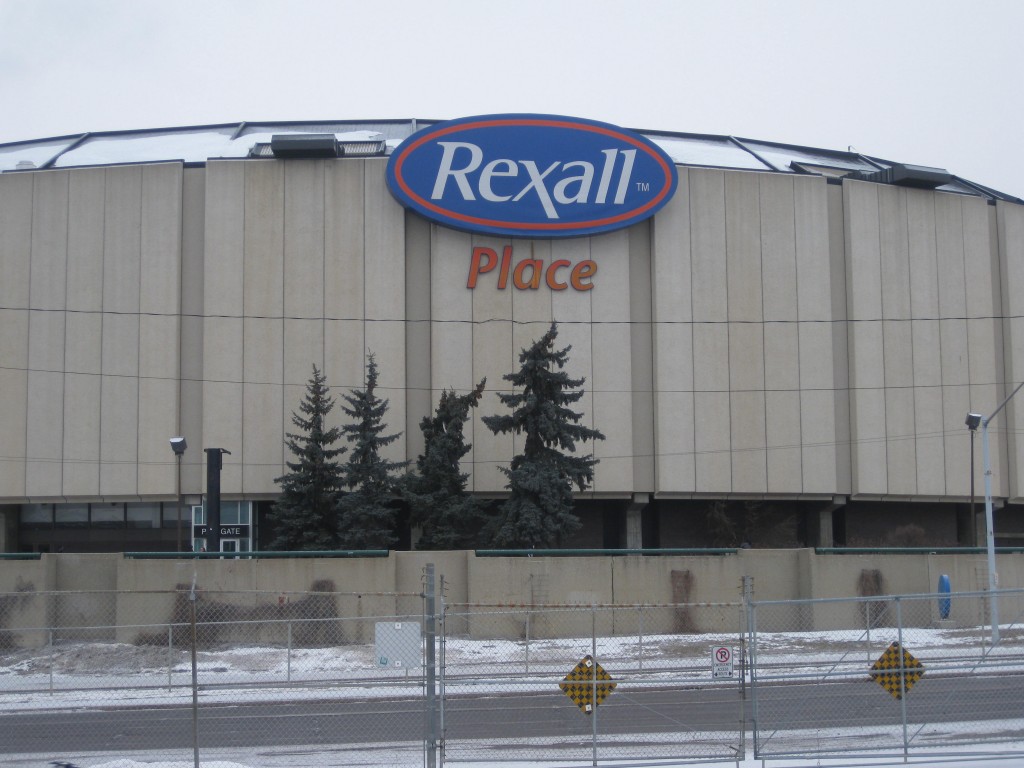 Edmonton is one of those cities that owes a lot of its notoriety to sports. And that statement isn't meant to slight a fine city, but ask yourself: If you aren't Canadian, would you know much about Edmonton if (A) it wasn't home to an NHL team and (B) that team didn't have Wayne Gretzky and Mark Messier and Jari Kurri and Grant Fuhr as it dominated the 1980s, winning four Stanley Cups (not to mention another one in 1990)? The city itself capitalizes on this by using the slogan "City of Champions" — what else could they be referring to? (OK, maybe they're also referring to the CFL Edmonton Eskimos and their 14 championships.)
So to the traveler, Edmonton is a lot like Green Bay in that if you're not in town to see relatives or friends, you're very likely there to catch a hockey game. That's certainly why Mrs. Fan and I visited on a below-freezing day just before Christmas.
Rexall Place is the epicenter for hockey in Edmonton and the scene of so many triumphant moments for the Oilers in their heyday, which these days must feel like a long time ago to their loyal fans. It's far from the finest arena in the league, but it's also nearing the end of its tenure as an NHL venue — a new arena for the Oilers is currently under construction in downtown Edmonton. Until their stumbling franchise pulls itself back into playoff contention, the fans at least have that to look forward to.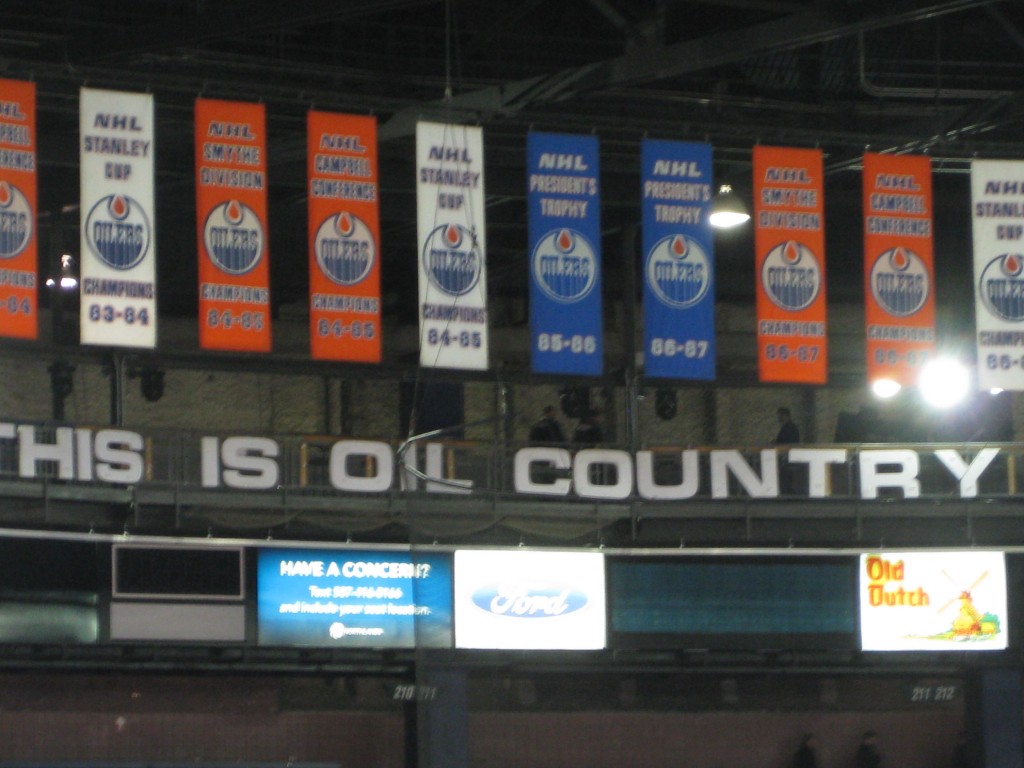 The approach
Edmonton is not a difficult city to navigate — it has one of those street grids made up primarily of numbered streets in both north-south and east-west directions, so the main thing you have to look out for is whether a road is an avenue or a street (avenues run east-west, streets run north-south) and the directional suffix (ie. 118 Avenue NW). The city also has a ring of highways running through its outskirts, though you'll have to use surface streets to reach Rexall Place no matter what.
The arena is part of a complex called the Northlands (the venue was once known as the Northlands Coliseum) located a few miles northeast of downtown. In our case, we were driving up from Calgary on the day of the game and thus approached from the south, exiting the highway at 75 Street NW and making our way north to the parking lot across 118 Avenue from the arena (more on parking below).
You also have the option of taking light rail to the game — there's currently only one line of the LRT in operation, running from downtown to the arena and points northeast. The Coliseum station is right next to the arena, with only a climb up some stairs needed. (Be careful that you don't mix the correct stop up with the Stadium station one stop prior, which services the Eskimos' Commonwealth Stadium.)
Oh, and regarding parking: Because we were coming from three hours away on a day in which snow was forecast, we arrived two and a half hours early to the game. We pulled into the Northlands parking lot, which was quiet except for one bundled-up attendant. When I asked her if the lot was open yet, she replied, "Well, the cashiers aren't here yet, so you might as well go in." So we parked directly across the street from the arena for free in a lot that usually charges C$16. I can't promise that this will work for you, but if you really don't want to pay for parking and don't mind showing up really early, you can give it a shot. (And in case you were wondering, we killed the extra time before the game by taking light rail downtown and back.)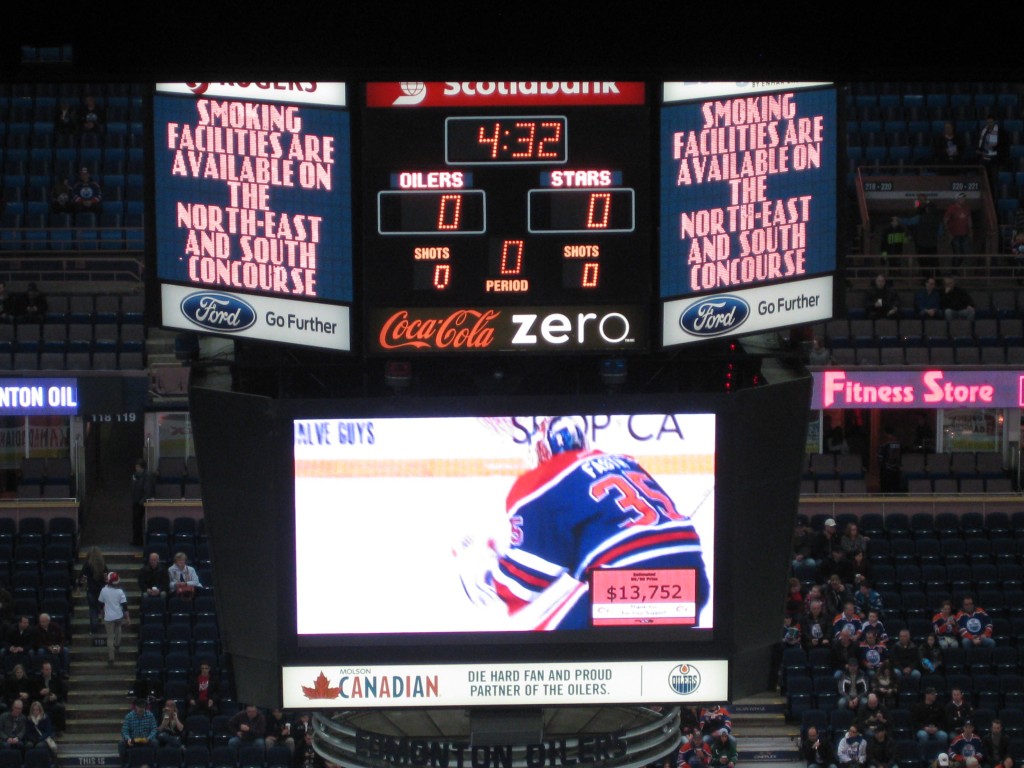 The build-up
There are a few spots just east of the arena that look like they might be worth hanging out in, but I can't vouch for how good they might be — frankly, from a distance they all looked like truck stop-type establishments, not exactly inviting to hockey fans. But the below-zero Celsius temps on this particular day didn't exactly lend itself to a festive scene, either.
When we were inside the arena and in our seats, we overheard the guys to our right discussing the new arena and their hope that there would be far more bars and restaurants open within walking distance of the new place, so that suggested to me that Oilers fans don't see the Rexall Place vicinity as an area in which they'd hang out before going inside, anyway. Most patrons I saw took only enough time to look at the Wayne Gretzky statue on the north side of the arena before ducking inside and out of the cold.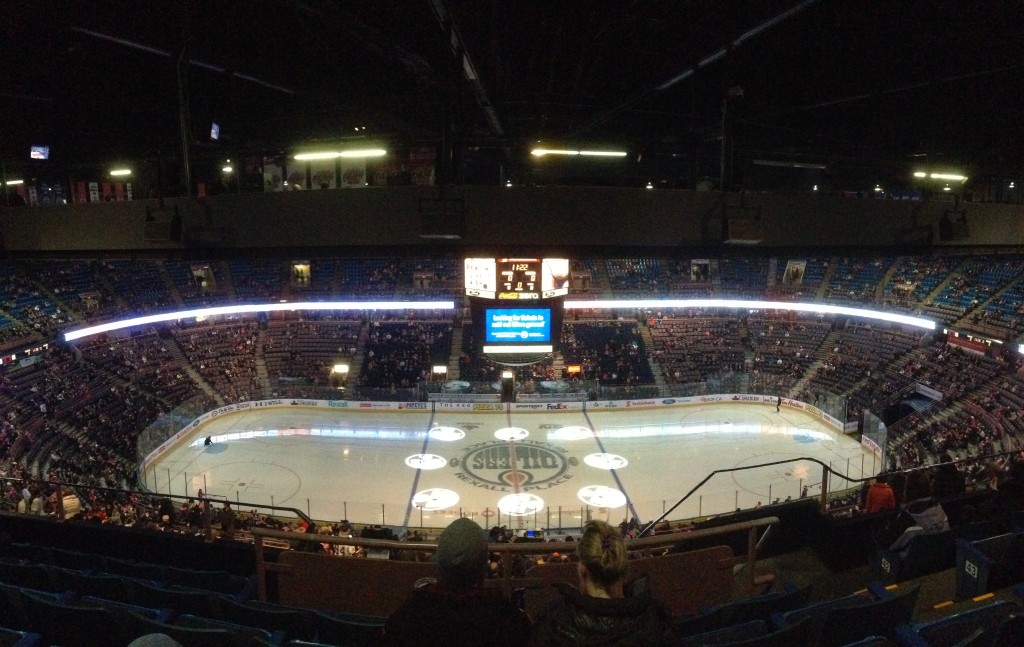 The ambiance
Once inside, Rexall Place is perfectly serviceable — not a whole lot special about it. The concourses are dark and the walls are drab, and as one of the oldest arenas in use in the NHL (and a new one on the way), that's probably to be expected. While there are a few reminders of the Oilers' glorious past on display, there aren't as many as you might think. Perhaps purposely, the team has largely reserved those commemorations for the banners that hang from the rafters.
Regarding the seating layout, there are two intricacies worth noting. One, there are two levels that wrap around the entire circumference of the arena, but there's a third level that's just on one side. Two, the rows are numbered from bottom to top, from 1 to 52 — in other words, the row numbers don't start over with each level the way they do at just about every other arena. It might be a little confusing at first, but at least each level has its own concourse with concessions and bathrooms, including that third level with sections numbered in the 300s. We had seats in that 300 section, which were no higher than any other upper deck we've sat in around the league. Like in many Canadian arenas, there's a press gondola in front of you, but it doesn't really obscure your view of anything important.
That third level is also on the side opposite the TV view, but you'll likely notice quickly that it's also the "correct" view, with the benches on the opposite side of the ice — Rexall Place is the only NHL arena in which the benches aren't facing the TV cameras. So it's an unexpectedly normal view as long as you're able to block out the fact that the Oilers' center-ice logo is upside down (which you will after a while).
After surveying the largely uninspiring food selections, I bought a German sausage (just a kielbasa on a bun, nothing to write home about) and we settled in for what turned out to be a crazy entertaining game. The Oilers had five goals by midway through the second period and led 5-2, yet wound up losing to the Stars in a shootout. We headed out into the snowy night with a bunch of fans who surely acted as though they've seen a lot of this sort of thing lately, but at least brighter days lie ahead.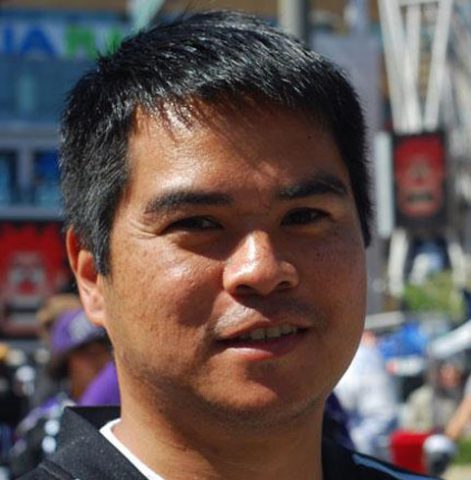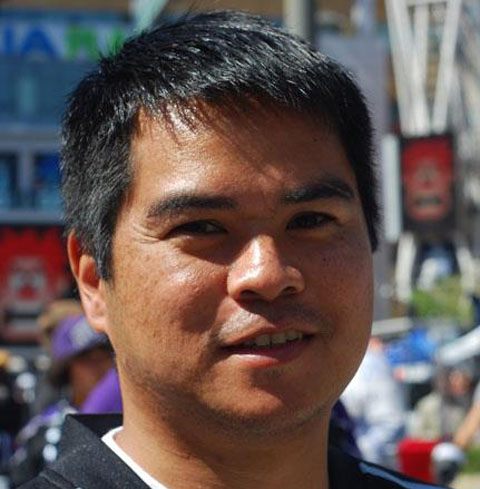 Edward de la Fuente | Itinerant Fan
I live for sports, and I love to travel. My biggest thrill is combining the two. I've been blogging about sports travel for more than a decade, and traveling for sports for twice as long.
About me | FAQ | Buy me a beer 🍺
Affiliate Disclosure
Please note that some of the links above are affiliate links, and at no additional cost to you, we earn a commission if you make a purchase. These recommendations are only for companies that we've used and have proven to enhance our sports travel experiences. To find out more about our affiliate partnerships, please read our Affiliate Disclaimer.