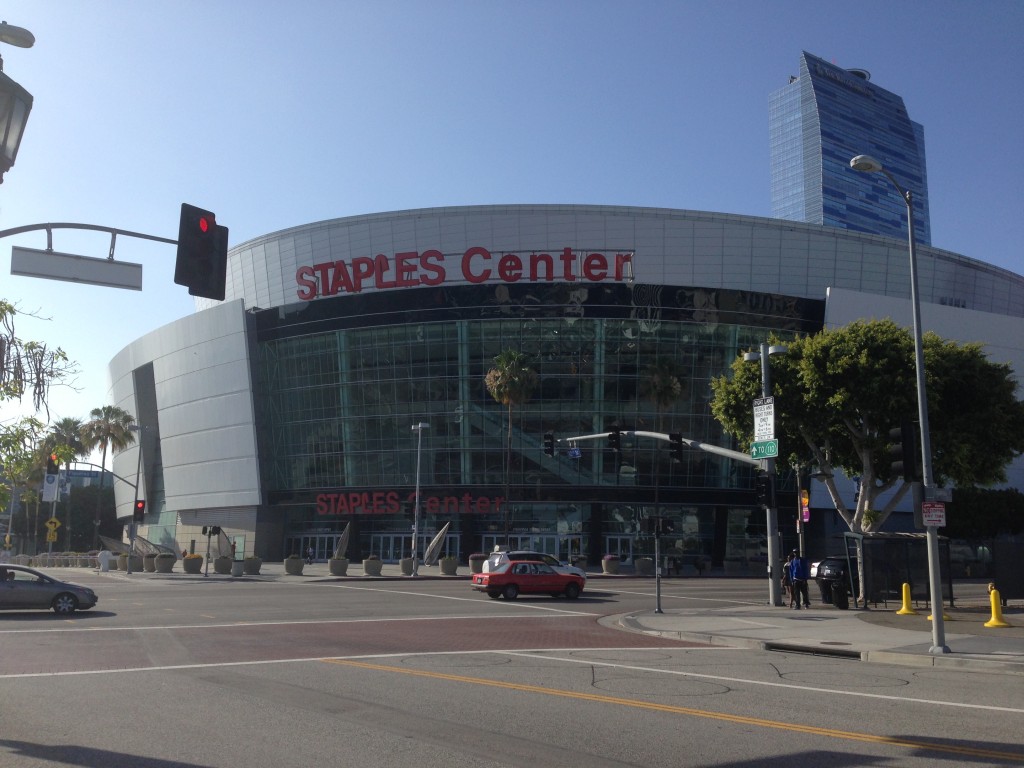 I grew up in the Los Angeles area, and during my early years of sport attending, I made many visits to what was considered one of the premier arenas in the country. And I can attest first-hand that it really was. There wasn't a bad seat in the house; the bowl seemed cavernous but still had a feel of intimacy to it (unless you were in the highest rows, but no venue's perfect); and everyone I knew who liked sports seemed to have a favorite story about the place.
Yes, the Forum — excuse me, the Great Western Forum, as it was known back then — was a wonderful place. Then Staples Center came along. Not only is it in downtown LA, a decidedly better location than Inglewood, but it could swallow the Forum whole and still have enough room in its belly for the LA Sports Arena. At first, we weren't sure if bigger truly meant better in this case. Over time, though, the glitz and glamour that was so often associated with the Forum managed to move itself downtown too, and now Staples certainly has that vibe that you're gonna see something big whenever you walk in the door.
The Lakers, of course, have a lot to do with that. But I'm a Kings fan, and so earlier this fall I brought Mrs. Fan and our Sharks-loving friend J-Park to town for a game against the Canucks. We were joined at the arena by Twisted Sister, a Kings fan whenever she wants to be.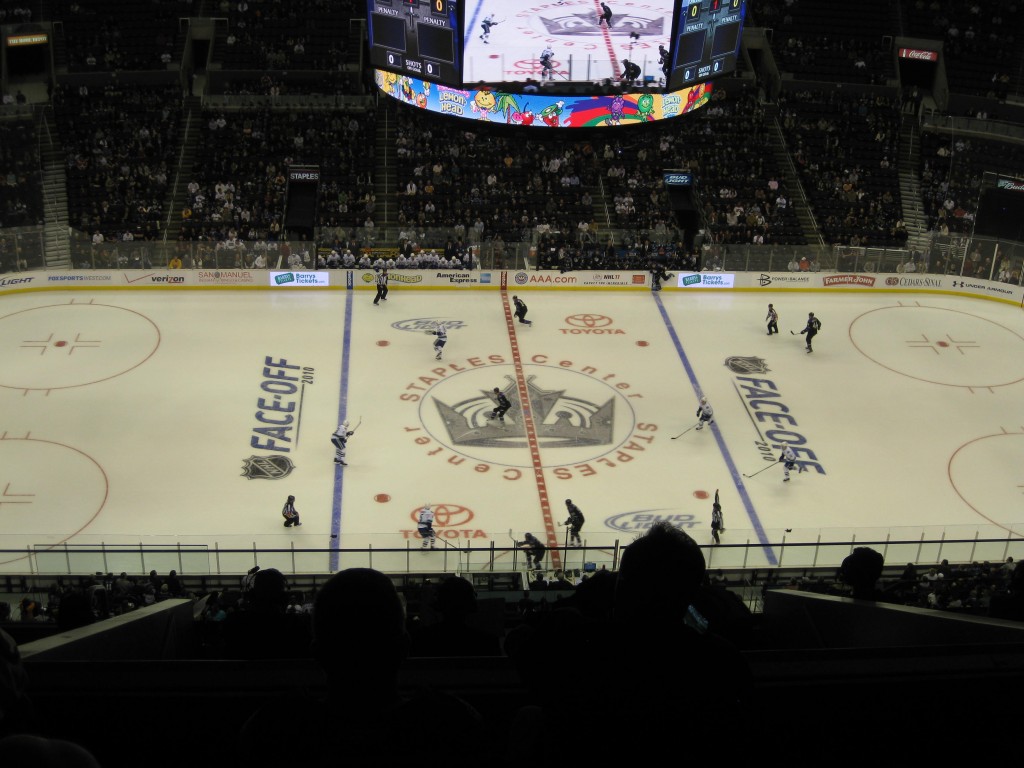 The approach
We were driving down from Northern California on the day of the game, so starting mid-morning, we operated on the philosophy of "whenever we got to LA, we got there." That allowed us to eliminate the time factor and, more importantly where LA is concerned, the traffic factor. Approaching from the north, we cut through the San Fernando Valley on Interstate 5, then took the 110 Freeway toward downtown. We hit traffic in Chinatown, a couple miles north of the arena, so I relied on my old knowledge of the area from my college days and took a shortcut that got us in an underground parking structure across the street from the arena within 10 minutes.
Now, I say all that not to show off the fact that I know LA, but to say that our journey to the game was far from typical for the average fan, let alone the visiting fan. More than likely, you'll be leaving within two hours of game time, and your familiarity with LA might limit you to taking the freeway to the prescribed exit (depending on where you're coming from, that'll be somewhere very close to where the 110 meets the 10, and there's traffic there nearly all hours of the day and night and whether there's something going on at Staples or not). If you're not from Southern California, know this: Sitting in traffic is an accepted way of life there, and if you want to avoid it and/or ensure that you won't be late to the game, the only way to do that is to leave super early. Fortunately, you have ways to kill time, as I'll cover a little later.
One thing visitors to LA, land of the automobile, might not know is that its subway has a stop a block away from Staples Center on the Metro Blue Line. I can't vouch for how many fans actually use it to get to games, and besides, if you're not coming from Hollywood, Pasadena or Long Beach, it's probably better off that you drive anyway. But the option is there.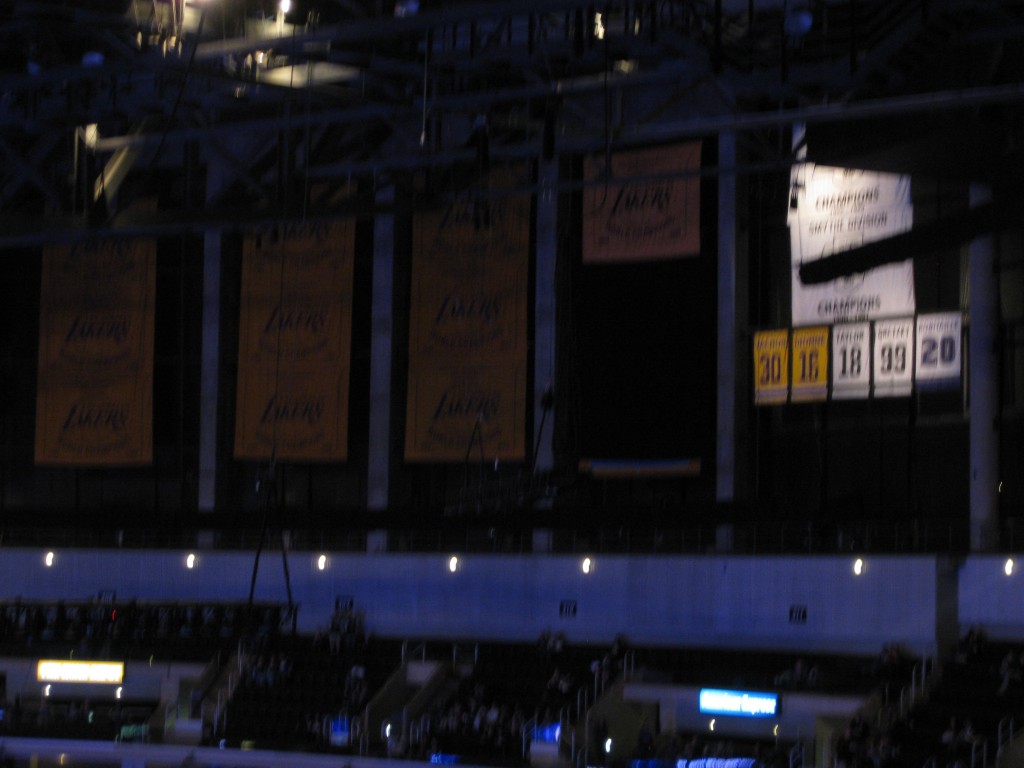 The build-up
In its seemingly never-ending quest to take over the city of Los Angeles, AEG, the mega-conglomerate that owns the Kings and Staples Center along with many, many other things, has built a major entertainment complex across the street from Staples called L.A. Live. And far be it for me to take the side of corporate barons, but good for AEG. Because they've transformed Downtown LA into something that it simply wasn't a mere 10 years ago: a viable nighttime destination.
Whereas the area around Staples consisted mostly of parking lots and always cleared out postgame during the arena's early years, there are now plenty of places to grab a bite, drink a beer and do various other things before and after the game. AEG has already put a theater, a giant hotel/condo complex and a movie theater on the site, and has even bigger plans for the area down the line. ESPN has a big ol' studio there now, as well. And while the area isn't exactly Times Square West, it certainly makes venturing to the area a worthwhile proposition.
Mrs. Fan, J-Park and I took advantage of it by spending the few hours we had to kill before the game drinking beers at the Yard House at L.A. Live. It being late afternoon on a Friday, the place slowly filled up with Kings (and Canucks) fans, as well as folks who wanted to watch the baseball playoff game going on that evening (Yankees-Rangers in the ALCS, in case anyone wanted to know). Eventually we were joined by Twisted Sister, who had just gotten off work and was accompanied by her friend Elm (not a pseudonym — that was his real name), a Kings season-ticket holder, and we headed off to the game.
(Not to talk out of turn, but after the game we found a Spanish bar/restaurant type and spent a couple hours chatting and drinking Negra Modelo. And there was plenty of foot traffic around L.A. Live more than two hours after the game had ended.)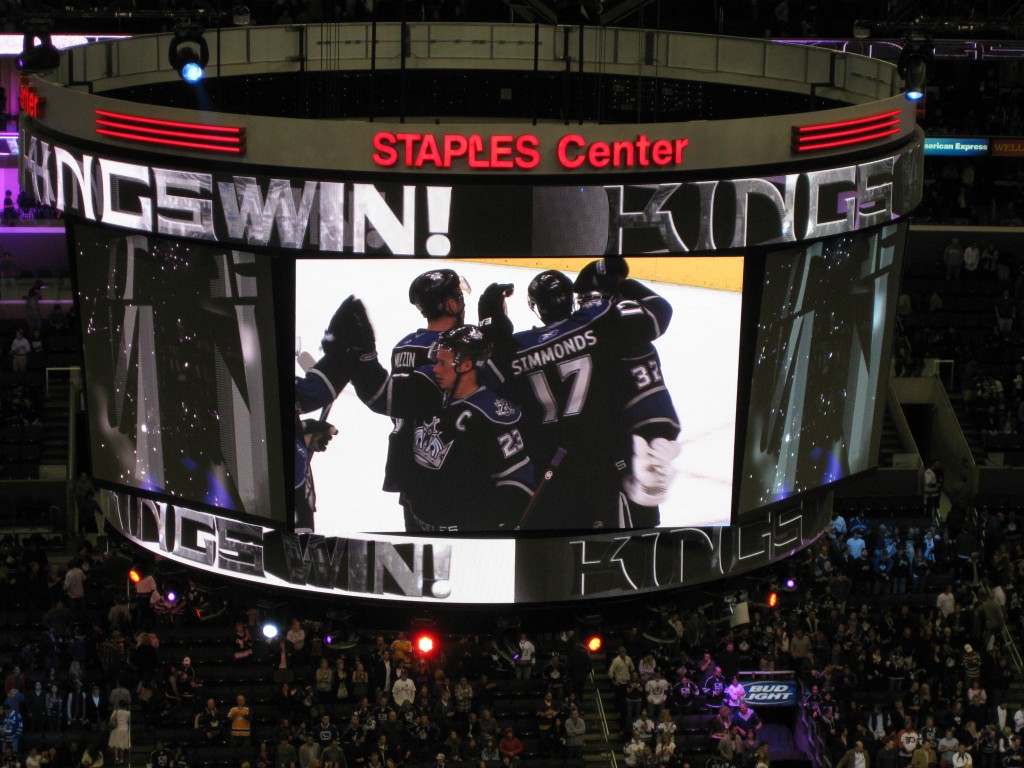 The ambiance
As I alluded to earlier, Staples Center is big. It sorta has to be, considering they stacked three levels of luxury suites on top of each other and wedged them between the two main decks. The result is that if you're in the upper deck as we were for this game, your view is not bad — you're just high. We had good seats for this one, right on one of the blue lines, so as long as you can get over the shortness of breath from the higher elevations, you're good. Besides, as is so often the case, this is where the real fans sit — the working-class joes who love their team but aren't high rollers who can't sit next to the glass (or, if this were the Lakers, next to Jack Nicholson). So the chance to sit next to knowledgeable and often funny fans offsets whatever complaints you may have about the view. There was a quiet guy in a Canucks jersey sitting right next to us, and he had to sit there and take it while the folks behind him made snide comments about the Canucks all game long, Finally, when the Kings took a 4-1 lead in the third period, he got up and left. We couldn't see if he was crying or not.
As for the concourses, they're nice, but sterile. Now, as I write this I'm still trying to figure out whether this is a compliment or an insult. By "sterile" I mean the place certainly is clean, but it's not very inspired. I like it when venues exhibit the character relative to the team or teams that play there, and that's certainly not the case here. In fact, when you enter the arena off 11th Street, the first thing you see is a beautiful atrium — but it seems more like an performing arts center than a sports venue.
One aspect that seems cool is an outdoor deck accessible from the upper concourse that has patio furniture and a concession stand, but then you see that's where the smokers go. And I mean all the smokers in the arena go there, so if you wanted to step outside just for the view and you're not a smoker, it's probably not worth it. Besides, much of the way the upper deck is laid out seems like the architects considered it an afterthought. The concourse gets dormitory hallway-thin in some places.
The food choices are also uninspired. The big vendor there is McDonald's, and they're all over the venue. There's also California Pizza Kitchen and Wetzel's Pretzels in selected spots. Twisted Sister, who didn't get to Yard House in time to partake with the rest of us, ordered a beer from the first beer garden she saw and it set her back $13 (I forget what beer she ordered, but she was trying to avoid the Bud Light/Heineken route). Some will consider that typical LA inflation — me, I consider that par for the course in this town.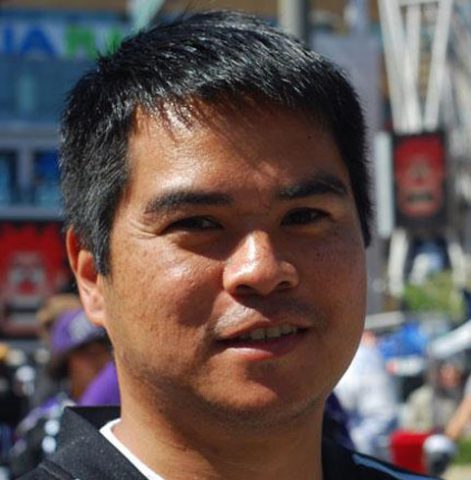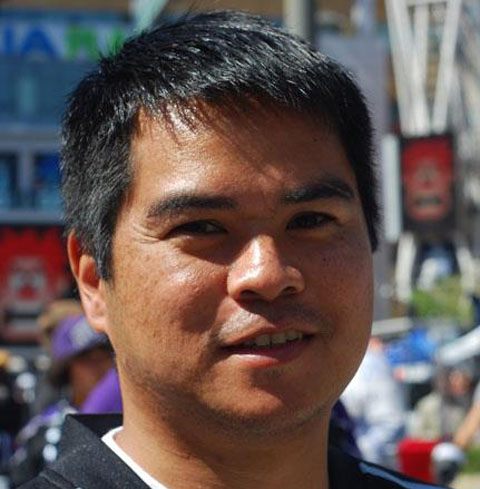 Edward de la Fuente | Itinerant Fan
I live for sports, and I love to travel. My biggest thrill is combining the two. I've been blogging about sports travel for more than a decade, and traveling for sports for twice as long.
About me | FAQ | Buy me a beer 🍺
Affiliate Disclosure
Please note that some of the links above are affiliate links, and at no additional cost to you, we earn a commission if you make a purchase. These recommendations are only for companies that we've used and have proven to enhance our sports travel experiences. To find out more about our affiliate partnerships, please read our Affiliate Disclaimer.