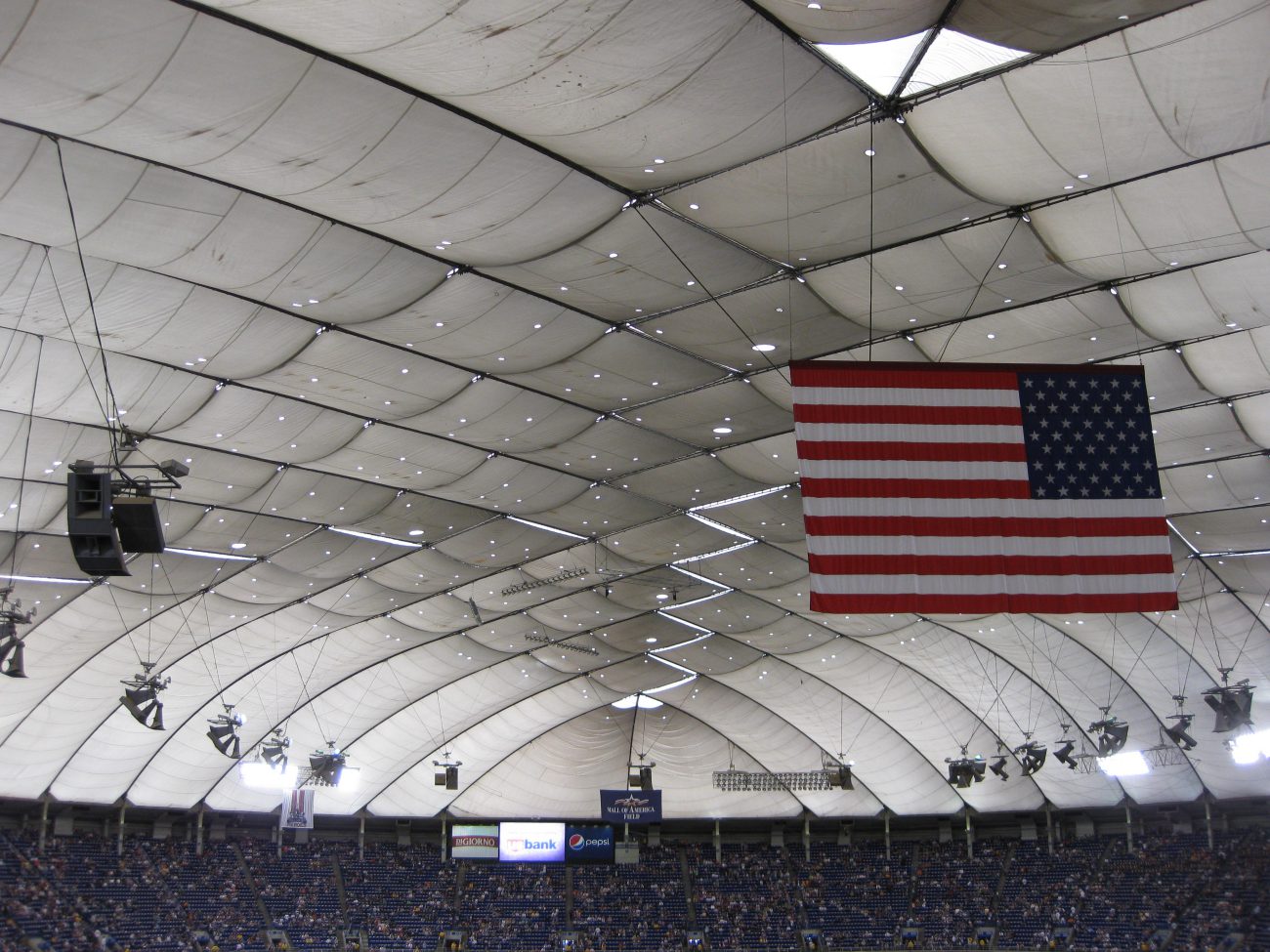 (Editor's note: The Metrodome was demolished in February 2014. But, as a silent tribute, we'll just leave this post here. sniff)
Once upon a time in my sports travel life, I thought domes were the coolest thing. Part of it was that I didn't get to go in one very often, so when I did it was a special experience, like visiting your local airplane hangar. But then I started to realize that all the older domes were pretty much the same — regular stadiums with a seemingly floating fabric roof on top. Then I moved to Arizona and spent a lot of time at the former Bank One Ballpark, and domes (even retractable ones) became somewhat old hat to me.
So when Mrs. Fan and I visited the Metrodome in September, the experience was surprisingly normal — ho-hum, even. Part of it might have been that this was the final day of a sports trilogy in Minneapolis, and by the end of it we were just ready to go home. Or maybe it was because I was distracted by fantasy football. Or maybe the whole process of lining up the visit was so easy (as far as the NFL is concerned, that is) that it took all the thrill out of it.
The approach
I love it when cities put their sports venues downtown. I know, sometimes there are some serious logistical, political and economic issues behind such decisions, and I'm not going to say I support municipalities and states bankrupting themselves to placate a billionaire team owner. That said, when there's a venue in a large urban area and you're there on game day, the way the area comes alive with anticipation is always a cool thing to see. We had seen it with the Twins two days before, and it was the same on this day with the Vikings. The walk from our downtown hotel was about eight or nine blocks, and with each passing block we encountered more and more Vikings fans until we could see the Metrodome.
We also saw plenty of Dolphins fans, starting in the elevator on our way down to the hotel lobby. We asked them where they were from, and they said San Jose. Uh, OK. But it's always neat to see fans travel so far to see their team play in Week 2 of the season. I'm sure they had never been to Minneapolis before and wanted to see it.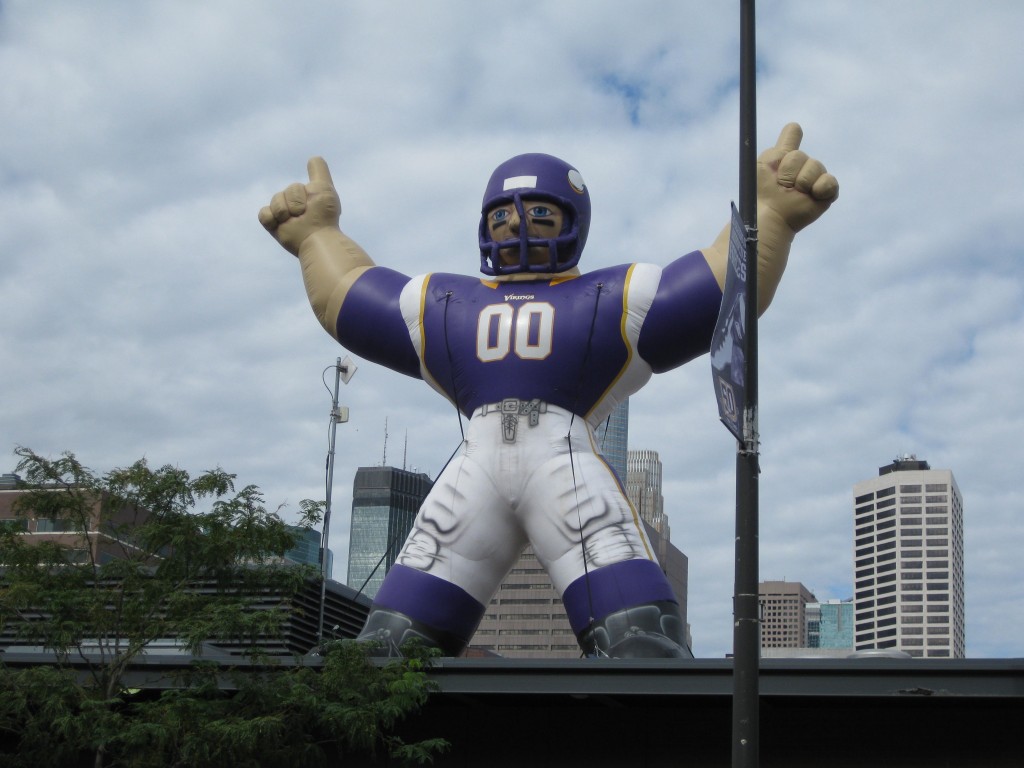 The build-up
They had closed down a street in front of the stadium to vehicles, and had set up a festival with live music and a bunch of food stands. It was like a super-crowded county fair, minus the live pigs. Fried food everywhere, a cheesy cover band and lots of kids. We walked through this area for a while, but our inherent claustrophobia soon set in and we made a beeline for the stadium. All the true tailgaters were in a parking lot on the other side of the dome from where the festival was, almost like they were sequestered there. I guess that's one drawback to putting your (football) stadium downtown.
Unlike near Target Field, there aren't too many eateries and bars and stuff near the Metrodome. So once the decision was made to leave the festival, there was nothing left to do but go in.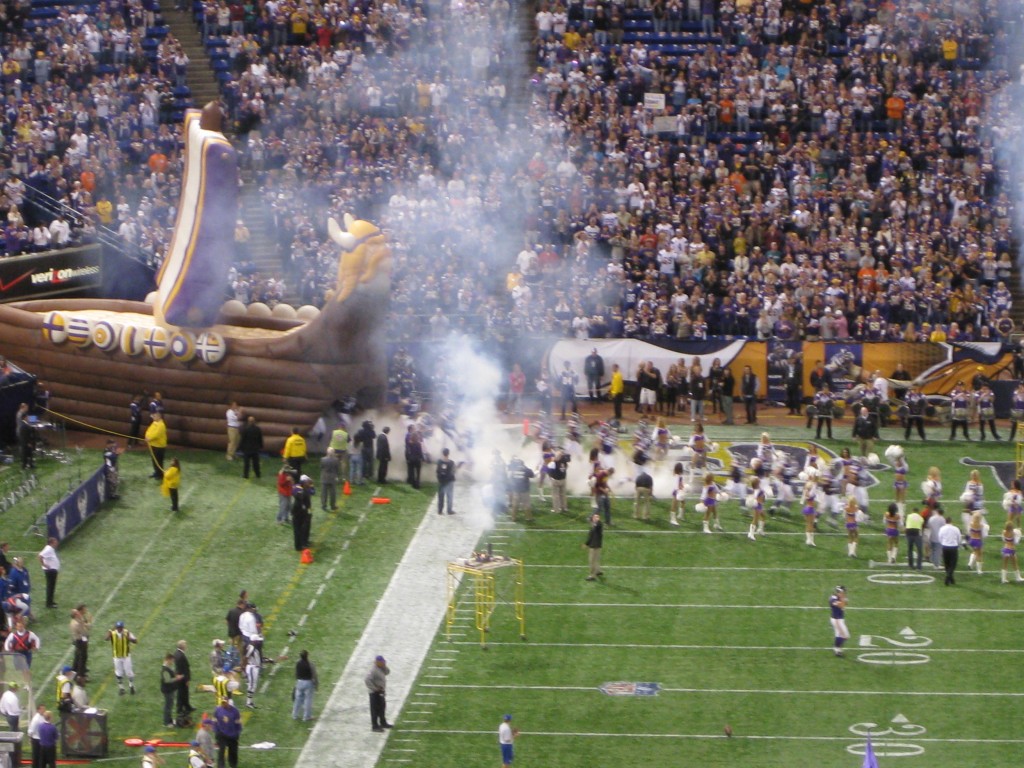 The ambiance
Back in July, when we were planning out this Minneapolis trip, I had gone on the Vikings' Web site to see about ticket availability and realized single-game tickets had just gone on sale. Fearing that the game I wanted would sell out quickly, I began to go through the purchase process, but I decided that for comparison's sake I'd check out what they were offering on StubHub first. Here's what I found: On Ticketmaster they had tickets on sale for about $60 in the upper deck, above the end zones. But on StubHub they had tickets for half that price just a few rows higher up. My logic at that point went like this: If you're already that high up, what difference does a few rows make … except an extra 30 bucks in your pocket? We went with the StubHub tickets.
Turned out those tickets were face value, and they were in the second-to-last row of the dome. They were pretty high up, but the view wasn't terrible. We had a great view of the end zone where the Dolphins stuffed the Vikings twice on goal-line stands, including late in the fourth quarter with the game on the line.
It's certainly true that the dome gets pretty loud, and that's helped by this annoying horn noise (I guess it's supposed to be reminiscent of an old Viking ship) that goes off whenever the Vikings score. Within the seating bowl, there's no doubt you're at a Vikings game — there's purple everywhere. However, if you're on the concourse you would have a hard time differentiating the Metrodome from the Bismarck, N.D., airport food court. There's pretty much no character to be found. It's like one big cement hallway with fluorescent lights. And it's not even that wide as far as football stadium concourses go.
(By the way, before Bismarckians — not to be confused with Biz Markie-ans — get upset with me, I've never been to Bismarck. I picked your city at random. The point I'm making is that part of the stadium experience should be that wherever you go within the venue, there should be no doubt who the home team is. In my opinion, they don't do a good enough job with this at the Metrodome.)
I will say that I had a pretty righteous bratwurst at the game. Now, you usually think Wisconsin when you think bratwurst, but Minnesota is close enough, and the brat I had was pretty tasty. Though initially I left the stand without sauerkraut, assuming it would be at the condiment stand with the ketchup and the relish, but it wasn't there. Fortunately I saw a Vikings fan with a sauerkraut-laden brat and procured from her the secret, that I had to ask for it at the stand. No problem. Mrs. Fan had a brat too — no sauerkraut — and later went back to get pizza bread from the DiGiorno stand, which she didn't seem to complain about. Still, when you go someplace public and get pizza, I expect to see Pizza Hut, or Domino's, or Sbarro … but DiGiorno? What's next, OreIda golden crinkles?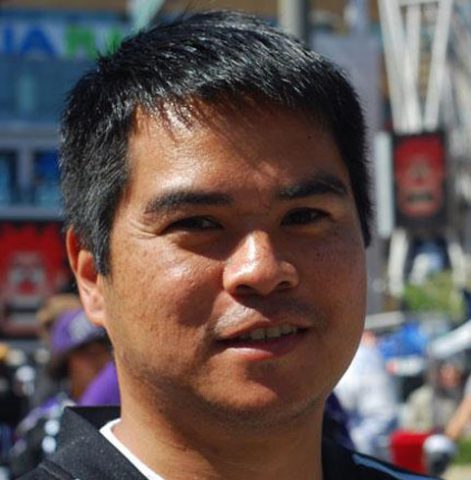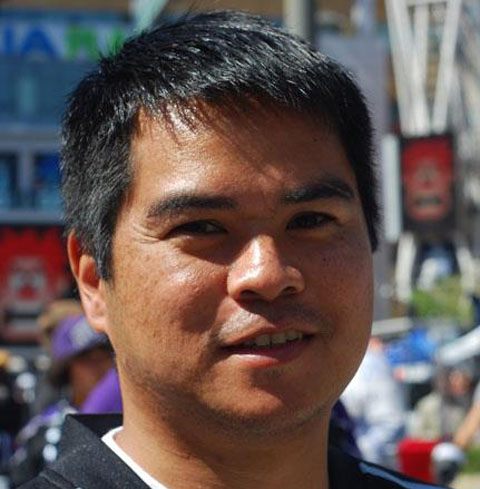 Edward de la Fuente | Itinerant Fan
I live for sports, and I love to travel. My biggest thrill is combining the two. I've been blogging about sports travel for more than a decade, and traveling for sports for twice as long.
About me | FAQ | Buy me a beer 🍺
Affiliate Disclosure
Please note that some of the links above are affiliate links, and at no additional cost to you, we earn a commission if you make a purchase. These recommendations are only for companies that we've used and have proven to enhance our sports travel experiences. To find out more about our affiliate partnerships, please read our Affiliate Disclaimer.