For being less than 20 years old, Turner Field already has an illustrious place in stadium lore. The opening and closing ceremonies of the 1996 Atlanta Olympics were held here, after which the stadium was renovated and converted into a beautiful home for the Braves. And though the franchise won its only World Series championship at the old Atlanta-Fulton County Stadium, its run of division titles continued on for nearly 10 years after moving over to the new place.
So why, then, have the Braves decided to abandon Turner Field and build a suburban palace some 10 miles north of downtown Atlanta? They have their reasons, some of which sound legitimate enough. And for any visitor to Turner Field, there are warts that you'll come across (we'll touch on both the good and the bad as this Itinerary goes along). But it seems like a perfectly serviceable place for major-league ball, with lots to see and experience.
In the end, it appears "The Ted" will meet the wrecking ball whether you like the place or not. Before that happens, though, it is certainly worth checking out, so you might as well enjoy it while you can.
The approach
Turner Field sits not far at all from downtown — about a mile south along Interstate 75, it's close enough that fans are treated to a very nice view of the Atlanta skyline beyond left field. So it's a plus for the Ted on the whole pros-and-cons list versus a new ballpark, right? Well, not exactly.
The ballpark's biggest minus, at least in my view and possibly the view of just about any visitor to Atlanta, is that it's not easily reachable by public transit even despite its proximity to downtown. MARTA, the very efficient rail service in Atlanta, goes to many spots worth visiting in the city, and offers a direct link to the airport. But it doesn't go anywhere near Turner Field.
If you check out the "Public Transportation" page on the Braves' website, it'll mention that the closest stop is Georgia State, and then (and I quote): "… it's just a short stroll south (less than a mile) on Capital (sic) Avenue to Turner Field." What it doesn't mention is that during most of the summer months, Atlanta has oppressive enough humidity that you wouldn't want to make that walk, and that you'd be walking a very busy thoroughfare as it goes over two freeways and then through vast parking lots. It's doable, sure, but not very desirable.
Option 2 listed on the site is what I chose: take MARTA to Five Points (it is the main transfer stop for the system — every line passes through it), then follow the clearly marked "Braves shuttle" signs to a bus depot, where buses will be waiting to take you starting 90 minutes before first pitch. (Be forewarned that getting from the station to the bus depot means walking all the way through the Atlanta Underground, ie. the station and depot are not exactly right next to each other.) They're free as long as you show them the Breeze card you need to ride MARTA in the first place.
If you're going early enough, as I did, it is a pleasant enough experience — the buses drop you off just across the street from the left-field gate. Just like with any bus service, though, know that it'll be a cattle call to get on a bus after the final out.
For drivers, most of the parking is north of the ballpark, with prices ranging from $8 to $15 depending on how close you are. At the game I attended, it appeared as though most fans were using the lot directly north (you'll know it by the long blue wall denoting the site of the old Fulton County Stadium), which wasn't anywhere near full about 75 minutes before the 7:30 first pitch.
The build-up
Another strike against Turner Field — and this is the reason I most often hear Braves fans cite for why they're OK with the team packing up and moving out — is the neighborhood it's in. There are a couple random restaurants and hotels nearby, but otherwise you're looking at dimly lit residential areas. Having experienced it first-hand in the past, it's not the most comfortable area to be walking through at night. Whether the area is as bad as a lot of fans think, I don't know. Does it justify the Braves jumping ship? I also don't know.
So Turner Field really does feel like a commuter ballpark — you show up, you go inside the ballpark, and when the game is over, you leave. As for those random restaurants, one looked pretty busy. It was called the Bullpen Rib House, and usually ribs are near and dear to my heart, but I didn't go in. Maybe next time, if there is one.
The ambiance
Once you're inside, the Ted is a great place to watch a game. Start, as most people do, by going through the left-field gate along Georgia Avenue — before meeting up with ticket-takers, you'll find yourself in a tree-lined plaza full of things to look at, including statues of Hank Aaron and Warren Spahn. Then, past the turnstiles, the center-field plaza includes a food court, picnic tables and the team store. All of this occupies the land that was once needed for a stadium big enough to hold a track (look at the roundabout route Georgia Avenue takes around the site on a map for more evidence of that).
The food selection is your typical hot-dog-and-Cracker-Jack scene, with a few notable exceptions: BBQ (wish I had the appetite for a turkey leg, but oh well), sushi (really?), shrimp po-boys (again, not hungry enough) and chili cheese fries. But to me the gem of Ted concessions is on the main concourse out in left field: a Waffle House stand, offering waffles with different toppings and hash browns smothered, covered, etc. If you've never been to a Waffle House you might not understand the allure, but if you don't live in the South, it's something you should experience at least once to say you did.
My seats were in the upper deck, behind a very large and boisterous group of young people, all of them wearing Hank Aaron jerseys (gotta love that, especially since none of them appeared old enough to have been able to watch Hank Aaron play). It being Friday night, the crowd skewed younger and was pretty into the game, even after the Braves fell behind 5-0 on their way to a loss to the Padres. Me, I was enjoying my perch — in the shade at first pitch, and as the sun fell, I was treated to that aforementioned view of the Atlanta skyline. You probably need to be in the upper deck to fully enjoy it, but for me it's one of the more underrated ballpark views in the majors. Don't think they'll be able to replicate that 10 miles north.
Return to Itineraries | Return to The Itinerant Fan homepage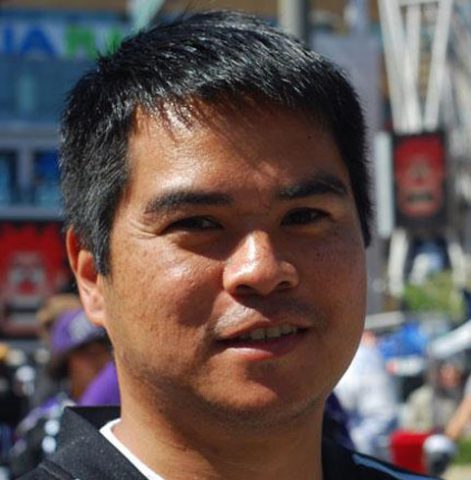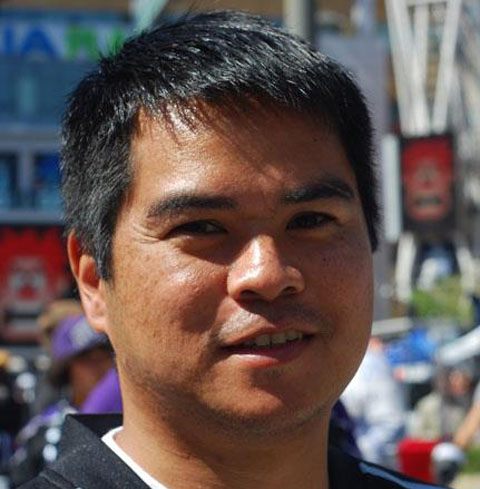 Edward de la Fuente | Itinerant Fan
I live for sports, and I love to travel. My biggest thrill is combining the two. I've been blogging about sports travel for more than a decade, and traveling for sports for twice as long.
About me | FAQ | Buy me a beer 🍺
Affiliate Disclosure
Please note that some of the links above are affiliate links, and at no additional cost to you, we earn a commission if you make a purchase. These recommendations are only for companies that we've used and have proven to enhance our sports travel experiences. To find out more about our affiliate partnerships, please read our Affiliate Disclaimer.