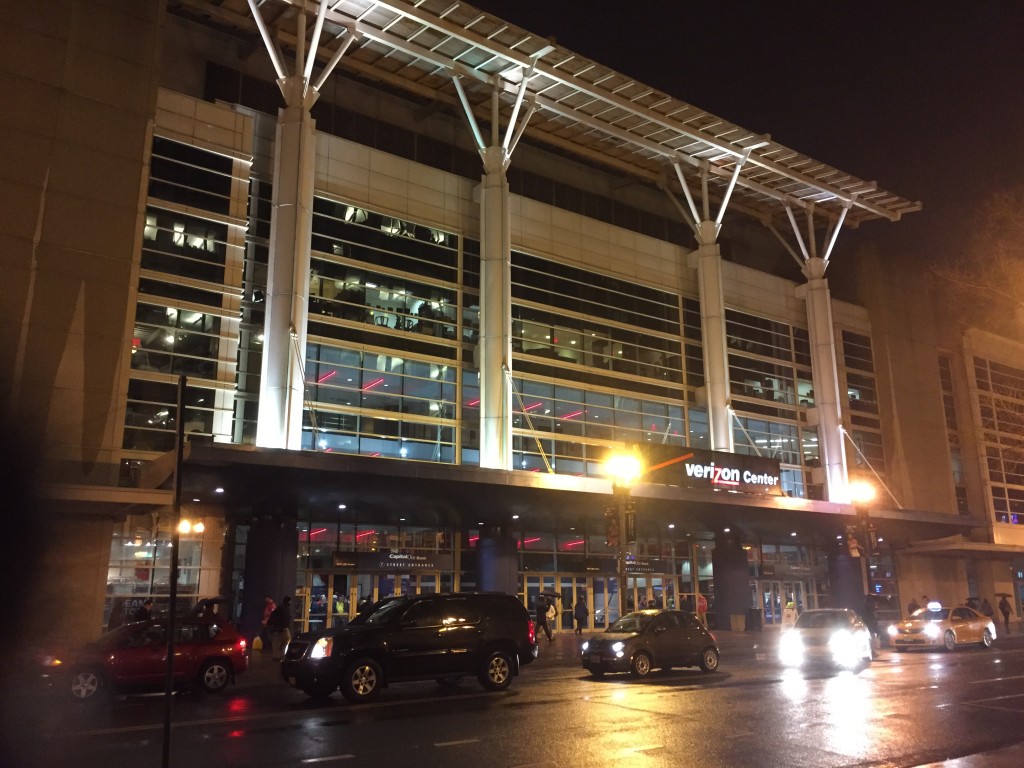 When you think of our nation's capital, you think of historic monuments, amazing museums, and more government entities than you can shake a stick at. But the people of Washington, D.C., also care deeply about their sports, because you know, you have to break up the government monotony somehow. And even if their Football Team Who Shall Not Be Named keeps making headlines for its not-so-PC name and other crazy off-field antics, they've still got a pretty decent pro basketball team and some guy named Alex Ovechkin playing on their hockey team. Both the Wizards and the Capitals even get to play in a lovely little building called the Verizon Center nestled in the heart of D.C.
We at The Itinerant Fan are huge hockey fans, so when the chance to take in the Capitals at Verizon Center came up on a wet winter day, of course I had to go. My company for this game was my Flyers-loving, Danny Briere-T-shirt-wearing fellow hockey fanatic Noisy Summer. And while neither of us had a rooting interest in this game, it was an enjoyable time nonetheless, if only for the ridiculous side commentary we made throughout the game.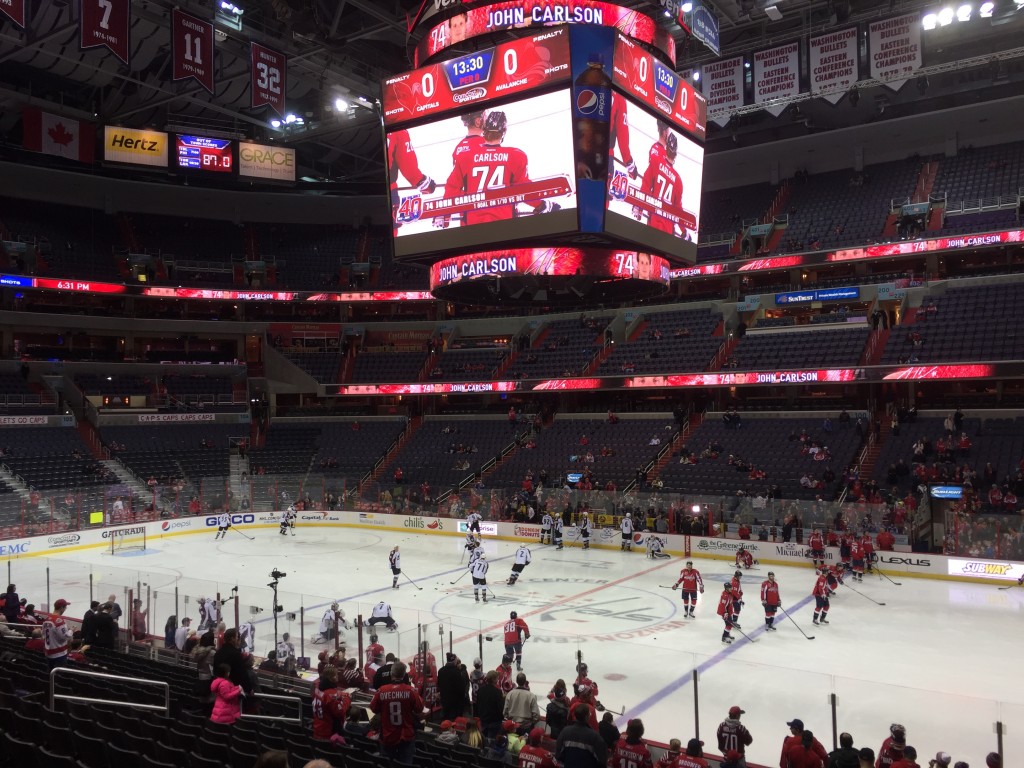 The approach
Verizon Center is centrally located, and luckily, easy to get to … except on this particular night. It so happened that earlier in the afternoon, a fire occurred in a Metro tunnel at a major artery and interchange, causing complete chaos. Verizon Center happens to be attached to the Gallery Place station (a major transfer point for the D.C. Metro). I had been hanging out at the National Mall earlier in the afternoon and had a refillable Metro pass. I finished my day at the Smithsonian National Art Gallery, located on 7th Street, and planned to make the short walk to Archives Plaza and hop Metro one stop from there. (Normally, I wouldn't be so lazy, but I had the convenience of the pass and it was raining.)
However, non-stop sirens were blaring, and the Metro station at Archives Plaza seemed like a giant mess, so I continued up 7th to get to Verizon Center. I was greeted by a crushing mass of people — it was rush hour, after all — but honestly, had never seen so many people at that particular corner. I waited at Gallery Place for Noisy Summer, who was coming from work from the north, and word slowly filtered through about the fire and Metro closures. It turned out that Gallery Place was the stopping point for most trains, hence the giant crowd of people outside trying to catch shuttle buses. Luckily, Noisy Summer was able to get all the way down to Gallery Place despite the chaos, and we had plenty of time before puck drop.
Under normal circumstances, the Metro is a sure bet to Verizon Center, and as I said, it's a very walkable distance on a nice day/evening. Driving might be another story, though — remember, you're in the heart of the city, parking probably costs and arm and a leg, and I still believe Washington, D.C., is probably the most confusing city to drive in (thanks, diagonal streets).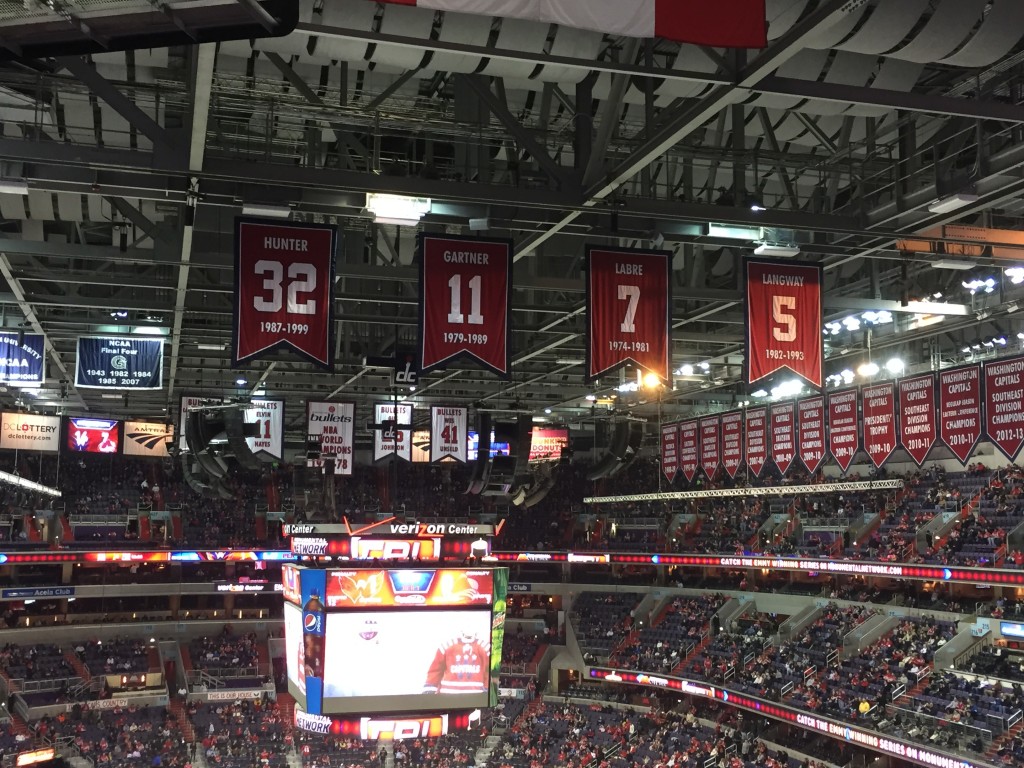 The build-up
Being in the middle of everything, your options for fun pre- and post-game are excellent. You could make it an all-day outing and take in the sights and sounds of the capital. The National Mall is a manageable walk. The National Portrait Gallery is across the street, and the International Spy Museum and the Museum of Crime and Punishment are nearby, if you're into that kind of thing.
There are lots of restaurant and bar choices in the immediate area (Shake Shack is down the street, and Noisy Summer and I went to a cool izakaya across the street after the game), plus Gallery Place is a mall with all the mall accoutrements you could need. Your entertainment options are pretty stout.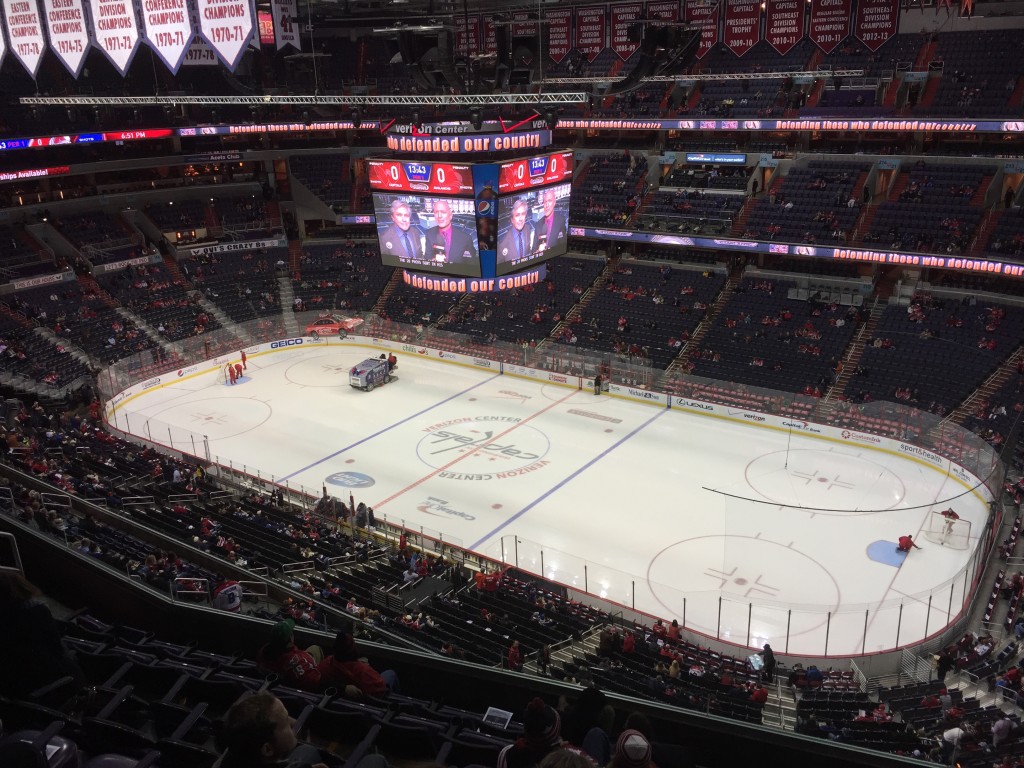 The ambiance
Verizon Center is a nice, modern building. The corridors feel a wee bit tiny, but luckily, it wasn't like there were a ton of people milling about beforehand, so it didn't feel sardine-like. The food options are pretty standard — I didn't see a single Ben's Chili Bowl stand, which was mildly disappointing — but do be aware that even though some of the stands have the same name, they don't necessarily serve all the same food at each stand. Case in point, Noisy Summer and I were contemplating our food options at one point — shrimp and chip platter, maybe? — but decided to walk farther down a corridor to think about it more. When we did decide to get food at that particular stand, I happened to look ahead and saw a stand of the same name just up ahead and close to where our seats were. So we walked up to it and it offered completely different food. It worked out for my companion, who decided burger and fries were more her style, but I was sadly left shrimp-and-chip-less (I settled on a pretzel).
And speaking of concessions, here's the other you notice off the bat when you do settle into your seat — the cup holders are too small. I didn't think it was possible, but it was. My bottle of water didn't fit in the cup holder, and it was a pretty standard sized bottle of water. Noisy Summer's tall can of Miller Lite didn't fit in her cup holder, either. It was a bit baffling.
That aside, Verizon Center is a pretty fun place to take in a game, and we were treated to a pretty good one that came down to the wire before the Caps nailed down a close win. The fans are boisterous, know their stuff (or at least the ladies behind me did), and are very nice — except for two guys who refused to sit down in the last minute or so of the game and went so far as to flip off the people behind us who were yelling "down in front!" But everyone does Rock the Red, as it were — even the lights have red hues, so it's an awful lot of red in between periods. It's also really, really, really loud in there. I'm surprised no one is deaf from the goal horn or the police siren that comes on after goals.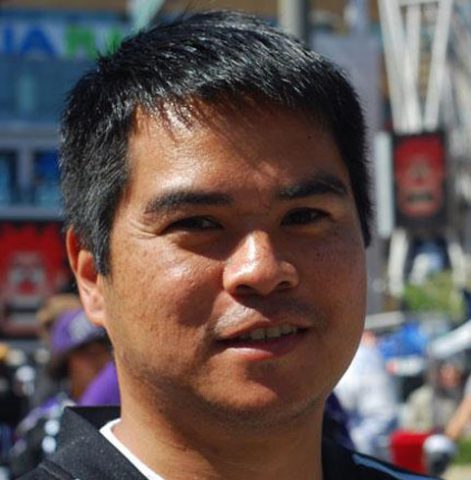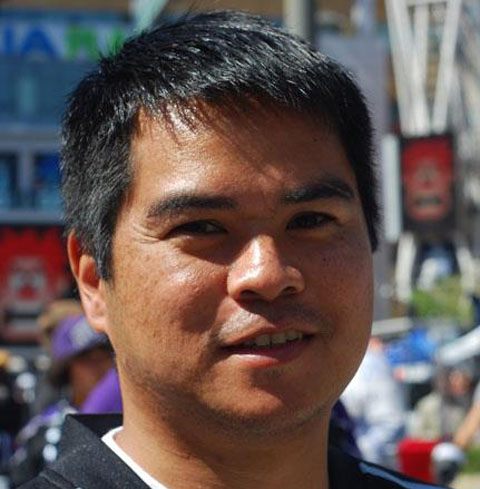 Edward de la Fuente | Itinerant Fan
I live for sports, and I love to travel. My biggest thrill is combining the two. I've been blogging about sports travel for more than a decade, and traveling for sports for twice as long.
About me | FAQ | Buy me a beer 🍺
Affiliate Disclosure
Please note that some of the links above are affiliate links, and at no additional cost to you, we earn a commission if you make a purchase. These recommendations are only for companies that we've used and have proven to enhance our sports travel experiences. To find out more about our affiliate partnerships, please read our Affiliate Disclaimer.