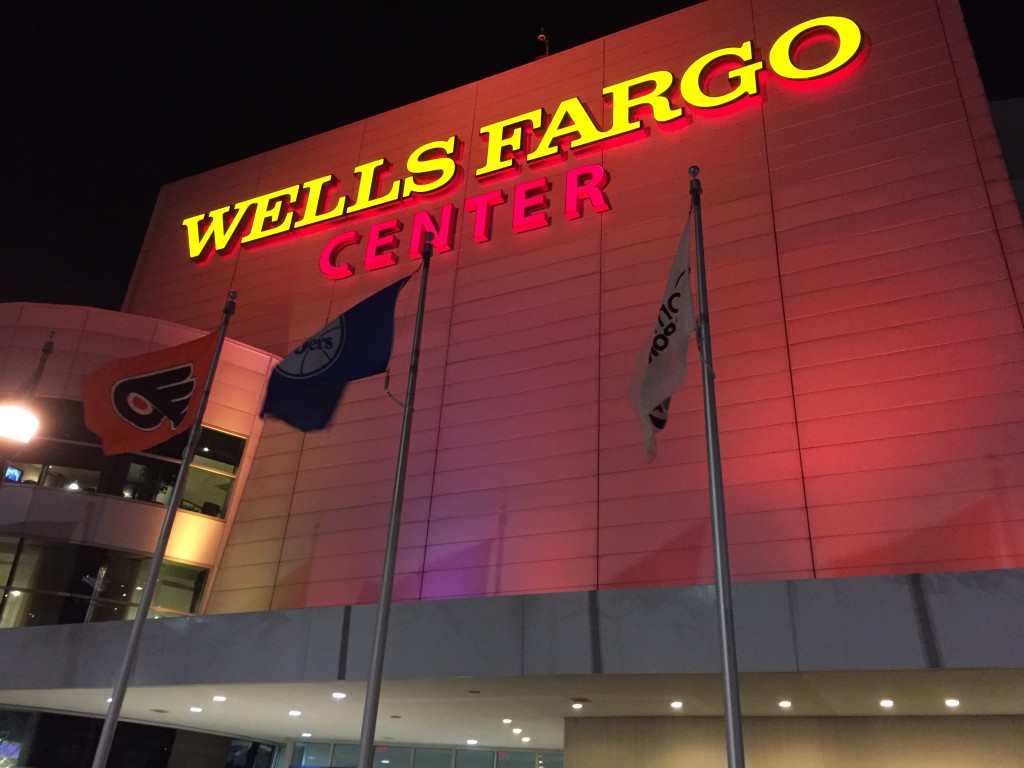 Ah, Philadelphia. The land of Ben Franklin, the Liberty Bell, and all kinds of colonial history also has a rich sports history as well — though if you're a fan of all teams Philadelphia, that history is probably littered more with close calls and heartbreak than it is with championship memories. Philadelphians are no doubt passionate about their sports — all of them — and while Philadelphia fans get a bad rap in general for being boorish, battery-throwing, Santa-booing fools, the reality is that they're not all like that as long as you don't poke the bear. Having lived in neighboring Delaware for a few years previously (let's be honest, the northern part of Delaware is practically a Philadelphia suburb), I've met my fair share of Philadelphia sports fans and enjoyed the company of many of them.
Most of my sports viewing in Philly has consisted of baseball games, but this time around, on a bitterly cold January day, hockey was the order of the day. It had also been several years since I'd been inside the CoreStates First Union Wachovia Wells Fargo Center — it was still the First Union Center the last time I went to a Flyers game — so I figured the ol' barn was worth a visit. Besides, the Flyers play some highly entertaining firewagon hockey (if you're into that sort of thing), though if you're a Flyers fan, you probably think they're one giant tire fire. But it's an entertaining tire fire at least.
The approach
Wells Fargo Center sits in South Philly, in what's known as the Sports Complex. It shares space — and a vast ocean of parking lots — with Citizens Bank Park (home of the Phillies) and Lincoln Financial Field (home of the Eagles). Once upon a time, the old Spectrum and the Rocky statue also sat in this complex, but alas, the Spectrum is now RIP and the Rocky statue has been moved near the Philadelphia Museum of Art (appropriately, near the Rocky steps).
Getting to Wells Fargo isn't particularly difficult, as it's near I-95 and again, has oceans of parking on the premises. If you're car-less, like I was, the SEPTA Orange Line's southern terminus is at the edge of the sports complex, at AT&T Station. Any of the three venues are a short walk from this train station, though Wells Fargo is probably the closest walk from the station (handy, since it was 15 degrees or so on this particular evening).
SEPTA is pretty easy to use and not terribly expensive, so I'd recommend it. Just a tip: Make sure you have cash and try to buy your return fare token (a mere $2.25) before the game or else you'll encounter a huge crush of people trying to pay for tokens after the game and you'll have to wait in line. Or, if you're wandering the city and using public transit a fair amount, you can do what I did and buy an Independence Pass for $12, which will get you on any bus or light rail train for the entire day. And again, bring cash. All subway stations in Philly accept cash only, even for passes, and SEPTA is one of the few remaining public transit systems that still requires individual tokens to get past the turnstile, unlike other transit systems, like New York's MTA or D.C.'s Metro or even Los Angeles' Metro, where you can buy a fare card and refill it as many times as you like (and it can be refilled with debit or credit cards). Don't get stuck!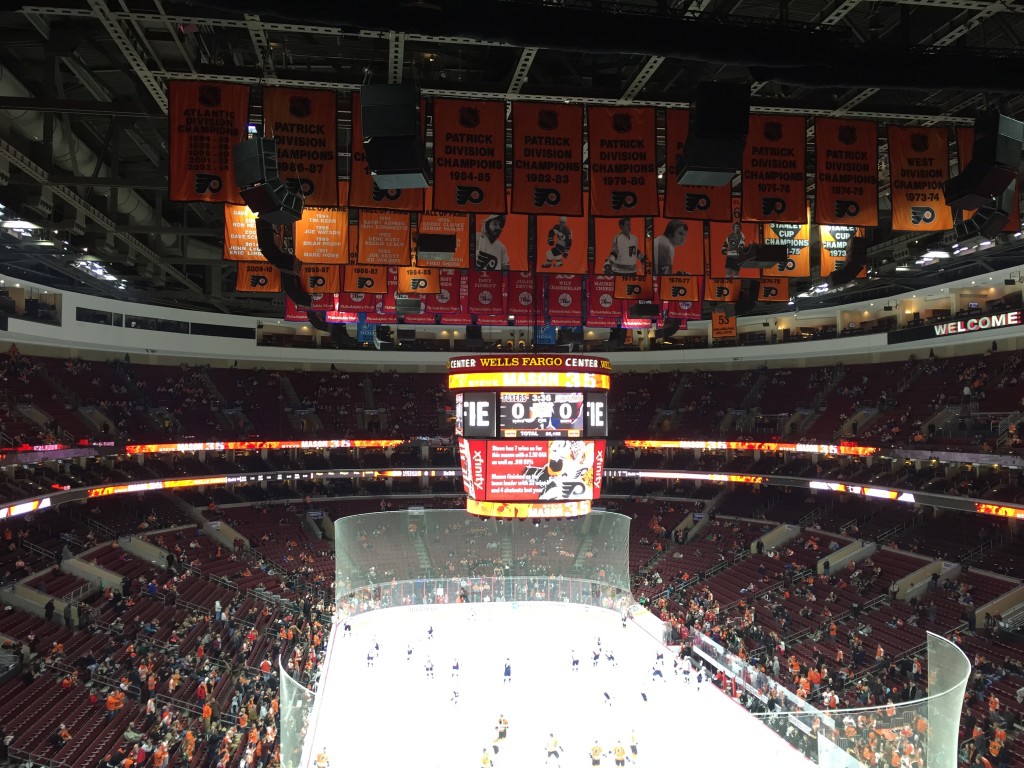 The build-up
The only problem with the sports complex is that there's really not a whole lot around it, as far as bars or hangouts go. There is a spot called Xfinity Live that replaced the former footprint of The Spectrum, and that's got some eateries and watering holes. But beyond that, you're in a bit of a desert. Xfinity Live is closer to Citizens Bank Park than it is to Wells Fargo, so you've gotta hike across the parking lot ocean to get there. (I personally wasn't all about this 15 degree weather, so I didn't detour to Xfinity Live.) I did arrive a little more than an hour before game time and there were already plenty of people milling about and making their way inside the arena, so that's an option too. Even if you're not hanging out to watch warmups, there is a pub inside Wells Fargo, so you can get your eat and drink on in there.
If you prefer to do your hanging out before you get to the arena, just go up Broad Street and Center City and South Philly are your oyster. There are tons of bars and spots to hang out on either side of Broad Street, especially just south of City Hall. The Orange Line runs down Broad Street, so it's not hard to find a subway station and hop a train to the arena when you've had your fill.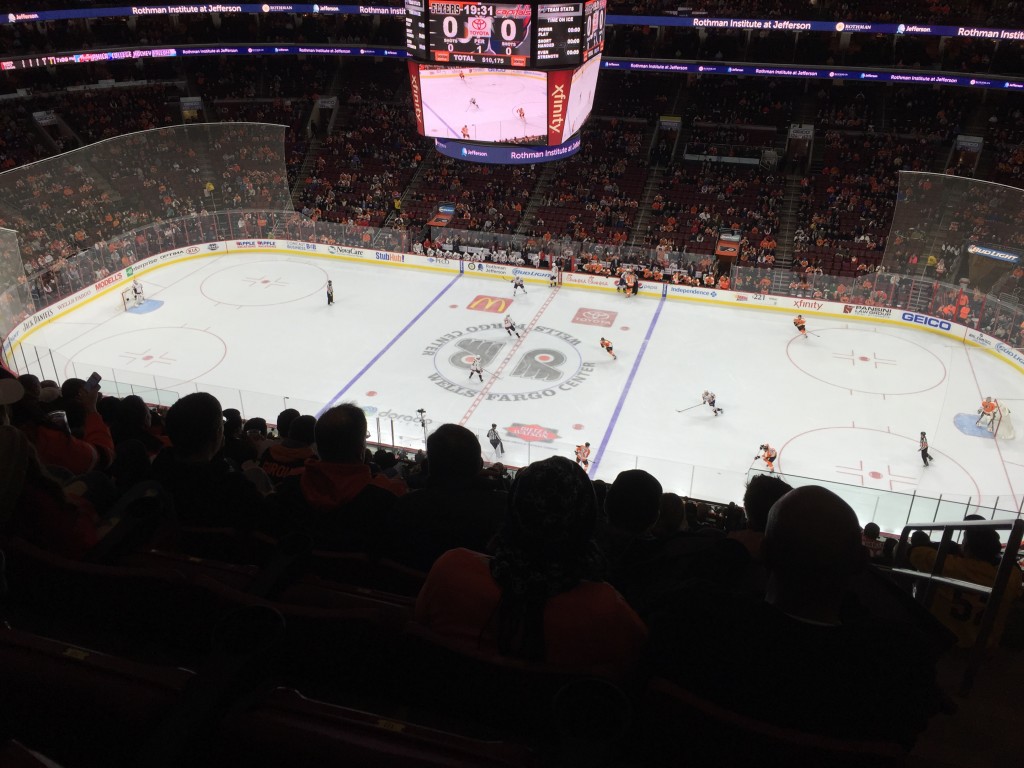 The ambiance
Once you get inside Wells Fargo Center, it's nice and cozy. The building has been around for about 20 years, but it still feels modern and not terribly cramped. The lower level has tributes to both the Flyers and Sixers scattered throughout, including a display commemorating the Sixers' last run to the NBA Finals, the Flyers' Hall of Fame, and my personal favorite, an entire display of hats collected after various Flyers' hat tricks over the years. You could easily spend a good chunk of time peering into the glass cases and spotting all the fun non-Flyers memorabilia that's made its way in there, including a random bra. There are also bubble hockey machines spread throughout the concourses, particularly on the upper floor, so you can play your friends for a beer if you so desire.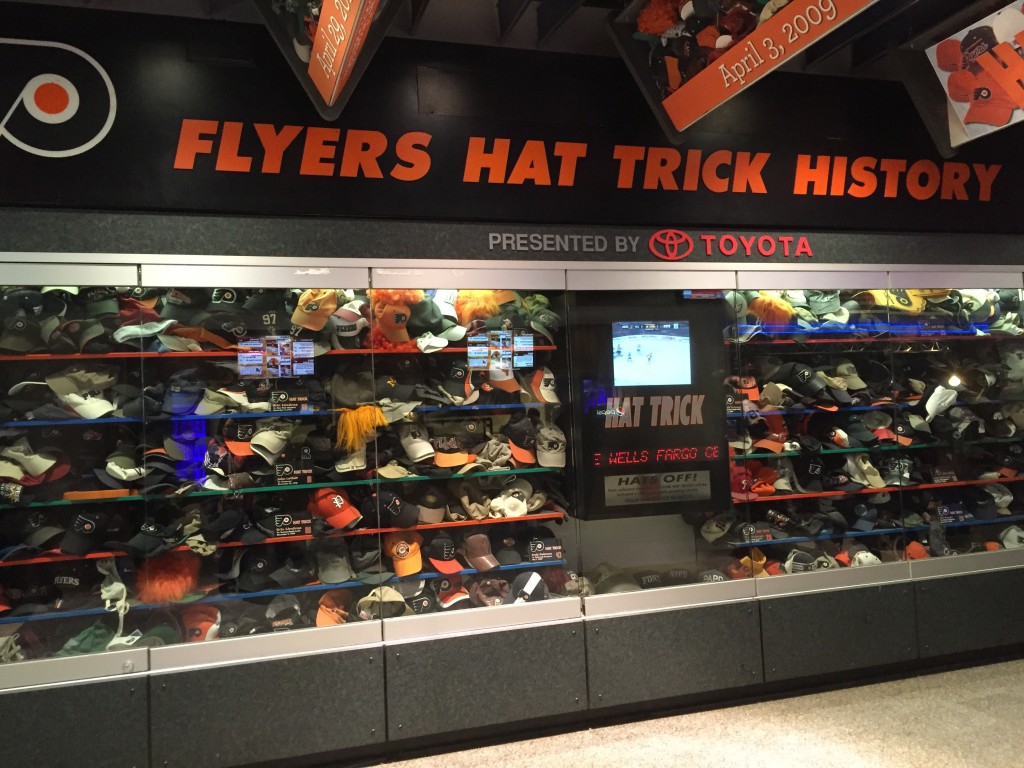 If you get there early, there is a P.J. Whelihan's pub on the lower level with full seating if you're looking for a place to hang out. There are TVs and stuff like that there, too. There is the usual array of food and drink throughout (beers, hot dogs, pretzels — though Philly-style pretzels are a godsend). You could get a Philly cheesesteak from Campo's if you so desire, but personally, I'm a huge fan of the Chickie's and Pete's crab fries with cheese. To me, that's a Philadelphia stadium staple (you can get them at the other sporting venues as well). There are two Chickie's and Pete's locations in the arena, one downstairs and one upstairs. The downstairs location has other food besides the fries (chicken strips and stuff like that), as well as the option to get the fries without cheese, but seriously, why would you bother to get the fries if you weren't getting cheese?! The upstairs location is all about beer and drinks and fries with cheese only. The bonus is that the cheese comes in a sidecar attached to the container of fries, which is a genius touch that makes transporting said food and dipping into the cheese while sitting in your seat 10,000 times easier. (This sidecar innovation definitely wasn't available the last time I went to Citizens Bank Park, so kudos to whomever thought to do this for the Flyers and Sixers fans.)
Getting around the arena itself isn't too hard, as there's good signage everywhere, and people are pretty nice. You could hang out in the lower bowl for warmups — it's pretty roomy down there, whether you decide to sit in the first few rows or hang out in the aisles. There are two escalators to the upper level and easy enough to get up there. (After the game, though, you'll probably want to take the stairs down because these escalators get super crowded and claustrophobic.)
My seat was in the upper level, maybe five or six rows from the top. It sounds high up and far away, but it's actually not. I still felt pretty close to the ice for being up in the last level. One thing that I really appreciated as I climbed the steps armed with my fries, cheese, and a cup of water — no bottles in the stands, folks — is that the steps are clearly labeled with the corresponding row letter. Those letters are really brightly colored too, so they're hard to miss. I can't tell you how helpful this is, and I don't know why all arenas don't do it. It made looking for my seat a breeze while I was climbing the steps and trying not to fall with my hands full.
Once in my seat, I settled in and enjoyed a pretty entertaining game in which the Flyers beat the Capitals in overtime. The fans up there were a spirited bunch, with a few Caps fans sprinkled about (including one behind me who kept yelling "I love you, Braden Holtby!"). My personal favorite fans, though, were a group of four guys decked out in Flyers jerseys in my row. One of them clearly kept cheering on the Caps despite the fact he had on a Flyers jersey. At some point during the game, the Caps fans behind me asked anti-Flyers boy what his deal was. He replied, "This jersey belongs to my buddy and he made me wear it. I'm actually a Devils fan." Everyone laughed. And there were no batteries thrown, no beer spilled, and no one got hurt. Just good, clean hockey fun.
For more on Philadelphia venues and things to do, check out our Philadelphia city guide.
Return to Itineraries | Return to The Itinerant Fan homepage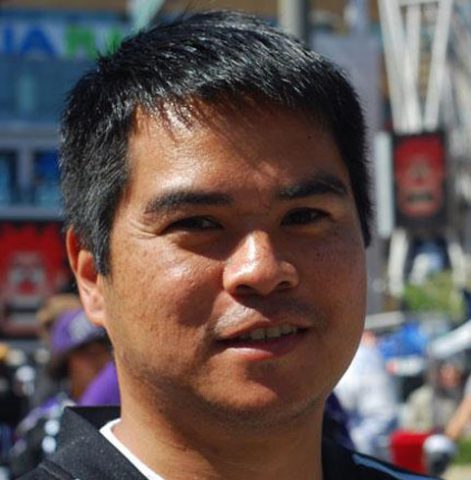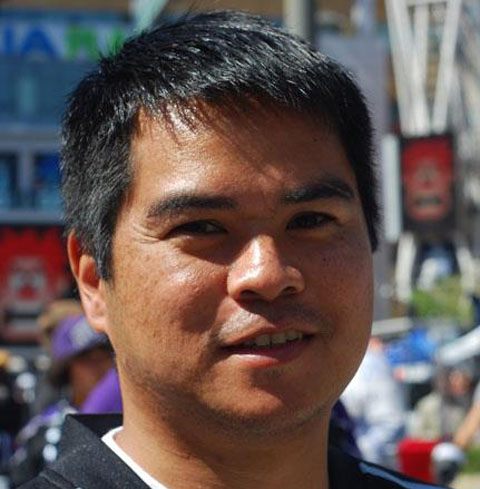 Edward de la Fuente | Itinerant Fan
I live for sports, and I love to travel. My biggest thrill is combining the two. I've been blogging about sports travel for more than a decade, and traveling for sports for twice as long.
About me | FAQ | Buy me a beer 🍺
Affiliate Disclosure
Please note that some of the links above are affiliate links, and at no additional cost to you, we earn a commission if you make a purchase. These recommendations are only for companies that we've used and have proven to enhance our sports travel experiences. To find out more about our affiliate partnerships, please read our Affiliate Disclaimer.