Gila River Arena
Our guide to Gila River Arena in Glendale, Arizona, home of the Arizona Coyotes, includes information on events, tickets, parking, public transportation, nearby hotels and restaurants, seating and more. Read on to find out how to get the most out of your gameday experience.
* * *
You might think that hockey is a curious event to find in the Valley of the Sun, but then you step into Gila River Arena and realize that the Phoenix area really does care about the sport.
After all, the Arizona Coyotes have been around for 25 years, having moved from Winnipeg in the mid-1990s, and despite enjoying only a few fleeting moments of success during that time, the franchise has established itself in the community and the game has taken root, with rinks around the region.
Gila River Arena, located in the Phoenix suburb of Glendale, is a fine place to watch hockey in the desert, and has been improved in recent years with the addition of things like a larger videoboard.
It's certainly an improvement over the Coyotes' original home in Arizona, the former America West Arena (now Talking Stick Resort Arena), which was ill-equipped for hockey and offered thousands of obstructed-view seats.
Clearly, many fans do love coming to Arizona to see hockey, judging by the many opposition jerseys visible in the stands almost regardless of who the Coyotes are playing. That part of it is a shame, but the Coyotes do have a loyal fan base, and they have a pretty nice arena in which to watch their team play.
Well, at least for now. Thanks to lease troubles with the city of Glendale, the Coyotes are moving out after the 2021-22 season to a much smaller events center across town, on the Arizona State University campus in Tempe.
For now, it's worth visiting Gila River Arena, which lies in the center of a shopping and entertainment district that includes the Cardinals' State Farm Stadium, and has become a focal point for large-scale events such as concerts in the West Valley. And when it's a Coyotes game night, the folks there do go to great lengths to make all hockey fans feel welcome, whether you're rooting for the home team or not.
For more on visiting Glendale, Arizona, check out our Phoenix sports travel guide.
Getting to the arena
Glendale isn't close to downtown Phoenix, which is one of the drawbacks of the facility. But in the ever-burgeoning Valley of the Sun, there's more and more to do in more and more far-flung places that are worth driving to, so in the grand scheme of things it's not that far away.
Generally, from downtown you're looking at a 15-20 minute drive without traffic, and tack on 5-10 minutes if you're coming straight from Sky Harbor Airport, on the east side of downtown. The route is simple enough — take Interstate 10 west to Loop 101 north, and proceed about 6-7 miles to either Bethany Home Road, on the arena's south side, or Glendale Avenue, to the north.
If you just hate driving and parking, public transportation isn't really an option unless you like doing a lot of transferring. Phoenix's Valley Metro Rail doesn't come close to Glendale, and from the westernmost stop you'll have to ride the bus up to Westgate. It's doable but not very practical.
If your main reason for visiting Phoenix is to see hockey and you don't have a car at your disposal, consider staying at one of the many hotels near Gila River Arena, including a Renaissance hotel right next door.
Parking at Gila River Arena
Once you've arrived, you've reached the sprawling Westgate Entertainment District and a rather interesting parking situation. The center, with Gila River Arena anchored on the south side, is surrounded by large parking lots.
In the past, fans heading to a Gila River Arena event could simply park somewhat far away from the arena for free and walk through the center. The lots closest to the arena would be closed off and labeled "Coyotes Parking" or "Event Parking," and if you were in possession of a permit or were willing to pay to be close by, you'd use it and pay the fee. But the vast majority of patrons did not.
That has changed now that Westgate has implemented a system in which everyone who enters has to pay $15 if there is an event going on at Gila River Arena or State Farm Stadium that day — whether or not you're attending. Then, if you patronize one of the businesses in the center and present your parking receipt upon payment, you'll receive a $15 discount.
Paid parking at Westgate begins three hours prior to any Gila River Arena event, including Coyotes games.
Glendale hotels near Gila River Arena
• Renaissance Phoenix Glendale Hotel & Spa – 0.1 miles away
• Home2 Suites by Hilton Glendale Westgate – 0.3 miles away
• Aloft Glendale at Westgate – 0.4 miles away
Search for more Glendale hotels on Booking.com.
Map of the surrounding area
Things to do around the arena
The Westgate Entertainment District has an impressive number restaurants and bars, including a few literally next to the arena's main gate. It also has some retail, a big movie theater, a giant fountain/park area (especially popular with the kids) and townhomes.
Go a little farther out, and you'll find even more restaurants, shops and hotels in surrounding centers, including a few stores and hotels north of Glendale Avenue.
If you are walking through the main entertainment complex on your way to Gila River Arena, it is pretty cool to see fans spilling out of the nearby restaurants, hanging out next to the fountains, checking out events at the plaza and engaging in other general merriment before going inside.
It makes for a nice atmosphere, and the Coyotes do their part by putting up giant inflatable Coyote players and staging youth street hockey games.
Glendale restaurants near Gila River Arena
• Whiskey Rose – American, 0.1 miles away
• Saddle Ranch Chop House – steakhouse, 0.1 miles away
• Yard House – American, 0.2 miles away
Search for more Glendale restaurants on Tripadvisor.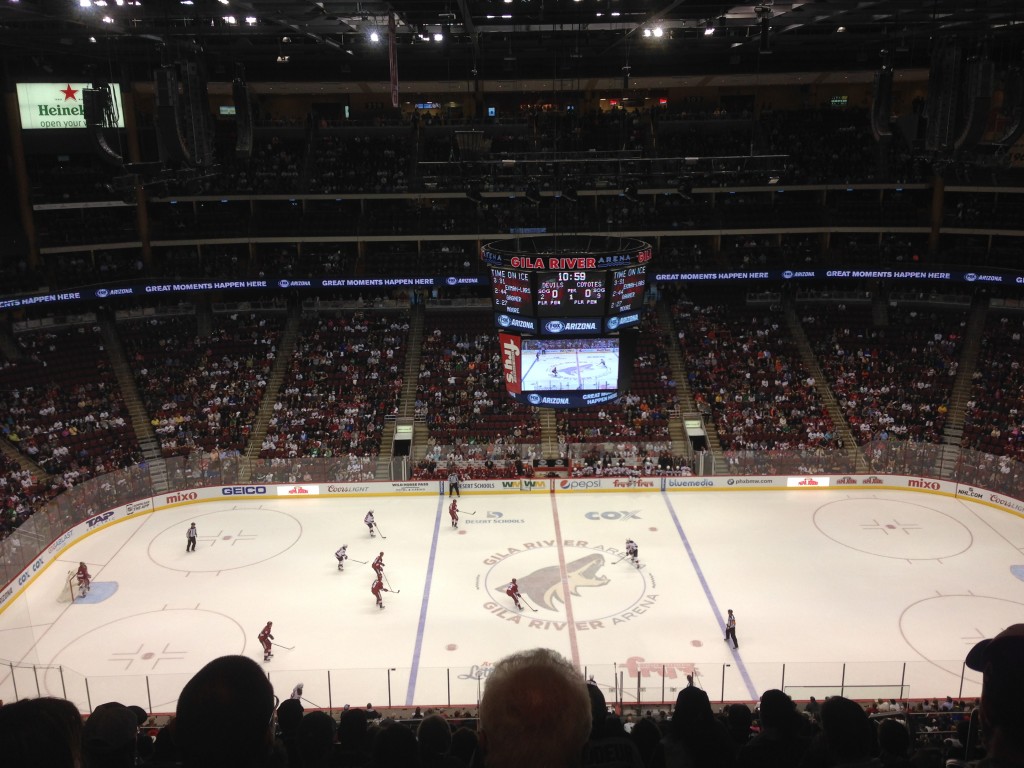 Watching a game at Gila River Arena
Once you step inside (and happily out of the heat, depending on the time of year you're visiting), Gila River Arena offers everything you'd expect in a modern arena, with ample seating and room to move around. It's big but not huge, and with a fair amount of concessions choices but not overwhelmingly so.
One distinct design feature of Gila River Arena: The upper concourse is above the upper seating level, so fans in that level can walk down to their seats — and it also creates standing-room viewing points as well as opportunities for patrons going to the bathroom or getting food to still keep an eye on the action during their event.
The Coyotes do a terrific job with game presentation at the arena — something that was enhanced for the 2018-19 season with the addition of a new HD videoboard at center ice.
During a game at Gila River Arena, expect to hear a lot of coyote howls echoing through the seating bowl — such as when the home team scores, of course (along with the team's very appropriate choice of goal song, "Howlin' For You" by the Black Keys), and when it goes on a power play.
Food and drink at Gila River Arena
The food menu at Gila River Arena has changed a lot over the years as new vendors and dishes get rotated in and out. But a recent focus on local restaurants has made the concessions worth sampling. It's definitely worth walking around the concourse to see what's available.
Phoenix-area restaurants that now operate at the arena include Brat Haus, which serves sausages and beer, and Gadzooks, offering "festival" tacos. There are plenty of individual dishes worth trying at Coyotes games, such as the Chicken & Donuts sandwich (fried chicken on a donut bun), a twisted churro served with chocolate sauce, and Tocchet's Totchos, a specialty nacho dish named after Coyotes head coach Rick Tocchet.
Gila River Arena has opened a beer patio called the Dos Equis Deck, which includes outdoor seating. It's located on the club level but it's open to all patrons. As for beer selection, Bud and Coors are widely available but you can also find plenty of brews from Arizona-based Grand Canyon Brewing.
Affiliate Disclosure
Please note that some of the links above are affiliate links, and at no additional cost to you, we earn a commission if you make a purchase. These recommendations are only for companies that we've used and have proven to enhance our sports travel experiences. To find out more about our affiliate partnerships, please read our Affiliate Disclaimer.
The Particulars
Home Teams
Arizona Coyotes
Address
9400 W. Maryland Ave.
Glendale, AZ 85305
Year Opened
2003
Capacity
17,125
Upcoming Events
All times local
Arijit Singh
Sunday, June 5, 2022
6:00 pm
Get tickets at Ticketmaster »

Justin Bieber
Thursday, June 30, 2022
7:30 pm
Get tickets at Ticketmaster »

Dude Perfect: That's Happy Tour 2022
Sunday, July 17, 2022
6:00 pm
Get tickets at Ticketmaster »

The Lumineers - BRIGHTSIDE World Tour
Tuesday, July 26, 2022
7:00 pm
Get tickets at Ticketmaster »

Hot Wheels Monster Trucks Live
Saturday, August 6, 2022
12:30 pm
Get tickets at Ticketmaster »