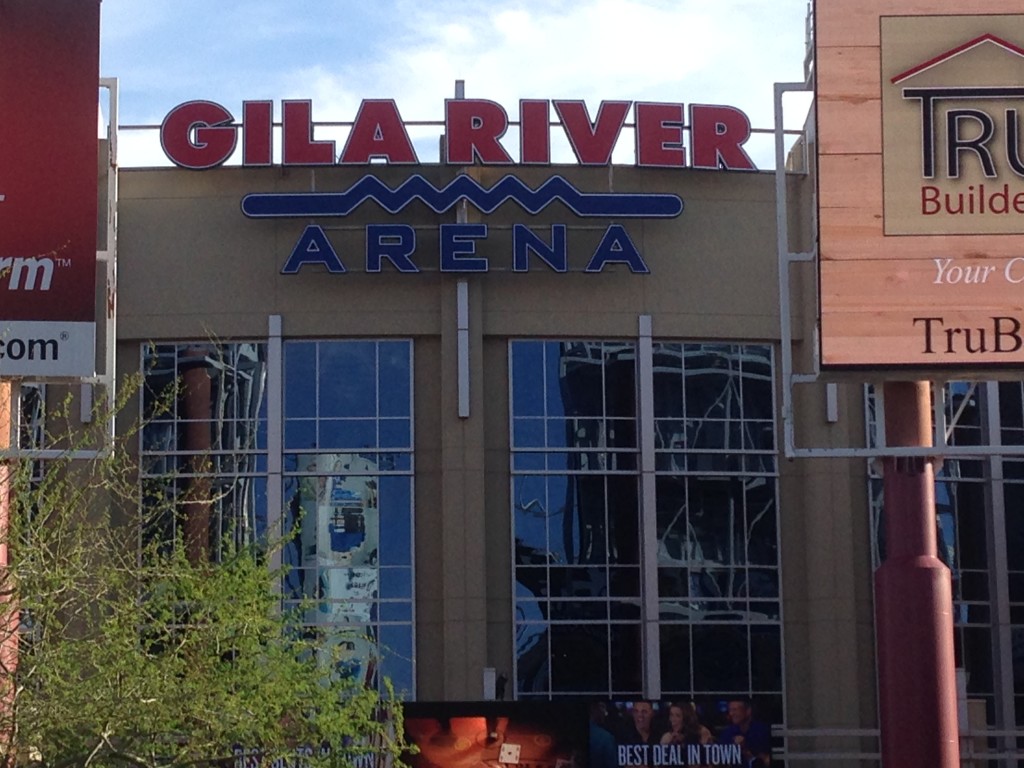 (Editor's note: For our previous entry on Gila River Arena, click here.)
Only a handful of markets around the U.S. have the distinction of being home to teams in all four major professional sports leagues. Phoenix is one of those markets, which means that Phoenix is home to an NHL team.
Now, you can question the viability of hockey in Arizona all you want (many have), speculate on how long the Coyotes will remain in Arizona given their unstable financial situation (many have) and dump on the Coyotes' relative lack of success on the ice over the years (many have), but the fact of the matter is that there's NHL hockey in Arizona and, ergo, Arizona is a great destination to have on your list if you're planning a hockey-related road trip.
Clearly, many fans do love coming to Arizona to see hockey, judging by the many opposition jerseys visible in the stands almost regardless of who the Coyotes are playing.
That part of it is a shame, but the Coyotes do have a loyal, if small, fan base, and they have a pretty nice arena in which to watch their team play. Gila River Arena, as it's known now (switched over from the clumsier Jobing.com Arena a couple years back), is situated in the Phoenix suburb of Glendale and in the middle of a vibrant area that includes the Cardinals' University of Phoenix Stadium.
And the folks there do go to great lengths to make all hockey fans feel welcome, whether you're rooting for the Coyotes or not. That was certainly the vibe I noticed when I made my second visit to the arena to see the Coyotes take on the New Jersey Devils.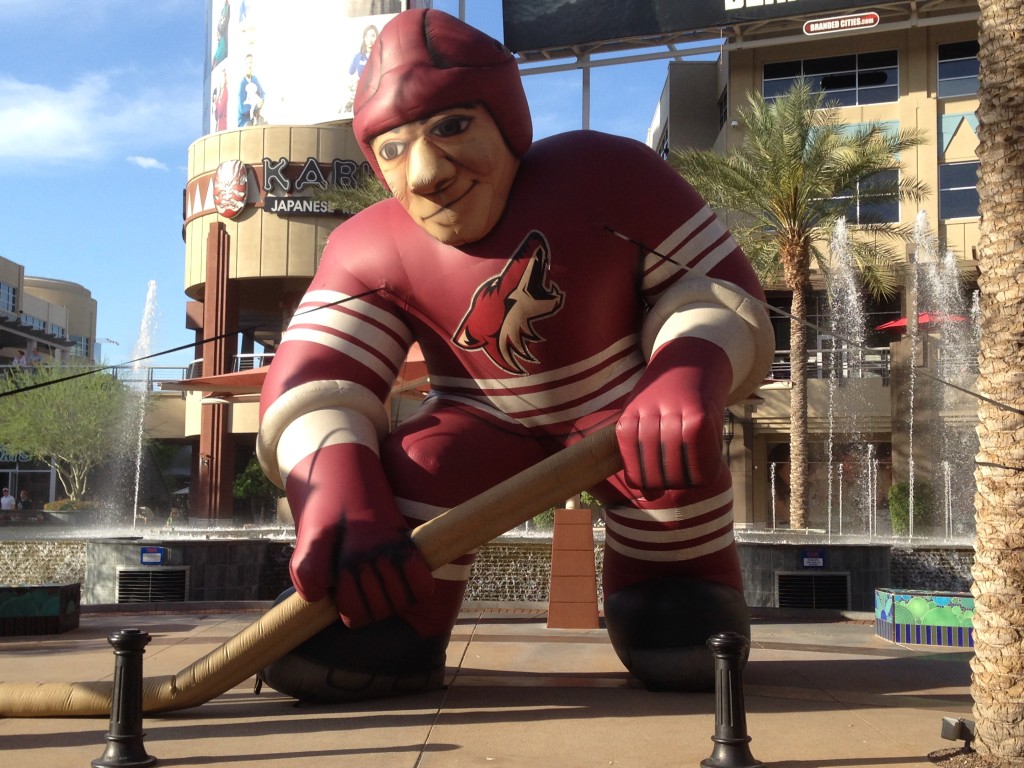 The approach
Glendale isn't close to downtown Phoenix, which is one of the drawbacks of the facility. But in the ever-burgeoning Valley of the Sun, there's more and more to do in more and more far-flung places that are worth driving to, so in the grand scheme of things it's not THAT far away.
Generally, from downtown you're looking at a 15-20 minute drive without traffic, and tack on 5-10 minutes if you're coming straight from Sky Harbor Airport, on the east side of downtown.
The route is simple enough — take Interstate 10 west to Loop 101 north, and proceed about 6-7 miles to either Bethany Home Road, on the arena's south side, or Glendale Avenue, to the north.
Once you're there, you've reached the sprawling Westgate Entertainment District and a rather interesting parking situation. There are plenty of signs directing you to "Coyotes Parking" and signs telling you what to do if you've got a color-coded permit (which, if you're a visitor, you probably don't).
But unlike most places where you expect to eventually reach a parking attendant taking money, this never happens here. You're directed to a common lot that other Westgate patrons use, and you park. Yes, for free.
I don't know for sure, but I have to think this is a serious hindrance to the Coyotes' financial situation. What sports franchise doesn't reap a significant amount of revenue from game parking fees? But how can they charge, when there are other folks coming to the complex who aren't going to the game and just want to get ice cream or whatever — you don't want to discourage them from coming on game nights.
And even though there are paid lots close to the arena, the smart fans will just park a little farther away for free and walk. It really is a conundrum, one I'm not sure has a good solution.
If you just hate driving and parking, public transportation isn't really an option unless you like doing a lot of transferring. Phoenix's Valley Metro Rail doesn't come close to Glendale, and from the westernmost stop you'll have to ride the bus up to Westgate. It's doable but not very practical.
If your main reason for visiting Phoenix is to see hockey and you don't have a car at your disposal, consider staying at one of the many hotels nearby to Westgate, including a Renaissance right next door to the arena, and just taking a cab back and forth from the airport.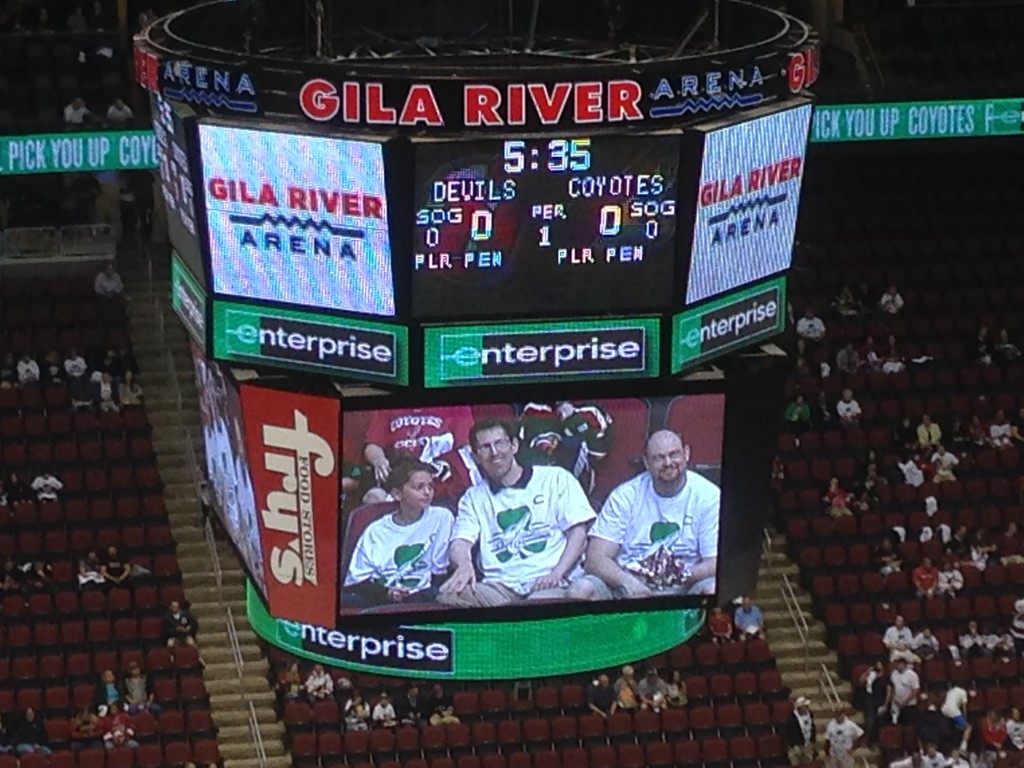 The build-up
The Westgate Entertainment District has an impressive number of restaurants and bars, including a few literally next to the arena's main gate. It also has some retail (including a large sports souvenir shop), a big movie theater, a giant fountain/park area (especially popular with the kids) and townhomes. Go a little farther out, and you'll find even more restaurants, shops and hotels.
So you really could spend all day at the complex waiting for your game to start and hanging out after it, and if you're doing that you're likely spending more than enough money to justify getting that free parking space. (Wonder if the Coyotes get a cut of some of that money? Probably not.)
If you are walking through the main entertainment complex on your way to the game, it is pretty cool to see fans spilling out of the nearby restaurants, hanging out next to the fountains and engaging in other general merriment before going on.
It makes for a nice atmosphere, and the Coyotes do their part by putting up giant inflatable Coyote players, staging youth street hockey games, etc.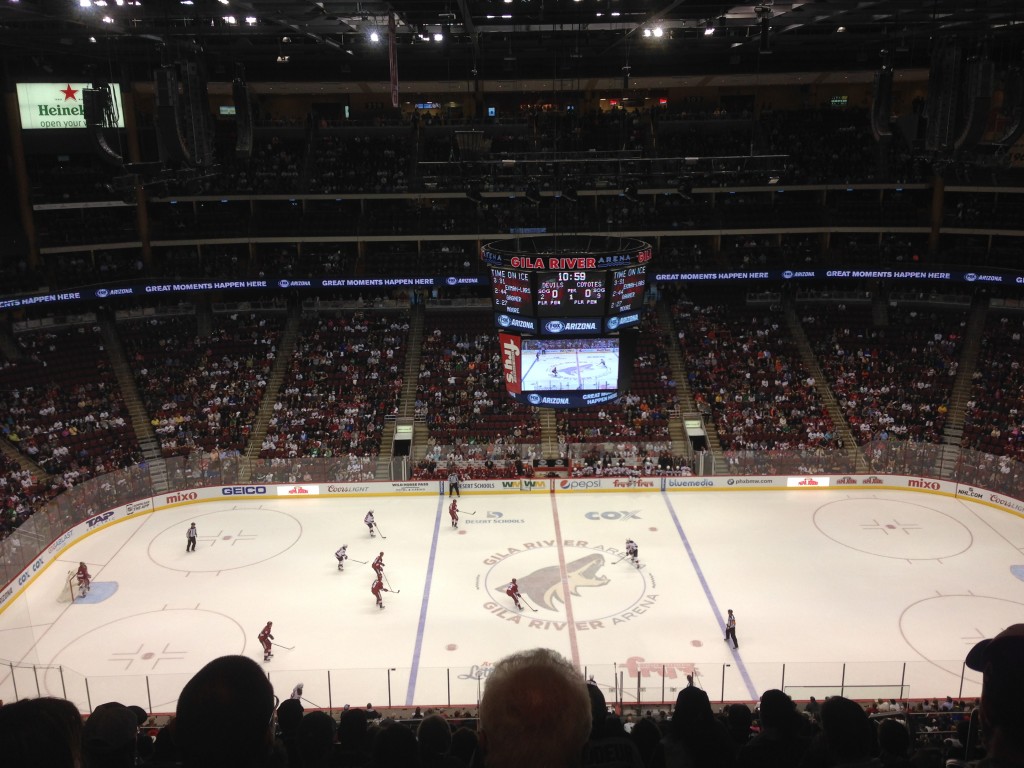 The ambiance
Once you step inside (and happily out of the heat, depending on the time of year you're visiting), Gila River Arena offers everything you'd expect in a modern arena. It's big but not huge, and with a fair amount of concessions choices but not overwhelmingly so.
At each end of the ice there are small areas in which you can peek out at the ice surface, and an interesting feature of the upper concourse is that it is located above the seats, meaning you'd walk down to any seat in the upper deck.
Plus, there's little obstructing your view of the ice from the concourse, so there's plenty of standing room behind each section if that's something you choose to do (and I, for one, like to stand every once in a while — not for the whole game, but for a little bit at a time).
The food options you have range from the typical hot dogs, chicken tenders and the like to Mexican food, deli sandwiches and sausages. I even saw cheesesteaks at one stand.
If you're not Canadian but into Canadian culture (if you like hockey, you probably are in some way), you'll be pleasantly surprised by one food option there: Tim Hortons. Yes, the Canadian donut and coffee chain is usually nowhere to be found if you're not within 100 miles of Canada — the southernmost point I've seen it prior to this visit was Penn Station in New York — but strangely enough, there are stands on both levels at Gila River Arena.
This is an interesting Phoenix phenomenon: Drive around town long enough and you'll find quite a few restaurant chains that are native to one particular region but, likely to pique the interest of snowbirds, have set up a presence in Phoenix as well.
Just in this visit, I saw Culver's (Wisconsin "butter burgers"), Pappadeaux Seafood Kitchen (mostly in Texas and the South), The Keg (Canadian steakhouse) and the Saddle Ranch (Southern California Western-themed steakhouse) — the latter being right outside the arena's main entrance.
I got myself a box of Timbits, what Tim Hortons calls donut holes, and a hot chocolate (What can I say? I love Tim Hortons hot chocolate) and headed to my seat in the upper deck, which was sparsely populated around the time of the national anthem but gradually filled up as the first period went on.
The Coyotes were in the final stretch of a rotten season and it was warm but not too warm outside, so it probably wasn't too surprising that the place wasn't full — and half of those who were there repping a team were Devils fans.
In the end, the visiting team made their supporters happy, but as long as there's hockey in Arizona I'm planning to pop in every once in a while.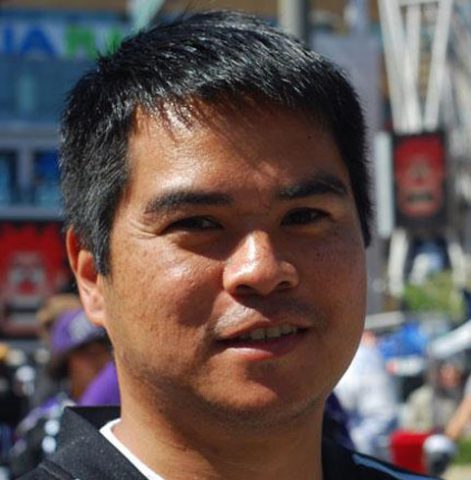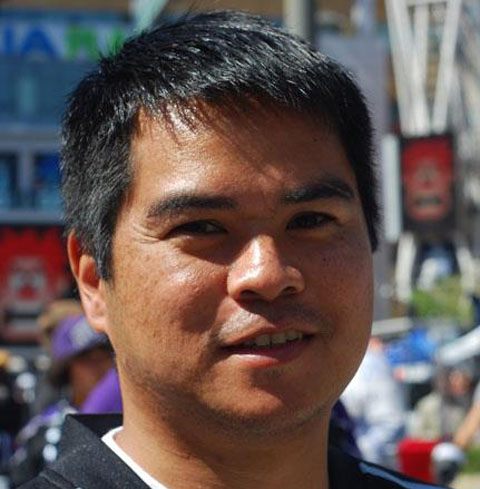 Edward de la Fuente | Itinerant Fan
I live for sports, and I love to travel. My biggest thrill is combining the two. I've been blogging about sports travel for more than a decade, and traveling for sports for twice as long.
About me | FAQ | Buy me a beer 🍺
Affiliate Disclosure
Please note that some of the links above are affiliate links, and at no additional cost to you, we earn a commission if you make a purchase. These recommendations are only for companies that we've used and have proven to enhance our sports travel experiences. To find out more about our affiliate partnerships, please read our Affiliate Disclaimer.