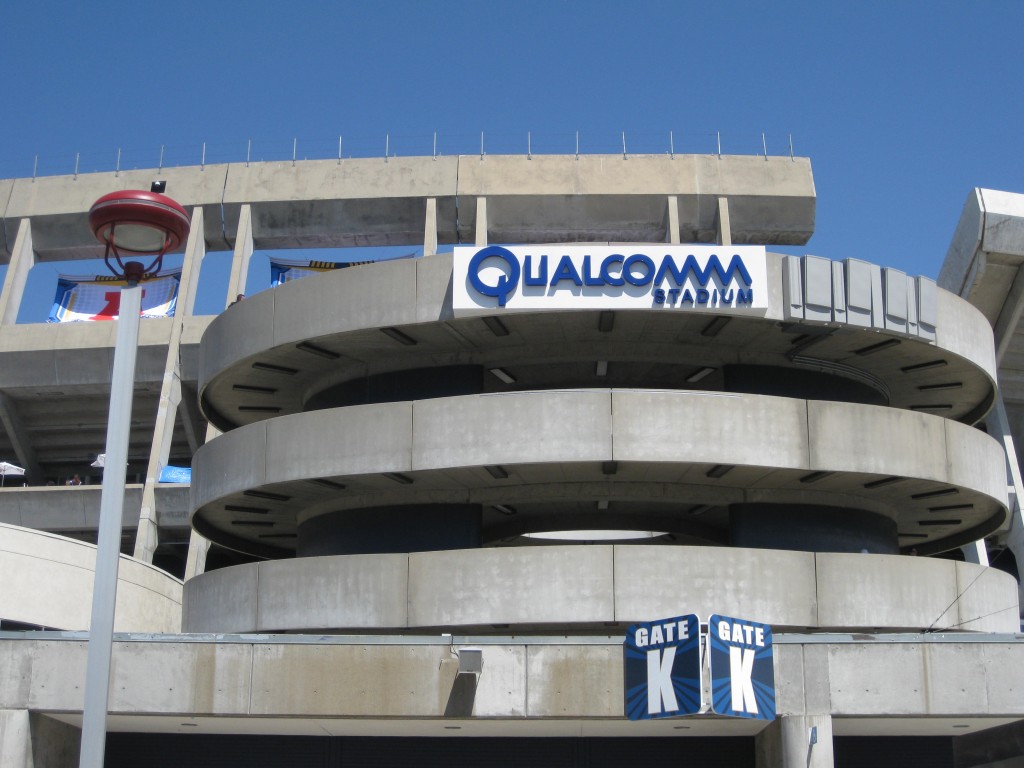 (Editor's note: For our previous entry on Qualcomm Stadium, click here.)
Qualcomm Stadium is a venerable building stuck in what essentially is venue purgatory: Not new and snazzy enough to meet current sports venue standards; not old and crumbling enough for its tenant to simply move on.
Well, that last part isn't entirely true. The Chargers have been looking for ways to replace Qualcomm (known sometimes as "the Q," once known as Jack Murphy Stadium or "the Murph") for a decade now, turning over stones without much success and fueling constant rumors of impending relocation. But despite that, the team remains in San Diego and San Diego continues to come out in support of the team, making for a terrific gameday atmosphere at the Q even if the stadium itself isn't all that great.
There are still plenty of good things about seeing a Chargers game at Qualcomm Stadium, as I found out along with friends MongerTron and ShadyDarks as we visited for a pretty big game — San DIego's home opener against the defending Super Bowl champion Seahawks.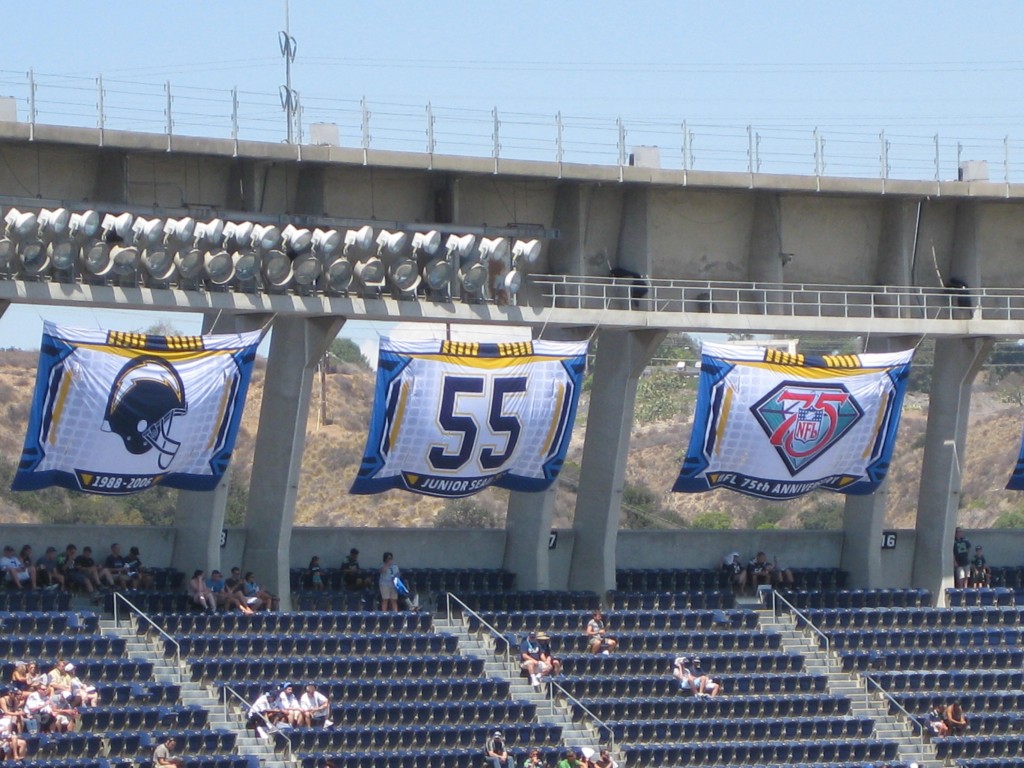 The approach
Certainly one of the things Qualcomm has going for it is its location — a fairly central spot in the San Diego metro area, it lies in the heart of Mission Valley with two major freeways (Interstates 8 and 15) and a major thoroughfare (Friars Road) running by it. You'll run into gameday traffic just like any other NFL stadium, but there are several different approaches that you can take by car. From downtown San Diego, it's a 5-6 mile ride up Route 163, a picturesque drive through the city's beautiful Balboa Park. A sizeable, circular parking lot surrounds the stadium, with satellite parking a little far away in several directions. (One insider tip worth noting: Fans have been known to park in the neighborhood along Mission Village Drive just north of the stadium, but know that if you walk from there to the stadium it's a fairly long walk down a pretty steep hill — meaning you'll have to walk up it to get back to your car after the game.)
There's a pretty nice alternative to driving in the San Diego Trolley, the city's light-rail system that stops within 500 feet of the nearest stadium gate. It's extremely convenient and pretty cheap ($5 for an all-day ticket). The only issue is, it's exceedingly popular so you really have to map out how you're going to use it on gameday to minimize the effect of crowds — and even then, long waits and huge crowds are pretty much unavoidable. The big issue is this: If you're approaching from downtown or points west of the stadium, there are several stations that are popular with Chargers fans and thus are heavy entry points. So trains can get jam-packed as they approach the stadium, leaving fans looking to board at close-by stations out of luck.
Our group arrived at the Old Town station a little after  after taking Amtrak down from Los Angeles (Note: since there's no NFL in L.A., you'll see a lot of people taking the train down for Chargers games, especially a "good game" such as this one) and found a logjam of people waiting for Trolley trains; we were not able to board until the second train arrived, there were that many people. And there are six stops between Old Town and Qualcomm Stadium, and the train was so packed that no one was able to board at any of the stations in between. The moral of the story: Plan accordingly.
(A final note on the Trolley: After the game, we waited nearly an hour and a half for trains because of the crowds. I'm pretty sure, having attended a few Chargers games in the past, that the size of this crush was unusual, but it's something to note if you are the impatient sort. Also, do yourself a favor and buy a n all-day ticket at the beginning of the day. Getting on a train afterward is difficult enough without the added nuisance of having to buy a return ticket.)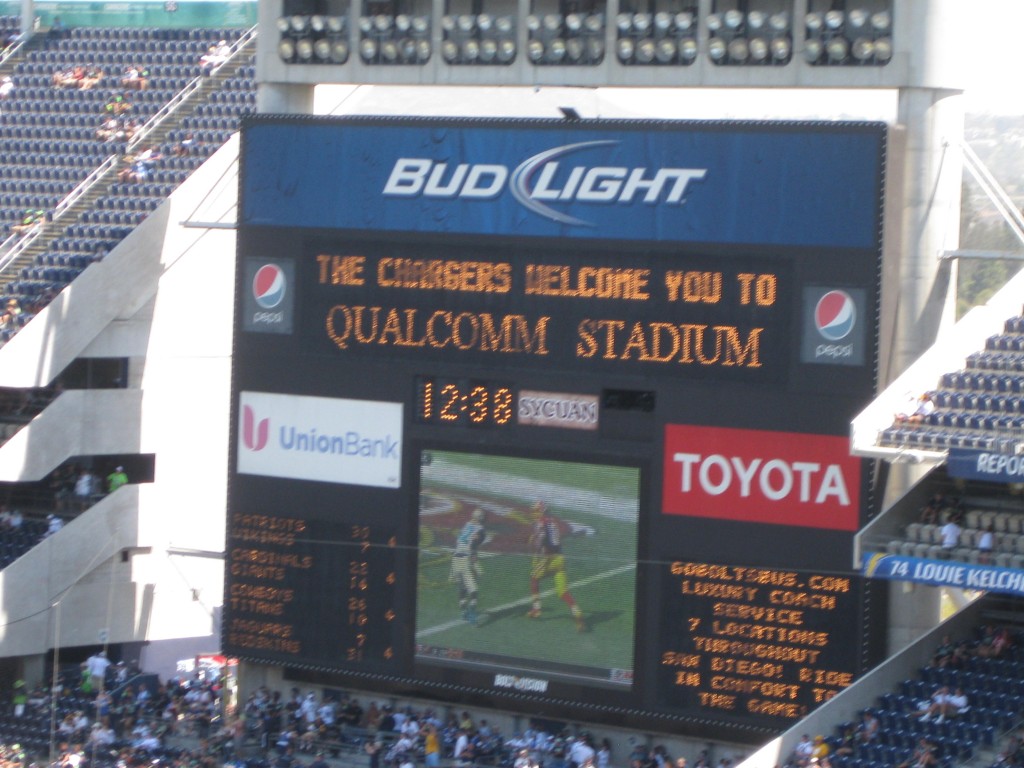 The build-up
Surrounded by a big parking lot, Qualcomm Stadium is a great place to tailgate. But, like many NFL stadiums, it can be difficult to get a parking space in the main lot. If you get there early and plan to tailgate all morning, the main lot is plenty accessible, of course. And if you just walk around outside the stadium as kickoff approaches, you can see some epic tailgates going on.
If you're looking for options near the stadium, there are a few malls within a few miles, most of which have eateries and bars and the like. The closest is Fenton Marketplace, adjacent to the stadium parking lot and easily recognizable by the giant blue Ikea building in the distance. If you go there, you have the option of walking to the game along Friars Road, but if your plan is to go somewhere a little farther away and then take the Trolley to the game, heed the fair warning above about crowds and difficulty getting on trains.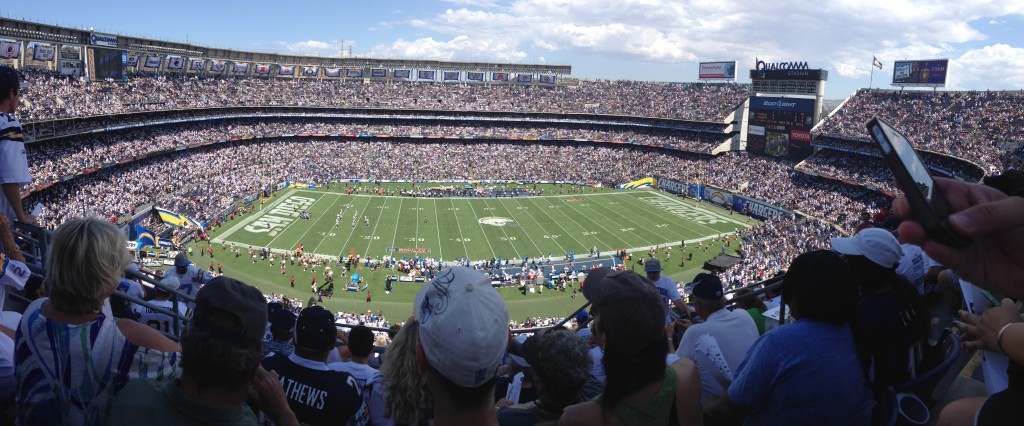 The ambiance
Qualcomm Stadium has some serious history behind it, having hosted three Super Bowls, some pretty entertaining Holiday Bowls and years of Chargers teams both good and bad. But in some ways, it feels like the Chargers and the city of San Diego aren't putting much money into it anymore as they try to figure out what the next step is. I hadn't been to the Q in nearly four years prior to this visit and it felt like nothing at all had changed, which isn't necessarily a good thing.
We scored pretty good seats, in the view level but on the 25-yard line — and, thankfully, in the shade on this blisteringly hot day. As evidenced in the photo above, nearly everybody seated on the other side of the stadium was in the sun, and it stayed that way pretty much the whole game. In general, a good rule of thumb when buying tickets in the view level is to avoid Sections 43-51 — these are the new sections added in the stadium's last expansion, and they offer little protection from the sun and no view of the main scoreboard. (Not that there's a whole lot to see on that scoreboard, which is in serious need of an upgrade.)
In general, you can tell a stadium's age by two things: the exterior and the system of ramps between levels. If the exterior is concrete and the ramps are circular, it's usually a dead giveaway that the stadium was built in the 1960s and 1970s — and this describes Qualcomm to a tee (and that's before bringing up the vinyl flooring with the raised dots that you can find in some areas). You can also access the upper levels via escalators that jut out from the structure like they were obviously afterthoughts. And while there's plenty of space to maneuver on the main level, the upper-level concourse can feel a little cramped for the number of people wandering up there in a sold-out game.
Sated by hot dogs and water purchased from the view-level concession stands (if you'd like anything more adventurous than that, you'll have to buy from the main concourse before heading up), we took our seats with plenty of time for kickoff and stayed there during a riveting game in which the home team, somewhat surprisingly, came out on top. During the long wait for a train after the game, the Chargers' fans were delighted, but I still heard some new stadium chatter going on. And so it goes with grand old Qualcomm.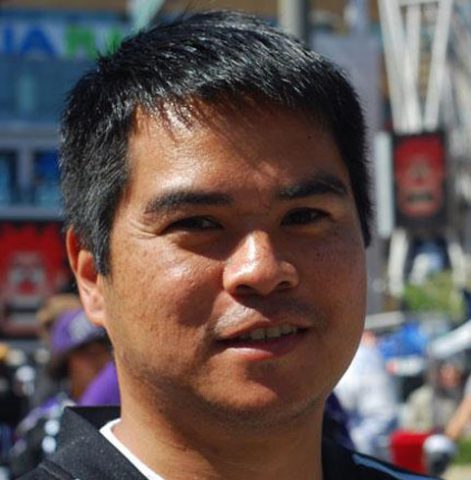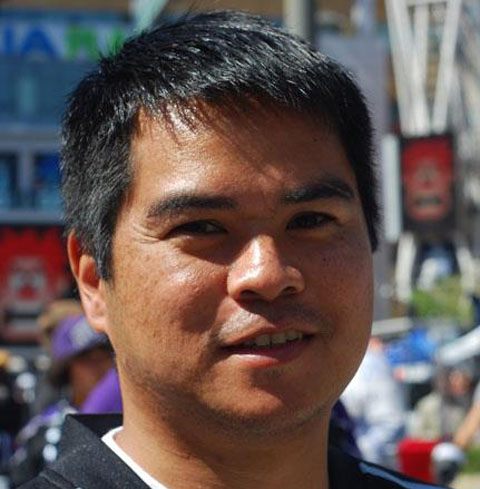 Edward de la Fuente | Itinerant Fan
I live for sports, and I love to travel. My biggest thrill is combining the two. I've been blogging about sports travel for more than a decade, and traveling for sports for twice as long.
About me | FAQ | Buy me a beer 🍺
Affiliate Disclosure
Please note that some of the links above are affiliate links, and at no additional cost to you, we earn a commission if you make a purchase. These recommendations are only for companies that we've used and have proven to enhance our sports travel experiences. To find out more about our affiliate partnerships, please read our Affiliate Disclaimer.