AT&T Center
Our guide to AT&T Center in San Antonio includes information on events, tickets, parking, public transportation, nearby hotels and restaurants, seating and more. Read on to find out how to get the most out of your gameday experience.
* * *
San Antonio, by population the seventh-largest city in the U.S. and the 25th-largest metro area as of 2013, seems like too big a region to have just one team in the "big four" professional sports leagues.
But only one it has, and that team, the NBA's Spurs, receives a region's undivided attention. As a result, the team's home, AT&T Center, is a focal point of activity in town as well.
In turn, the Spurs have given their devoted fan base five championships to celebrate, the most recent coming after the 2013-14 season. So these days, the love affair between team and city is as strong as ever.
And Spurs fans have a beautiful venue in which to watch their team play. AT&T Center, which opened in 2002 as the SBC Center, feels big and spacious and almost palatial as event venues go. However the team is playing at any given time, the venue makes attending Spurs games a terrific experience.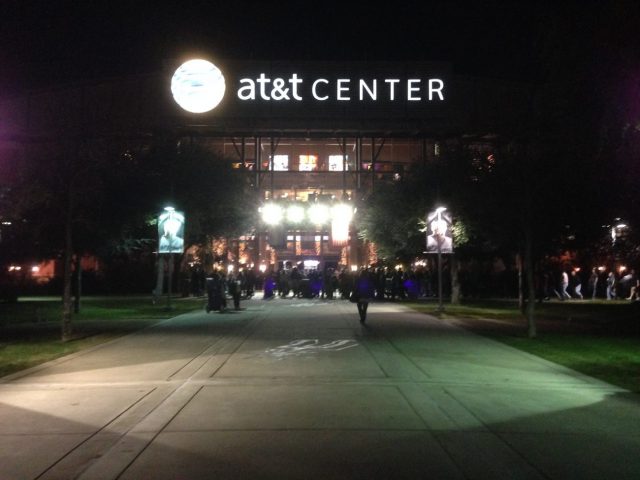 Getting to the arena
The only problem with AT&T Center is that it's a little far from downtown San Antonio, which if you've never been is quite an interesting area to visit.
From the Alamo to the River Walk to the Tower of the Americas, there's a lot for a visitor to see in a fairly compact area, and most of the Instagrammable places in San Antonio can be found in and around downtown.
Once upon a time, the Spurs played right in the middle of downtown, at HemisFair Arena. Then they moved to the edge of downtown and the cavernous Alamodome for 10 seasons before finally migrating a few miles east to the then-SBC Center.
There's nothing wrong with the AT&T Center site itself — it's got a vast parking lot, freeway access is pretty simple, and it serves its purpose well as not only the home of the Spurs but also of the annual San Antonio Stock Show and Rodeo (which necessitates the Spurs going on a lengthy road trip every February). But for the visitor to San Antonio, it limits your options.
In Texas, you're usually best off driving everywhere, and getting to AT&T Center is pretty straightforward. From downtown, use Interstate 35 northbound and exit at Walters Street/AT&T Center Parkway (exit 159B), then follow the frontage road to AT&T Center Parkway and turn right. The first parking lots will become visible after about a mile's drive on AT&T Center Parkway.
VIA Metropolitan Transit, the public transit service for the San Antonio region, does offer special-event bus service for Spurs games at AT&T Center from two park-and-ride locations around the city. Fares cost $2.50 each way.
VIA also has a regular bus line, Route No. 24, that connects downtown and the arena via Houston Street and runs late at night. The fare is $1.30 per ride; passengers who use the service to travel westbound after AT&T Center events must proceed to the stop next to Parking Lot 1 (Stop No. 85679) to pick up the bus.
Parking at AT&T Center
AT&T Center is surrounded by several large parking lots, numbered 1 through 7, as the grounds contain not only the arena but also the adjacent Freeman Coliseum, as well as an expo hall and other facilities for the rodeo.
If you're approaching southbound on AT&T Center, you'll see a number of entry gates on the right. Traffic control will direct motorists into the appropriate gate based on whether they're headed for general parking or permitted parking.
General parking rates begin at $15 for Spurs games, and you can purchase AT&T Center parking in advance on Ticketmaster. You'll most likely be directed to lots 6 or 7 on the northernmost edge of the grounds. Then, you'll get a sense for how big the property really is based on the rather long walk you'll have to undertake to get to the doorstep of AT&T Center.
San Antonio hotels near AT&T Center
• Quality Inn I-10 East near AT&T Center – 0.8 miles away
• Motel 6-San Antonio, TX-Splashtown – 1.1 miles away
• Econolodge Inn & Suites Downtown Northeast – 1.1 miles away
Search for more San Antonio hotels on Booking.com.
Map of the surrounding area
Things to do around the arena
The other disadvantage to AT&T Center's location is that there's not much to do around it before the game.
It's a largely industrial area unless you go back up AT&T Center Parkway toward I-35, around which you'll find a handful of fast-food joints and gas stations. If you look hard enough, there are also a few independent restaurants in the general area.
But that's OK. If you're there really early and the gates are open, just head on inside. If it's your first visit, you'll be glad you did.
San Antonio restaurants near AT&T Center
• Texas Burger Company – fast food, 0.6 miles away
• Jones Sausage and Barbecue – barbecue, 1.0 miles away
• Onlive Hall of Fame Cafe – American, 1.3 miles away
Search for more San Antonio restaurants on Tripadvisor.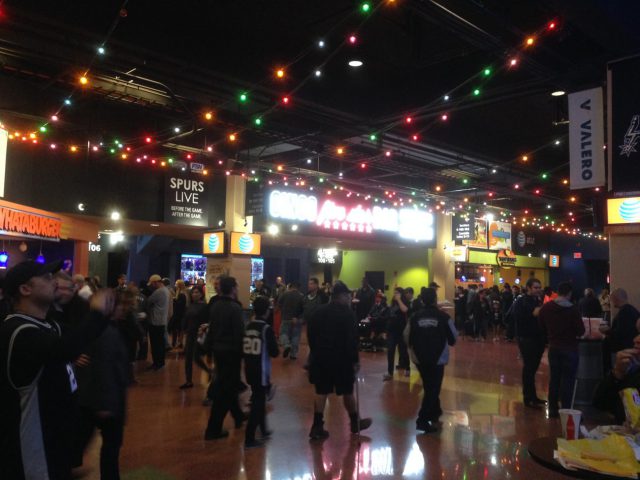 Watching a game at AT&T Center
Going in through AT&T Center's east entrance, it feels like entering a fiesta-themed prom. The entrance, with a glass atrium, manicured grounds and flood and garden lights everywhere, suggested an opera house rather than a sports arena.
Once inside, you'll see multi-colored string lights hanging overhead, brightly colored walls and quite a bit of neon. It's an interesting vibe, one you don't often see at sports venues.
Perhaps a more apt comparison is that AT&T Center feels a lot like a mini-football stadium in the way it's laid out. Though its listed basketball capacity is 18,581, on par with most other NBA arenas, it feels more spacious than that.
The octagonal shape of AT&T Center's seating bowl means it has a large upper deck, with more than 20 rows in the sections along the sidelines, and the open end "fan zone" is reminiscent of AT&T Stadium up in Arlington, where the NFL's Dallas Cowboys play. The fan zone is also a popular spot for congregating and standing-room viewing of the game.
While the uppermost reaches of AT&T Center's seating bowl might be pretty high, you'll at least have a nice view of the Spurs' five championship banners, which are some of the biggest banners you'll ever see hanging from the rafters in any arena. There are also banners signifying when the rodeo won best-in-the-nation status (seriously).
If it's your first visit, definitely spend some time wandering the concourses. There's more than one display honoring the Spurs' five titles (including a glass case at the east entrance that contains the five Larry O'Brien trophies). You'll also see a few knowing nods to Texas culture and the rodeo lifestyle — for example, take a close look at the bathroom signs as you're roaming.
Food and drink at AT&T Center
There's an impressive array of concessions available at AT&T Center. Befitting a venue in Texas, a lot of the food items involve regular stadium dishes with some sort of interesting add-on, from loaded hot dogs to build-your-own-burritos to "extreme" nachos (beef brisket is one of the topping options) to cheese-filled sausages.
Whataburger, which may sound like your run-of-the-mill regional fast food chain if you're not from Texas but is held in very high esteem by many throughout the Southwest, also has a large presence among arena concessions.
In the fan zone, you'll find a hand-carved BBQ stand, a gorditas stand and a bar, and as many TVs as any self-respecting sports bar.
For a sit-down sports bar experience before or during events at AT&T Center, head to the Rock & Brews Restaurant on the 100 level (near section 114). It's just one of the many places inside the arena where you can check out the beer selection, which includes beers from Texas-based Freetail Brewing, Real Ale Brewing and Karbach Brewing.
Original publish date: February 4, 2016
Most recent update: March 12, 2023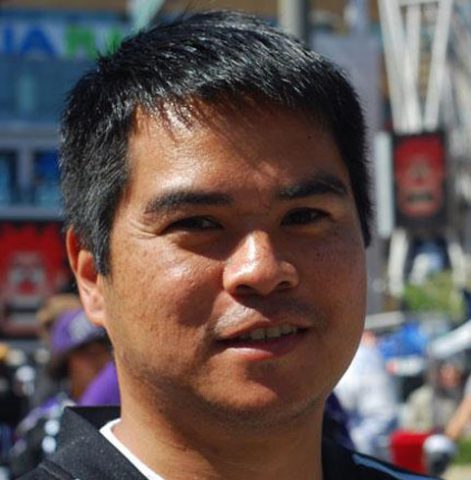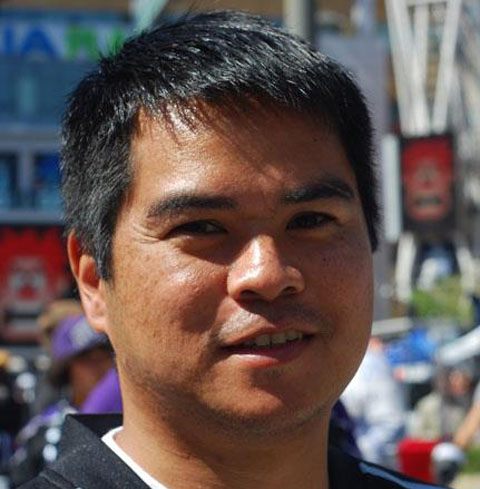 Edward de la Fuente | Itinerant Fan
I live for sports, and I love to travel. My biggest thrill is combining the two. I've been blogging about sports travel for more than a decade, and traveling for sports for twice as long.
About me | FAQ | Buy me a beer 🍺
Affiliate Disclosure
Please note that some of the links above are affiliate links, and at no additional cost to you, we earn a commission if you make a purchase. These recommendations are only for companies that we've used and have proven to enhance our sports travel experiences. To find out more about our affiliate partnerships, please read our Affiliate Disclaimer.
The Particulars
Home Teams
San Antonio Spurs
Address
1 AT&T Center Parkway
San Antonio, TX 78219
Year Opened
2002
Capacity
18,418
Upcoming Events
All times local
Erykah Badu: Unfollow Me Tour with Yasiin Bey
Sunday, June 11, 2023
7:30 pm
Get tickets at Ticketmaster »

Golden Boy Promotions Presents: Ortiz Jr. vs. Stanionis
Saturday, July 8, 2023
5:15 pm
Get tickets at Ticketmaster »

Dave Chappelle Live
Wednesday, July 12, 2023
7:30 pm
Get tickets at Ticketmaster »

Peso Pluma - Doble P Tour
Sunday, July 16, 2023
8:00 pm
Get tickets at Ticketmaster »

Hot Wheels VIP Backstage Tour Package - Starts at 9:30am
Saturday, July 29, 2023
12:30 pm
Get tickets at Ticketmaster »