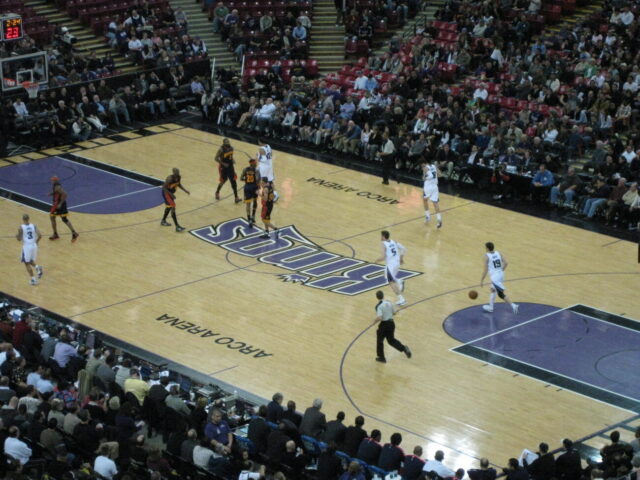 The latest in our Venues Past series looks at Arco Arena in Sacramento, aka Sleep Train Arena, home of the NBA's Sacramento Kings from 1988 to 2016. For more Venues Past posts, click here.
For nearly 30 years, the Sacramento Kings of the NBA called Arco Arena home. It was known by other names during its history, such as Power Balance Pavilion and, at the end of the Kings' run, Sleep Train Arena. And the Kings have not played there for four years, having moved to their sparkling Golden 1 Center in the fall of 2016.
But mention "Arco Arena" to a Sacramento resident, or to just about any NBA fan with a long enough memory, and they will almost certainly know what you're talking about.
There are a couple reasons for this. The building was known as Arco Arena during the Kings' heyday in the early 2000s, when Chris Webber, Mike Bibby, Vlade Divac and company were part of one of the most exciting teams in the league (though, sadly, one that came up excruciatingly short of the NBA Finals).
And you've got to admit, Arco Arena is a catchy name for a sports venue. Gotta love that alliteration.
It was built on the cheap and located in an isolated part of the Sacramento metro area. Both of those factors played deeply into what the overall fan experience was like there, and if you never saw a game at Arco Arena, you'd be right to assume that it was both lacking in amenities and surprisingly difficult to get to.
I lived in Sacramento for five years — a timeframe that coincides with the birth of this blog in 2010 — and attended about a dozen events at Arco Arena during that time, ranging from Kings games to concerts and even a college graduation.
My feelings about Arco are similar to how many fans feel about old sports venues: Kinda dumpy, had more than a few flaws, but when you get right down to it, the place was all right.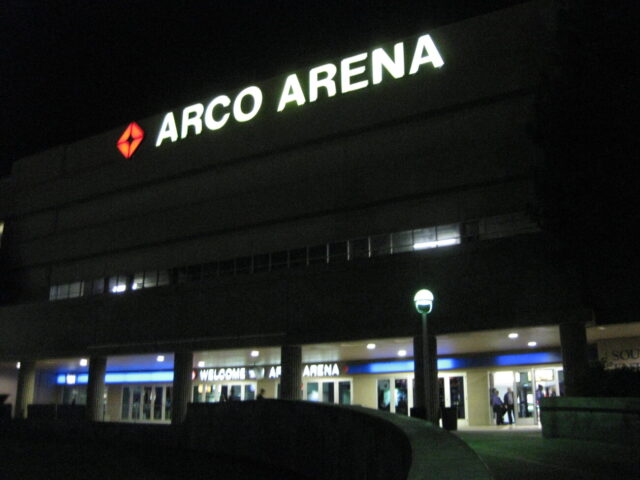 Arco Arena's place in Sacramento
When I was in middle school, my class took a daylong field trip to Sacramento, because that's what you do when you grow up in California. After a day of visiting the state capitol, panning for gold and eating pizza in Old Town, we rode a charter bus back to the airport.
Along the way, I saw a big, boxy building just off the freeway, with absolutely nothing else around it. It was mostly dark, but I could make out the lighted sign on the building: "Arco Arena."
"Huh," I thought. "So that's where it is."
Yes, even then I knew what Arco Arena was, and what its place was among sports venues.
That memory became prominent in my mind once I moved to Sacramento, some 15 years later, and came to learn more about the layout of the region and why Arco was built where it was. 
The arena is located in a section of town known as Natomas, a few miles north of downtown Sacramento. The land was acquired cheaply, and for good reason: Natomas is largely located in a flood plain and when the arena was built, there was nothing but farmland around it.
That changed around the mid-1990s, when development was allowed despite the risks. So for the last 15 or so years of the Kings' tenure at Arco Arena, going to a game there meant navigating a neighborhood filled with tract housing and strip malls.
Sacramento's light rail system did not extend to that part of town, and still doesn't today despite a longstanding proposal to build a line to the nearby airport. It's not the Kings' problem anymore now that they have moved downtown, but it meant that as long as they played at Arco/Sleep Train Arena, anyone going to the game would have to drive there.
During my time in Sacramento, all my experiences attending an event at Arco Arena involved paying to park in the expansive lot and heading right inside. If I wanted to meet friends beforehand or have a nice early dinner, I did it in another part of town before heading over.
Everything about it felt … well, suburban. Nothing wrong with that — it just meant that there wasn't the character to the game experience that we tend to expect these days out of going to stadiums and arenas.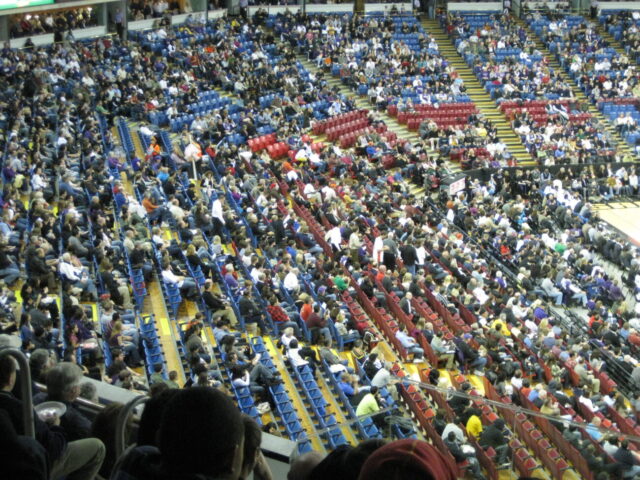 The ambiance inside Arco
Definitely one of the positives Arco/Sleep Train Arena had going for it was that it was a basketball-only facility — no extra length needed to accommodate hockey games — and the seating bowl was set up that way, so wherever you sat, you had a pretty good sight line toward the court.
The bad news was the seats were basically an afterthought, not unlike sitting in a metal folding chair the whole game. Not comfortable at all.
Kings fans are about as loyal and loving of their team as any you'd find in the NBA. It's probably pretty easy to say that about any fan base for any team in any sport, but think about this: Outside of the early-2000s glory days, the franchise they support has experienced very little success — currently, they're on a 14-season playoff drought. 
On top of that, the franchise nearly left town twice in the span of two seasons, flirting with relocation to Anaheim and then Seattle.
The combination of those two things could easily have left the fan base jaded and defeated, but I didn't see that in the games I attended. By the time I started attending games, the glory days had passed, and the building wasn't often filled to capacity, but fans were still plenty loud.
And yes, I heard more than a few cowbells. Originating from a quote by onetime Lakers coach Phil Jackson referring to Sacramento as "an old cow town," fans began bringing cowbells to playoff games, and the tradition stuck even after the Kings entered their lean seasons.
So it's not surprising that when the team finally got ready to move — to new digs across town rather than leaving Sacramento entirely — there was plenty of nostalgia for old Arco. And though it was known as Sleep Train Arena by then, the name Arco Arena was still used quite frequently.
The future of Arco Arena
Golden 1 Center has become a big part of the entertainment scene in Sacramento, since it has taken over the role of the city's events center.
As for Arco Arena? Well, it's still there, but it isn't used for much these days as the city and the Kings — who control the site — try to determine its long-term future. 
Ideas for the land have ranged from mixed retail/residential development to a medical campus to even a zoo. In 2020, the arena has been used as a temporary hospital to treat COVID-19 patients.
Until a redevelopment plan is chosen, Arco Arena remains visible to passersby on Interstate 5 heading to the airport. If you're an NBA fan, you can still look upon it and think about its sometimes-glorious past.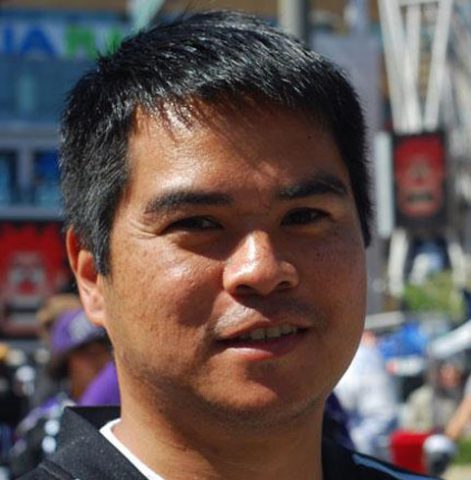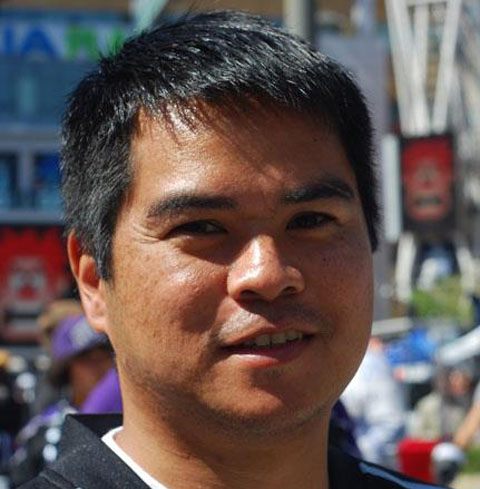 Edward de la Fuente | Itinerant Fan
I live for sports, and I love to travel. My biggest thrill is combining the two. I've been blogging about sports travel for more than a decade, and traveling for sports for twice as long.
About me | FAQ | Buy me a beer 🍺
Affiliate Disclosure
Please note that some of the links above are affiliate links, and at no additional cost to you, we earn a commission if you make a purchase. These recommendations are only for companies that we've used and have proven to enhance our sports travel experiences. To find out more about our affiliate partnerships, please read our Affiliate Disclaimer.