I remember fondly (OK, maybe not) my first experience with secondary ticket brokers. It was 1993, I was in high school in Southern California, and Wayne Gretzky was leading the Los Angeles Kings on an unexpected run through the Stanley Cup playoffs. I bought tickets for several games at the old Great Western Forum over the first two rounds with ease through Ticketmaster — all I had to do was swing by my local Tower Records (remember those?).
But when the Kings advanced to the conference finals for the first time in franchise history, suddenly L.A. remembered who they were and nary a ticket was to be found through Ticketmaster. I was crestfallen as I spoke to an unsympathetic Ticketmaster rep on my school's pay phone between class periods, about 45 minutes after the on-sale time. "You know, most concerts sell out within a couple minutes," the guy sneered. So when I went home that day I grabbed the Yellow Pages (remember those?) and looked under "Tickets," and there were not less than 20 different agencies over 3-4 pages, many of which had huge display ads as well touting their ability to get me into any event I wanted. Many of them also had names that sounded suspiciously like strip clubs were it not for the word "tickets": "A-1 Tickets," "VIP Tickets," "Star Tickets" and the like. I spent the better part of the next two days calling every number listed, seeing if they had a few tickets to sell to a poor, snot-faced high school kid who just wanted to see his beloved Kings play for a championship.
Did I manage to snare any tickets? I'll save that for later, since if you've gotten this far you're probably screaming to find out what the point is: These days, with the proliferation of secondary ticket outlets online, you can get tickets to a sold-out event without having to run up a phone bill, deal with fast-talking hustlers or change out of your pajamas. Still, these are murky waters that can be treacherous to navigate, and as I've learned over the years, you could outsmart yourself out of a good deal, accidentally walk into a bad one or simply miss the boat on the game you want altogether.
If you've ever thought about trying to go to the Super Bowl, Final Four or any other large, high-demand event, you've probably visited most of the prime secondary ticket sites out there. I'm not yet in the correct tax bracket — or more accurately, I haven't yet become desperate enough — to consider a trip like that, though, so for this exercise I'm using my recent experience looking for tickets for a slightly less significant event: a nationally televised Sunday matinee game between the Detroit Red Wings and the archrival Chicago Blackhawks at Joe Louis Arena in March. I'm headed to Detroit for the day to see this game, and I'm bringing two friends, Mr. and (Soon-To-Be) Mrs. Rock City (well, technically they're bringing me since, as the nicknames I gave them suggests, they live there). I recently bought the three game tickets in what I consider to be a prime spot at the Joe, and here are the sites I navigated to get there:
StubHub: If I can't buy tickets from the team at face value, this is always my first stop. Why? No real reason. I guess it's the fact I have a login with them and my credit card number saved so that I don't have to dig it out when I make purchases, or that StubHub has become like Jell-O or Band-Aids in that the name is synonymous with secondary ticket-buying ("Oh, the game is sold out? Why don't you just StubHub it?").
For what it's worth I think it's a fine first stop for anyone, as more than anything you can get a pretty good read on what you're up against by looking at StubHub — ticket availability, going rates, etc. In fact, I don't think I've ever bought tickets on StubHub and felt afterward like I overpaid relative to the market. The one drawback I find these days is that only some of their venues have intricate seating maps that tell you how many rows are in a section, in my book a very important detail in determining the true market for tickets. I'm sure they're updating as fast as they can, though.
For me, Joe Louis Arena was one of those venues with a detailed map, so examining the map relative to the prices listed turned out to be a great starting point. In the end, though, I didn't buy from StubHub.
Ticketmaster: "Wait a minute," you're probably saying. "I thought we were talking about secondary ticket sites. Isn't Ticketmaster a primary ticket site?" Why, yes, it is, but it's still a handy site to have up even as it tells you there are no tickets left for your event. For many venues, Ticketmaster now has seating maps so detailed you can click on each individual seat to determine its availability, and what its set face value is. That second part is key — it helps you tell whether that listing you're eyeing is actually a good deal, and in my case, it helped me narrow down the listings I was considering.
TicketExchange: Ticketmaster's answer to StubHub boasts that you're buying from season-ticket holders, since they usually have deals with teams and leagues that make it easy for season-ticket holders to create listings for their unused tickets that way (having recently become a season-ticket holder myself, I've found this out pretty quickly). I've also found, though, that rare is the occasion that TicketExchange listings are cheaper than StubHub listings. Not sure why this is — my unsubstantiated theory is that season-ticket holders tend to 1) value their tickets more than guys looking to turn a quick buck and 2) see reselling as a way to recoup some of the thousands they spent on their season tickets in the first place, and thus inflate their asking prices.
So typically my time spent on TicketExchange is to confirm that I wouldn't be getting a better deal than on StubHub, and I'm on my merry way. It was no different for this game.
eBay: OK, I admit it, I didn't look at eBay for this one. But since it's to be a prominent choice for ticket searches, it's worth a mention. They own StubHub and thus display StubHub's ticket listings, so a lot of the positives of StubHub, you'll also find here. Still, the prices on eBay-only listings always tend to be artificially inflated in my experience, and then there's that whole auction thing. Pass.
ScoreBig: I have yet to buy tickets through ScoreBig, which is like the Priceline of ticket-buying: You name your price, and it promises you significant savings from face value on the game you want, the catch being you don't know where your seats will be until you've forked over the cash. I did look at listings for my game, though, and it told me I could save at least 10 percent … on tickets in the upper rows of the upper bowl. Thanks, maybe next time.
SeatGeek: It doesn't sell tickets itself, but it's seriously useful. I'm almost ashamed to admit that before this I didn't have much experience with SeatGeek, but now I think it'll be a must-visit on any future big-game ticket purchase. Not only does it aggregate listings from every major ticket site (and a few you might never have heard of), but it also assigns each listing a "deal score" and shows you on the venue's seating chart where the best deals are to be found (see the screen grab at the top of this post). So really, it does most of the work you'd be doing by yourself hopping to and from each of the sites listed above. And I'm all about saving time.
It just so happened that for my game, the best deal in the entire house was for a listing of three tickets in the lower bowl, behind the net where the Red Wings shoot twice. After a quick glance at Ticketmaster revealed that the listing was actually BELOW face value for that section, I moved quickly to buy, and I was redirected to…
TicketsNow: Since most of these sites have similar names, it took me a while to realize that TicketsNow is Ticketmaster's other answer to StubHub — a site where any joe with tickets, not just season-ticket holders, can put them up for sale. And that's where things got a little murky. Out of curiosity, I looked at StubHub and TicketExchange to see if I could find similar deals to this one on TicketsNow, and sure enough, there were similar listings — three tickets, same section and row — on each site, only priced slightly differently (read: slightly more expensive). What's more, I started through TicketsNow's homepage and went through the process of trying to buy the listing I wanted, and I was getting a price quote of about $20 more than the listing through SeatGeek was promising me, which I thought was really curious.
In the end, I thought it was worth saving $20, and I followed SeatGeek through to TicketsNow and bought my tickets for a total of $350, after all fees. In the days since, I've looked on all the relevant sites and have yet to see a deal come even close to the one I snagged, for any quantity (indeed, as I type this, I don't see any listing in the lower bowl where an individual ticket is less than $150). So yeah, I think all the extra research and legwork was worth it.
It certainly was worth doing the legwork 20 years ago, when all the calls landed me, my sister and two cousins in the nosebleed seats of the Forum for Game 3 of the Campbell Conference Finals. I got the tickets from an agency not far from my house (so I could drive there on my own — I was of driving age but not yet entrusted by my parents to drive more than a few miles away from home), and though my memory is fuzzy, I know I paid close to double the $35 face value for the game. It was a pretty penny to a bunch of high schoolers, but in retrospect I think it was good preparation for my long nights of sitting in my pajamas, clicking through ticket sites in search of good deals.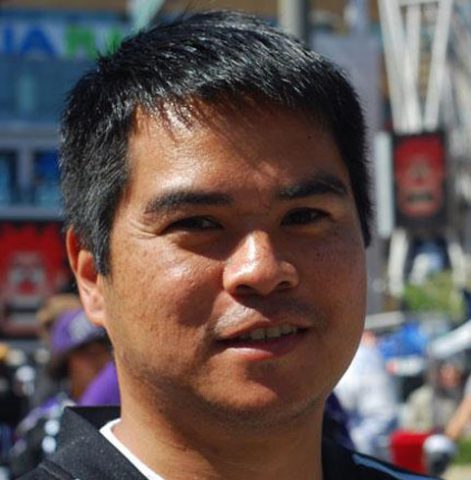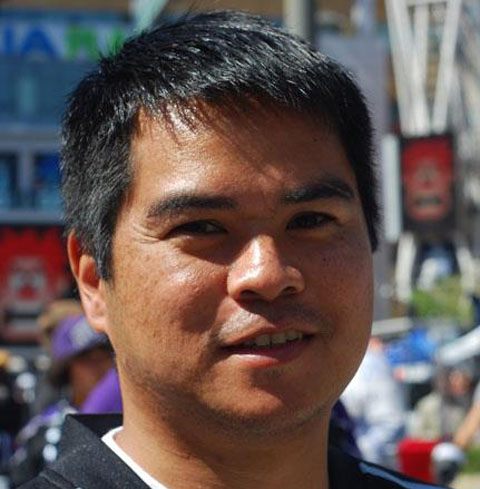 Edward de la Fuente | Itinerant Fan
I live for sports, and I love to travel. My biggest thrill is combining the two. I've been blogging about sports travel for more than a decade, and traveling for sports for twice as long.
About me | FAQ | Buy me a beer 🍺
Affiliate Disclosure
Please note that some of the links above are affiliate links, and at no additional cost to you, we earn a commission if you make a purchase. These recommendations are only for companies that we've used and have proven to enhance our sports travel experiences. To find out more about our affiliate partnerships, please read our Affiliate Disclaimer.