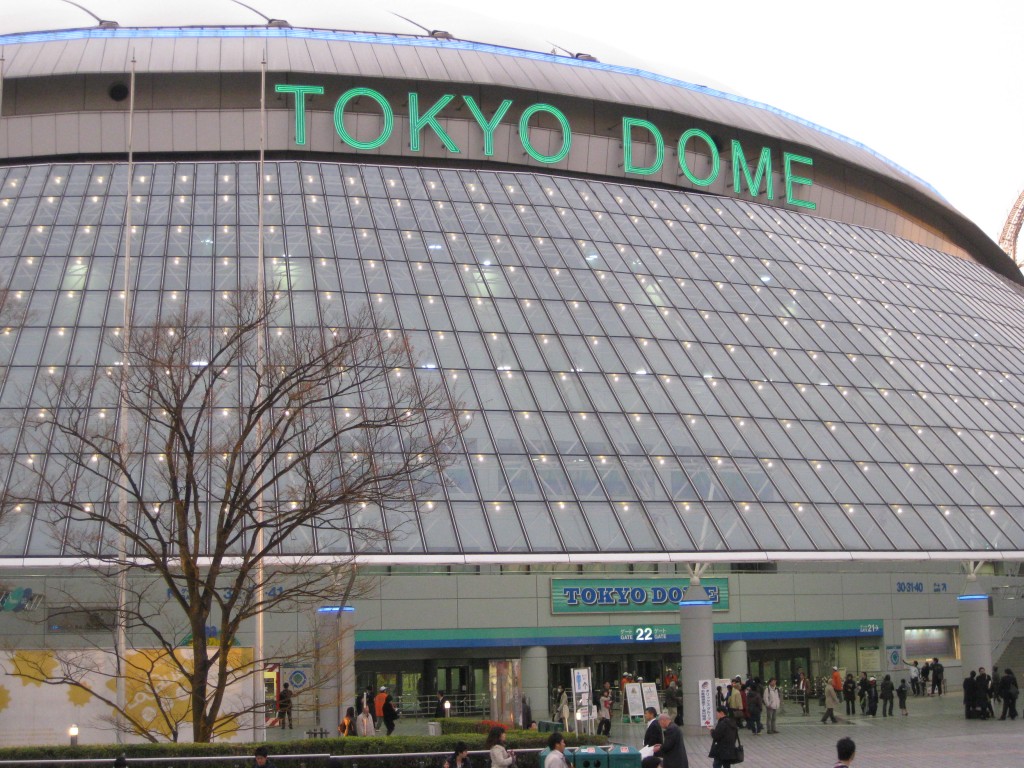 The following is an Itinerary unlike any of the Itineraries I've written previously, and I'm pretty confident in saying it'll be unlike at least 99 percent of the Itineraries I'll write in the future. Since I started this blog at the beginning of the year, I've been focused on attending sporting events in the United States (or, at least, North America) because, well, that's where I am. But you know, sometimes you get the chance to go somewhere else, and sometimes that chance to go somewhere else involves a chance to see some sports, and when those times come around, you have to take advantage of them, because that's part of the adventure of traveling. And that is how I came to see a Japan League baseball game at the Tokyo Dome last month.
So you can certainly use this entry as a guide for if you want to get out of town, fly across the Pacific and take in a foreign country and culture just to see some baseball. But more than that, I hope it's a guide for how to seek out some sports within the context of a trip to a foreign land.
That's essentially what I did — I had been wanting to go to Japan for years, and when I finally managed to make it happen, I was able to work a Japan League baseball game into the plans. And boy, am I glad I did.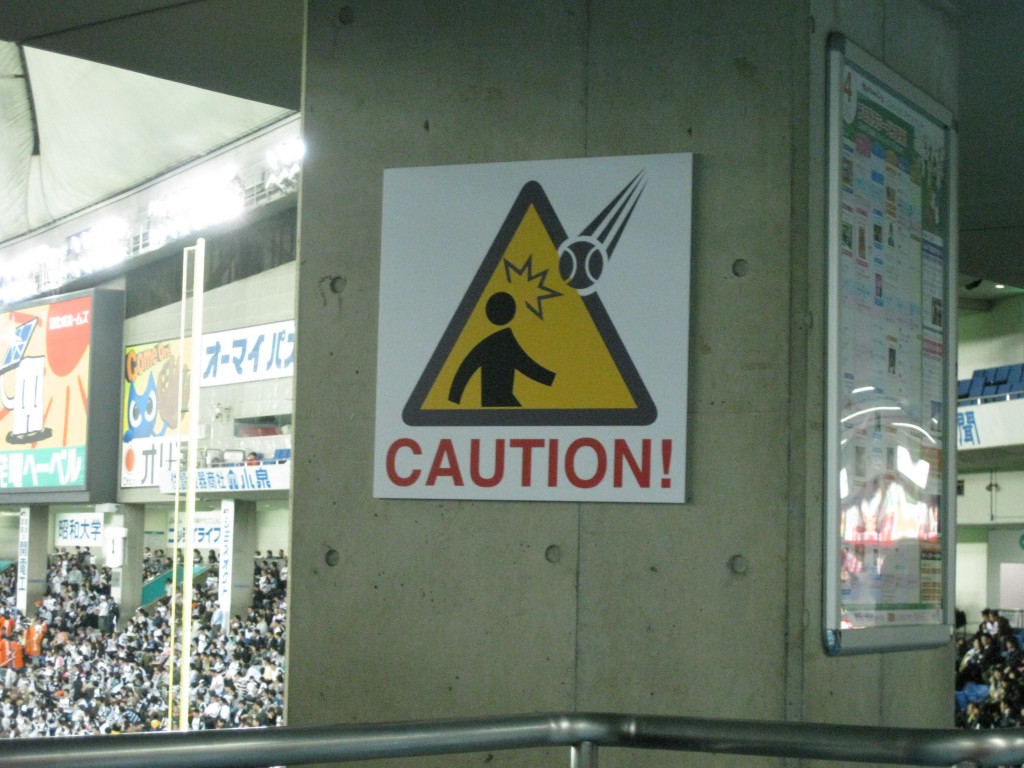 The approach: Getting to the Tokyo Dome
I'll save you the details about how I planned my trip to Japan — if you've gone to a foreign country, you know the drill already. I'll keep it strictly about the baseball game here, and much of how I chose the game I chose and how I got the tickets was covered in an earlier entry.
Just to recap, though: I had a small window (three days) in which I could carve out time to see a Japan League baseball game, and I knew I wanted to see a game in the Tokyo Dome for two reasons: 1) It's an iconic building, with events like this in its history, and 2) I wanted to avoid any possibility of rainouts.
I would've loved to have seen the Yomiuri Giants, the New York Yankees of Japan, but they were on the road. Instead, though, the Nippon Ham Fighters (who once called Tokyo home but now play in the northern city of Sapporo) were holding a two-game series against the Orix Buffaloes at the Dome (something the Fighters do every year, apparently), so I had to jump on it.
I had several choices on the Internet for finding tickets, all by entering "japanese baseball tickets" on Google. I went with JapanBall even though the rate they were charging for delivery of tickets was some $50 US, significantly more than what any other site was offering. I chose them for one reason: transparency. The site gives names of who you're dealing with, who's going to get you the tickets, and how to contact them. A trip to a foreign country where you don't know the language is hard enough without the added problem of feeling you've been scammed and having nowhere to turn for help. So to me the added fee was worth it.
And just so you know, here is my endorsement of the good folks at JapanBall for anyone who wants to see a game in Japan: I got at least three e-mails, unsolicited, saying they received my order, they processed my payment and they had the tickets in hand. I sent them a question via e-mail (an innocuous one that didn't necessarily need to be answered) and received a personal reply within 24 hours.
And when Mrs. Fan and I checked into our Tokyo hotel the night before the game, the guy behind the counter handed me a package, to my surprise — we were tired from our flight and had forgotten to expect it. Inside the package were two things that looked like tickets, and were completely in Japanese except for the numbers.
So go with JapanBall — tell 'em the Itinerant Fan sent ya!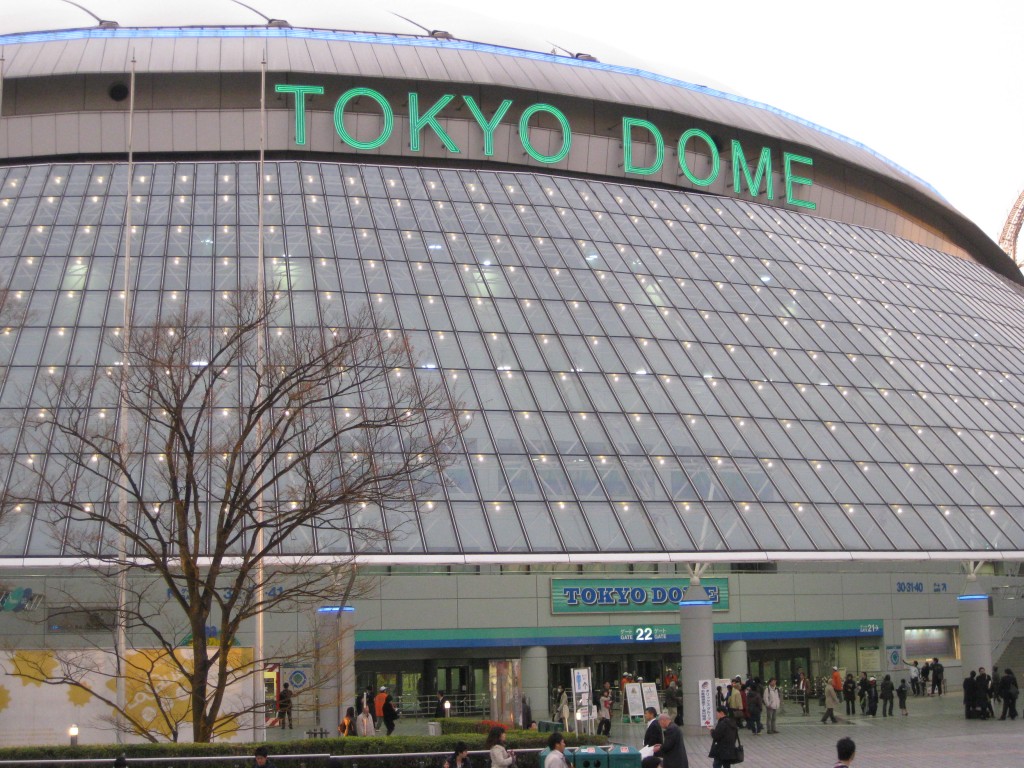 The build-up: Things to do around the Tokyo Dome
If you're in Tokyo, you have to accept two facts: 1) It's going to be super-crowded wherever you go and whenever you go, and 2) you'd better take the train.
I'm serious about No. 2. Everyone takes the train (that is, unless you're hauling or delivering something, or it's within walking distance). The good thing is, Tokyo has about five different competing subway and rail systems, and regardless of which one you choose, it'll probably get you reasonably close to where you need to go.
The better thing is, if you're a tourist in Tokyo, a company called JR sells a rail pass to tourists that allows you to take its trains for one flat rate, the cost of which depends on the length of your stay. Most people buy it to be able to use the shinkansen, or bullet train, but you can also get around Tokyo with ease just by flashing your pass whenever you enter and exit the station. And this method beats fumbling around for yen to feed into the talking machine every 20 minutes, believe me.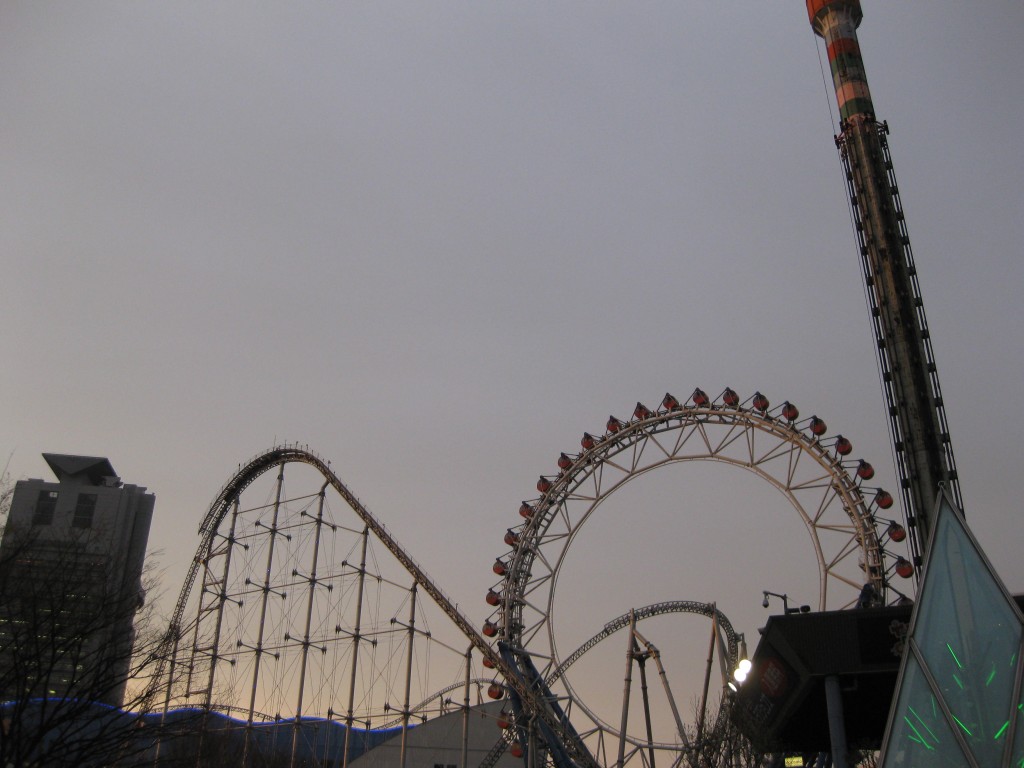 So from our hotel in Shinjuku, we took a JR train to the Suidobashi station — about a 20-minute trip even at the height of rush hour. From there, it was a five-minute walk over a pedestrian bridge, past a few buildings and into what's called Tokyo Dome City: The dome itself, plus a hotel, a row of shops and restaurants built into the perimeter of the dome, and an amusement park.
The park looked like fun — at least the part of the park we could see from outside, a view that included a tower, a Ferris wheel and a roller coaster — but we didn't go. After all, the game started at 6 (probably doesn't matter when they start, it's not quitting time for many around Tokyo) and we still wanted to hit up the souvenir shop just outside the entrance.
Of course, we cleaned up in the souvenir store — I had decided well before arriving in Japan that I would root for the Fighters in this game for laughs, so I bought a Fighters cap and a small stuffed Fighters mascot (a bear, in case you were wondering). Mrs. Fan bought a larger stuffed Hiroshima Carp mascot (a creature named Slyly who should look somewhat familiar to American baseball fans), plus a few Giants souvenirs to bring home to friends who are San Francisco Giants fans.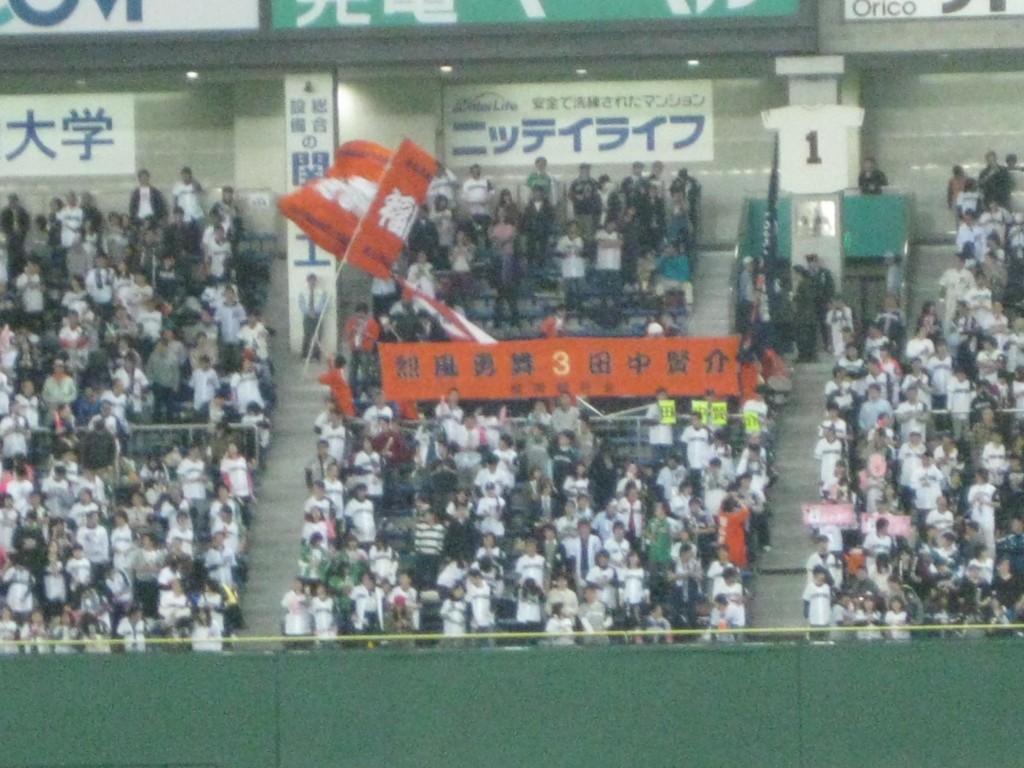 The ambiance: Watching a Japan League baseball game
It being a Wednesday affair not involving the Giants, this probably wasn't a well-attended game by Tokyo Dome standards. The upper deck was closed off, the lower deck was maybe 2/3 full at the most, and the outfield stands were mostly empty save for two clusters of fans, one in left field and one in right. But oh, what boisterous clusters of fans they were.
I didn't do too much research on the subject, but from what I gleaned from this experience, it appears that every Japan League baseball team has its own group of fans that appear at every game, home or away. They come wearing jerseys and holding up signs, sure, but they also bring instruments and play songs. They seem to have several different tunes depending on either the batter or the situation. They usually play only when their team is at-bat, allowing the other team's band to play in the other half of the innings. Think college band playing its fight song as its football team is marching down the field — only more boisterous, less ominous.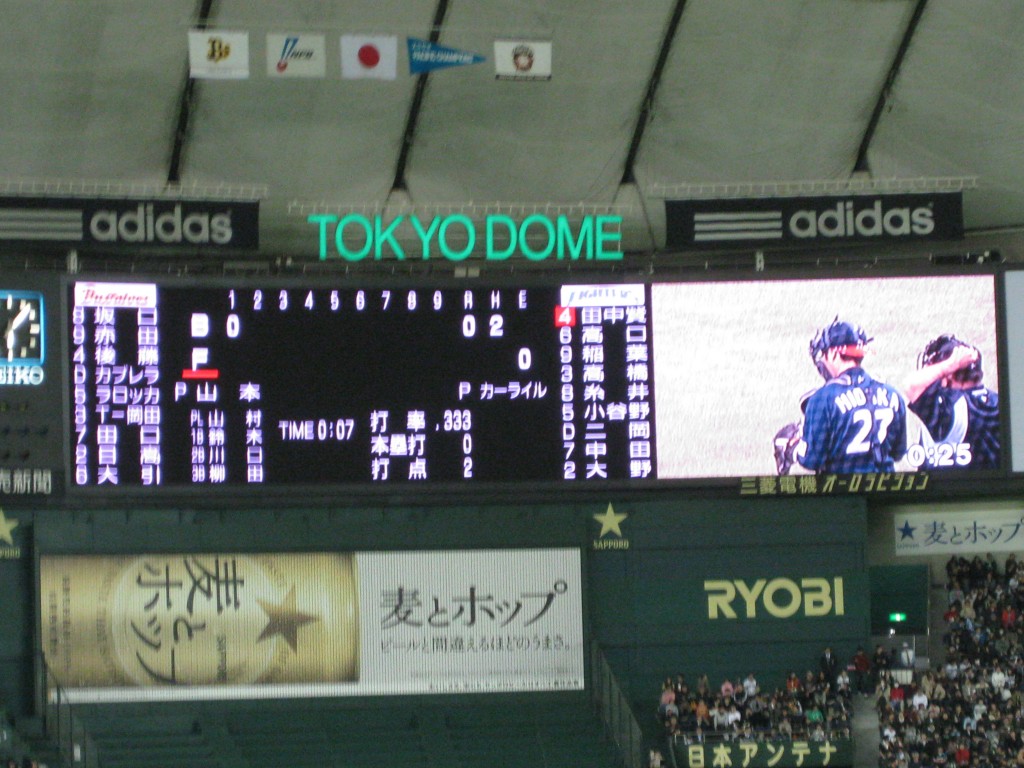 The rest of the crowd was made up mostly of people who obviously had just gotten off work, because they were wearing suits and the like. One guy in front of me was by himself, in a suit, scarfing down the contents of his bento box and drinking Asahi beer (more on food in a bit). Talk about your businessman's special.
There was also a family to our immediate right who weren't dressed snappily and were obviously tourists, even not considering the fact they were Caucasian and speaking English to each other. I asked the mom sitting next to me where they came from and they said Toronto. She also said, "I just love the name Ham Fighters," and later exclaimed "Bad play" on a ground-ball out in which a runner advanced from second to third, which suggested to me they were just there for the experience. No shame in that at all.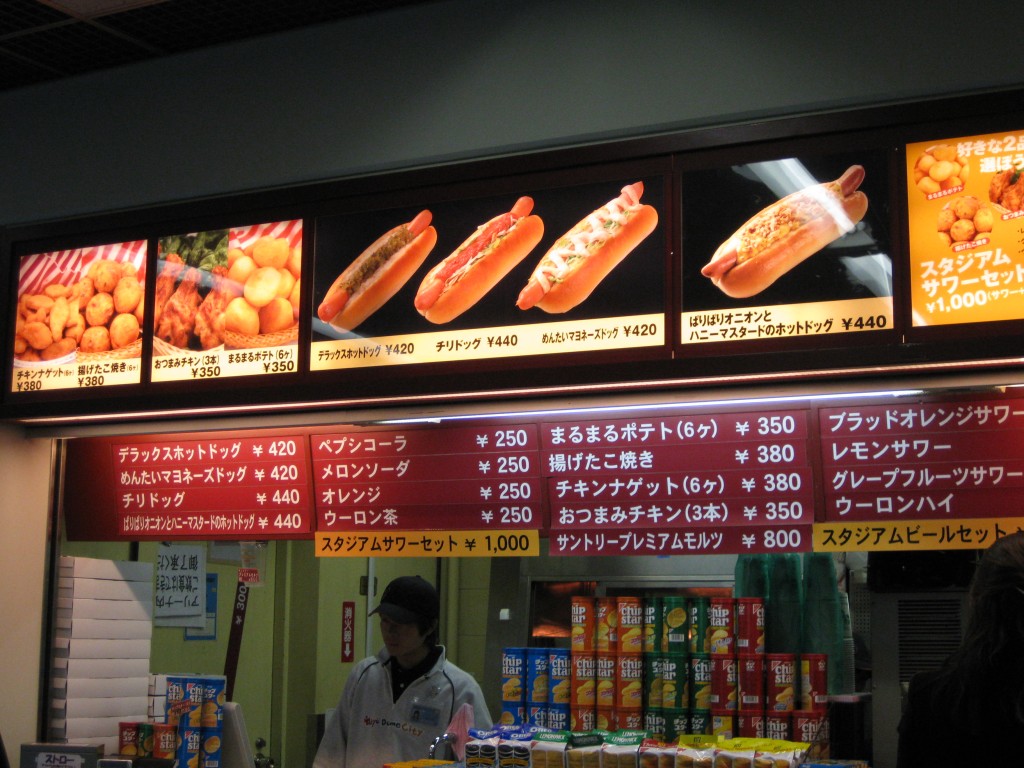 Now, about the food. I wish I had come to the game more hungry, but one of my primary objectives in Japan was to stuff my face. So I wasn't up to buying a full meal at the game, but I did want to sample something, so I set out to do so around the fourth inning.
And the good thing about the concession stands at the Dome, and pretty much every other eating establishment in Japan, is that they usually have photos of what's on the menu — because if they didn't, I might very well still be standing there right now trying to figure out what to order.
Most of it was typical Japanese — sushi, noodles, edamame and the like — but they also had hot dogs. I figured getting a hot dog would be too much like eating at McDonald's, so I got this chicken-on-a-stick thing for 400 yen, while Mrs. Fan got edamame in a plastic container for the same price. The chicken was kinda spicy but otherwise not really anything to scream about. I wish I had gotten the bento box.
The game was pretty good, though I wound up unhappy in the end. The Fighters scored a run early and tried to hold on to that slim margin throughout the game, but an Orix pinch-hitter (don't ask me who — the lineups were on the scoreboard throughout the game, but all the names were in Japanese characters, including the Western ones) hit a three-run homer in the top of the ninth. The Fighters scored a run in the bottom of the ninth but lost 3-2. Oh well — I still proudly wear my Fighters cap now that I'm home, so I guess they're my Japan League baseball team for the foreseeable future.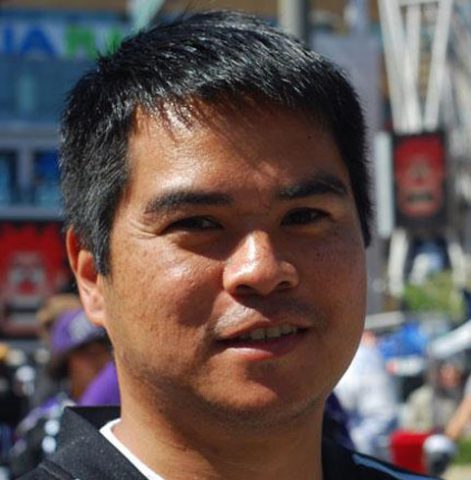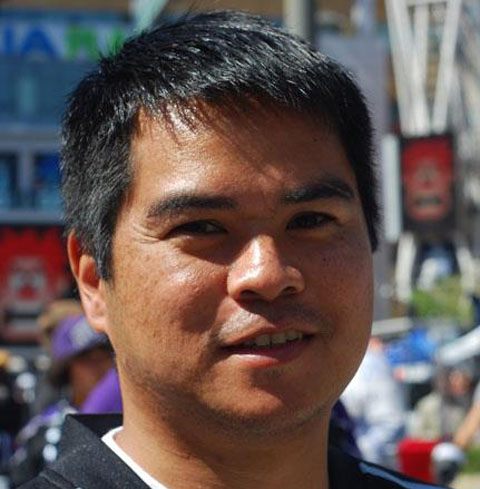 Edward de la Fuente | Itinerant Fan
I live for sports, and I love to travel. My biggest thrill is combining the two. I've been blogging about sports travel for more than a decade, and traveling for sports for twice as long.
About me | FAQ | Buy me a beer 🍺
Affiliate Disclosure
Please note that some of the links above are affiliate links, and at no additional cost to you, we earn a commission if you make a purchase. These recommendations are only for companies that we've used and have proven to enhance our sports travel experiences. To find out more about our affiliate partnerships, please read our Affiliate Disclaimer.