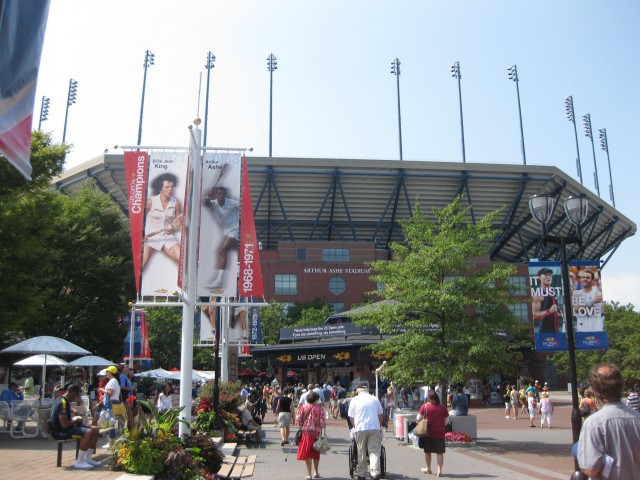 One of the things I love most about traveling is the possibility of your travels coinciding with something you weren't expecting.
Yes, I structure most, if not all, of my trips around watching the "big four" North American sports, but sometimes you wind up with the opportunity to go see something that wasn't part of the original plan — to go off the beaten path and discover something that you didn't care for much before but, with the chance to experience it, you start to warm up to.
That was how Mrs. Fan and I, having traveled to New York with the intention of watching football and more football, wound up spending a day with the tennisheads at the U.S. Open earlier this month.
Before I go any further, I feel I need to get this confession out of the way: I'm not much of a tennis fan. Really, I'm not much of a fan of individual sports.
I think the reason why is that it's hard for me to get behind individuals because it means you have to like their personality and/or their background in order to support them, whereas when you support a team it typically doesn't matter who's playing for it and whether you like the players personally or not. At least that's my experience.
Don't get me wrong, I appreciate the sport — I just don't follow it as fervently as I do the major team sports. The reason I bring this up is that if you're a tennis diehard, you'll probably spot some naïveté in my observations, and I freely admit that there are things I saw during this visit that were weird to me but probably normal to others. But that's why we go out and do new things, for the feeling of discovery, right?
Because the U.S. Open is in New York and thus very accessible, it's very easy to "stumble upon." And now that I've done so, I sure wish I had done it sooner. I've been in New York multiple times while the U.S. Open was in progress, and not once did I decide to drop in on a whim.
But this year, the logistics of our trip left us with a free Friday afternoon, so about a week beforehand we made the commitment to go (meaning, we bought tickets). And if I I get the chance again, I wouldn't hesitate to do it again.
Getting to the tennis center
If you don't know where you're going, just follow the tennis fans. Seriously. Starting in midtown Manhattan, they're really hard to miss. They're usually wearing some sort of tennis gear, like sneakers (remember when any sort of athletic shoe was automatically called "tennis shoes"?), visors or, in the case of most female tennis fans, a brightly colored or fluorescent shirt.
(Sorry to stereotype, but it's true — just like fans of a certain team wear jerseys of that team, tennis fans wear tennis gear to a tennis event. Not saying there's anything wrong with it.)
You'll definitely see them around Grand Central Station, where many fans pick up the 7 train headed into Queens. In our case, we were coming into town from New Jersey, which required us taking NJ Transit into Penn Station and then transferring through Times Square to the 7.
Either way, if you're going by subway, just make sure you get to the 7 and you won't get lost, period. Just sit on the train until all the tennis fans get off (It's the Mets-Willets Point station, just so you know). It's about a 45-minute ride from Manhattan.
The Long Island Rail Road also has a stop right in front of the USTA National Tennis Center, if you're coming in the other direction. If you want to try a different mode of transportation, be my guest, but I've already made my feelings known about non-train travel in New York elsewhere on this site. I'll stick with the 7 train, thanks.
Oh, and say you've figured out the subway map of Manhattan, made it onto the 7, got yourself all the way to Willets Point and are STILL worried about getting lost, don't worry. MTA has you covered by putting up wonderfully simple signs throughout the station. They have two words on them: "Baseball," with an arrow pointed in one direction, and "Tennis," with an arrow pointed in the other. If you can handle that sign, you have nothing to fear.
Side note: Since the U.S. Open lasts two weeks, the Mets are almost always home at some point while the tournament is going on, so if you're there on the right day you will run into some baseball fans.
That does lead to some overlap and a crowded station, as it did the day we went, but since the baseball fans were arriving at the same time the tennis fans were leaving, it wasn't that big of an issue. Besides, this conflict has existed for decades now, so I have confidence that by now the proper authorities know how to handle it.
Things to do at the tennis center
If you've never been inside the Tennis Center before, go in as soon as you get there. You might as well. There's really nothing to see in the surrounding neighborhood unless you need an auto body shop or were really into World's Fairs back in the day (how come they don't have World's Fairs anymore? Or do they? Any event that gave birth to the hot dog deserves to keep going).
Plus, it's quite an experience — almost like an amusement park with tennis as the centerpiece.
We visited on the second Friday of the tournament, one of only two days in the schedule that doesn't have both day and night sessions. That's because there were only three matches scheduled: the men's doubles final and the two women's singles semifinals.
So given that play began at 11 a.m. and we expected it to be hot and muggy (we were right, though not as right as we expected — the weather was actually quite pleasant until maybe 2 in the afternoon), our plan was to get there as early as possible but skip out on the doubles final and not actually go into the stadium — all three matches were inside Arthur Ashe Stadium, where all the big-ticket matches are held — until the first women's semi was about to begin.
A little aside on ticketing: If you'd like to just drop in one day like we did, you have to be mindful of what you're buying tickets for and what the schedule is like for the day you're going, because there are different types of tickets that give you different privileges — not to mention the separate day and night sessions, as alluded to above.
If you're going early in the tournament, then there are events going on at Arthur Ashe, as well as the smaller stadium, Louis Armstrong Stadium, and all the side courts. Some tickets will get you into only one of the two stadiums; some only allow you to roam the grounds; and there are full-access passes. Of course, the more access you have, the more you will pay, whether you buy through the USTA or on the secondary market.
This was not an issue the day we visited, but it seems as though if you don't have a seat assignment for a stadium on your ticket, then you can't go into said stadium. In other words, be sure of what you're buying before you buy it.
While the doubles final was going on (big surprise — these guys won), we explored the grounds. Among the things you can encounter: A VERY large food court area with all sorts of food and drink options, a small row of shops where you can buy tennis gear, an interactive expo where you can play tennis (both virtually and in real life, but it seems like only kids were allowed to step onto the real-life court), a small plaza dedicated to the memory of Arthur Ashe, and a Hall of Fame area with plaques dedicated to each inductee. We spent time at just about all of these areas.
We ate fish and chips for lunch — don't know what type of fish produces perfectly square filets, but that's another story. We visited the Wilson shop, where Mrs. Fan became enthralled with a $45 giant tennis ball after seeing quite a few people carrying them around the grounds. We were lured into the expo by a female worker making oddly hypnotic beckoning motions with her arms while welcoming folks in.
All the while, there were screens at practically every turn showing the doubles match in progress, so it would be hard not to keep track of the tennis even while you're not actually watching the tennis. There were also electronic scoreboards in several places that kept tabs on the action. So it's really easy to have a good time without actually watching a match, which is probably the beauty of the whole experience.
Watching matches at the tennis center
We entered the stadium just before the semifinal between Maria Sharapova and Victoria Azarenka began, just before 3 p.m. To our surprise, our seats, about halfway up the upper deck, were shaded by the press box behind us and stayed that way for the duration of the afternoon. We had to kick out a guy who was sitting in one of our seats, and he just moved into an empty seat one row up and stayed there until THOSE people showed up and told him (nicely) to scram. In the end, I think he was just seeking a spot in the shade.
If you read enough of these Itineraries, you've probably noticed a trend in my ticket-buying: Typically (that is, if it's an event I don't have a specific rooting interest in), I like to spend just enough to get into the stadium, even if it means sitting in the nosebleeds or up in the corners. So I usually have low expectations of what my view will be, and I'm always rather pleasantly surprised to find that it's not so bad.
Look, just give me a clear enough view so that I can tell what the players are doing and where the ball/puck/whatever is going, and I'm satisfied. And these seats, barely five rows from the top, fulfilled those requirements.
As for being so close that I can hear the players? Well, you've seen Sharapova and Azarenka play, right? Believe it or not, from up there, their grunts were less annoying than if you watch them on TV, where mics pick up their every noise. And in Sharapova's case, I found the intensity of her grunt sort of foretold the kind of shot she hit, which I thought was kinda cool.
The Sharapova-Azarenka match went three hours and was intense and entertaining all the way through. As we watched, we also got to know our neighbors a little bit — to our left was a mother-and-daughter pair from Pennsylvania who looked and acted the part of U.S. Open lifers but later told me that they had come for the first time last year and liked it so much that they bought a one-week package for this year.
To our right, an older couple that kept quiet for the most part but were obviously quite focused on the action.
To the left of the mother and daughter, a guy in a Baltimore Orioles cap who was vocal in his support of Sharapova, even openly castigating her when it became apparent she was on the ropes (later, when he left, the daughter made it very clear she was happy with his departure).
At some point, though, we conversed with each of them and found them all to be pretty laid-back and cool. Also, coming in, I had been worried about making so much as a peep before serves, but that fear turned out to be unfounded — as long as you're not screaming, the players can't hear you from up there.
Compared to the marathon before it, the second semi went by in a flash — Serena Williams absolutely destroyed Sara Errani, who I had never heard until the moment she stepped onto the court — and that seemed to come as a relief to those around us who had sat in the heat all afternoon.
The exit from the stadium was orderly and without incident. Oh, and on the way out, Mrs. Fan bought her giant tennis ball. Made for a great conversation starter on the subway ride back to Manhattan.
For more on New York venues and things to do, check out our New York sports travel guide.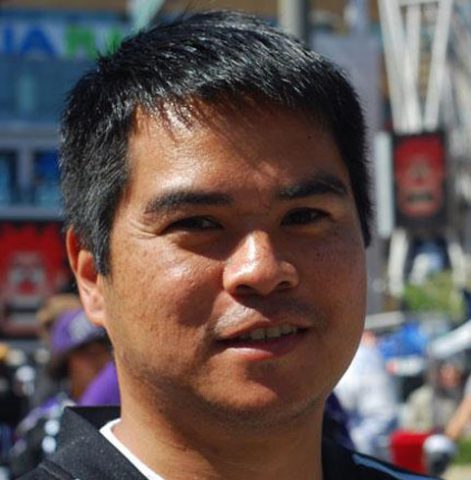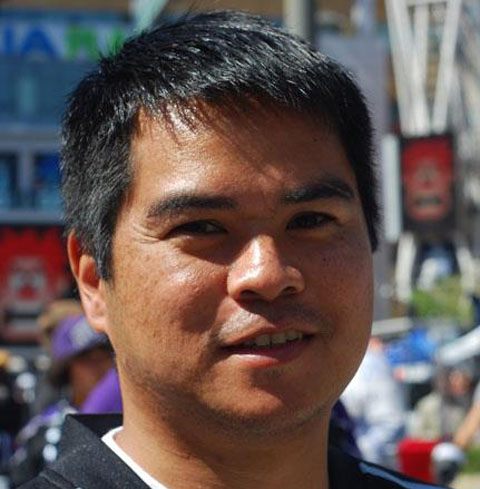 Edward de la Fuente | Itinerant Fan
I live for sports, and I love to travel. My biggest thrill is combining the two. I've been blogging about sports travel for more than a decade, and traveling for sports for twice as long.
About me | FAQ | Buy me a beer 🍺
Affiliate Disclosure
Please note that some of the links above are affiliate links, and at no additional cost to you, we earn a commission if you make a purchase. These recommendations are only for companies that we've used and have proven to enhance our sports travel experiences. To find out more about our affiliate partnerships, please read our Affiliate Disclaimer.