Nassau Veterans Memorial Coliseum

Our guide to Nassau Veterans Memorial Coliseum in Uniondale, New York, includes information on events, tickets, parking, public transportation, nearby hotels and restaurants, seating and more. Read on to find out how to get the most out of your gameday experience.
* * *
Say this for the venerable Nassau Coliseum: It has had, and continues to have, an interesting life as a sports and events venue. Opened in the early 1970s, it was the only home the New York Islanders knew for more than 40 years and bore witness to the glory days of the franchise — its run of four consecutive Stanley Cups from 1980 to '83.
For a long time, though, it existed in a sort of venue purgatory. Outdated and tiny by arena standards, it seemed destined for the wrecking ball pretty much since the turn of the century — it's just that Islanders ownership couldn't figure out the right course of action on how to replace it. Finally, the team announced it would move to Brooklyn and Barclays Center in 2015, and it seemed like that was that for the Coliseum, and maybe hockey on Long Island.
But a funny thing happened to give the old Coliseum new life as an NHL facility: Barclays Center and hockey turned out to be quite a mismatch, and both the venue and the Islanders began looking for ways out of the relationship.
At the same time, the Coliseum underwent a much-needed renovation and received a new "official" name ("NYCB Live at the Nassau Coliseum"), and while the resulting reduced capacity meant it wasn't a viable long-term solution for the Isles, the upgrade was enough to lure them back on a part-time basis as well as attract more marquee events to Nassau County again.
The Isles' initial plan was to split time between Nassau and Barclays while their long-awaited new arena is being built next to the Belmont Park racetrack, just outside the New York city limits. But the magic is back at the Coliseum, which is roaring again and has its fan base energized — so much so that the team eventually decided it would play ALL its home games at the Coliseum until its new arena was completed.
We took time to check it out and found that the smaller crowds do nothing to dampen the atmosphere.
For more on visiting Long Island, check out our New York City sports travel guide.
Getting to the arena
With three NHL teams in the New York metropolitan area, it makes sense that a majority of the Islanders' fans live on Long Island, close to Nassau Coliseum. But for visitors to the area, getting to the game presents a challenge in that the arena is located outside the transportation network that most visitors would know about or have easy access to.
In fact, even the main public transit link between New York City and Long Island, the Long Island Rail Road, doesn't run by the Coliseum. The closest station is about three miles away in the town of Hempstead, and if you're coming to the game via this method you'll still need to hire a taxi or rideshare to get yourself to the Coliseum grounds.
If you've got a car, you're all set, of course. The Meadowbrook Parkway, a major north-south route on Long Island, runs nearby. From there, use exits for the Hempstead Turnpike — there'll be plenty of signs marked "Coliseum" to guide you along the way — and you'll see Nassau Coliseum, in the center of a sea of parking. For more detailed driving directions, click here.
Parking at Nassau Coliseum
There are four entrances into Nassau Coliseum's parking lot, which is divided by numbers between 1 and 9. Drivers are encouraged to buy passes in advance via Ticketmaster, as event day rates begin at $25 but can be purchased for cheaper online.
Even cheaper parking options are available if you're willing to walk a short distance to Nassau Coliseum. Fans are known to park for free Nassau Community College, which is just north of the arena along Charles Lindbergh Boulevard.
Long Island hotels near Nassau Coliseum
• Long Island Marriott – 0.2 miles away
• Coliseum Inn & Suites – Garden City Long Island – 0.9 miles away
• La Quinta by Wyndham Garden City – 1.0 miles away
Search for more Long Island hotels on Booking.com.
Map of the surrounding area
Things to do around the arena
Unless you're a resident of the immediate area, you'd be hard-pressed to find anything interesting to do before the game. The Coliseum grounds are surrounded by college campuses (Hofstra University to the west, Nassau Community College to the north), recreational fields and neighborhoods.
Across Hempstead Turnpike you'll find a few fast-food joints, and if you travel about half a mile or more in either direction you'll find some more strip mall-type options, but nothing rivaling the sports-fan hangouts that many other arenas boast.
The "NYCB Live" in the new official name might lead you to believe that the Nassau Coliseum was made into the centerpiece of an entertainment and events district like a lot of other facilities around the country — for example, L.A. Live next to Staples Center, or Xfinity Live! near Philly's Wells Fargo Center. But alas, it's just a name and whatever is happening in the arena is what they mean by "Live."

The Long Island Marriott is the closest hotel to the arena, just a short walk across the parking lot away. Its lobby and bar serve as fan gathering points and hangouts, and it's not a bad option if you've got some time to kill before the game. (If your primary purpose for visiting NYC is to see Islanders games or other Nassau Coliseum events, it's worth saving all the pre- and post-game transportation and parking trouble to stay at this hotel so that you can just walk to the game.)
And if none of the above piques your interest, there's always tailgating, which many Isles die-hards will do in the Nassau Coliseum parking lots starting up to three hours before puck drop.
Long Island restaurants near Nassau Coliseum
• Chipotle Mexican Grill – fast food, 0.2 miles away
• Champions – American, 0.3 miles away
• Prime Seasons – American, 0.3 miles away
Search for more Long Island restaurants on Tripadvisor.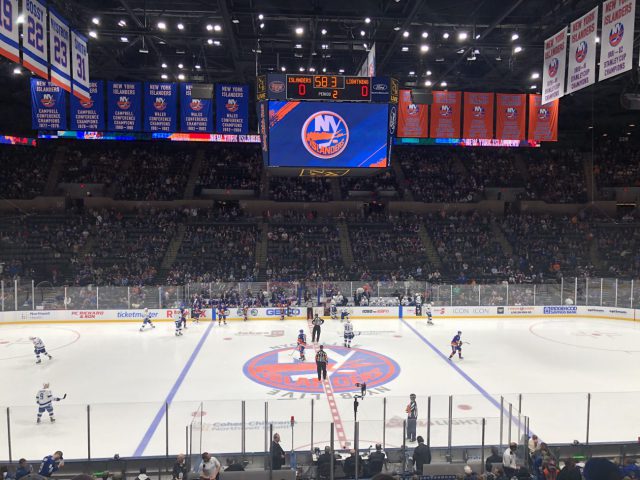 Watching a game at Nassau Coliseum
If you've grown used to the size of contemporary arenas around the NHL, then you'll probably be stunned by how small Nassau Coliseum looks in comparison, in both its exterior and its seating bowl. That's OK, though, because the size definitely has its advantages (although, admittedly, crowding isn't one of them).
Nassau Coliseum has a single concourse for both upper and lower seating levels, which can understandably get jam-packed during intermissions. But inside the seating bowl, there is also a center aisle that you can use to walk around the arena, and even sometimes stand for a little bit and watch some game action — though ushers will kindly ask you to move along if you linger too long.
Right at center ice on the concourse level is a bar branded the JetBlue Overlook, at which you can watch the game from a great angle, drink in hand. Don't drift too far into the center aisle, though, or you will hear from the ushers — we did that and were asked to step back. As it turns out, directly above that spot are the cameras that follow game action for the TV broadcasts, and your head or raised hands can get in their line of view if you step too far ahead.
Nassau Coliseum's seating bowl itself is pretty standard-issue; sight lines are good in most spots, but beware of the uppermost rows in the sections directly behind the goals. The ribbon boards that hang over the seating area will block your view of the center-hung scoreboard, literally the only place in the arena where the score and game clock are displayed. On a couple occasions we witnessed fans scamper down the aisle just to find out how much time was left in the period.
But, like most arenas, the uppermost seating rows at Nassau Coliseum will be where the home team's most conspicuous die-hards sit. In and around Section 229 is where you'll find members of the Blue and Orange Army, who bring drums and other noisemakers and lead some of the more creative chants you'll hear in NHL circles.
They're given credit for the "Yes chant" that all Isles fans now perform after their team scores, and they've got songs and shouts for specific players and situations. (The song they did for forward Josh Bailey, set to the oldies song "Hey! Baby," was a particular favorite of ours.) Sit near them and you'll be entertained no matter how the game goes, we promise.
Food and drink at Nassau Coliseum
When it's time to find food and drink, you won't find too many adventurous options. Nathan's hot dogs are sold at nearly every stand — you aren't far from Coney Island, after all — while the two Mister Softee ice cream stands are very popular. Click here for more detailed food options.
If the main concourse is too crowded, find the escalators near the JetBlue Overlook that lead down to the "Lower Level Food Court" — the food and drink options are mostly the same, but there's more space for people to move about and less crowded bathrooms.
Affiliate Disclosure
Please note that some of the links above are affiliate links, and at no additional cost to you, we earn a commission if you make a purchase. These recommendations are only for companies that we've used and have proven to enhance our sports travel experiences. To find out more about our affiliate partnerships, please read our Affiliate Disclaimer.
The Particulars
Home Teams
New York Islanders
Address
1255 Hempstead Tpke.
Uniondale, NY 11553
Year Opened
1972
Capacity
13,917
Upcoming Events
All times local
Michael Buble (Rescheduled from 3/24/2020, 3/12/2021)
Friday, August 27, 2021
8:00 pm
Get tickets at SeatGeek »

Elton John (Rescheduled from 4/17/2020)
Saturday, March 5, 2022
8:00 pm
Get tickets at SeatGeek »

Elton John (Rescheduled from 4/18/2020)
Sunday, March 6, 2022
8:00 pm
Get tickets at SeatGeek »

Winnipeg Jets at New York Islanders
Friday, March 11, 2022
3:30 am
Get tickets at SeatGeek »