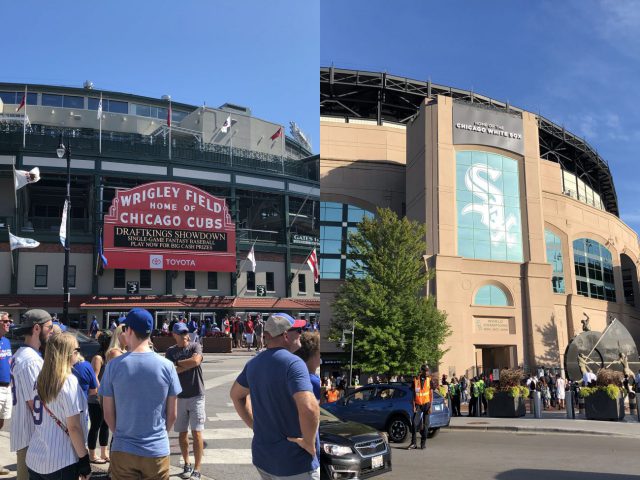 Ever thought about seeing a Chicago baseball doubleheader? Yes, two games in one day — but at different ballparks? It's rare, but possible.
There are four markets that can boast of being home to two Major League Baseball teams, and in each of them — New York City, Chicago, Los Angeles-Anaheim and the San Francisco Bay Area — the two ballparks are a relatively easy distance from each other.
So it stands to reason that planning a trip to see both ballparks in one city would be a piece of cake, but the problem is that the MLB schedule doesn't always cooperate. Understandably, the schedule-makers try to limit the number of instances in which the two teams host home games on the same day, and then the games have to be played at different times in the day for you to be able to attend both.
But when it does happen, it presents a glorious opportunity for a unique baseball-watching experience.
I had been looking for a chance to put together a two-ballparks-in-one-day trip for a while, and finally the schedule gave me that chance: On an August Saturday in Chicago, the Cubs hosted an afternoon game at Wrigley Field, and the White Sox played a night contest at Guaranteed Rate Field.
So off I went to the Windy City, expecting a long but fulfilling day of ball-watching on this Chicago baseball doubleheader. Thanks to some gorgeous weather, the ease of commuting in Chicago and two parks worth of boisterous fans, I was right on both counts.
Setting up the Chicago baseball doubleheader
Two things jump out quickly about the experience of going to baseball games in Chicago. The first is that whenever there are two games in one day in Chicago, it seems exceedingly likely that it'll be the Cubs game played in the afternoon and the White Sox game in the evening, given the frequency of day games played at Wrigley. In the grand scheme of things that doesn't mean a whole lot, except it surely makes the day's activities easier to plan. 
Secondly, even if you're not into public transportation and don't know much about the train system, known locally as the L, you really need to only know one line — the Red Line — and two stops, Addison for Wrigley Field and Sox/35th for Guaranteed Rate Field.
Whichever order you're going, if you're visiting Chicago you are likely staying in the central city, in the Loop or Near North neighborhoods or somewhere nearby. And if that's the case, getting to the Red Line is easy — just find State Street, a north-south street that runs just west of Michigan Avenue. 
That was how I set things up for my trip, staying in a hotel just north of the Chicago River and a few easy blocks away from the nearest Red Line stop, at State/Grand.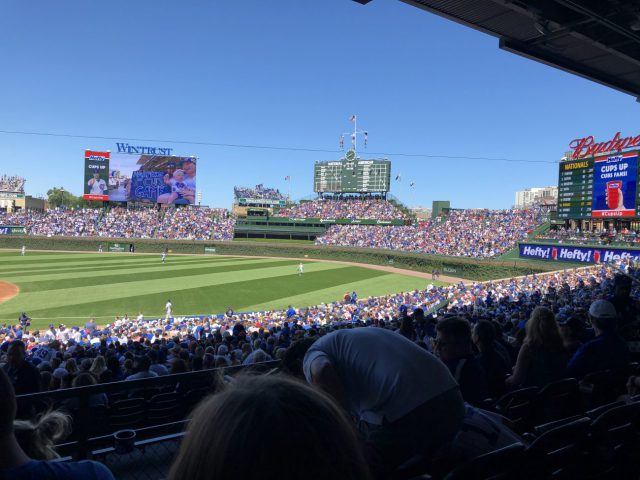 Game 1: Cubs-Nationals at Wrigley Field
To start this Chicago baseball doubleheader day, I made plans to meet a friend, Hawks Nut, at one of the many bars along Clark Street in Wrigleyville, but I made it a point to head out early because I hadn't been to Wrigley in five years — before the Cubs set about renovating the ballpark and the surrounding area — and wanted to get an early glimpse of the changes.
So I was on a Red Line train heading north by 10 a.m. for a 1:20 p.m. first pitch, and it turns out I was far from the only baseball fan who had that idea. It's not that the train was packed, but I'd say about 2/3 of the passengers I saw were clearly going to the game, either as fans or in a working capacity.
I began talking to one, a guy who said he sold peanuts outside the ballpark, along the way (actually, he first asked me if he could use my phone to call his dad). "You have to go this early, otherwise the station will be so packed you can barely walk," he said.
He then told me to visit his peanut stand so that he could "hook me up," and since his call didn't go through, said that if I got a call later in the day from a number in the 773 area code, to tell the person on the other end that his son Jimmy had called. That was a lot for me to process early in the day, but I kept it all in mind.
If you haven't visited Wrigley since the renovations like me, you'd be stunned to see all that's changed. All the bars and restaurants along Clark are still there, but the immediate surrounding area of Wrigley is completely different.
Gone is the standalone McDonald's and mom-and-pop businesses; in their place are an outdoor plaza called Gallagher Way (named after a sponsoring company, not a person), a boutique hotel across Clark Street and brand-new lofts across Addison. In other words, it looks like pretty much every redeveloped neighborhood in every major U.S. city (though it's not like Wrigleyville needed rehabbing necessarily).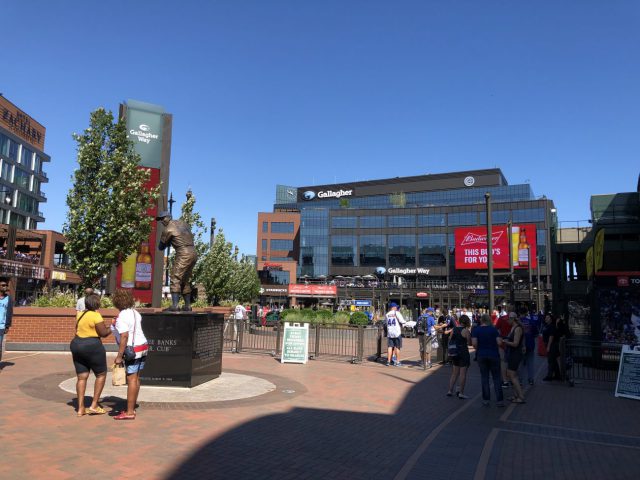 After a great two hours of catching up with Hawks Nut (note to self: it pays to know people who are well-versed in a city's dining and nightlife scene), I headed into Wrigley just in time for first pitch. Inside, the park doesn't seem that much different than before. Food offerings have definitely improved, but the corridors can still be cramped in a lot of spots and finding your seat can be a challenge amid the maze of walkways and ramps.
Ah, but then you get to your seat and realize how worth it it all can be. I mean, just look at that view in the photo above, taken from where I sat for this game. And by the way, whoever said that adding modern videoboards would diminish the old-timey charm of the place was mistaken.
The Cubs, similarly to the Red Sox at Fenway Park, do a nice job of displaying info on the boards with the same feel as the hand-operated out-of-town scoreboard in center field, and even when they switch to live footage or replays, it isn't jarring. 
Despite striking up a friendly conversation about ballpark traveling with the father of two sons next to me, I left my seat in the middle innings to check out other parts of the park. I was in the upper concourse, watching with about two dozen other fans on the large screen overlooking Gallagher Way, for a key Cubs at-bat (that ended badly for the home fans). I took in some of the game from a bar-slash-patio near the left-field foul pole. And I waited about 20 minutes in a concessions line to buy a sad-looking soft-serve in a Cubs helmet.
So no, the afternoon didn't go perfectly. And I had to leave before the final out in an effort to get to the South Side before Game 2 of my Chicago baseball doubleheader. But otherwise, it was a great first game.
Oh, and I did eventually get that call from a 773 area code. I told the perplexed-sounding man on the other end that his son Jimmy would call him back in the afternoon. He seemed satisfied enough with that.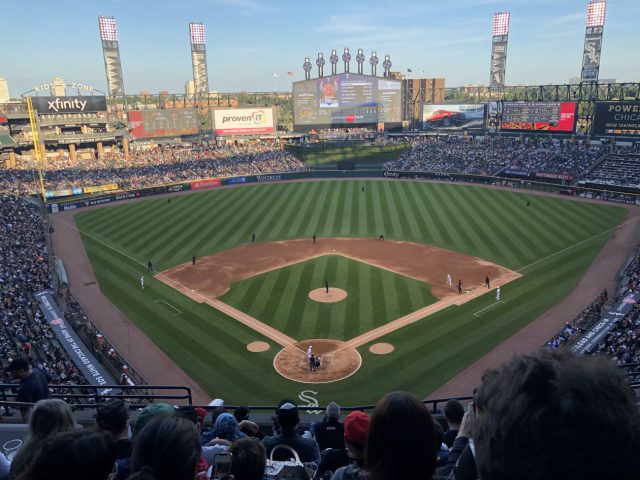 Game 2: White Sox-Rangers at Guaranteed Rate Field
At least leaving the Cubs game early allowed me to dodge the inevitable crush of fans trying to get into the Addison station. Less than five minutes after reaching the platform, I was on a Red Line train headed south — and it was still fairly crowded. "Oh man, the baseball game must've just ended," I heard one non-baseball fan patron mutter to her friend, and something told me this wasn't the first time she's seen this happen.
If you're heading from ballpark to ballpark it's actually a nice ride — about 20-25 minutes by my count, and it's fun to observe the Cubs fans slowly getting off at various stations in and around the Loop and White Sox fans slowly filling the cars up the farther south you go. The Red Line travels underground through most of downtown, re-emerging just before the Cermak/Chinatown Station, and by that point you can see Guaranteed Rate Field in the distance.
The walkup to the ballpark from the station was about the same in length on the South Side as it was on the North, but worlds apart in terms of atmosphere. Yes, there were fewer people, but it just felt more … businesslike. As in, fans were coming to Wrigley to party, but those going to Guaranteed Rate were in it just for the baseball. I'm sure the day of the week and the respective home teams' place in the standings owed to this, but that was just my observation. To me, seeing the contrast in atmospheres is part of the fun of this Chicago baseball doubleheader.
Anyway, there's less to do around Guaranteed Rate than Wrigley — mostly parking lots, with the exception of a sports bar/team apparel store across 35th Street. Sox fans do tailgate before games, so that's an option. But otherwise there isn't much to do besides go in and check out the park, which I did without much delay.
The former New Comiskey Park (anecdotally, I can say it isn't likely that many locals and Sox fans go out of their way to call it Guaranteed Rate Field) won't offer the charm of Wrigley, but it will give you a functional baseball-watching experience, complete with good food (especially if you like hot dogs and other sausages done the Chicago way) and beer.
My ticket for this game was in the upper deck (aka 500 level) behind home plate, and I definitely enjoyed hanging out in a mostly empty row, Polish sausage in hand, and taking in the action while listening to the commentary from the bleacher bums around me.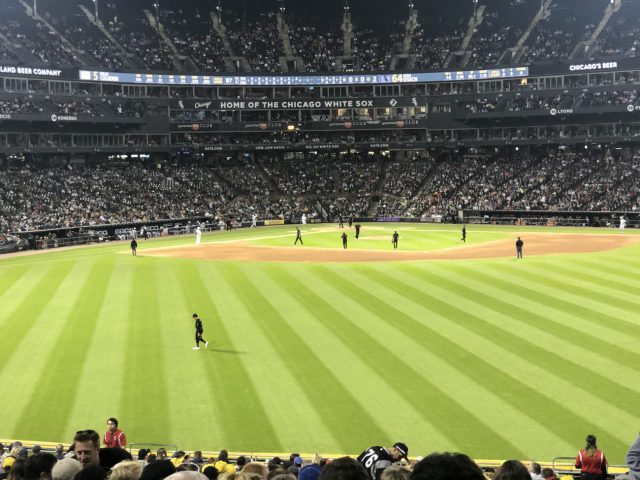 But honestly, the best place to watch the game at Guaranteed Rate just might be the outfield. Several ballparks around the majors have made their outfield seating and concourse areas into social gathering spots to great success, but for some reason Guaranteed Rate doesn't get a ton of credit for having this feature. 
Even if you don't have a ticket for the outfield bleachers, you owe it to yourself to at least take a stroll through the area, especially if it's your first visit. Don't be deterred, by the way, by stern signs throughout the upper deck warning that 500-level patrons aren't entitled to access to the main concourse — I waited until the middle innings, then strode down the ramps and confidently onto the main level, making sure not to make eye contact with anyone of authority, and no one bothered me. 
Behind the outfield bleachers you've got plenty of concession stands (many with long, long lines), lots of standing-room viewpoints to watch the game, a few statues and other knick-knacks to look at, and for the high rollers, a party patio above the batter's eye. This is where I spent most of the remainder of the game, eating soft serve out of a Sox helmet (yes, this is a thing for me) and thinking that this Chicago baseball doubleheader was such a success, I'd definitely like to do this again sometime, somewhere else. 
Hey, there are three more markets with which to try it. I hope the 2020 schedule cooperates.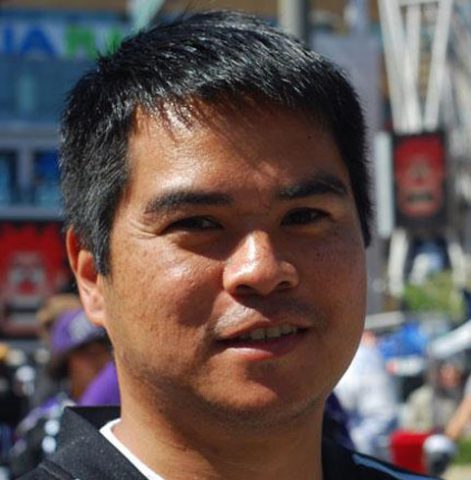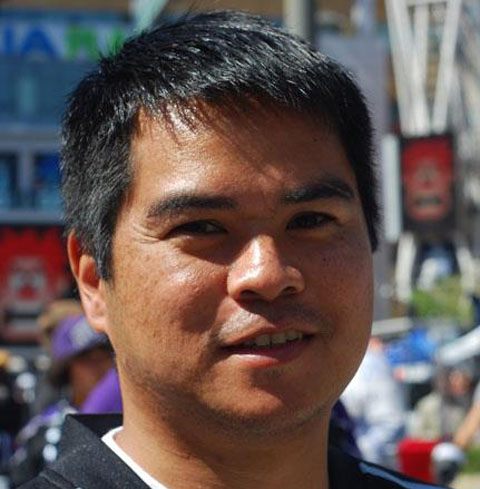 Edward de la Fuente | Itinerant Fan
I live for sports, and I love to travel. My biggest thrill is combining the two. I've been blogging about sports travel for more than a decade, and traveling for sports for twice as long.
About me | FAQ | Buy me a beer 🍺
Affiliate Disclosure
Please note that some of the links above are affiliate links, and at no additional cost to you, we earn a commission if you make a purchase. These recommendations are only for companies that we've used and have proven to enhance our sports travel experiences. To find out more about our affiliate partnerships, please read our Affiliate Disclaimer.