Mullett Arena
Our guide to Mullett Arena in Tempe, Arizona, home of the Arizona Coyotes, includes information on events, tickets, parking, public transportation, nearby hotels and restaurants, seating and more. Read on to find out how to get the most out of your gameday experience.
* * *
Arizona State University's Division I ice hockey program has been growing for several seasons, both in stature and in popularity. And in 2022, the Sun Devils built a permanent home to house the team, giving it an on-campus arena that rivals some of the best facilities in college hockey.
But of course, that's not the reason we're writing about Mullett Arena. For at least three seasons, starting in 2022-23, the Sun Devils will have a tenant in the NHL's Arizona Coyotes. The franchise will be playing home games in what is by far the league's smallest venue, with a capacity of just 5,000, while it figures out a long-term solution.
How did we get here? Well, the Coyotes were kicked out of their longtime home, Gila River Arena (now Desert Diamond Arena) in Glendale, but they appear determined to remain in the Phoenix area and are pursuing a new facility in Tempe, about a mile from Mullett Arena.
However, the Coyotes still needed a place to play in the meantime, and Arizona State's on-campus arena presented the ideal opportunity despite its small size. Its location is more central to the affluent East Valley residents that the Coyotes consider their core fan base, and it allows them to tap into the vibrant entertainment and nightlife scene in downtown Tempe.
Early indications are that Coyotes games at Mullett Arena are going to be a hot ticket, and not just because of the reduced capacity. The unique setup makes it a curiosity for visiting fans, and the Coyotes have already begun recruiting Arizona State students to help increase the energy inside the intimate arena on game nights. In fact, the designated student section for ASU games will also be in place for Coyotes games.
For more on visiting Tempe, Arizona, check out our Phoenix sports travel guide.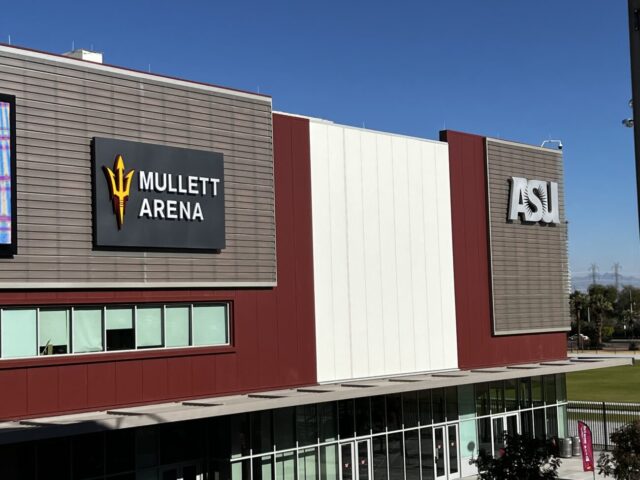 Getting to the arena
The city of Tempe (pronounced tem-PEE), where Mullett Arena is located, definitely has advantages for hockey fans over the Coyotes' previous home in Glendale.
Tempe is less than 10 miles east of downtown Phoenix and just three miles from the eastern edge of Sky Harbor Airport, which makes the area much more convenient for visitors. (Glendale was 15 miles to the west and far from many of the region's heavily populated suburbs.)
Drivers looking to get to Tempe from either downtown Phoenix or the airport can make use of Route 202 (aka the Red Mountain Freeway), which travels east to Tempe, Mesa and other East Valley suburbs.
Exit at Scottsdale Road/Rural Road, then travel south past Rio Salado Parkway to reach the edge of the ASU campus. Mullett Arena is located just to the west of Rural Road, amid the Sun Devils' other athletic facilities — including the football venue, Sun Devil Stadium.
The Phoenix region does offer a public transportation alternative: The Valley Metro light rail system, which has a line connecting downtown, the airport and Tempe. A single ride costs $2, while an all-day adult fare is $4.
The ASU campus is served by two stations, one at Veterans Way/College Avenue just west of Sun Devil Stadium, and another at University Drive/Rural Road. Both are about a half-mile walk to Mullett Arena.
In addition, the Tempe Streetcar line can be used to get around the downtown Tempe and Arizona State campus area. The closest streetcar stop to Mullett Arena is Marina Heights/Rio Salado, less than a half-mile away and just north of Sun Devil Stadium.
Opened in May 2022, the streetcar fare is free for the first year of operation (which should cover the entirety of the 2022-23 NHL regular season), and a $1 charge per ride will be assessed thereafter.
Parking at Mullett Arena
Mullett Arena is served by a parking structure located just to the south, which costs $30 to enter for Arizona Coyotes games. The structure entrance is just off Packard Drive on the south end.
There's also a surface parking lot just north of Mullett Arena, which can be accessed from Packard Drive after turning off Rio Salado Parkway.
Unlike most other venues, there's no real need to park any farther away, as the crowd won't be large enough to cause huge traffic crunches. However, if you feel the need to save money, look for parking in one of the many public lots and structures west of Mullett Arena in the nearby entertainment district and on the edge of the ASU campus.
Tempe hotels near Mullett Arena
• Hyatt Place Tempe Phoenix University – 0.3 miles away
• Residence Inn by Marriott Tempe Downtown/University – 0.5 miles away
• AC Hotel by Marriott Phoenix Tempe/Downtown – 0.5 miles away
Search for more Tempe hotels on Booking.com.
Map of the surrounding area
Things to do around the arena
The presence of Arizona State's campus means Tempe is filled with restaurants and bars popular with college students. But college scene or no, the city has one of the top areas for nightlife in all of the Valley, and that should come in handy for hockey fans attending Arizona Coyotes games at Mullett Arena.
The center of downtown Tempe is Mill Avenue, located about 3/4 of a mile west of Mullett Arena. The blocks between Third Street and University Drive are the most vibrant, lined with eateries and bars.
Places to eat and drink are also scattered along the blocks just south of Sun Devil Stadium, part of the north edge of the ASU campus. Stroll down College Avenue between Veterans Way and University Drive for a selection of fast-casual eateries and sit-down restaurants.
Beyond ASU, Tempe is largely a typical suburban community, and retail centers large and small can be found throughout the city. Two can be found at the intersection of Rural Road and University Drive, about half a mile south of Mullett Arena, and several sports bars — including a Buffalo Wild Wings — can be found here.
Another large shopping area is located north on Rural Road, on the other side of the Salt River. It's about 2/3 of a mile away from the arena.
Tempe restaurants near Mullett Arena
• Buffalo Wild Wings – American, 0.3 miles away
• Dickey's Barbecue Pit – barbecue, 0.3 miles away
• Gus's New York Pizza – pizza, 0.5 miles away
Search for more Tempe restaurants on Tripadvisor.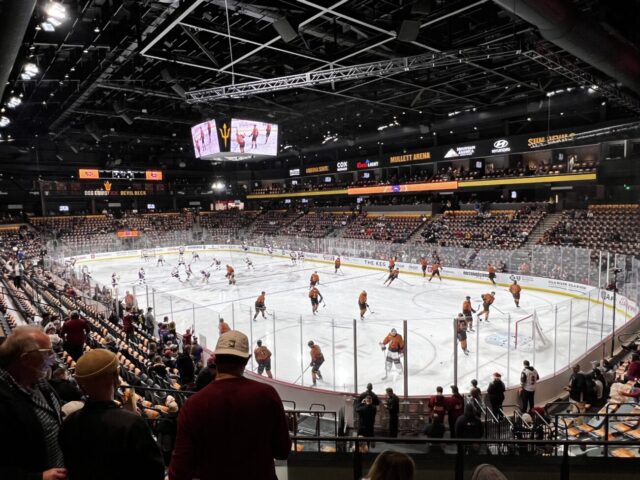 Watching a game at Mullett Arena
Let's get this out of the way immediately: Mullett Arena is a college hockey facility, and if you've come for an Arizona Coyotes game expecting more than that, you'll probably be disappointed.
That said, this is a nicer college hockey facility than most of the ones you'll see around the country — after all, it is brand new. So as long as you're not expecting too much, you can have a very good time checking out a Coyotes game.
The arena has only one main entrance, on the south side adjacent to Arizona State's track stadium. This also puts fans on the event level, with few entry points to Mullett Arena's seating bowl.
Most fans will want to make their way up one of several staircases to the concourse level, but it's worth walking around to see the handful of things awaiting visitors, such as a small souvenir store and food and drink stands. Also, you can watch the players make their way from their locker rooms to the ice via a small corridor (the Coyotes had to construct NHL-standard locker rooms in a building adjacent to the arena).
Up on the concourse level, you'll get a real sense of the action at Mullett Arena — as well as an intimate look at what makes an NHL arena tick, since there's only one real seating level to speak of. The concourse wraps around the seating bowl and contains everything from standing-room areas to areas for broadcast and print media (including game announcers for both the home and visiting teams) to the majority of food stands and bathrooms, and it offers a view of the ice no matter where you stand.
Though there are private suites as well as a party deck (called the "Dos Equis Devil Deck") a level above, the concourse is where you'll find the vast majority of the action.
Note that the four seating sections at the west end of Mullett Arena (Sections 114-117) are meant as student sections for Arizona State games and thus are set up as bleacher seating, aka seats with no backs. These are typically the cheapest available seats for Coyotes games as well, and since they're sold on a per-game basis, they often wind up in the hands of visiting team fans — which works out, since that end of the rink is where the opposing team shoots twice.
The in-game entertainment is where fans will likely most notice the, well, inferiority of the experience compared to a regular NHL arena. The overhead videoboard at center ice is tiny even for a small arena, while the scoreboard at one end of the rink, with numbers resembling those on an alarm clock, is reminiscent of a high school gym.
However, the sound system is top-notch, and the Coyotes do their best to use it to their advantage in keeping energy levels high during game action.
Food and drink at Mullett Arena
There are food stands at three out of the four corners of Mullett Arena's concourse level and a couple more on the event level. But if you're expecting regular ol' hot dogs and nachos, you're in for a pleasant surprise.
Shaq's Big Chicken leads a rather impressive lineup of concessions options that also includes local establishments Cold Beer and Cheeseburgers and Venezia's New York Style Pizzeria.
With more "gourmet" options comes more expensive prices, though, so expect to spend $10 and up on any one item. If that doesn't fit your budget, head down to the event level for grab-and-go food items at the Mullett Marketplace stand.
Original publish date: November 4, 2022
Most recent update: March 14, 2023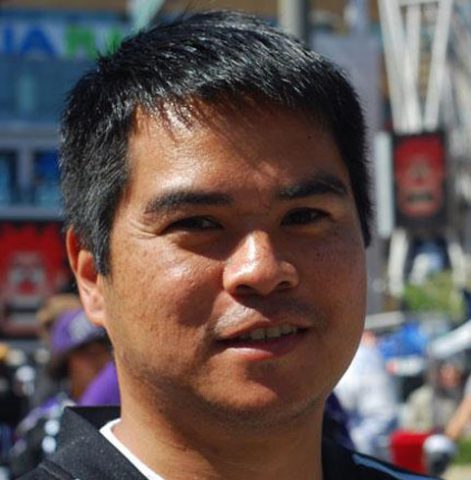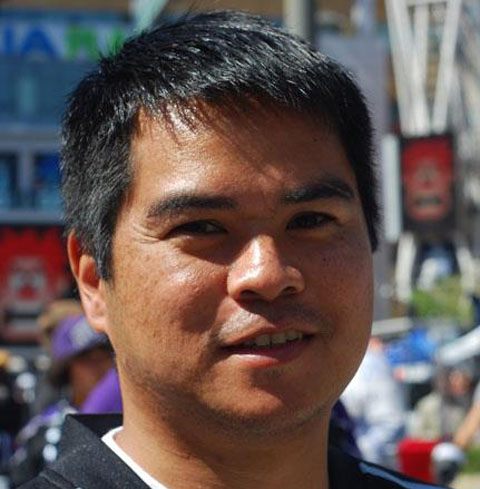 Edward de la Fuente | Itinerant Fan
I live for sports, and I love to travel. My biggest thrill is combining the two. I've been blogging about sports travel for more than a decade, and traveling for sports for twice as long.
About me | FAQ | Buy me a beer 🍺
Affiliate Disclosure
Please note that some of the links above are affiliate links, and at no additional cost to you, we earn a commission if you make a purchase. These recommendations are only for companies that we've used and have proven to enhance our sports travel experiences. To find out more about our affiliate partnerships, please read our Affiliate Disclaimer.
The Particulars
Home Teams
Arizona Coyotes
Address
411 S. Packard Drive
Tempe, AZ 85287
Year Opened
2022
Capacity
5,000
Upcoming Events
All times local
Exhibition Game - Arizona State Sun Devils Hockey v Arizona
Friday, October 6, 2023
7:00 pm
Get tickets at Ticketmaster »

Arizona State Sun Devils Hockey vs. Merrimack College Hockey
Friday, October 13, 2023
7:00 pm
Get tickets at Ticketmaster »

Arizona State Sun Devils Hockey vs. Merrimack College Hockey
Saturday, October 14, 2023
5:00 pm
Get tickets at Ticketmaster »

Arizona State Sun Devils Hockey vs. Northern Michigan Wildcats Mens Hockey
Friday, October 20, 2023
7:00 pm
Get tickets at Ticketmaster »

Arizona Coyotes vs. Anaheim Ducks
Saturday, October 21, 2023
1:00 pm
Get tickets at Ticketmaster »