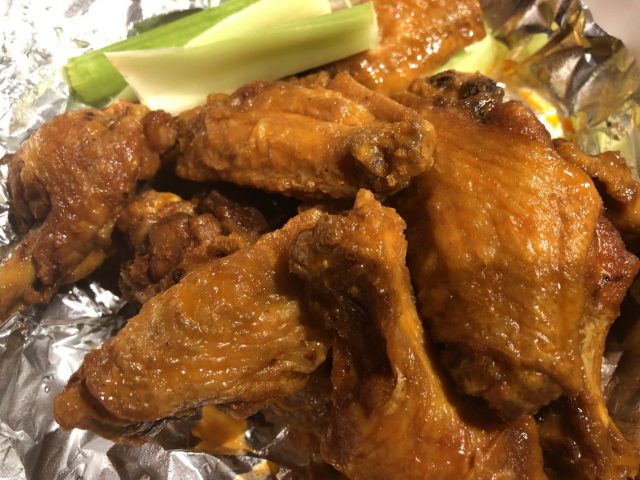 Chances are, when you think of Buffalo's food scene, you think of one item — and it's highly likely that one item is pictured at the top of this post.
I certainly can't blame you. The Buffalo wing is everywhere, and you don't need to travel to western New York to try a good version of it. But that doesn't mean the cuisine in Buffalo isn't worth trying, because there's much more than wings to sample.
If you come to Buffalo to see the Bills at New Era Field or the Sabres at KeyBank Center, you definitely want to be sure you arrive with a big appetite. That's what I did when I visited for a long weekend, ready to sample as much of what Buffalo had to offer as I could.
The Buffalo food scene: A starting point
For a rundown of all that Buffalo has to offer culinary, check out this video by Friend of I-Fan and Buffalo native Misa Buscemi.
OK, if you're going to explore the food in Buffalo, it's hard not to begin with the Buffalo wing. The most well-documented of the many origin stories out there is this: In 1964, the owner of Buffalo's Anchor Bar whipped up something quick for her son and his friends when they stopped in late one night, and a classic bar food was born.
So if you're in the birthplace of the Buffalo wing, why not try it at the place that lays claim to where it all started? Anchor Bar now has six locations around Buffalo (including inside the airport), a few in neighboring Ontario and a handful of others around the U.S., owing to its popularity as a wing purveyor. 
The original, though, is located a couple miles north of downtown Buffalo on the corner of Main and North streets — you'll recognize it by its brick facade, black awning and the Bills and Sabres logos displayed prominently next to the entrance.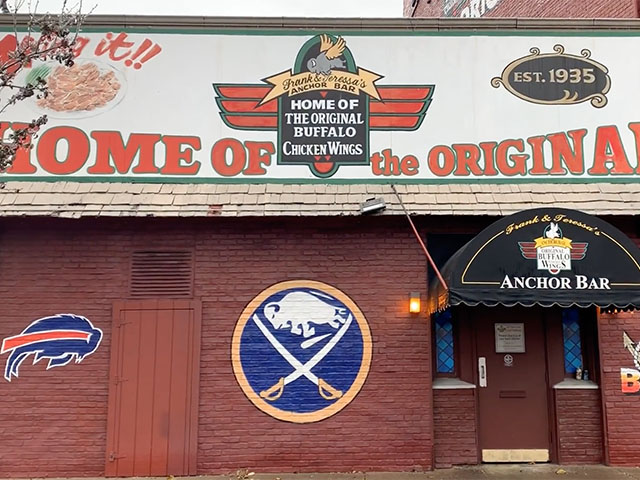 Once you get inside, it looks and feels like your typical neighborhood bar, though sometimes there can be long waits for a table. The menu is also surprisingly large, though they found ways to incorporate their Buffalo wing sauce throughout with such items as the Buffalo chicken sandwich, chicken wing soup and Buffalo chicken wing pizza. 
As for the wings themselves? They're good. It can be hard to discern since wings can be done so many different ways at so many different places, and Anchor Bar concedes to this by offering a selection of sauces, but for this visit I thought it best to stick to the classics. A 10-piece order with medium sauce was plenty good for my appetite, with the bleu cheese dip serving as the perfect contrast.
Are they the best wings in Buffalo? Well, I don't know because I didn't sample wings anywhere else during my visit. Sounds like a good reason for me to go back. But here's a good guide to finding the best wings in the city, and if you happen to be in town on Labor Day weekend, check out the National Buffalo Chicken Wing Festival held downtown.
More to explore in Buffalo food
The real reason I didn't try wings anywhere else was because there was only so much time during my visit to try other things. And the top non-wing item I wanted to make sure I had was Beef on Weck, which occupies just about as prominent a place in the Buffalo food scene as wings do.
When you get right down to it, Beef on Weck is a roast beef sandwich. But how it's done is what makes it unique to Western New York. The "Weck" in the name refers to a kummelweck roll, which is topped with pretzel salt and caraway seeds. The beef is typically dipped in au jus, and the sandwich is traditionally served with horseradish.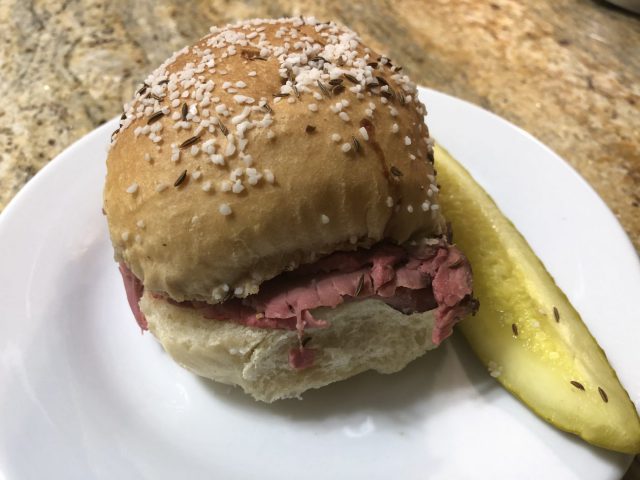 I tried my Beef on Weck at a local chain called Charlie the Butcher, which has three restaurants and a few other "Express" locations around the city, and also sells its roast beef at local groceries.
The sandwich you get there comes with a generous portion of beef, and the roll is interesting if you've never had it, sort of like a soft, savory pretzel. But to me, the horseradish is what makes the dish — I get it's not for everyone, but to me the addition of it rounds out the full flavor of the sandwich, where with every bite you get a taste that's meaty, salty, sharp and spicy. This was my favorite meal during my Buffalo visit.
Did you know that the Buffalo food scene also claims its own style of pizza? Buffalo-style pizza is not pizza with Buffalo wing meat and/or sauce on it. It's defined by two characteristics: 1) The cheese and toppings are spread out all the way to the edge, leaving little to no crust edge, and 2) the pepperoni used is known as "cup-and-char," in that when cooked the edges of the slices curl upward, creating both a cup that holds in juices and a crispy, charred rim.
There are a number of local pizzerias jockeying for the title of best pizza in Buffalo, but if you're a visitor checking out sports in the city you'll come across one name more prominently than the others: La Nova, which has sponsorship deals with both the Bills and Sabres and thus operates stands at both New Era Field and KeyBank Center, as well as Sahlen Field, home of the Triple-A baseball Buffalo Bisons. (Sahlen, by the way, is the company that makes the brand of hot dogs most commonly enjoyed in Buffalo, though I didn't get around to trying it on this trip.)
It was at KeyBank Center that I had myself a slice of La Nova pizza, and if you don't have a hard preference for any style of pizza like I do — call me wishy-washy if you must, but I like New York style as much as I like Chicago deep dish — then I think you'll like Buffalo-style because it incorporates elements of both, sort of a hybrid. Even though arena food likely isn't the best representation, my slice of La Nova was tasty.
La Nova, by the way, is also a popular source for wings if you've got time for that wing tour of Buffalo.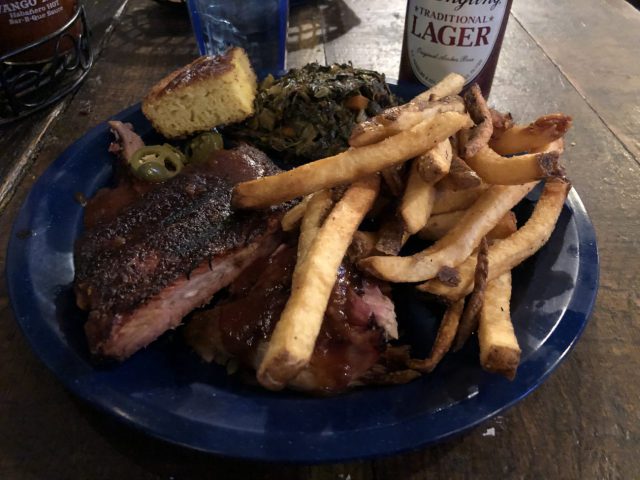 Finally, I went out of my way for some barbecue in Buffalo. Namely, Dinosaur Bar-B-Que, which began in Syracuse but has locations throughout upstate New York, including a spot in Buffalo's downtown Theater District.
While barbecue isn't the first thing you think of when you think of the Buffalo food scene, or all of New York state, for that matter, for me it was too difficult to resist. Dinosaur has developed a strong reputation for sandwiches, in particular its "Pork-Sket" (an epic creation with both brisket and pulled pork), I decided to go simple with a plate of ribs and some terrific sides.
The restaurant's space, a former film storage vault, is also a nice place to kick back with a beer and watch sports on a Saturday afternoon, as I found out quite nicely.
Something for the sweet tooth
Visiting the gift shop at Buffalo Niagara International Airport while waiting for my flight home, my eye was drawn to a table of white boxes with pink stripes.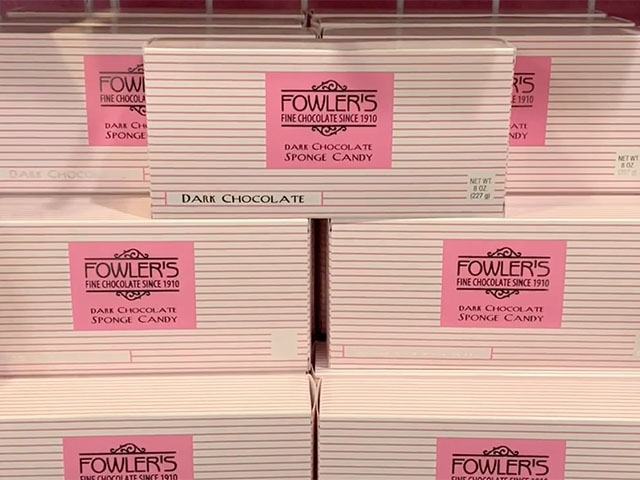 A local confectioner named Fowler's has the market cornered on a Buffalo favorite called sponge candy, which to me is unlike any candy I've ever tried. It comes in three flavors of chocolate but the concept for each is basically the same: Chocolate covering the thing that gives sponge candy its name.
But if you're thinking, like I did, that "sponge" refers to the softness of the candy, you're in for a big surprise. The interior is light, but not soft — it's crispy and crumbly. What makes it so appealing, though, is the taste of caramelized sugar, much like the top of a crème brûlée. It's an interesting flavor that you don't often find in your standard box of chocolates.
With a box of sponge candy in hand, I headed home thinking of what I'll eat when I return to Buffalo. There were a few things I didn't get around to trying that I hope to check off next time around, but to be honest there'll be quite a few repeats, too.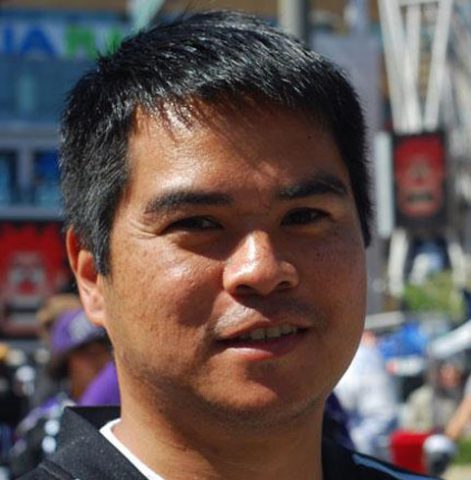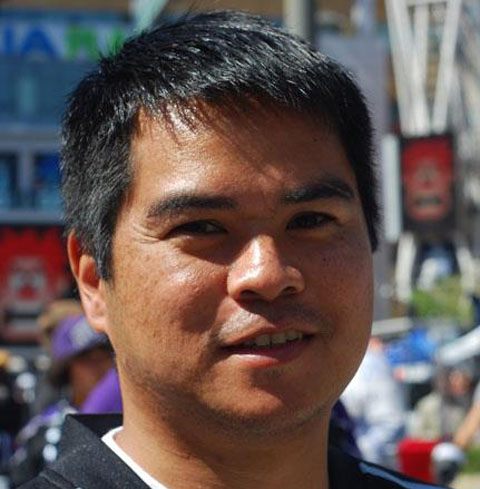 Edward de la Fuente | Itinerant Fan
I live for sports, and I love to travel. My biggest thrill is combining the two. I've been blogging about sports travel for more than a decade, and traveling for sports for twice as long.
About me | FAQ | Buy me a beer 🍺
Affiliate Disclosure
Please note that some of the links above are affiliate links, and at no additional cost to you, we earn a commission if you make a purchase. These recommendations are only for companies that we've used and have proven to enhance our sports travel experiences. To find out more about our affiliate partnerships, please read our Affiliate Disclaimer.