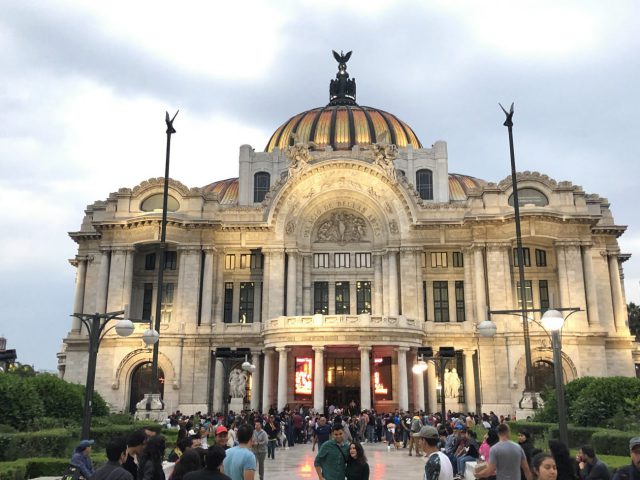 There's a lot to love about Mexico City, right? Of course there is — in the biggest city in all of the Americas, there's so much to see and explore that it's just too difficult to cover it all in just a few days or even a week.
Despite the vastness of it all, covering as much as you can in Mexico City is definitely worth trying. And it has something to offer for just about every type of traveler, whether you're in it for the food, for the culture, for the history or just simply to experience something unique.
I, of course, am usually in it for the sports. I traveled to Mexico City in the fall to see the NFL Mexico game between the Chiefs and Chargers, taking along Mrs. Fan and her brother Stargazer. Watching the game at Estadio Azteca was an incredible part of the Mexico City experience, but over the course of our four-day stay we got the opportunity to take in so much more. 
While it's difficult to sum up all of the things we got to see and do, below I break down the eight things we loved most about our Mexico City visit:
1. The tacos
Sure, I'm starting with one of the more obvious things about Mexico culture, but it is truly astounding to see the array and variety of tacos available in Mexico City. From street vendors to sit-down restaurants, they're everywhere, usually very cheap, sometimes quite adventurous, and nearly always tasty.
During our trip we ate tacos five times at five different places, at all hours of the day and night. Some of the more popular types include carne asada, lengua and cabeza, but be sure you try at least once the al pastor taco — created from layers of pork roasted on a vertical spit. We got our al pastor fix at El Huequito, which has multiple locations around the city center, from sit-down restaurants to sidewalk stands.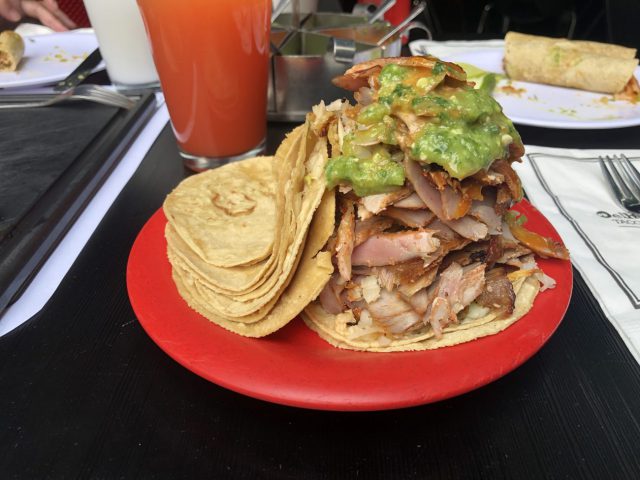 2. There's more than just tacos
Even if you can't get enough of tacos, save room in your belly for the many other dishes Mexico City has to offer. Here are just a few that we were able to sample when we weren't eating tacos during our trip:
Barbacoa: Mexican barbecue — we had more lamb barbacoa than we could handle at a lively restaurant called Los 3 Reyes.
Tortas: These sandwiches are good on-the-go snacks but they're usually substantial enough that you'll want to sit and savor them, especially if you get a good one. Our first meal in CDMX was a fantastic chilaquiles torta from a well-known street-side vendor, La Esquina del Chilaquil. You'll have to get there early in the morning (they open at 8 a.m.) to avoid long lines, and if you try to wait until lunchtime they'll likely be sold out by then.
Churros: The place to get the fried treat in Mexico City is El Moro, which has two locations in the city center. We stopped by twice during our visit, getting to sample some terrific hot chocolate and coffee to go with our churros.
Doritos with Hot Sauce: Available for a few pesos (prices vary but they're usually less than USD$1) on any popular sidewalk around town. Yes, it's junk food, but worth a try for the novelty of it. And it's a lot better than it might sound.
If you're looking at this list and thinking that we missed out on a lot of good eats during our trip, you're absolutely right. I, for one, can't wait to go back and eat some more.
3. The La Condesa district
This hip neighborhood close to the city center is one of the best districts of the city to take a stroll through during the daytime, as you'll see all sorts of shops, art galleries, sidewalk cafes and small parks filled with joggers and dog walkers. If you're looking for a good restaurant that specializes in something other than Mexican food, this is a great place to find it. Find out more about La Condesa here.
4. The Zona Rosa
A bit more touristy than La Condesa, the Zona Rosa neighborhood is lively throughout the day and night because of its restaurant and nightlife scene. The blocks between two major roads, Paseo de la Reforma and Avenida Insurgentes Sur, are usually teeming with people ranging from families with small children to youngsters looking for good food and drink. It's also home to a prominent LGBTQ community. Stroll down the pedestrian-only Calle Genova for a great selection of restaurants (including a branch of El Moro), bars, shops, street vendors and places to just hang out and people-watch.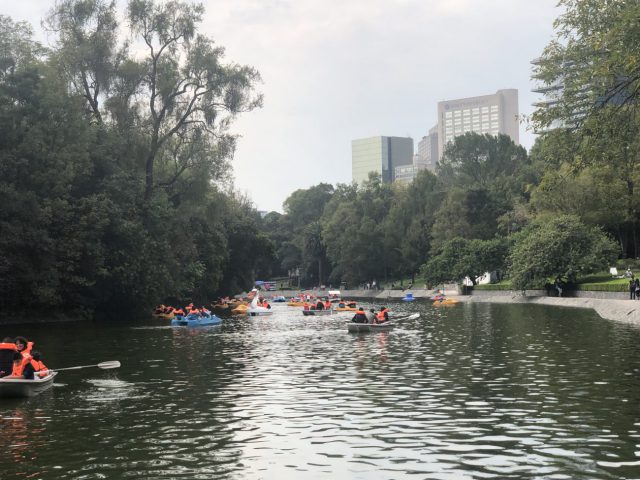 5. Mexico City's park space
Anyone looking for a respite from the bustle of the big city can find it rather easily in Mexico City thanks to a number of parks both big and small. If you're staying near the city center, take a couple hours to stroll through the Bosque de Chapultepec, CDMX's answer to Central Park, which is nearly 1,700 acres and contains several museums and historical sites as well as a zoo. Weekend afternoons are bustling with families out enjoying the outdoors, vendors hawking refreshments and wares, cyclists and joggers and more. 
Despite the city's reputation for pollution and crowding, Mexico City residents so value their outdoor time that one of the city's largest streets, the Paseo de la Reforma, closes to vehicular traffic every Sunday morning so people can use it as a cycling, dog-walking and rollerblading thoroughfare.
6. The Mexico City Metro
Extensive, mostly clean and pretty cheap (a single-ride ticket costs 20 pesos, or a little more than US$1), Mexico City's Metro system can get you to many points of interest around town. Known locally as the Sistema de Transporte Colectivo or STC, it can seem somewhat daunting to use if you don't have much knowledge of Spanish, but a little advance familiarization with the system map can go a long way. 
The same warnings for using a large-scale transport system applies here as it would in any other city: Be mindful of pickpockets and thieves, and take extra precautions when riding late at night. Mexico City's Metro also has designated women-only cars, usually at the front — look for signs on the platform marked damas or mujeres.
7. The architecture
One thing we loved about Mexico City was simply walking through the different neighborhoods. It can offer a fascinating glimpse into the many eras the city has seen, from Aztec times to art deco and modernist buildings. You can see these differences in some of the more popular buildings, ranging from the blue-painted Frida Kahlo Museum (once the artist's home) to the grandiose Palacio de Bellas Artes (pictured at the top of this post).
You can take architecture-themed tours of the city, or ascend the Torre Latinoamericana to reach its 44th-floor observation deck, the highest in the city, to survey just how vast the region is. You'll also get a sublime overhead view of the Palacio de Bellas Artes and nearby government buildings and Aztec ruins.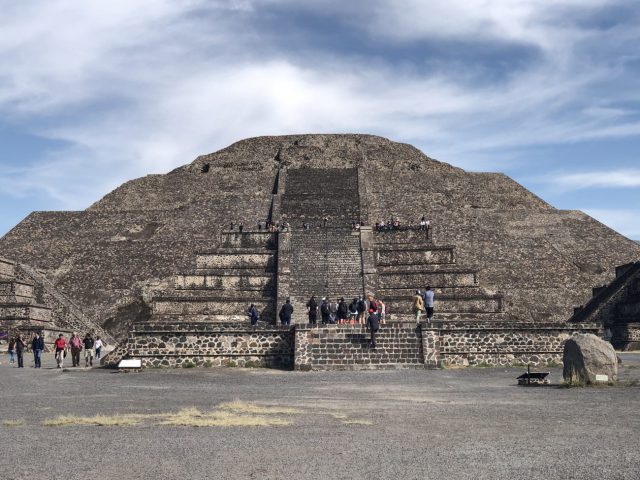 8. The cultural sites
Practically every major intersection contains a statue or some other tribute to the past, underscoring Mexico City's rich history. To get a sense of this, most visitors start at the Zocalo, the city's main public square, which often hosts cultural demonstrations and other events.
If you're up for a trip from the city center, don't pass up the opportunity to see the Xochimilco Floating Gardens (about 45 minutes south of the city center) or visit the ancient city of Teotihuacan (about one hour north) and its impressive pyramids.
Is there more to love about Mexico City? Absolutely — that's why we can't wait to return again someday.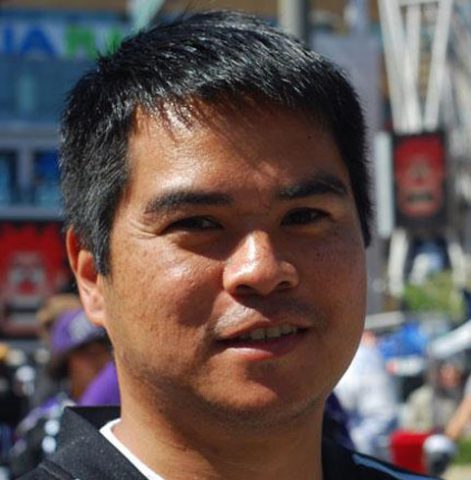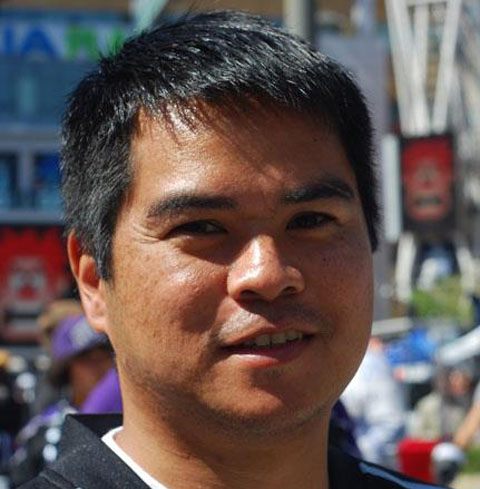 Edward de la Fuente | Itinerant Fan
I live for sports, and I love to travel. My biggest thrill is combining the two. I've been blogging about sports travel for more than a decade, and traveling for sports for twice as long.
About me | FAQ | Buy me a beer 🍺
Affiliate Disclosure
Please note that some of the links above are affiliate links, and at no additional cost to you, we earn a commission if you make a purchase. These recommendations are only for companies that we've used and have proven to enhance our sports travel experiences. To find out more about our affiliate partnerships, please read our Affiliate Disclaimer.