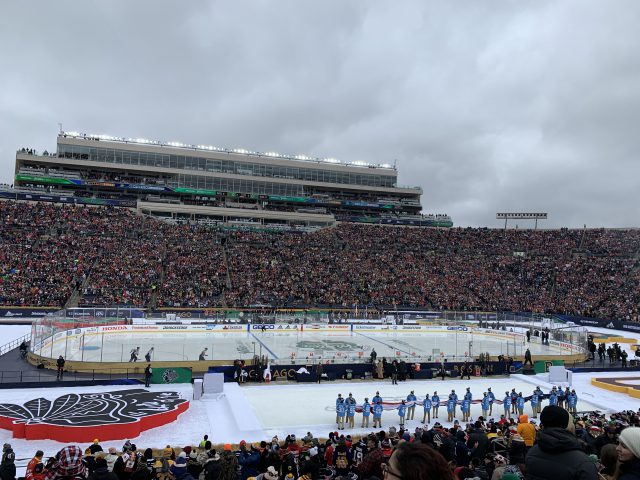 (Editor's note: Friend of I-Fan and fellow hockey nut Sandoer Berg traveled to South Bend, Ind., to watch his team, the Boston Bruins, take on the Chicago Blackhawks at the 2019 Winter Classic. He was kind enough to detail his experience for us below.)
By Sandoer Berg
Allow me a rant and a story before we get started.
First, I love the concept of hockey played outdoors, on a grand wintery stage, on New Year's Day. The nostalgia of pond hockey is strong, and the idea that upwards of 80,000 people are willing to attend a game in a stadium where "glass seats" are 40 yards away from the rink is remarkable. I remember how fascinated I was the first couple of events, and the genuine excitement when the Bruins hosted in 2010 at Fenway. It felt like an honor and a privilege to watch my team, only one of six at that time, play under the open sky.
However, I don't think I'm alone when I lament the overexposure to which the NHL has subjected the outdoor game. It has taken a rare and special event in the Winter Classic, with the potential of becoming a rich tradition and squeezed too many golden eggs out of it.
Two words: Stadium Series.
Wait, Chicago Blackhawks.
Wait, beach volleyball.
Okay, you get the idea.
Don't get me wrong, increasing the visibility of hockey and thus the league income and subsequently the salary cap is a good thing, but I feel like the story of NHL outdoor hockey has played out like eating one's favorite food over and over until it begins to taste like cardboard.
That being said, when the NHL announced the Bruins and Blackhawks were going to be playing at Notre Dame for the 2019 Winter Classic, a little excitement stirred within me. Maybe I'd go check it out after all.
On to the story.
Months later the tickets were about to go on sale, and with life getting in the way as it seems to do, the chances of my attending looked slim. Ticket prices were sure to be high and then there's travel and accommodations. At least it'd be warm on my couch while I watched the game.
Shortly before tickets were available, I received an email from the Bruins. Apparently if you'd attended a game at the United Center or TD Garden recently, you made the presale list. I brought up the seating chart and surprisingly there were really great seats available for relatively cheap. Hey, I'm always up for making a little extra cash on an investment, so I grabbed a couple tickets, planning to wait until late December and then unload them.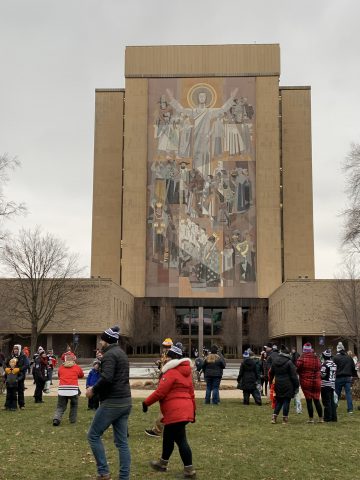 In the meantime I was due to visit a friend of mine in Chicago, and decided to take him to a game. The Blues would be in town and he was what the NHL like to call a casual fan. I couldn't have asked for a better experience to push him over the edge into possible regular fandom. It was Duncan Keith's 1,000th game and the Blackhawks put on a great pregame show, full of emotional speeches, gentle ribbing, fond memories and well-wishing. We also scored some 3rd deck, front row seats with a great view, which gave some punch to a thrilling game with an overtime win. He was hooked.
He couldn't stop talking about the game or asking questions about hockey the entire train ride to Deerfield. Soon he had the schedule up and was planning out which games he'd be able to watch over the next few weeks. As the conversation progressed, he asked when I planned to see the Bruins next. "As a matter of fact," I said, "I was thinking of going to the Winter Classic, but alas, I'm just going to sell my seats."
A look of horror crossed his face. "We. Are. Going!" he said. "I'll handle the transportation and the hotel. You just get out here and bring your tickets." Before I could respond, he was checking the prices of Patrick Kane sweaters. And so the adventure — and the hunt for thermal underwear — began.
New Year's Eve in the Midwest came with a downpour and all fingers were crossed that it would pass through prior to the game. The fan fest in Millennium Park was mushy and most of us suffered the long lines either to view the Stanley Cup up close or collect an autograph from Phil Esposito or Johnny Bucyk. There were a few other attractions that would have been fun to explore during the dry and sunny weekend that had preceded, but weren't as enticing in the rain. A quick souvenir purchase at the merchandise tent was our only other stop before hitting the road toward South Bend.
Whether it was Irish luck or Touchdown Jesus, we were treated to absolutely perfect conditions for an outdoor hockey game: dry and 33 degrees with fluffy gray clouds sprinkling light snow flurries intermittently throughout the afternoon. The chills actually came from walking the campus and catching glimpses of the famous architectural icons that have identified the university for nearly 200 years. Now the realization of the situation was beginning to settle in: I was at the Winter Classic!
The theatrics of the pregame ceremonies are without a doubt more fun in person. Boston players arriving in period dress, A-10s flying over after Jim Cornelison belts out the anthem (see video above), Chicago fans yelling over him, Hall of Famers in attendance, a leprechaun with a flag slipping and crashing to the ice. All better live. The only caveat would be the hype guy that they brought in for the live, in-stadium announcing. Imagine Mike Milbury crossed with Billy Bush. Yeah, sometimes it's okay to just sit quietly.
Being a home game for the Blackhawks and so close to Chicago I was encouraged at the sizable number of Bruins fans in attendance; it's always good to see a significant portion of the fans in your colors. I'm fairly comfortable being in enemy territory however, since I reside on the west coast and most of the Bruins games I attend are on the road. If you haven't had popcorn tossed at you at Staples Center, you're missing out.
I have to admit, one of my favorite goal songs in the league is "Chelsea Dagger" from the Fratellis. I sincerely wish the Bruins would ditch the travesty that is "Zombie Nation" and pick up a fun sing-along song, with the obvious choice being anything from the Dropkick Murphys. I mean, "Time to Go" is actually about the Boston Bruins. Are you hearing me Cam?
I digress. It's one of my favorites until, of course, it means your team just went down a goal. This happened early, but the Bruins have been making a habit out of starting at a deficit and then making a strong comeback. After taking some ribbing by the locals seated around me, it wasn't long before our top line knocked one in and I got to celebrate amongst a sea of groans. We exited the first period knotted up at 1.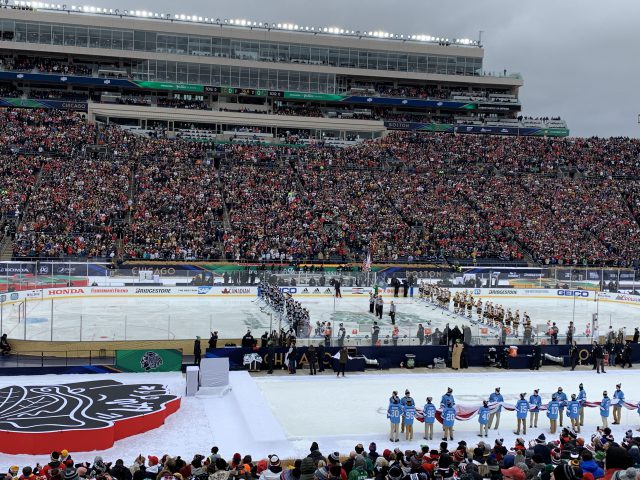 As the skaters made their way off the ice, the hype guy stopped Jonathan Toews for an quick interview, and it was almost as embarrassing as the Pierre McGuire incident a few weeks prior. I'm not sure what the captain has done to deserve it, but he should just refuse any on-camera chats for the rest of the season.
I had no idea Weezer would be playing the break until just a week prior, so this was a fun little bonus. Especially when I heard that NBC audiences missed out on most of "Africa" and all of "Say It Ain't So," the first and third songs. These sandwiched "Can't Knock The Hustle," which made for an entertaining intermission.
Oh, yeah! They ran out of food and beer. You read that correctly. Several of the fans sitting around us who had left before the end of the first and been gone well into the second period, began returning only with bottled water and tales of tapped concessionaires. Now, from what I understand there are other events that happen at this venue every so often, yeah? And these events have a similar number of attendees, yeah? Just when you think you'd seen it all from the NHL, it manages to surprise once again.
I'm not going in too much detail about the game itself, because I'm guessing most of you were watching live. To recount the play by play would be redundant, and this story is long enough as it is. So the second period, although a thrilling contest, ended up much like the first with the B's top line bringing the score even near the end of the session.
The second band to play was out of Nashville, Judah & the Lion, who I was unfamiliar with, but incredibly impressed by. Their newest album "Folk Hop n' Roll Deluxe" perfectly describes the music. From what I understand NBC only showed snippets of the songs "Suit and Jacket", "Over My Head" and "Take It All Back". As soon as we were back in car following the game, I found the album and streamed it as we made our way out. I highly recommend them.
As the puck drops for the last 20 minutes, I realize that my time here is fading, and I really start to savor my surroundings. The smell of crisp winter air, the sound of skates and sticks on the ice (albeit amplified), the sheer number of hockey fans at Notre Dame stadium. In my reverie I almost missed our fourth line snap in the winning goal. But of course I didn't, and I jumped up and cheered over the quiet Blackhawks fans that surrounded me. Man, I love that feeling.
After the three stars were called, we made our way out of the stands and back to the car. It may sound odd, but this is one of my favorite parts of attending a live game. Thousands of fans of opposing teams manage to walk next to each other, chatting about the events that transpired, and the players stats, successes and failures. Sure, there's always some fun jabs and jokes made, and Blackhawks fans whining about losing another Winter Classic, but it feels like we're more fans of the sport than a specific team. Many of us end up at the same restaurant or bar where the conversation gets deep into the nuances of the game, our frustrations and our predictions for the trade deadline and the playoffs.
In spite of the grudge that I hold against Gary Bettman for overexposing the outdoor game, the Winter Classic didn't disappoint. Aside from the Stanley Cup Final, it's the hockey experience that I would recommend for any fan with a team involved. I'll always have fond memories of my time at an outdoor game, at least until the NHL does something else stupid.
One word: lockout.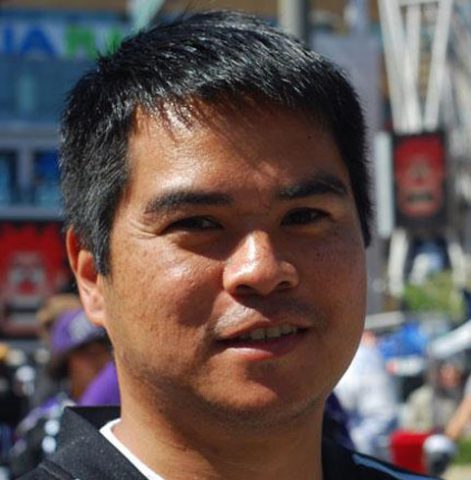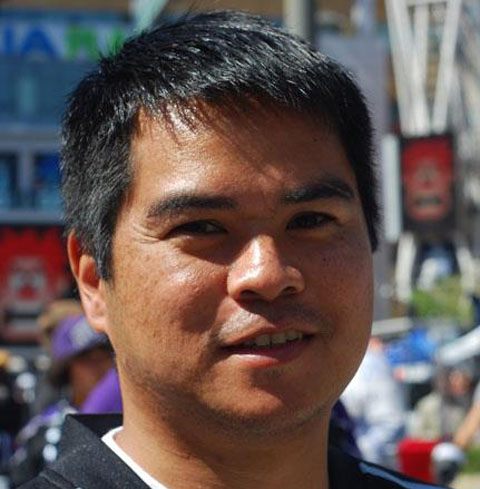 Edward de la Fuente | Itinerant Fan
I live for sports, and I love to travel. My biggest thrill is combining the two. I've been blogging about sports travel for more than a decade, and traveling for sports for twice as long.
About me | FAQ | Buy me a beer 🍺
Affiliate Disclosure
Please note that some of the links above are affiliate links, and at no additional cost to you, we earn a commission if you make a purchase. These recommendations are only for companies that we've used and have proven to enhance our sports travel experiences. To find out more about our affiliate partnerships, please read our Affiliate Disclaimer.