Note: This is part of a recurring series called "I Was There," about the most memorable live games I've witnessed over the years. This one looks back at the "T.J. Sochi Game" — the USA-Russia hockey match at the 2014 Winter Olympics that went to a dramatic eight-round shootout.
*  *  * 
When someone says "USA vs. Russia" to you, at least in a sports context, the first thing you'll think of is the 1980 Miracle on Ice. That technically was USA vs. USSR, but the point remains the same: That game will always set a high standard for "Where were you?" moments in sports, considering the ramifications involved in both geopolitics and international athletics. And it will always call to mind one of the greatest calls in the history of sports broadcasting.
I am not old enough to know where I was when the Miracle on Ice happened, but in my sports spectating life I do have a box checked off for "USA-vs.-Russia-hockey-classic." You may have to be a hardcore hockey fan to remember it, but the game between Team USA and Team Russia in the 2014 Winter Olympics was quite the memorable one — full of drama, an unlikely hero emerging in T.J. Oshie (who earned the nickname "T.J. Sochi" off the game), controversy shrouding the result, and the game being played on enemy ice for the Americans. 
Never mind that the political atmosphere was not quite as tense as it was back in 1980 (it was still a little bit tense, though), or that seasoned NHL players were skating instead of fresh-faced amateurs, or that this was a preliminary-round game, or that in the end neither team finished these Olympics with a medal.
Michael Farber of Sports Illustrated described this game as "the most meaningful meaningless game in history," and having been there, I can certainly vouch for that. It was an awe-inspiring thing to be in the stands for this tilt, being an American who traveled halfway around the world to be there.
Thanks mainly to this experience, I maintain to this day that very little in sports beats rooting for your country in a high-profile international event, and being at a game that you know a significant portion of the world is watching on TV.
Getting into the game
When Mrs. Fan and I set about planning this Olympic trip almost a year in advance, we knew we wanted to catch all three of the U.S. men's hockey team's preliminary matches. It was also around this time that it was revealed who their opponents would be for these games: Slovakia, Russia and Slovenia.
Securing tickets for the first and third games would be no sweat, but availability for the Russia game through the Olympic ticket provider in the U.S., CoSport, proved to be fleeting at best. Not unlike buying tickets for any other major, high-demand sporting event, we'd have to wait until a designated on-sale date (ie. when CoSport secured a block of tickets to sell), and then have to buy them at a price significantly higher than for the other two matches.
Not that this was a surprise to me — I mean, it was a game against the host country, and no matter what, USA vs. Russia in a lot of sports promises to be worth seeing. But it was a small glimpse into what the day of the game would be like, and once we got to that point, the pomp and circumstance surrounding it was still more than I had expected.
Build-up to the big game
For each day we visited the "Coastal Cluster" of Olympic venues, we had to take a train ride one station over from where we were staying — a journey of about a mile and a half. We went around mid-morning most of the days we were there, but on the day of the USA-Russia game, a Saturday, we left at about 1 p.m. and found both the station and the train crushed with people. That was our first indication of the excitement surrounding this match.
As we made our way out of the train station and toward the Bolshoy Ice Dome, the venue for this game, we were stopped by no less than three guys who tried talking to me in Russian. It quickly became apparent that they had approached me because I was wearing a Team USA hockey jersey, and they were trying to ask if I had any spare USA-Russia game tickets to sell them. One even tried pulling up Google Translate on his phone. To each I had to say "Nyet" as politely as possible and start walking away — but to be honest everyone was super-nice, almost to the point of bashfulness. 
There was already a large, festive gathering of fans in front of the hockey arena by the time we arrived at about 3:30 p.m., one hour before puck drop. I'm fairly certain a good number of them weren't actually going to the game, but just wanted to take pictures and revel in the pageantry of it all. (I later found out that most fans in the Coastal Cluster that afternoon had watched the game on the big screen at the medals plaza in the center.)
Once we had gotten inside and reached our seats — behind one of the nets, about 15 rows up — we were somewhat relieved to find out that we were surrounded mostly by Americans, and we made our acquaintance with most of them. One, a guy in glasses named Robert, was from Southern California and wore an L.A. Kings Jonathan Quick jersey, just like Mrs. Fan. 
Behind us, though, were nearly all Russian fans, who didn't bother us but also didn't sound all that friendly — and that feeling would intensify as the game began.
A wild and crazy game
As fans often do with classic games, I had forgotten most of the details of this 2014 USA-Russia thriller until the climax. I knew that the first period was scoreless, both teams scored once apiece in the second, and that the third period ended tied 2-2. Then came overtime and, of course, the shootout, which I'll get to in a moment. And that Russian leader Vladimir Putin showed up to watch the game, which surely seemed to underscore the importance of this game in Russians' minds.
But one thing I surely hadn't forgotten was that Team Russia took the lead late in the game — or, at least, they thought they did. They actually scored on a net that was off its moorings, but the referees hadn't blown the play dead because they didn't see it. After review, they nullified the goal, setting off the expected whistles and catcalls from the crowd. If there was one moment during that game where I was hoping to not be noticed, that was it.
The Russians were so upset over the call that days of protest at the U.S. Embassy in Moscow ensued. I'm happy to report that nobody took their frustration over it out on me, Mrs. Fan or any of the Americans around us. 
The legend of "T.J. Sochi"
T.J. Oshie needs no introduction to hockey fans, though if you don't follow the NHL you might not know the name. He won the Stanley Cup in 2018 with his current team, the Washington Capitals, after spending the early part of his career with the St. Louis Blues. I don't think many people would consider him a superstar, but he has been more than a serviceable player throughout his career — which is why, of course, he would be chosen for the U.S. Olympic team.
But one of the things that's well-known about T.J. Oshie is that he is great in the shootout, and the events of Feb. 15, 2014 cemented that for all time.
It made perfect sense to us American fans when the shootout began and Oshie was selected to take the first shot — which he scored on. But when the two teams were tied after three rounds, sending the shootout into sudden death, and Oshie went over the boards again to take the fourth U.S. shot, we all sort of looked at each other and were like, "OK then!" 
Just like the rest of the world watching on TV, we didn't know until that point that Olympic rules allowed for anyone on the team to take ensuing shots after the first three shootout rounds. So Oshie kept going back out there, through five more shootout rounds.
When he scored the game-winner in the eighth round, it happened at the net directly in front of us. And when we rejoiced at the end, we momentarily forgot about being on our best behavior for all the Russians around us. Someone in our crowd even developed an on-the-fly post-game cheer, a play on the "Roos-ee-ya!" cheer we had been hearing echo through the arena all game: "Oshie-ya!"
Alas, it turned out to be the crowning achievement for Team USA in these games. The Americans reached the semifinal but then lost twice and finished in fourth place, out of the medals. And the Russians were eliminated in the quarters. So there were no miracles to come for either team.
Postscript
The day after the game, I returned to the Coastal Cluster in my USA hockey jersey again because the final prelim game for Team USA was that afternoon, and the first thing we did upon entering was to get some food. Kebabs, if I recall correctly, because I seem to remember struggling to get the meat off one of the skewers before looking up to find two men — what looked like a father and son — standing over me. They were smiling, though.
Both were holding small Russian flags, and it turned out they wanted to take a picture. We stood with them for some photos, exchanged what pleasantries we could despite the language barrier, and they left with us still holding the flags. They were ours to keep, which we did.
This scene repeated itself several times on our walk to the arena — picture-taking, good-natured discussion, and smiles all around. And each time the same thought passed through my head: "I'm glad these guys aren't upset about the game yesterday."
For everything I wrote earlier about the atmosphere feeling intimidating, not once did I feel a sense of animosity directed toward me or any other American fans. Maybe that's part of the Olympic ideal, but we were all just there cheering on our countries — what's wrong with that? And some of us wind up elated and some of us wind up disappointed, but in the end we're all there for a common purpose. What we all shared was a sense of national pride, but also a sense of understanding that we're all here to experience how the other side feels as well.
That, to me, was the most enjoyable part of the whole experience.
Postscript II
Four months later, my favorite NHL team, the Los Angeles Kings, won the Stanley Cup. After a Kings home game during that playoff run, Mrs. Fan and I were heading down a stairwell at Staples Center when she stopped in her tracks, looking at a man in glasses, wearing a Jonathan Quick jersey.
"Do I know you?" she asked him.
"I know you!" he replied.
Yup, it was Robert from Sochi. Back on our side of the world, it was nice that we could again share a cool sports experience.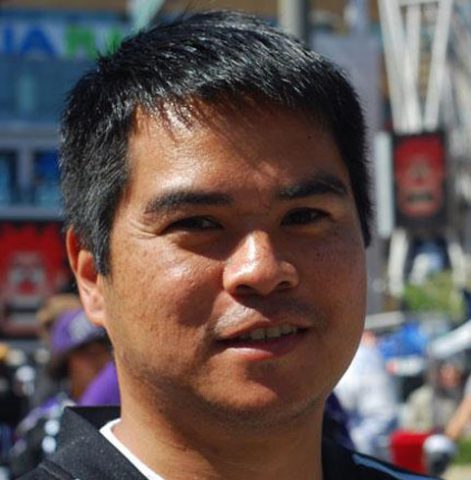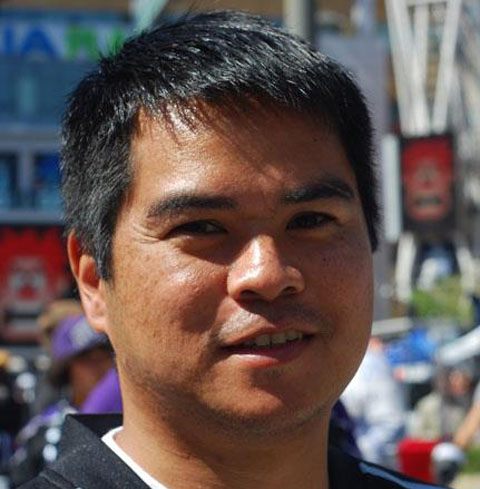 Edward de la Fuente | Itinerant Fan
I live for sports, and I love to travel. My biggest thrill is combining the two. I've been blogging about sports travel for more than a decade, and traveling for sports for twice as long.
About me | FAQ | Buy me a beer 🍺
Affiliate Disclosure
Please note that some of the links above are affiliate links, and at no additional cost to you, we earn a commission if you make a purchase. These recommendations are only for companies that we've used and have proven to enhance our sports travel experiences. To find out more about our affiliate partnerships, please read our Affiliate Disclaimer.