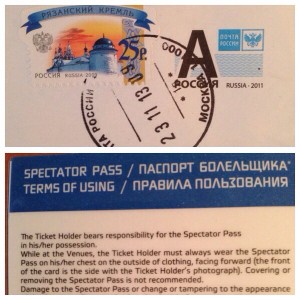 Well, when you start receiving things in the mail with cyrillic all over them, it must mean your trip to Russia for the 2014 Winter Olympics is starting to take shape. Mrs. Fan and I received our Spectator Passes in the mail this week — that's a badge that you purportedly need, along with your event tickets, to gain access to Olympic venues in Sochi. They even translate your name into cyrillic, which is pretty cool. To obtain one, you need proof that you've purchased event tickets from CoSport or another "official" Olympic ticket reseller, which in turn sends you confirmation numbers that you can use to apply for Spectator passes.
Meanwhile, I've received an email in recent days from CoSport telling me that the event tickets I've ordered piecemeal over the last year should be arriving in one huge FedEx bundle at some point in the next month. It will be nice to see those. I do still intend on ordering tickets to a few more events, and CoSport stipulates that any tickets ordered from this point forward will have to be picked up in Sochi.
Still one big missing piece of the puzzle: our Russian tourist visas. In mid-November, we went through the process of filling out applications, taking passport photos, etc., only to find out at the end of it that we were still too early — the processing centers would only accept applications for trips occurring within 45 days. So I suppose my Christmas present to myself will be to sit at the computer and fire up new applications, but so it goes. At least I'm finally getting a chance to practice reading cyrillic, right?
For more posts on The Itinerant Fan's upcoming trip to Sochi, click here.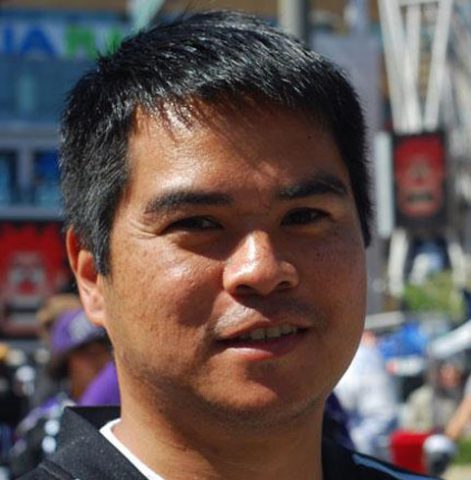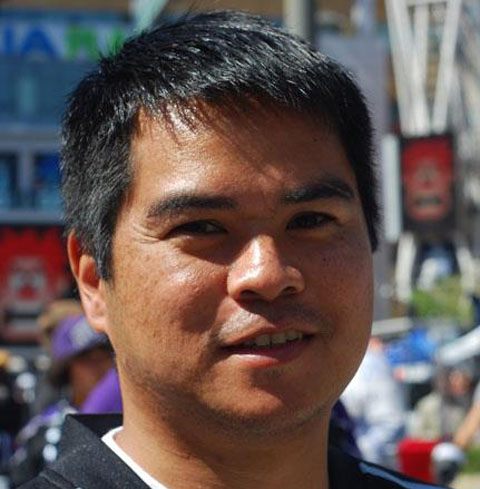 Edward de la Fuente | Itinerant Fan
I live for sports, and I love to travel. My biggest thrill is combining the two. I've been blogging about sports travel for more than a decade, and traveling for sports for twice as long.
About me | FAQ | Buy me a beer 🍺
Affiliate Disclosure
Please note that some of the links above are affiliate links, and at no additional cost to you, we earn a commission if you make a purchase. These recommendations are only for companies that we've used and have proven to enhance our sports travel experiences. To find out more about our affiliate partnerships, please read our Affiliate Disclaimer.