Fiserv Forum
Our guide to Fiserv Forum in Milwaukee includes information on events, tickets, parking, public transportation, nearby hotels and restaurants, seating and more. Read on to find out how to get the most out of your gameday experience.
* * *
To replace the outdated Bradley Center, the Milwaukee Bucks came up with one of the more unique fan experiences in the NBA. Both outside and inside, Fiserv Forum has plenty to offer for both diehard Bucks fans and visitors to the city.
Not surprisingly, the arena quickly became a popular place, both for the newness of it all as well as the fact that its opening coincided with a rising Bucks team that had championship aspirations.
Those lofty ambitions were fulfilled less than three years after Fiserv Forum opened its doors. With the rambunctious Deer District at full throat, the Bucks won their first championship in 50 years with a home victory in Game 6 of the Finals, thus cementing the top moment at the new arena for years to come.
Meanwhile, surrounding development is helping make the arena a destination as well — though its downtown location and ease of access already helped in that regard.
Residents of Milwaukee already loved their hoops — both the Bucks and the major college program, Marquette, have enjoyed plenty of success and past championships. The opening of Fiserv Forum has given them a state-of-the-art facility at which to watch their teams.
You can expect major concerts and other events that pass through the region to book dates at Fiserv Forum in the future, as well.
For more on visiting Milwaukee, check out our Milwaukee sports travel guide.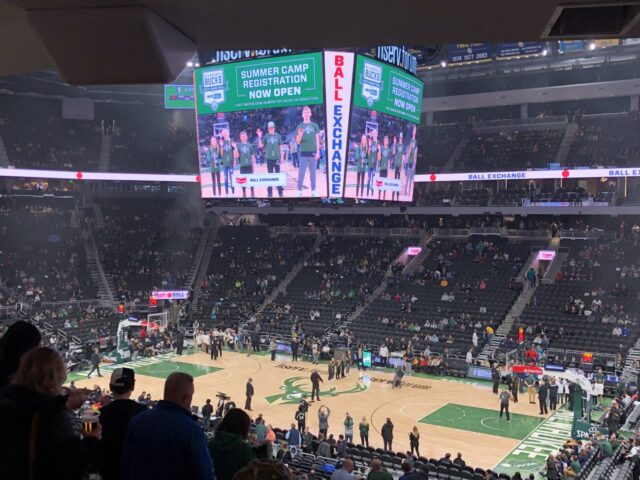 Getting to the arena
Since the franchise's birth, the Bucks have resided in downtown Milwaukee, a few blocks west of the Milwaukee River. These days, it's one of the liveliest sections of town thanks to its many restaurants and bars (more on that in the setion below).
In fact, the sites for the team's three home arenas — the UW-Milwaukee Panther Arena (formerly known as the MECCA), the Bradley Center and Fiserv Forum — all line up in a neat little row going south to north. (The Bradley Center was demolished during the 2018-19 NBA season).
All that is to say that Fiserv Forum is in a convenient and easy-to-reach place for locals and visitors alike. For drivers, Fiserv Forum is not far from the interchange between Interstates 43 and 94 — if traveling on the north-south route, follow signs to McKinley Avenue and then proceed east about half a mile, toward downtown.
If you're a visitor to Milwaukee staying in the downtown area, Fiserv Forum is within reasonable walking distance of most downtown hotels — even those on the opposite side of the Milwaukee River. If it isn't too cold, take a stroll along the city's Riverwalk along the way.
Other than local buses, there aren't many public transportation options in the city. There is a streetcar line that runs through downtown but doesn't come close to Fiserv Forum.
Parking at Fiserv Forum
There are a number of surface parking lots and structures near Fiserv Forum, including the 5th Street and Highland structures just north and south of the arena, respectively. For more on driving and parking at Fiserv Forum, click here.
Parking permits for Fiserv Forum events can also be purchased in advance via SpotHero.
Milwaukee hotels near Fiserv Forum
• Aloft Hotel Milwaukee Downtown – 0.1 miles away
• Hyatt Regency Milwaukee – 0.3 miles away
• Hyatt Place Milwaukee Downtown – 0.3 miles away
Search for more Milwaukee hotels on Booking.com.
Map of the surrounding area
Things to do around the arena
While most of downtown Milwaukee's attractions and nightlife are options for patrons attending a Bucks game or any other event, the most convenient ones can be found along what's known as Old World Third Street, a block east of Fiserv Forum.
You'll find numerous bars and restaurants here, many with a sports theme, others with a decidedly German bent — as is the case for many popular Milwaukee establishments.
If you get to the area early for a night game, try to check out a couple of the more famous stops on Old World Third Street: Usinger's Famous Sausage (for bratwursts, of course) and the Wisconsin Cheese Mart (you are in America's Dairyland, after all). Note that both have daytime-only hours.
Even closer to the arena, the main entrance faces the plaza that has come to be known as the Deer District. Even when not jammed with fans, it marks a great gathering point for fans before Bucks games or any other Fiserv Forum event.
The Deer District includes a complex known as the Entertainment Block, with restaurants including the Mecca Sports Bar, Punch Bowl Social and the delightfully named Drink Wisconsinbly Pub.
Beyond the immediate area, fans can head to the Milwaukee River a short stroll away, with restaurant and bar options lining Plankinton Avenue on the river's west side or Water Street on the east side.
In addition, Wisconsin Avenue, about half a mile south of Fiserv Forum, is home to The Avenue at MKE, a refurbished mall that is now home to the popular 3rd Street Market Hall food court.
Milwaukee restaurants near Fiserv Forum
• The Mecca Sports Bar and Grill – American, 0.1 miles away
• Good City Brewing – Downtown – American, 0.1 miles away
• Carson's – steakhouse, 1.0 miles away
Search for more Milwaukee restaurants on Tripadvisor.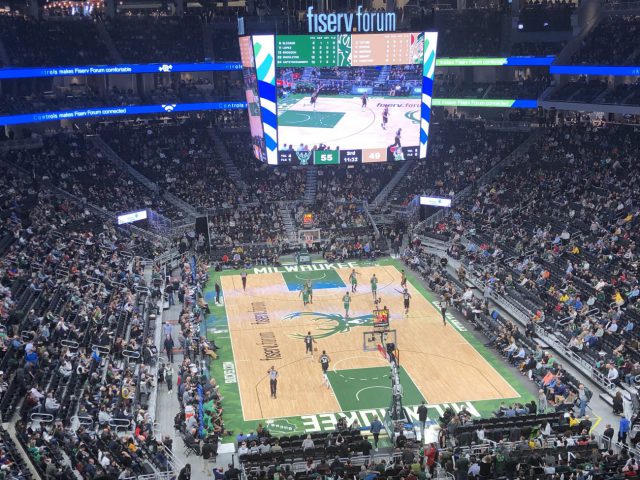 Watching a game at Fiserv Forum
From the moment you lay eyes on the arena, you might sense that Fiserv Forum is a little different. Of course, that would likely be due to its unique outer appearance, which includes a curved roof, glass facade and — if you're viewing it on a Bucks game night — green-hued accents.
The closed-off-to-vehicles Vel R. Phillips Avenue makes for a nice lead-up to the entrance, as fans enter the Deer District and come across Bucks signage and the aforementioned Entertainment Block.
Once you enter and ascend the escalators to Fiserv Forum's main level, you'll come across all the creature comforts of a modern arena, including wide concourses, openings that look out onto the seating bowl, food courts and bars.
Even if you're visiting for a different event, keep your eyes peeled for various Bucks-related art throughout Fiserv Forum's main concourse, including a life-size buck statue and a large bobblehead of Bucks legend Kareem Abdul-Jabaar.
Even though our first visit came during its debut season, the arena already felt very much "lived-in" — that is to say, there wasn't that much of that awkward newness of bare walls or rafters, or of missing features that had yet to be installed. It probably helped that the Bucks were in the midst of a terrific season and the game we attended was nationally televised, but Fiserv Forum's seating bowl was full and the atmosphere was electric.
All of that helped contribute to what is an optimal viewing experience at Fiserv Forum, as the upper seating bowl is high but doesn't feel far from the court, the overhead scoreboard is as crisp and clear as you'd expect from a new facility, and the supplemental videoboards hanging above each corner of the seating bowl provide as much in-game information as you'll hope to need.
Make sure you don't spend all your time looking at lighted screens during breaks in the action, as the rich history of both the Bucks franchise and Marquette's basketball program are reflected in the many banners that hang from the rafters.
Interested in a suite at Fiserv Forum? Buy suite tickets on SuiteHop.
Food and drink at Fiserv Forum
The food and drink offered at Fiserv Forum is a fine representation of the cuisine of Milwaukee.
The selection includes bratwursts and other sausages, fried cheese curds and Leinenkugel's beer, and stands operated by local establishments like Sobelman's, Iron Grate BBQ Co. and The Laughing Taco. The national chain Chick-fil-A also has stands at the arena.
And there are plenty of nightlife options within Fiserv Forum's walls, including the Panorama Club, which hangs above the seating bowl and also offers views outside the arena toward the downtown Milwaukee skyline. Unlike the other clubs inside, the Panorama Club is open to all fans.
Original publish date: February 4, 2016
Most recent update: March 10, 2023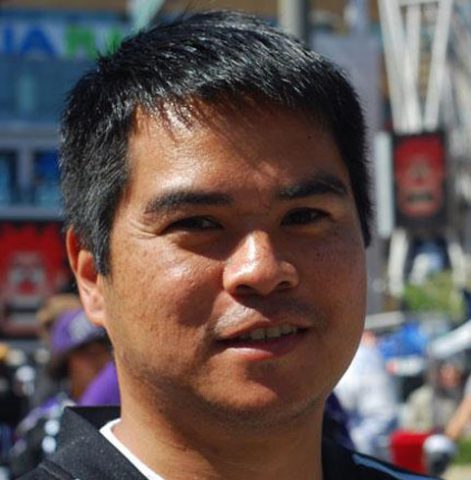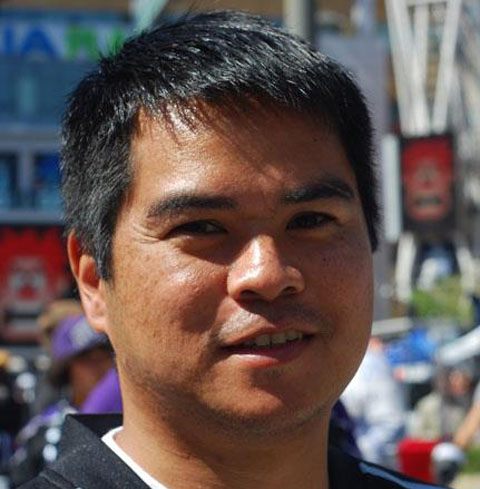 Edward de la Fuente | Itinerant Fan
I live for sports, and I love to travel. My biggest thrill is combining the two. I've been blogging about sports travel for more than a decade, and traveling for sports for twice as long.
About me | FAQ | Buy me a beer 🍺
Affiliate Disclosure
Please note that some of the links above are affiliate links, and at no additional cost to you, we earn a commission if you make a purchase. These recommendations are only for companies that we've used and have proven to enhance our sports travel experiences. To find out more about our affiliate partnerships, please read our Affiliate Disclaimer.
The Particulars
Home Teams
Milwaukee Bucks
Marquette Golden Eagles
Address
1111 Vel R. Phillips Ave.
Milwaukee, WI 53203
Year Opened
2018
Capacity
17,500
Upcoming Events
All times local
Fiserv Forum Tours
Friday, June 9, 2023
12:00 pm
Get tickets at Ticketmaster »

Fiserv Forum Tours
Friday, June 9, 2023
2:00 pm
Get tickets at Ticketmaster »

Fiserv Forum Tours
Friday, June 9, 2023
4:00 pm
Get tickets at Ticketmaster »

Fiserv Forum Tours
Saturday, June 10, 2023
12:00 pm
Get tickets at Ticketmaster »

Fiserv Forum Tours
Saturday, June 10, 2023
2:00 pm
Get tickets at Ticketmaster »