LaVell Edwards Stadium
Our guide to LaVell Edwards Stadium in Provo, Utah, includes information on events, tickets, parking, public transportation, nearby hotels and restaurants, seating and more. Read on to find out how to get the most out of your gameday experience.
* * *
Much like the program that calls it home, LaVell Edwards Stadium can be described as a diamond in the college football rough.
Located on the Brigham Young University campus in the heart of Provo, Utah, the stadium offers a perfectly functional home for the BYU football program and a solid, if not flashy, football-watching experience — and a terrific view of the Wasatch Mountains in the distance as well.
BYU, a football independent in the Bowl Subdivision, can draw some big-name opponents to Provo from time to time, and when the Cougars are playing well, the buzz can be felt throughout Provo and beyond.
Of course, the program has a rich history that includes a national title and a number of football greats, such as Steve Young, Jim McMahon, Ty Detmer and more. For a long time, BYU's program was steered by the stadium's current namesake, LaVell Edwards, who was at the helm during the charmed championship season of 1984.
The game experience in itself makes Edwards Stadium worth a visit, from the stadium views to the genteel atmosphere created by one of the most polite fan bases in all of college football (more on that later), which helps form a unique sports travel experience.
Looking for LaVell Edwards Stadium event tickets? Search events on Ticketmaster.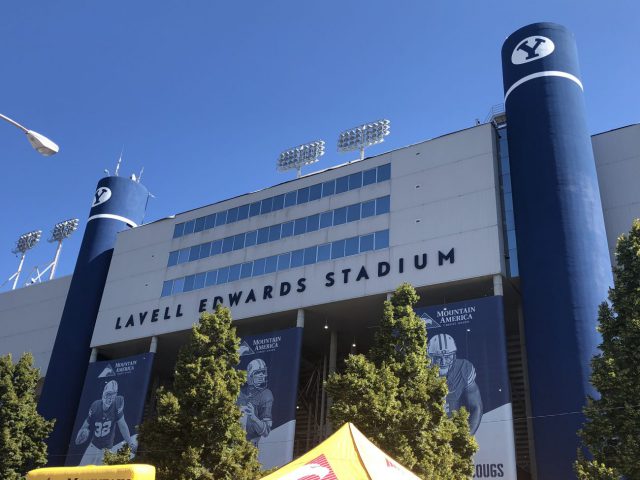 Getting to the stadium
Provo is about 50 miles south of Salt Lake City along Interstate 15, and travelers under the impression that the city is a middle-of-nowhere college town will be in for a surprise just by making the drive south.
The I-15 corridor is well-traveled and well-populated, and cities like Lehi and Orem aren't just burgeoning suburbs of Salt Lake City but thriving towns in their own right thanks to a number of tech companies calling the area home — in fact, the region has gained its own catchy nickname, the "Silicon Slopes."
Salt Lake City International Airport remains the primary entry point for travelers, and from there it's best to rent a car and drive to Provo, then spend the night before the game at LaVell Edwards Stadium in one of the city's many hotels.
I-15, of course, gets plenty congested in the hours before kickoff, as do the main streets leading toward the BYU campus, so if you're from out of town, walking to the game is your best bet.
Several major hotels can be found near campus and in Provo's downtown area, about a mile south of LaVell Edwards Stadium. But if you find yourself staying outside this range, be forewarned that parking is at a premium and most of the spaces within close proximity are reserved for permit holders.
There are public transit options, though. The Utah Valley Express bus line runs free special-event service between Orem and Provo, with multiple stops north and south of campus.
And if you're in Salt Lake City and would prefer not to drive, the FrontRunner commuter train runs from Salt Lake to Provo and offers service every hour on BYU football Saturdays.
Provo hotels near LaVell Edwards Stadium
• Best Western Plus Provo University Inn – 0.4 miles away
• Days Inn by Wyndham Provo – 0.4 miles away
• SpringHill Suites by Marriott Provo – 0.4 miles away
Search for more Provo hotels on Booking.com.
Map of the surrounding area
Things to do around the stadium
The BYU campus is surrounded by strip malls, drugstores, grocery stores and other businesses catering to the college kid, and just about every major fast-food chain has a restaurant close by.
If you're looking for something more sophisticated, head downtown for a vibrant restaurant scene that many local and visiting fans alike will frequent. If you're in town for an early-season game, check out the Provo Farmers Market, held along Center Street on Saturdays between June and October.
At the stadium itself, you can spend your pregame time at "Cougar Canyon," along Canyon Road just west of the stadium. This street is closed off to traffic and includes live music, food trucks and sponsor booths.
One thing you won't find much of: bars. This is Mormon country, of course, and while the population is good-natured, they take their religion pretty seriously around here. Some local restaurants will have alcohol on the menu, but don't count on finding a rowdy sports bar or watering hole anywhere.
For more on visiting Utah, check out our Salt Lake City sports travel guide.
Provo restaurants near LaVell Edwards Stadium
• DP Cheesesteaks – fast food, 0.3 miles away
• Shirley's Bakery & Cafe – cafe, 0.4 miles away
• Burgers Supreme – fast food, 0.5 miles away
Search for more Provo restaurants on Tripadvisor.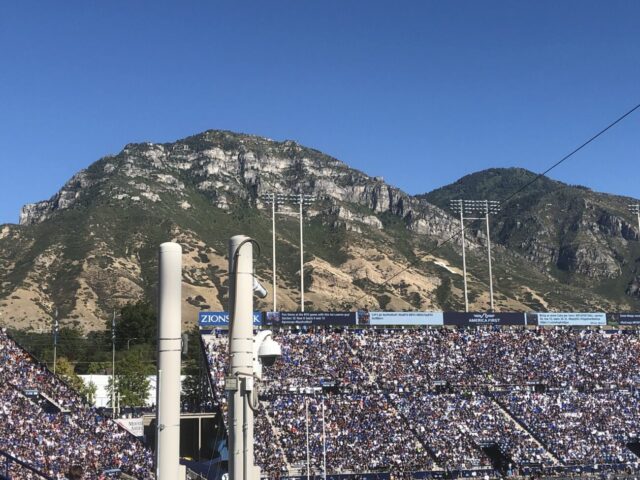 Watching a game at LaVell Edwards Stadium
If you arrive at LaVell Edwards Stadium intending to root for the visiting team, you'll quickly get a sense of how different the fan experience is just by interacting with a few BYU football fans as you walk through the concourses and seating bowl.
Smack talk is almost nonexistent — instead, you'll get sincere inquiries about how your team is doing, you'll be thanked for visiting Provo, and some people will even greet you by saying your school's motto or catchphrase!
There are other subtle differences to watching a game here. For one, there are no metal detectors at the gates, though they will check your bags. You're also not allowed to bring in full-but-unopened water bottles, but you can bring in empty ones (which, if it's a hot day like the day we visited, you'll be glad you did — more on that below). Click here for more on stadium policies.
LaVell Edwards Stadium has few frills in the seating areas, made up of aluminum benches. BYU students and the band occupy the south end zone, while visiting fans take up the northwest corner of the bleachers (sections 121-123), above the tunnel where the road team enters and exits the field.
If it's a day game, there is precious little relief from the sun, except in the late afternoon when the sun begins to set behind the press/suite tower on the west side of LaVell Edwards Stadium's seating bowl.
Food and drink at LaVell Edwards Stadium
The concourses aren't pretty by any means, but there are plenty of concession stands and food choices. Of note: The BYU Creamery stands, which sell ice cream made on campus, and the Cougar Tail, a footlong, maple-frosted donut.
While the built-in concession stands sell the typical stadium staples — hot dogs, popcorn and the like — look out for specialty carts throughout the concourses that offer barbecue, loaded hot dogs, Korean BBQ bowls and more.
You'll also notice plenty of water refilling stations, which is why so many fans in the know carry empty water bottles in. Of course, the hotter the day is, the longer the lines are for the stations, but at least the water is free.
Original publish date: October 20, 2019
Most recent update: September 1, 2023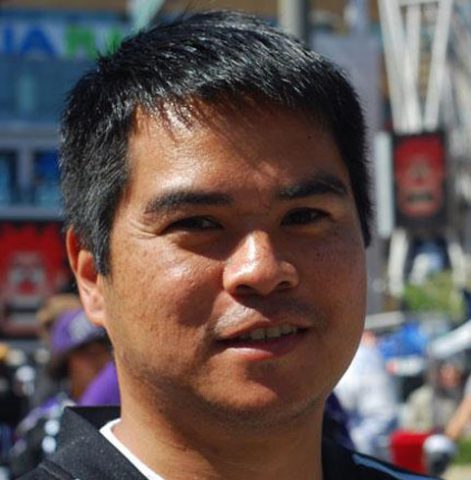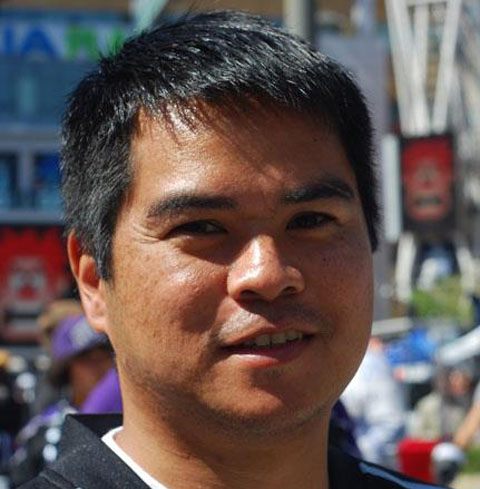 Edward de la Fuente | Itinerant Fan
I live for sports, and I love to travel. My biggest thrill is combining the two. I've been blogging about sports travel for more than a decade, and traveling for sports for twice as long.
About me | FAQ | Buy me a beer 🍺
Affiliate Disclosure
Please note that some of the links above are affiliate links, and at no additional cost to you, we earn a commission if you make a purchase. These recommendations are only for companies that we've used and have proven to enhance our sports travel experiences. To find out more about our affiliate partnerships, please read our Affiliate Disclaimer.
The Particulars
Home Teams
BYU Cougars
Address
1700 N. Canyon Road
Provo, UT 84604
Year Opened
1964
Capacity
63,725
Upcoming Events
All times local